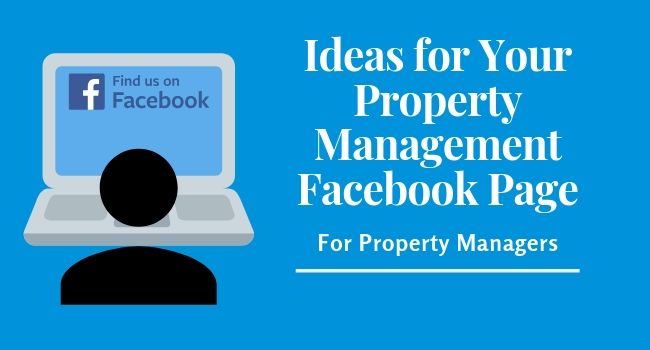 Facebook is a great tool for growing brand recognition and for building a relationship with potential and existing clients.
One of the most important pillars of successfully using your property management company's Facebook account is consistently offering quality content that your followers (and potential clients) will find useful and engaging. 
The problem is, it's easy to get discouraged when you run out of content ideas to post about. 
Next thing you know, you haven't updated your Facebook account in weeks, and your audience is quickly losing interest. 
To help keep you on track, we've put together a list of ideas you can use for inspiration whenever you hit a creative block.  
Why is posting on Facebook beneficial? 
With the number of users on social media growing every year, platforms like Facebook offer a prime opportunity to get in front of more of your target audience and generate more rental property owner leads.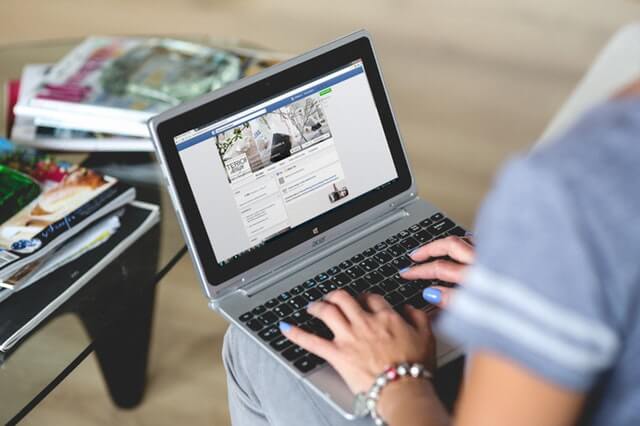 Whether your goal is to increase sales, engage with current and prospective clients or simply build on your company's brand recognition—having a Facebook content strategy will enable you to use this immensely popular resource more effectively.
What Property Managers Should Be Posting on Facebook
Although sharing your company's story does help your brand become more personable and approachable to potential clients, people don't want or need an in-depth report on your latest team-building exercise.
Instead, offer greater value by combining a timely mix of content about your business (services tips, behind-the-scenes stories, and photos) with third-party content, such as links to industry blogs and forums. 
Doing so will help build your credibility as a resource of value to your property management company's followers.
Here are a few of our tips and ideas for generating content that will get Facebook users hooked and coming back for more.
1. Post about your business and team
Your Facebook page has an information section where you can post details about your business. 
Filling out this section helps the people who land on your page know where to find you and how to contact your property management company.
This is an important first step because it's a big part of why you are creating content for Facebook in the first place.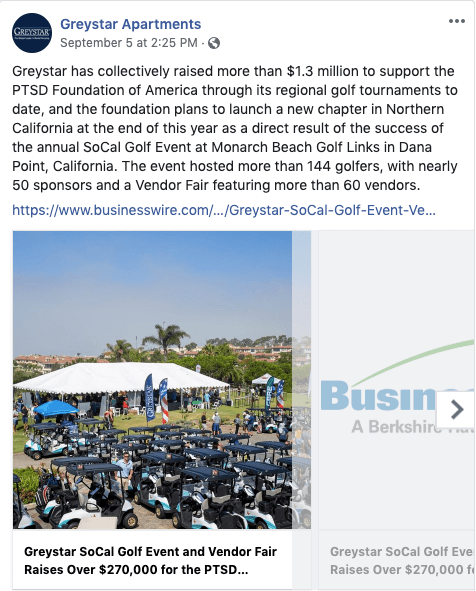 To make sure that your information is really out there for potential leads to see, another way to share your business information is to post about it. 
Like the first example above shows, updating your audience about your company and its accomplishments helps to mold your company's digital identity. 
From this one post, we get a glimpse of this real estate company's values as well as its level of success and influence. 
In case your company isn't quite ready to make a million-dollar donation to your favorite charity just yet, here a few other ways you can post relevant information about your business: 
Choose one employee each month to do a "spotlight" piece on.

This is a great way to forge a connection with your audience because it puts faces behind the brand. 
Make sure to highlight when you are hiring.

This will help the recruiting process as well as provide you more material to post about once you find your new hire. 
A strong, growing team looks very attractive to a potential client and it can also help you in the recruiting process.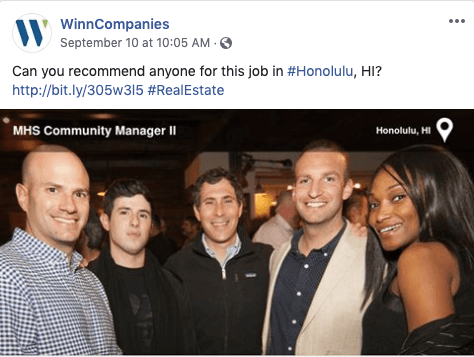 Post pictures and information on vacancies, as well as any move-in specials or other incentives you're offering.

By doing so you are amplifying the power of your promotion and using your audience to your advantage (they may help you find new tenants for your vacant properties). 
(P.S. Always remind your audience to share important posts like these with their own networks. This little difference in your post can have a huge impact on its reach.) 
Celebrate milestones loud and proud.

If you received a gift from a client, post it on social media. If your business or one of your employees won an award, post it on social media.




Not only does this reinforce the credibility of your skills but it also helps build your reputation as a great property manager. 
And on an HR note, it can also be motivating for your employees to see themselves being celebrated and recognized in this way. It's a win-win!
2. Post about timely events 
Rule number one of effective communication is that you can never forget who you're talking to. 
It's important to remember that your audience will always first and foremost be ordinary people living a similar life as you. To make sure that your company looks current and up to date, try posting about holidays, like in the examples below.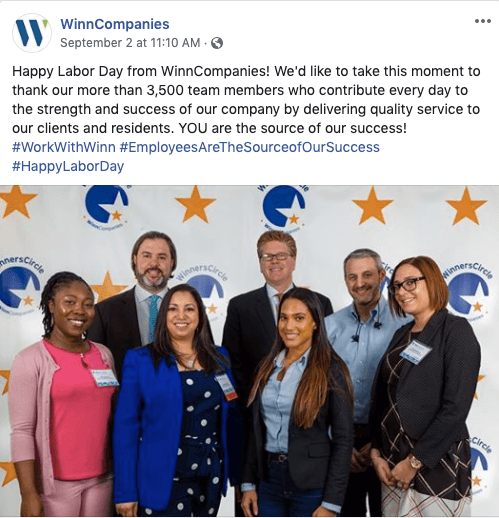 Doing so will help your company meet people on a human level and help them start to get to know your business. 
We all would rather do business with someone we feel like we know, which is why posting about these shared events is so important.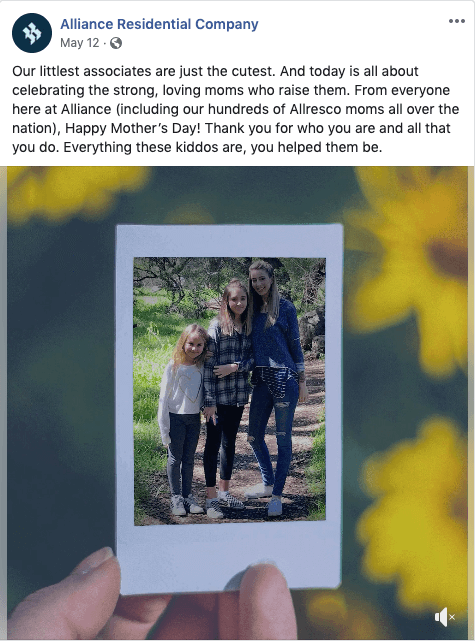 You can even make it more personal (like the example above) by adding your own employees. Doing so will help add some personality and uniqueness to your company's content. 
3. Use polls and contests to learn about your audience
Polls and contests are useful to amplify your reach and boost your property management company's brand awareness. 
One thing to keep in mind with this type of content is to make sure to select a prize that's relevant and desirable to property owners or tenants.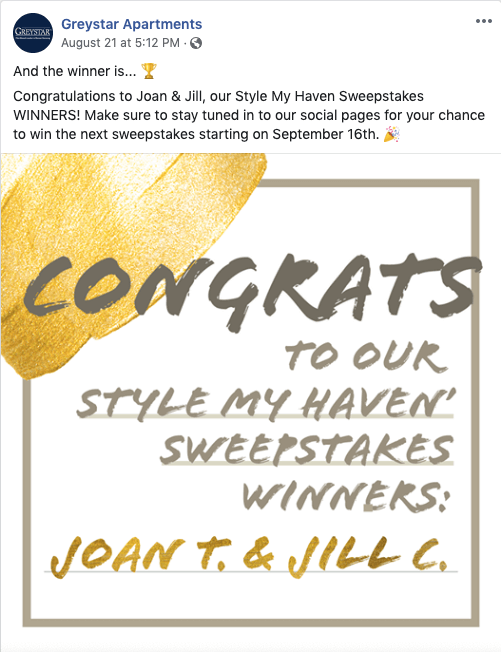 Different social media platforms have different rules around competitions so be sure to do your research beforehand. Here are Facebook's Guidelines.
To keep its novelty, try limiting your use of these types of posts to once a month or whenever you're looking for an increase in your content's engagement.
A contest is useful for encouraging old and new followers to interact with and share your content. And the prizes don't have to break the bank. 
Prizes can be as simple as a gift card to a local home hardware shop.
4. Share real estate investing tips and maintenance reminders 
It's important to post general tips and reminders for property owners. This helps to establish your property management company as a business that cares and one that is knowledgeable about their field. 
These are two very important qualities to be associated with when you're a business owner because they help you stand out from your competition.
Posting this type of content is particularly helpful as we transition from one season to the next. 
If you live where it's particularly hot, cold, or rainy you can always address the general maintenance needs of the properties in your area. 
All you have to do is share simple maintenance tips that you would approve of to your social media audience. 
Rental property owners will appreciate the helpful information and will start to think of your property management company as a knowledgeable expert. 
You can also share tips about safety, such as fire safety and prevention.
The example below shows how easy it is to write up a small checklist for these types of reminders.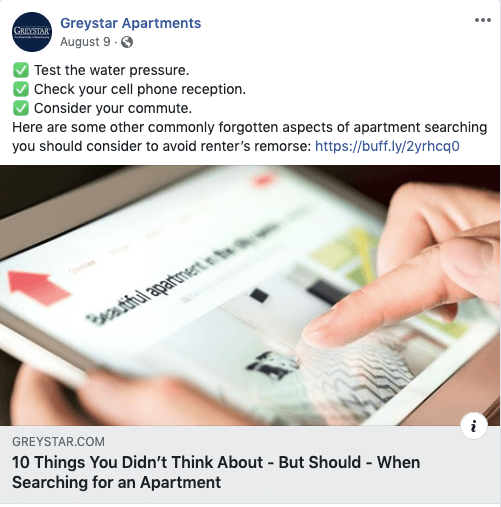 This type of post goes back to what was mentioned already in post type 2 (but is true for all posts): you can never forget who you're talking to if you want to be heard.
Because your target audience is made up of rental property owners, you want to make sure that your content provides them with valuable information that is related to your expertise. 
For example, you can send announcements or reminders for routine maintenance that should regularly take place. Perhaps even throw in a few local recommendations to tailor the post specifically to the area you serve. 
5. Post about customer success stories and testimonials to boost social proof
We live in an age where people like to research online before they commit to a purchase. 
When potential customers find your Facebook page, they want to see more than just what you have to say about your own property management company. 
They also want to hear about the experiences of people who've worked with you.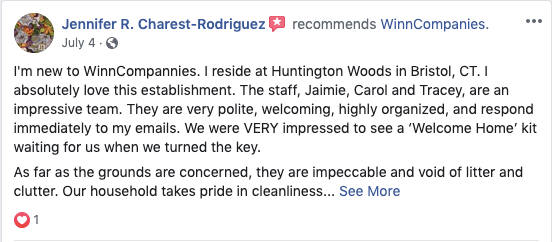 Take the time to tell stories about real customers because this gives your audience an inside look into who you are as a property manager and how you work with clients.
6. Create videos that you can share
Did you know that Facebook hosts approximately eight billion views per day?
Clearly, people are more likely to engage with videos compared to text or image posts on Facebook.
The next time you're at a community event or a vacant property, either start a live video or record the event and post the video later.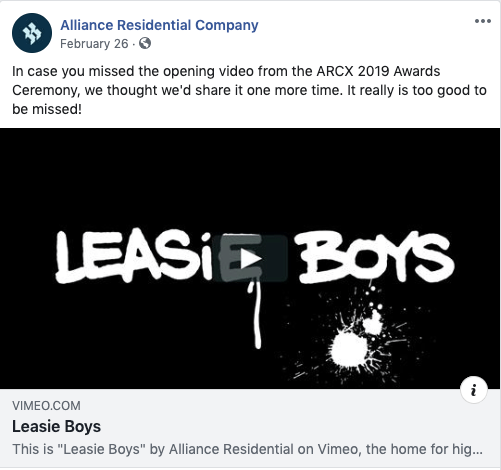 Your videos don't have to be polished. They just have to show some behind the scenes footage, like a small part of your workday. 
Doing so will help your audience get to know your company better. 
In most areas, there are many property management companies offering comparable services.
Rental property owners are more likely to choose you if you show them how involved you are in the community, the industry, and how you interact with clients.
7. Share blog posts to keep your audience informed
One of the most important items on this list is your ability to showcase your knowledge of the industry. 
If you have a blog that you update regularly, make sure to post about any new content on your Facebook page to help drive traffic to your blog.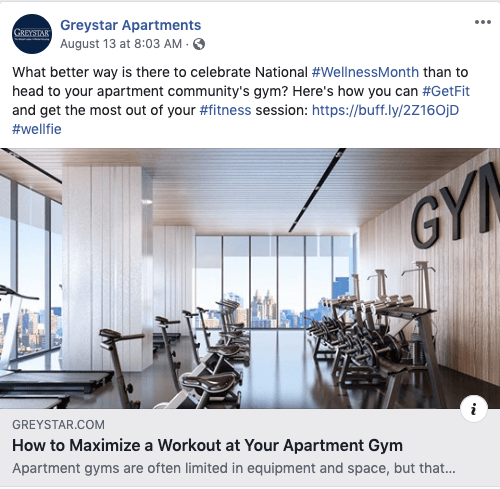 This will not only help your post reach its target audience, but it will also get more eyeballs on your company's website. 
The more people you attract to your website, the more potential clients know about your company, which means the more people can start inquiring about your services. 
At the end of the day, Facebook is less about marketing and sales and more about conversations and relationships.
By staying focused on that key principle, you'll come up with plenty of ideas for content that builds a growing and enthusiastic group of followers.
Hopefully, the 7 types of Facebook posts outlined above were able to inspire you to start posting for your own property management company!
So, what are you waiting for? Start posting today!