As a property manager, you have a lot on your plate. You have to advertise vacancies, manage accounts, oversee the lease-cycle, operate within a budget, process legal documents and rent, and maintain a physical office, among other things.
Of course, juggling those responsibilities is no easy task — unless you have the right tools to help you. Specifically, property management software can help you automate key processes, streamline operations and make your job a whole lot easier.
So, what is a property management software?
Simply put, a property management software is an application designed to help property managers and landlords organize their rental properties, tenants, owners, financials and accounts.
Real estate software also has features to help you streamline rental management, like full reporting and online signing of lease agreements. Other features include prospective tenant screening, options to post rental vacancies and online rent payments. Many property management solutions are also available as mobile phone apps.
Popular Features of Property Management Software
Each property management software has its own distinct set of features. These usually fall under three categories: accounting, operations, and management and leasing.
Accounting Features
Accounting features help your business perform functions such as:
Electronic funds transfer

Tax filing

Bank reconciliation

Tracking payables and receivables
Operations Features
As the name suggests, these features keep your operations going smoothly. They may include:
A professional website that promotes your listings and company online

An owner portal that gives owners access to valuable property data

The ability to share and store vital documents with owners and tenants via the file library

The ability to set up unlimited user accounts for remote access by your team

The ability to keep track of repairs and maintenance with the help of the order management system
Management and Leasing
Features to help you with management and leasing include, but are not limited to:
Rental applications

Property marketing

Electronic signatures

Document storage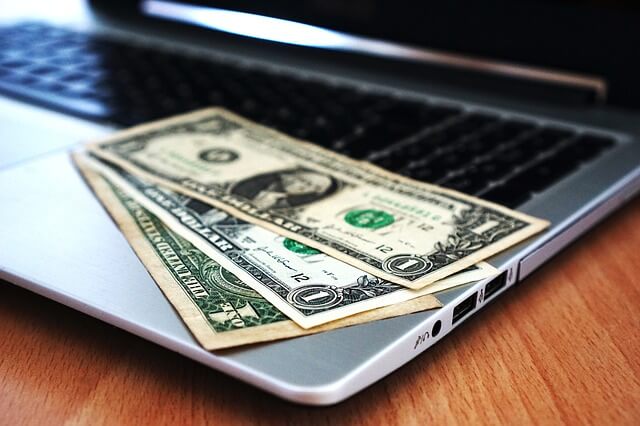 Buyer's Guide
Before you invest in any property management software, make sure to figure out what features you'll need.
Maybe you only need a few features. Maybe you need a one-size-fits-all solution. Or maybe you'd rather have a cloud-based solution.
In any case, consider these factors before you choose a property management software.
Ability to work with existing systems
Make sure that the vendor offers data migration services. This is especially important if you're using an onsite application. Also, make sure the software can easily integrate with what you already have on hand.
Price
When comparing prices between vendors, make sure you account for different pricing plans. Most vendors scale up prices according to the features bundled into the software.
Also, find out whether training services and support are included in the base price or not. Take note that onsite software is often more expensive than its cloud-based counterpart.
Scalability
If you're going to have tenants and owners access the software, or you plan to expand your business in the future, pick a solution that can easily adjust to your needs. Make sure that the software doesn't impose a limit on the number of users.
Input from users
All stakeholders, including property owners and top executives, should agree on the use of the new solution. To convince them to use the software, perform a live demo of it.
Last, but not the least, talk to past and current users of the software. Ask them about its pros and cons. That way, you can make a more informed decision on whether the software suits your needs or not.
Once you're all set, it's time to shop.
Different Property Management Software Available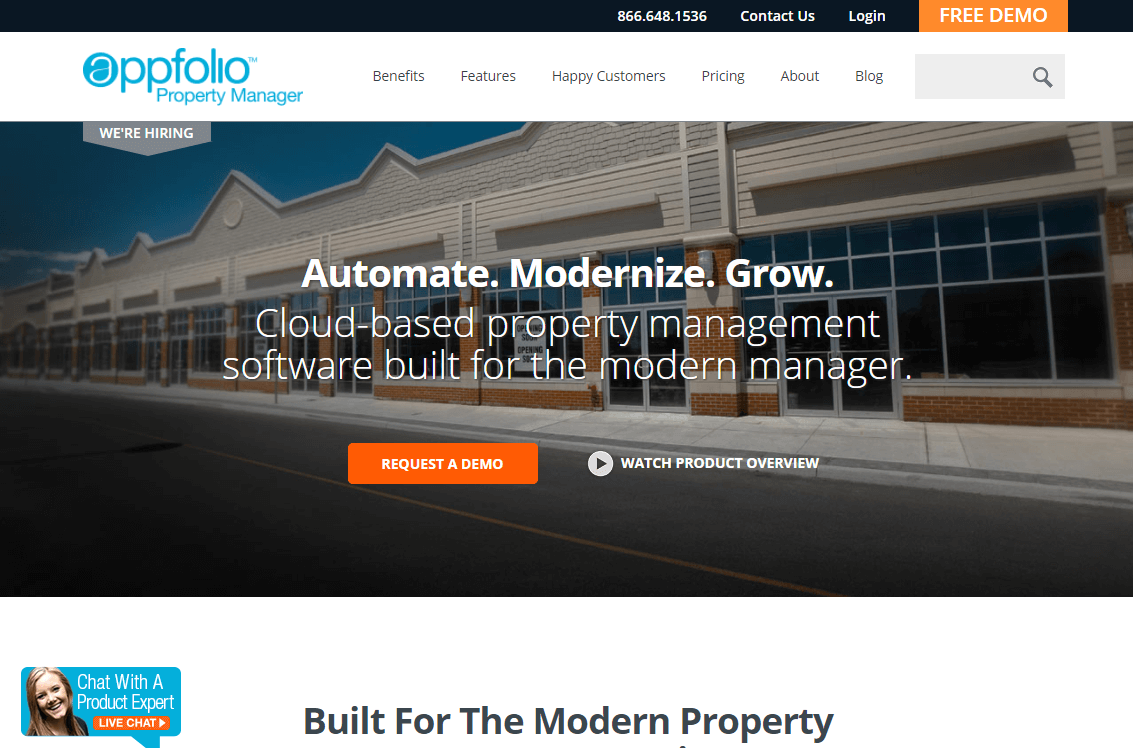 AppFolio is a cloud-based property management software that helps you manage and market your business. It mostly focuses on management and leasing, but it includes other valuable features as well.
Features
Makes it easier for tenants to pay rent online. The software supports payments via e-check, credit card and electronic cash payment.

Has a customizable portal for owners. Once owners log in, they can instantly access financial reports, work orders and invoices.

Can create a mobile responsive corporate website, complete with a blog (for a premium).

Allows the posting of vacancies across sites like Craigslist, Trulia, Zillow, Apartments.com, Rentals.com and Oodle.

Optimized for work-order tracking.
Pros
Student housing management tools are included in the solution.

Has a great online portal for both owners and tenants to receive statements.
Cons
Pricing is standard regardless of the number of properties covered.
Other Info
AppFolio is great for residential and commercial owners, as well as accounting, marketing and maintenance teams. Some of AppFolio's clients include Cadman Group Inc., Hanes Properties, GSF Properties, Inc. and McCombs Commercial Realty, LLC. The solution caters to small, medium and large businesses.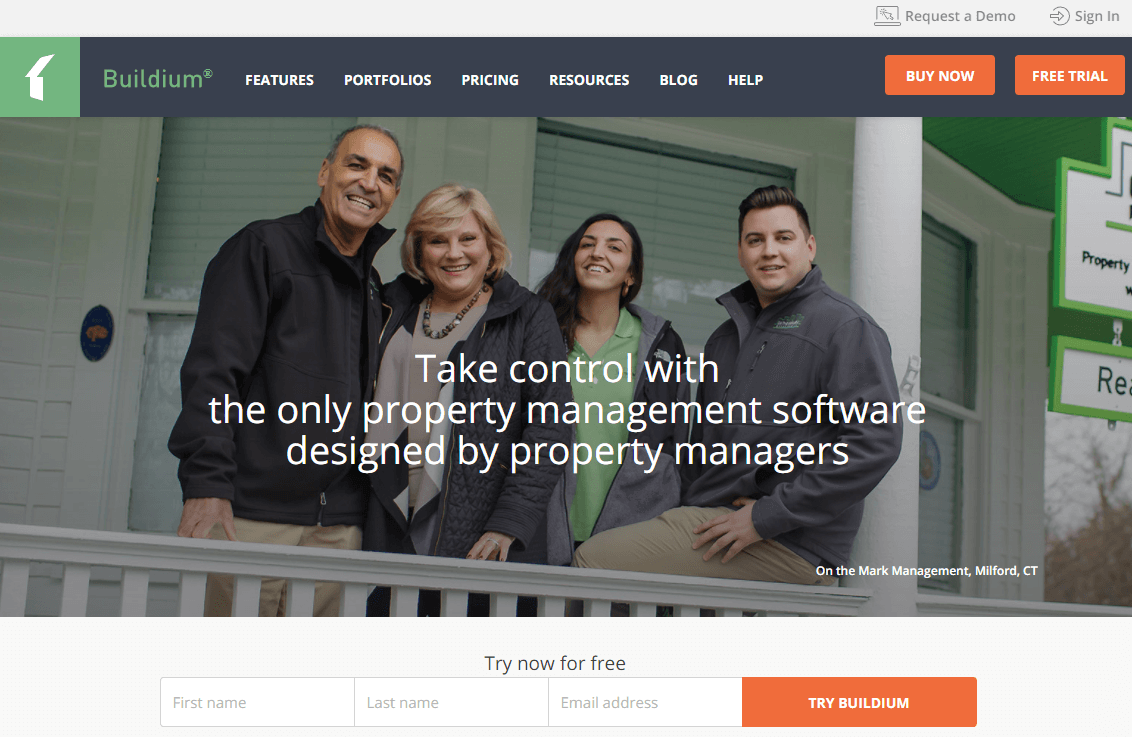 Buildium is an all-in-one property management software used by over 13,000 customers to date. It helps streamline maintenance, vacancy and rent cycle tasks on a daily basis.
Also, it has dedicated features for homeowners' associations, such as tracking violation histories, monitoring maintenance requests and collecting rent payments online.
Features
Option for tenants to pay rent online

Ability to manage accounting and financials

Management/storage for leases and other documents

Streamlines communication between tenants and owners

Tenant screening

Tenant's mobile portal
Pros
Has a dedicated resident portal, where payments of rent can be easily done by tenants

Mobile applications are accessible to both tenants and owners

Provides an end-to-end leasing process
Cons
Accounting features aren't always user-friendly

More suited to residential properties than commercial ones
Other Info
Buildium property management software is a cloud-based solution that works best for small and medium-sized enterprises. Its client roster includes Discovery Bay Holdings, CoSine Real Estate, Annapolis Property Services, Vantage Heights HOA and BBA Management.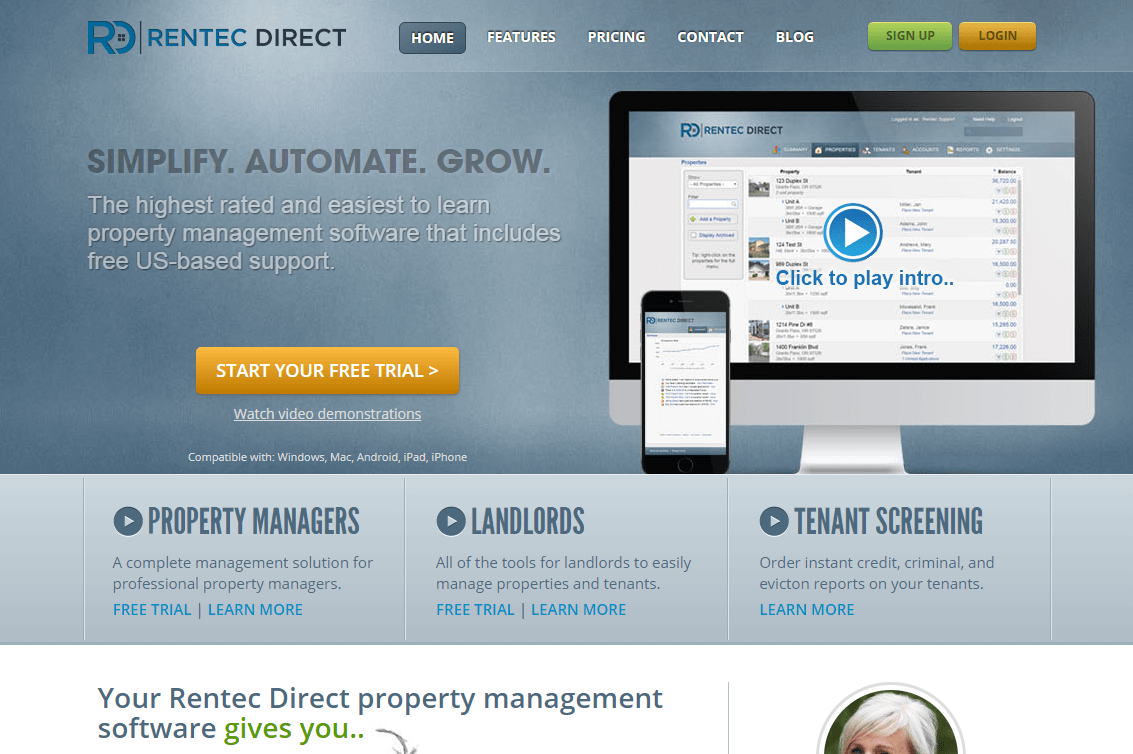 Rentec Direct is a web-based, full-featured management system for property managers and landlords. With this software, property managers and landlords can manage between 25 to 5,000 units.
Features
Automatic reminders

Online file storage

Ability to track expenses and income

1,000 MB file storage

Tenant portal

Work order tracking

Ability to email or text tenants

Optional tenant screening
Pros
Mobile support for tenants and owners

Scalable plans

Strong security

Unlimited free U.S.-based support
Cons
No dedicated mobile app

More suited to residential properties than commercial ones
Other Info
Rentec Direct property management software is available for small, medium and large businesses. Its clients include Mase Realty, Steffy Properties, Sunsurf Properties, KTG Leasing, Bourke Properties and Eady Property Management.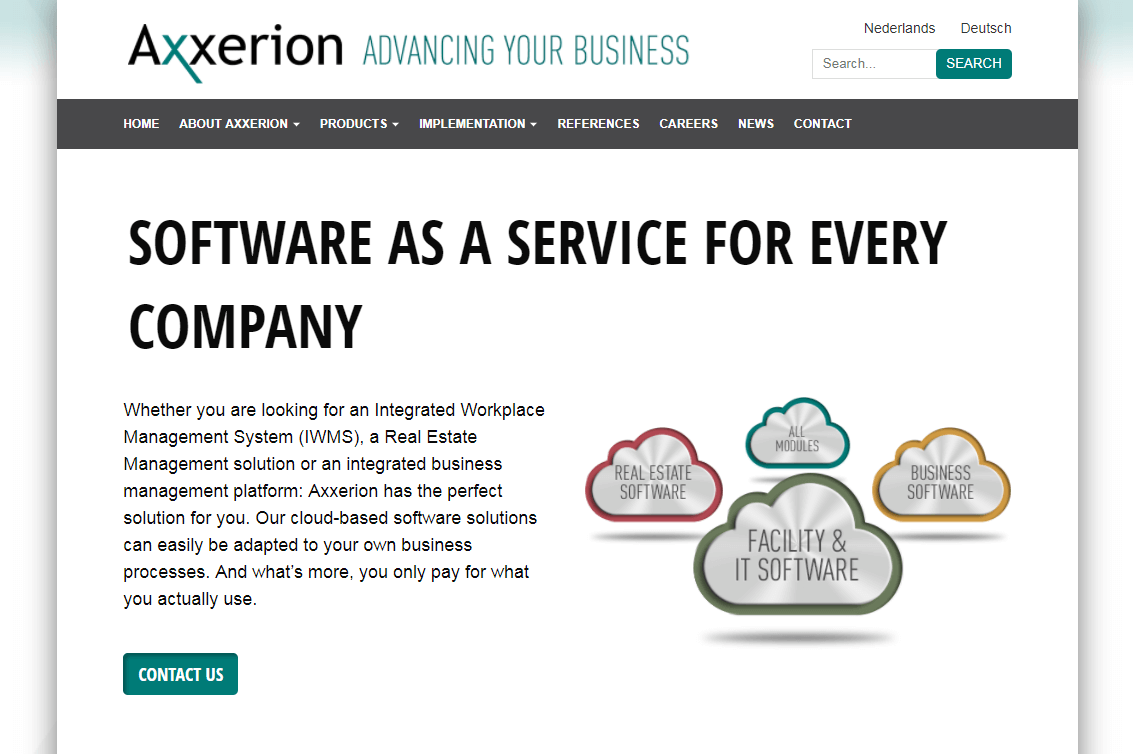 Axxerion is an integrated suite of cloud-based property management and maintenance solutions for property managers and owners. Its features include customizable workflows, plus the ability to add fields and screens.
Features
Performing accounting functions

Tracking capital improvement projects for each property

Tracking leasing, contracts and permits

Filing of property info such as contacts, assets, ownership and location

Storage of documents in Excel, Word, PDF and photo formats
Pros
Integrates with other solutions from Axxerion

Google-like search and map interface
Cons
No owner or tenant portal

No onsite option
Other Info
Axxerion property management software is designed for medium and large companies. Some of their customers include DHL, Alten Construction, Rue Education, NPS Pharmaceuticals, Meridian Bioscience and Facilicom.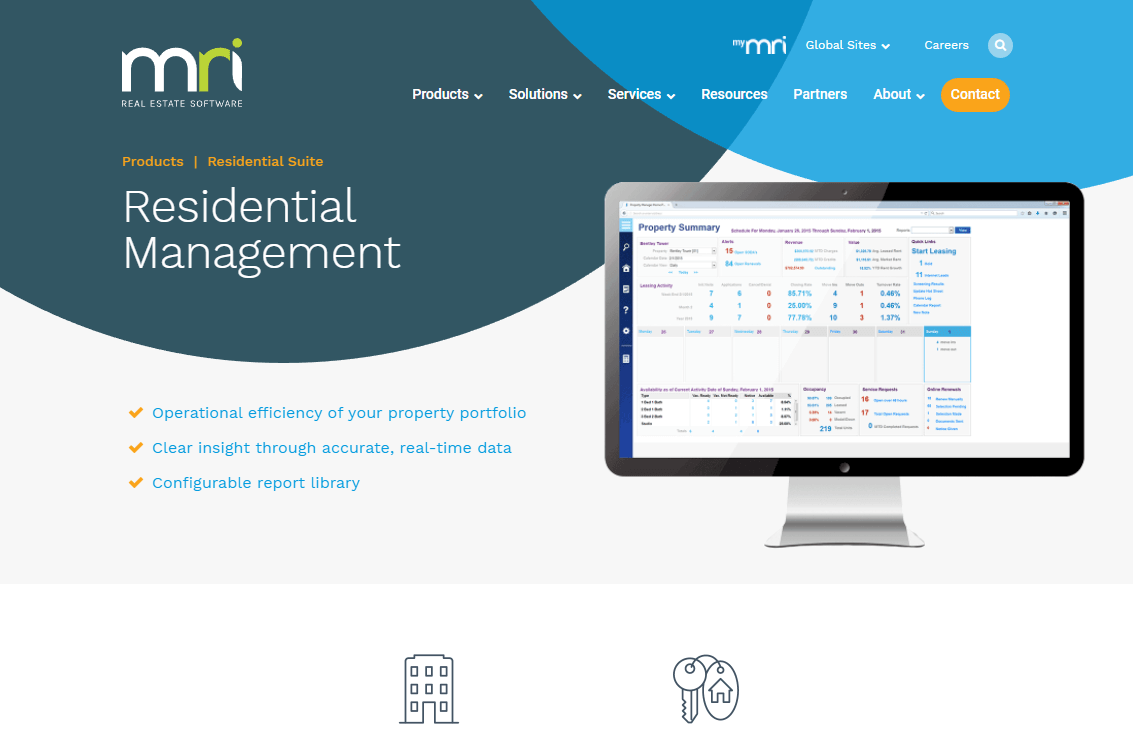 MRI Residential Management suits multi-family managers who want to boost property occupancy while minimizing costs. Besides multi-family properties, the software also helps manage commercial and corporate properties.
Features
Can handle accounting, billing, lease administration, reporting and project management tasks. Other core features include configurable reports and dashboards, automated invoicing and maintenance expenses tracking.

Financial management features such as forecasting and budget allow users to keep their data accurate and balance their accounts.

The Resident and Tenant Connect feature enables rent collection through the system. For property managers, tools like preventive maintenance management and visitor management features help automate workflows.

Built-in customizable features such as branding, page formats and navigation menus
Pros
Can be used to manage properties all over the world thanks to international and multi-currency support
Cons
Accounting issues have been raised regarding the SaaS hosted version
Other Info
The MRI Residential Management software caters to large companies like The Lightstone Group, BlackStone, Avalon Bay, Village Green Management and Cedar Regency.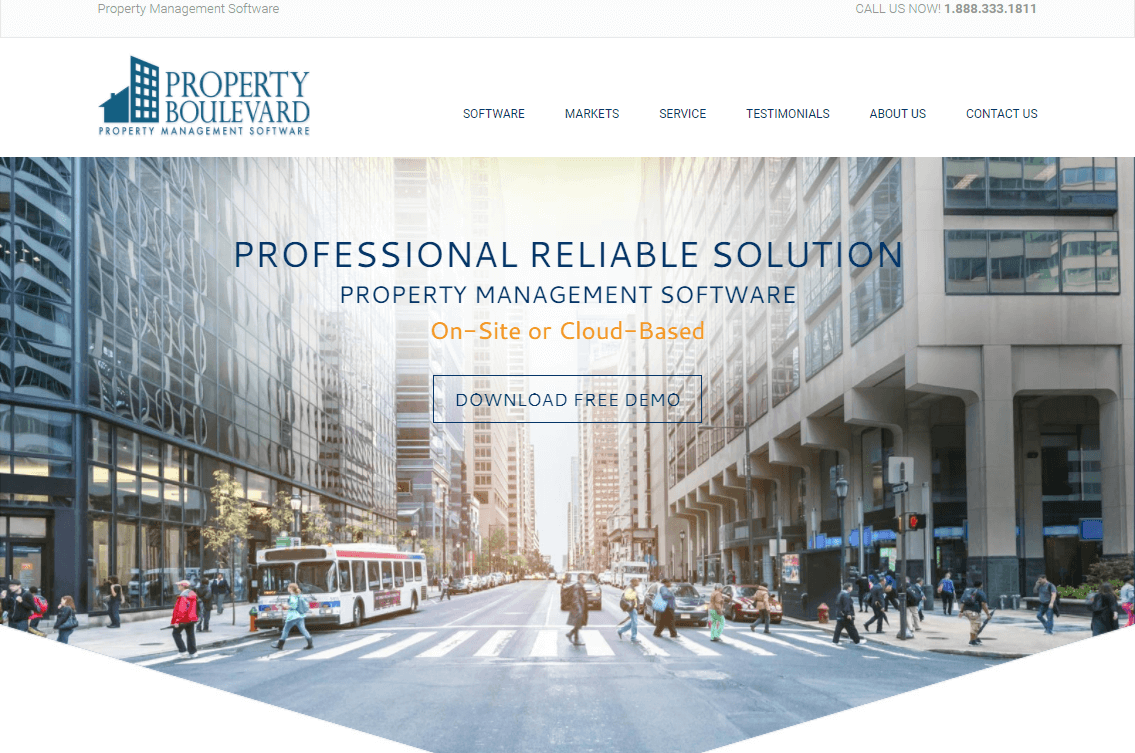 This one helps you manage your residential and commercial property portfolios. It gives access to multiple network users through its management and accountability feature.
Property Boulevard markets itself as a full management tool, rather than just being an accounting tool. It allows users to work with real-time data, instead of simply processing info in batches.
Features
Automated charging of late fees

Automated rent increases

Custom charges

Automated and time-sensitive recurring charges

Write-off management

Automated reversal for next period

Aggregated financial statements

Linking of multiple bank accounts between group or individual properties

Loans and advances management

Multiple payment methods
Pros
Users can choose between a cloud-based and onsite system

The solution can track multiple users and buildings in a network
Cons
The support team only works within the Pacific time zone
Other Info
The Property Boulevard management system is designed for medium-sized companies such as The Reseda Apartments, Kenmore Apartments Co., Marian Realty Inc., CRES, LLC, SLM Commercial and Carmel Management, Inc.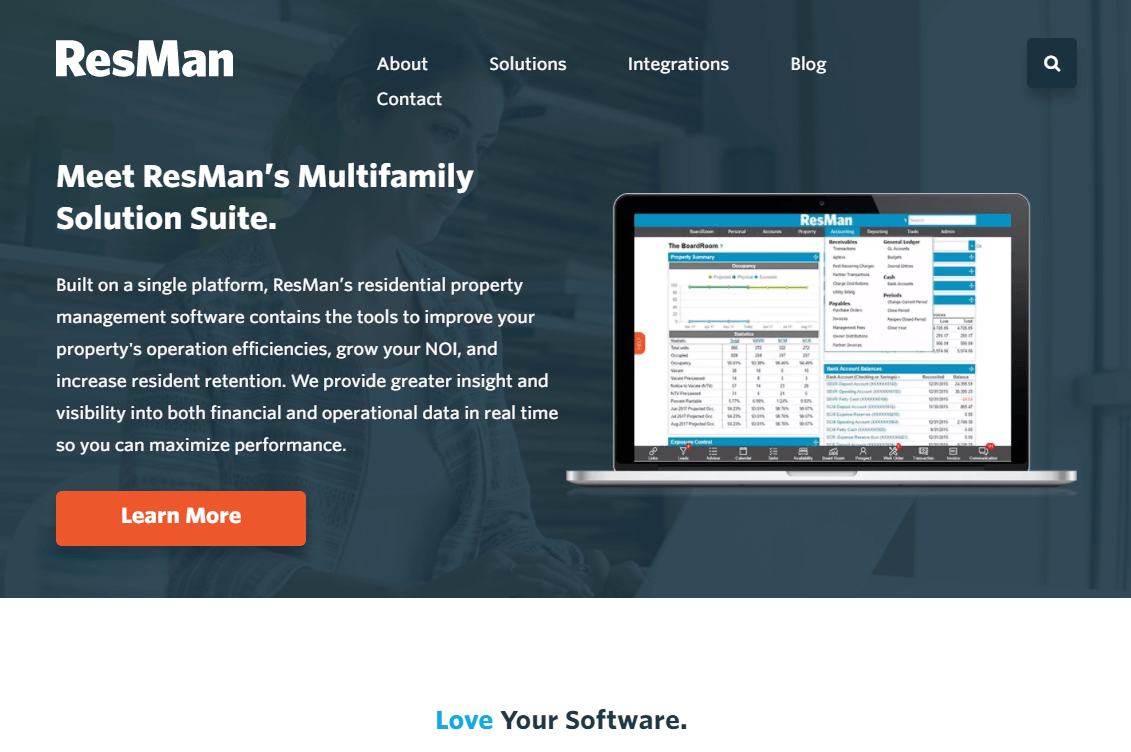 ResMan offers property management solutions for senior living, affordable housing, military, student, commercial property, single family and multi-family properties. Key features include lead management, budget and leasing management, and rent and portfolio management.
Features
Helps coordinate residents, managers and staff

Ability to manage resident accounts and leases, as well as get updates on community events, packages, work orders and other routine orders

Residents can receive important news and updates. They can also request maintenance tasks, make online payments and access the management directory.
Pros
Powerful accounting features

Wide range of third-party integrations
Cons
Doesn't automate the listing of property vacancies
Other Info
ResMan property management software caters to medium and large companies. Its clients include Mesner Development Co., Community Builders, A&M FrontRange Rentals and Hettig Management Corp.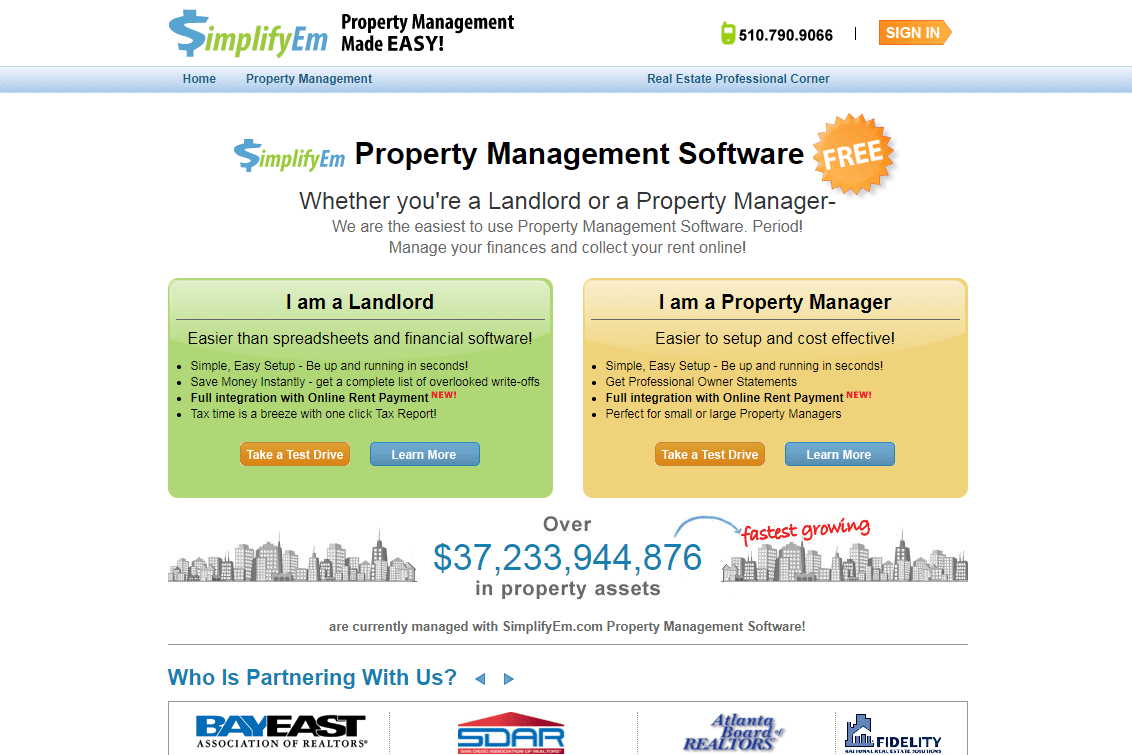 SimplifyEm has three core features: monthly owner reports, tenant and lease management, and online rent payment. Additionally, it provides resources such as a press release channel, a library of property management forms, a rental property tax deductions walk-through, tenant screening services and a property management blog.
Features
Helps track detailed income such as parking fees, laundry and rent. Also keeps tabs on expenses like utilities, advertising, insurance, loans, maintenance repairs and garbage collection.

Provides easy access to a directory of property managers, landlords and tenants.

Makes it possible for tenants to pay online.
Pros
Intuitive online rent portal
Cons
Limited custom reports

No mobile app
Other Info
The SimplifyEm property management solution caters to small businesses. Clients include Monaco Realty, Bay East Association of REALTORS and Marchment Realty.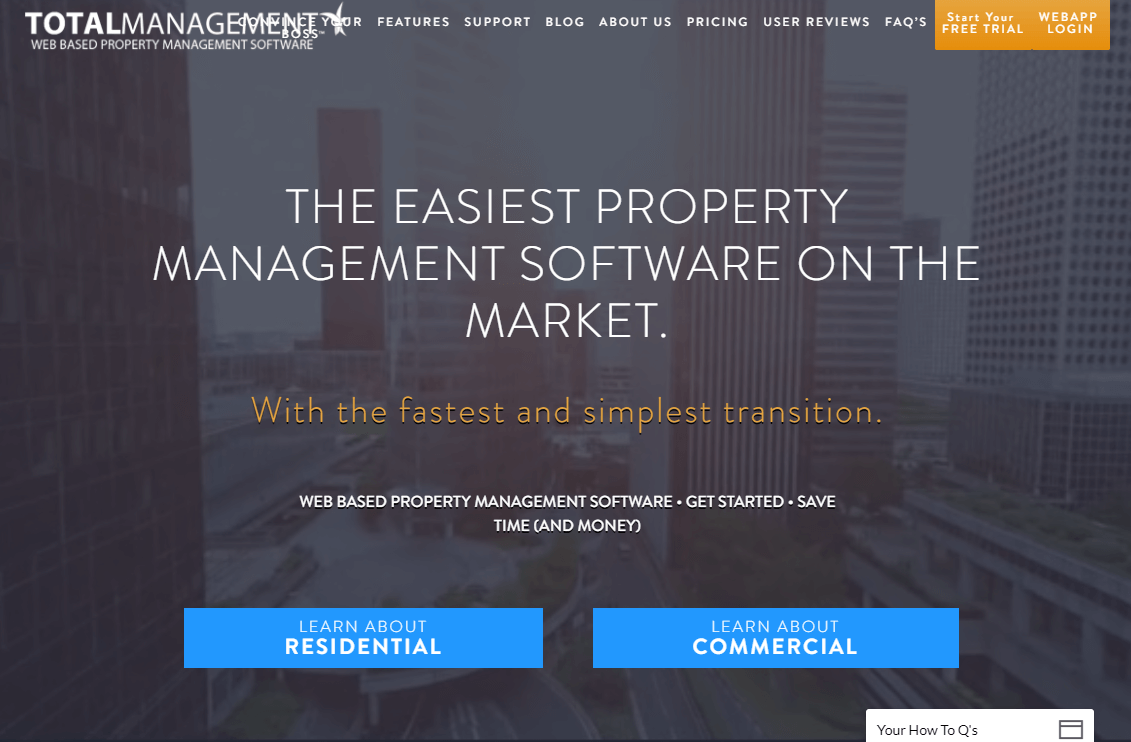 Total management is a web-based tracking and accounting solution for student, commercial and residential properties. It allows you to access information related to finances, tenant, vendor, and property data.
Features
Gives online exposure to your listings, thanks to its ability to syndicate with real-estate sites

Simplifies order management. The solution automatically messages the employee responsible for orders. It also fills in tenant details when you enter their rental unit info.

Tenants can pay rent online via credit cards or electronic funds

Automatically withholds funds and security deposits

"Remembers" tenant information.

Has a module that keeps track of tenants' rent payments

Has a built-in tenant screening tool
Pros
Allows ease of access to vendor, tenant, property and financial information
Cons
Doesn't automatically generate a 12-month financial report

Doesn't have a portal for owners
Other Info
Total Management is designed for small and medium-sized businesses. It has catered to clients including Arbor Manor Properties, Mid America Management, Pacific Dental Services and Winter Investments.
With property management software, you can streamline your operations and meet business goals. If you're a property manager worth your salt, the abovementioned software is exactly what you need.