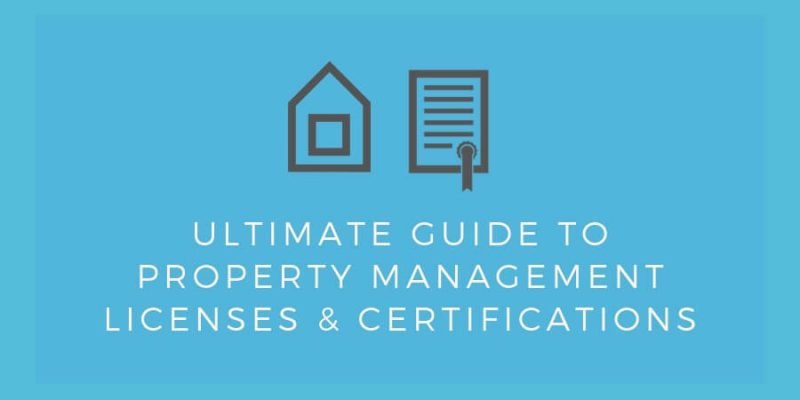 As a property manager, there are plenty of certifications and licenses out there for you to consider.
Some are nice to have on your resume while others are a must for your successful integration into the field.
Not only does certification provide you with property management training, but it also allows you to stand out from the competition.
But which certifications are worth pursuing?
We've compiled a list of the top certifications to help you get started.
The Importance of Licenses and Certifications
Especially in crowded locations where competition is high, a property management certification makes a lot of strategic sense.
It can be a key point that makes you stand out from your competitors.
The certificate tells rental property owners that you go above and beyond to make sure that you are knowledgeable and qualified in property management.
It helps to create extra credibility to your name and brand, as well as gives you an extra stamp of professionalism that makes you look that much more qualified in your role.
Property Management Training Organizations
Many professional property management organizations exist, and they all award their own certificates based on different requirements.  
Once you join and qualify for their credentials, you can start to use their logo (or badge) and market yourself with them. They will help you demonstrate expertise and skill that will help you build on your property management reputation.
Popular organizations in the property management industry include:
The National Property Management Association (NPMA)
NPMA is focused on continuous learning and ongoing exchanges of knowledge among property management professionals. Classes are offered online and on their campus.
They offer three certification levels: Certified Professional Property Manager (CPPM), Certified Professional Property Administrator (CPPA), and Certified Professional Property Specialist (CPPS).

The National Association of Residential Property Managers (NARPM)
 Founded in the late 1980s to serve single-family home managers, the organization is dedicated to supporting "the ethical and professional practices of rental home management."
NARPM offers certificates in Residential Management Company, Master Property Manager, and Residential Management Professional. It has over 3,000 members nationwide.

The National Apartment Association (NAA)
 NAA primarily serves the multifamily housing industry. The industry includes managers, developers, and apartment building owners.
Through the NAA Education Institute (NAAEI), the NAA offers Certified Apartment Supplier, Apartment Maintenance Technicians, Apartment Portfolio Supervisor, Apartment Manager, and Apartment Leasing Professionals.
Institute of Real Estate Management (IREM)
 Dedicated to "maximizing the value of real estate investments," IREM boasts 80 chapters in the U.S. and 18,000 members worldwide. It's affiliated with the National Association of Realtors.
The organization offers an Accredited Commercial Manager, Accredited Residential Manager, and Certified Property Manager designations.

Building Owners and Managers Association International (BOMA)
 BOMA has more than 17,000 members and 92 chapters within the U.S. It essentially serves the commercial real estate industry.
BOMA offers designations such as Facilities Management Administrator, Real Property Administrator, Building Systems Maintenance, Facilities Management, Property Management Financial Proficiency, and Property Administrator.

Top Certifications & Licenses for Property Managers
With all that information, its time to start sifting through the most valuable certificates the industry has to offer.
Most of these certifications are available through online instruction, making them flexible and convenient no matter where you are in your career.
Pro tip: You'll generally be required to show some form of proof of prior experience. Make sure you qualify for you applications and have all the necessary documents on hand before you really get started.
Now let's jump into some of your best options:
1. Certified Apartment Manager (CAM Designation)
Do you primarily deal with apartment rentals?
If so, this is the best certification for you. Earning your CAM credential allows you to build on your ability to manage an apartment community, and then get professionally recognized for it.
This certification program is available online and is awarded by the National Apartment Association (NAA).
The cost for members for each module is $105 or $117.50 for non-members. (as of the time this article was written)
To obtain the CAM credential, you are required to complete all 8 modules and successfully pass the two-part exam.
Pre-Qualifications:
Meet all examination standards within 12 months of declaring candidacy

Successful completion of all CAM coursework (totaling 40 hours)

Minimum of 12 months of onsite property management experience
2. Certified Property Manager (CPM Designation)
This is one of the most highly respected credentials in property management.
It's awarded by the Institute of Real Estate Management (IREM). And be warned that qualifying isn't easy as the requirements are extensive.
To earn the credential, you must have managed at least 25 rental units and have at least two years of experience. You are also encouraged to be a rental property investor yourself. You must also either have a license in real estate or prove that your state doesn't require one.
The cost of getting the CPM designation is about $500 a year. There is also a fee to become a CPM candidate.
Pre-Qualifications:
Be in good standing with annual national and chapter dues. (National dues are $495; chapter dues vary by chapter).

Fulfill the one-year Candidacy period by being an ACoM Member, ARM Member, or CPM Candidate Member in good standing for the 12 months prior to CPM approval.
3. Residential Management Professional (RMP Designation)
This is also a highly sought-after credential by property managers.
It's awarded by the National Association of Residential Property Managers (NARPM).
The designation offered by NARPM certifies professional and ethical standards for property managers. The RMP program is also similar to the CPM program in terms of requirements.
Pre-Qualifications:
You must already manage 100 units over a two-year period and be committed to obtaining new skills.
4. Certified Manager of Community Associations (CMCA)
Created by the Community Associations Institute (CAI) and awarded by the National Board of Certification for Community Association Managers (NBC-CAM), this is one of the most practical certifications you can obtain.
The CMCA is unique in a number of ways:
First, it's particularly relevant in states dominated by HOA's, where it's common for board members to earn the CMCA designation.

Second, it acts as the first step in earning the PCAM and AMS designation.

Lastly, it allows for five years of direct industry experience to waive the prerequisite courses.
Obtaining the CMCA credential demonstrates that you possess the fundamental knowledge required to effectively manage community associations.
NBC-CAM plays an active role in its members' careers and adheres to the National Commission for Certifying Agencies' (NCAA) guidelines.
By studying the course, you'll be able to network with other local CMCAs and keep up-to-date on the latest local property management laws.
The test costs $300 to take, and that gives you one shot. If you fail and wish to take it again, you'll have to part away with $250. Fees are nonrefundable.
Pre-Qualifications:
Complete and pass one

prerequisite course

on community association management

Hold an active Nevada CAM, Florida CAM, California CCAM or Arizona CAAM
5. Government Issued Real Estate Licenses & REALTOR Membership
Is your property management company responsible for lease negotiations, property listings and/or rent collections?
If so, it's highly likely that your state will require you to obtain a real estate broker license.
However, if you are working under a management company, a real estate salesperson license is all you need.
Broker and real estate licenses are offered by the local authorities or real estate boards in the area you wish to operate in.
Pre-Qualifications:
Pass your state real estate license examination

Complete your required pre-license education

Have a legal US residency

Be at least 18 or 19 years old (depends on your state)
Continuing Education Credentials to Keep You Competitive in the Property Management Industry
If you've come this far, you now know the basics about the most important certifications available. 
But we aren't done just yet.
The following qualifications will help you take your competitive edge over the top:
Credential for Green Property Management

(

CGPM

):
This credential is offered by the National Apartment Association Education Institute and the National Affordable Housing Management Association.
Specialist in Housing Credit Management

(

SHCM

):
This certification is for management professionals involved with properties developed and operated under the Low-Income Housing Tax Credit (LIHTC) program. It's developed by the National Affordable Housing Management Association (NAHMA).
Independent Rental Owner Professional

(

IROP

):
IROP gives you an "insider's view" of professional property ownership and management practices. You can learn about energy efficiency, preventative maintenance, tax planning, and budget management.
Certified Apartment Supplier

(

CAS

):
This course is for new salespeople and helps industry veterans enhance their knowledge regarding apartment community operations.
National Apartment Leasing Professionals

(

NALP

):
This program teaches leasing skills, such as, how to qualify prospective residents, overcome objections, conduct leasing demonstrations and generate traffic.
Wrapping Up
These are all of the top property management licenses and certifications applicable to professional property managers.
The different options listed above can open new doors (in more ways than one) for your property management career.
By acquiring some of the skills offered by these programs, you'll gain professional legitimacy and marketability. This will give you a major competitive advantage if used well.
If you're having trouble showing off your hard-earned skills and accreditations, don't hesitate to give us a call at 1-800-418-9430.
We specialize in property management marketing and your first call comes with a no-obligation strategy session call ($1000 value) that could easily help you explode your sales and add upwards of 100 doors for your company. 
Book your free marketing session HERE.