Property Management SEO Case Study - 46 New Properties Under Management in 12 Months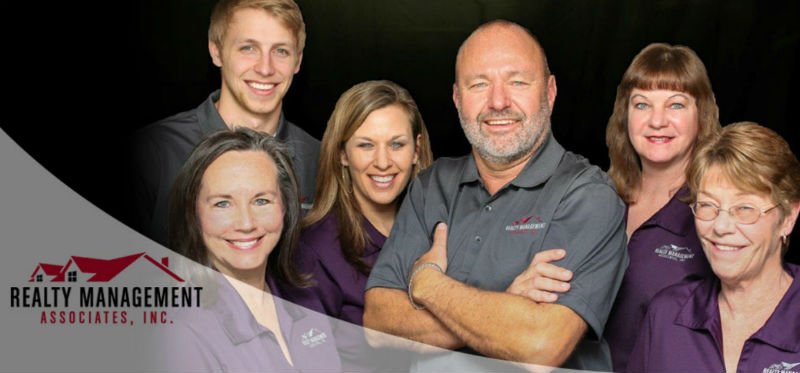 A study showed that 76% of "local" searches result in a phone call.
In other words, if your property management business captures more Google Searches, you'll get more customers.
↑Google Searches = ↑ Customers
In this case study, I'm going to show you exactly how we used local SEO to help Realty Management Associates increase their local keyword rankings and organic traffic by 145%.
The 145% increase in traffic has resulted in 46 new doors over the past 12 months. (46 doors * $4,000 Average Lifetime Value = $184,000 revenues)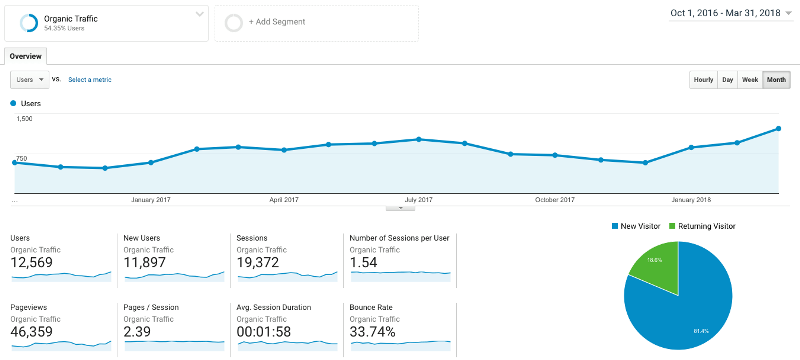 I'll specifically show you the optimization tactics we implemented to achieve these results.
1. Keyword Research
2. On-Page Optimization
3. Schema Markup
4. GMB Optimization
5. Citation Clean Up and Creation
6. Local Business Outreach

1. Finding Keywords
When it comes to keyword research for property management companies, most people think of buyer intent keywords.
Realty Management Associates is located in Boise, Idaho.
Naturally, they wanted to appear in Google for buyer intent keywords like:
"Boise Property Management"

"Boise Property Management Company"
Here's the problem.
Every other company out there is doing the exact same thing.
Since every company is targeting these buyer intent keywords, it makes them much more competitive and difficult to rank.
What most people don't realize is that there are also a ton of secondary keywords that can be used to funnel your target audience to your website.
There is a distinct set of stages that occur when a property owner is making a decision on which property management company to hire.
We refer to this as the AID model.
Consumers move through each of these stages during the buying process for property management services.
So, it's important Realty Management Associates is present during each stage of the buying process.
In order to do this, they needed content for each stage of the AIDA model. Our keyword research was focused on finding what topics potential clients are searching for online BEFORE they decide to hire a property management company.
Through in-depth keyword research and our knowledge of the property management industry, we found topics we could create for each stage of the buyer funnel.
To better explain, here's an example of content we created for each stage.
a. Awareness:
The purpose of this type of content is to create awareness about Realty Management Associate's service.
At this point of the funnel, we're trying to capture people who aren't aware of Realty Management Associates.
The best way to do this is by educating their target audience. The goal is to create content geared towards problems landlords are facing.
To capture people at this stage of the buyer journey, we decided to write an article educating landlords in Boise about "How to Screen Tenants For Their Rental Property".
The goal of this article is to be the solution for landlords in Boise who are unsure of how to effectively screen tenants for their rental property.

While this type of article will have a low conversion rate (in terms of bringing on new clients immediately), it does help increase brand awareness and helps educate local landlords.
Over time, this will increase the amount of trust landlords have in Realty Management Associates.
When they do decide to reach out to a property management company, they'll already know, like, and trust Realty Management Associates because they've received advice from them previously on the web.
b.

Interest:
At this stage of the buyer cycle, consumers already have an interest in property management services but they haven't quite decided on whether or not they want to hire a company.
To reach people at this stage of the buyer journey, we decided to create content educating people on the benefits of hiring a property management company.
The goal of this type of content is to help the buyer realize why hiring a property management company would be beneficial.
Once they read the article, they'll understand all the benefits of hiring Realty Management Associates to take care of their rental property.

This type of content helps push the consumer into the Decision stage of the buying cycle.
c. Decision:
This is the stage that has the highest conversion rate.
People in this stage of the buyer funnel are ready to make a decision on which property management company they want to hire.
This is where people are searching for buyer intent keywords like "Boise Property Management Companies."
These consumers are ready to hire a company, they're just trying to decide on which company to hire.

In order to rank for these buyer intent keywords, we set out to optimize their website using the tactics discussed later in this post.

2. On-Site Optimization
When it comes to property management SEO, on-site optimization is extremely important.
Without proper on-site optimization, your website doesn't stand a chance of ranking high in the search engine results.
Essentially, you want your website to clearly communicate to search engines what it's about.
The clearer it is, the better chance you have of the search engines showing your website high up in search engine results.
Realty Management Associates already had a website, so we just needed to fix the on-site optimization issues.
We focused our efforts on a few important areas:
a. Page Titles
We set up their page titles as follows:
Primary Keyword – Secondary Keywords – Brand
For example:
Boise Property Management – Rental Company in Idaho – RMA Inc.

b. Map Embed
It's very important to associate your website with a verified Google My Business listing. The best way to do this is by using a map embed on your landing page. In this case, we were targeting their homepage for buyer intent keywords, so we embedded a map of their GMB listing on their homepage.
c. H1 Tags
There are 3 important sections when it comes to on-site optimization:
Page Title

URL Structure

H1 Tags
You want to use synonyms of your primary keywords in your H1 tag.
We set up their H1 tag as follows:
One of the Top Rated Boise, Id Residential Rental Management Companies

d. Reviews
Reviews are extremely important for SEO.
They're also extremely important for getting people to actually call your business once they find you.
Luckily, Realty Management Associates already had a good amount of reviews (40+) before we began working with them.
Otherwise, we would have recommended they use our reputation management service to improve their online reviews.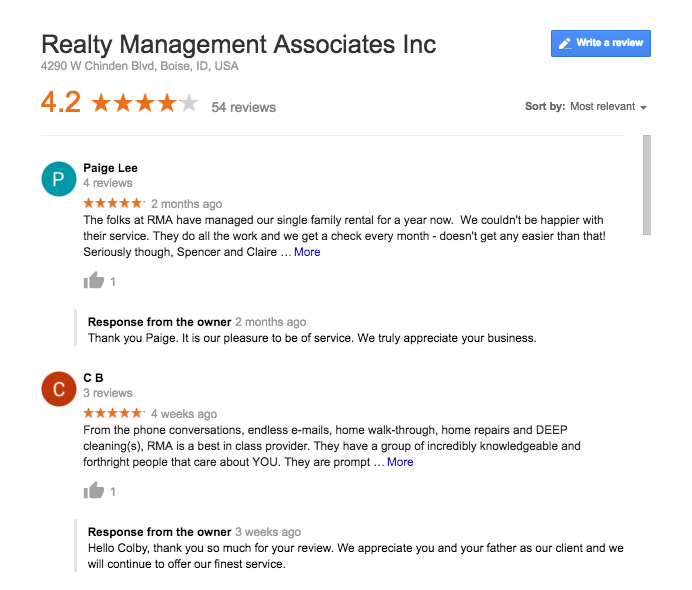 e. Authority Links
We like to add links from their website to their online properties. This helps Google understand the association between their website, GMB listing, and social media properties.
We added a link to their:
Facebook

Twitter

Google Maps Listing

Google+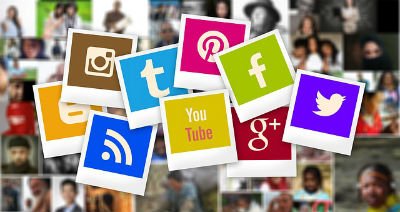 f. High-Quality Content
One of the factors in Google's algorithm has to do with content freshness.
They favor sites and pages that are frequently adding new and informative content.
This entices search engines to crawl your website more often.
We added 500+ words to every page we were targeting to rank on their website.
We also performed an audit to determine pages that were considered low-quality from Google's viewpoint and revamped those pages to include more informative content.

3. Implement Schema Markup
Schema markup (also referred to as Structured Data) is code that goes on the back end of your website to help Google better understand and present the content on your website.
In Google's Introduction to Structured Data they state:
Google uses structured data that it finds on the web to understand the content of the page, as well as to gather information about the web and the world in general.
Essentially, Schema tells the search engines what type of information is on that particular page.
In this case, we use Schema Markup to tell search engines that Realty Management Associates is a local property management company.
a. Generate the Schema Markup
To implement schema markup we first generated the code using JSON-LD.
If you aren't comfortable writing code, don't worry. You can use this tool to generate the schema markup.
b. Implement the code using Google Tag Manager
We use Google Tag Manager to insert the code on to the back end of their website.
If you aren't comfortable doing this, feel free to contact us to have this done on your site.
To do this:
1.Create a new tag in Google Tag Manager
2. Selected 'Custom HTML' as your tag type.
3. Paste the code from the schema markup tool.
4. Under the 'Triggering' section choose the page where you would like the schema markup to be implemented.


4. Google My Business Optimization
Your Google My Business (GMB) listing is absolutely crucial.
This tells Google that you are a local business.
Without a Google My Business listing your website has no chance of ever showing up in the Map Pack rankings.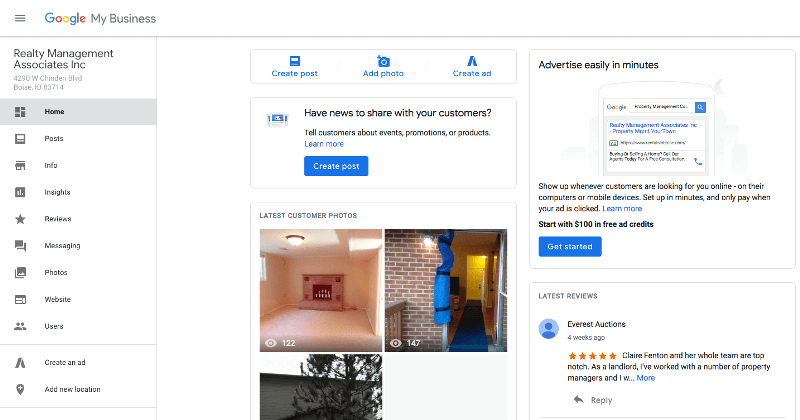 If your company is currently missing a GMB listing the first thing you need to do is get verified.
Step 1: Get Verified
Login to your business Google account and head over to https://business.google.com
Step 2: Fill Out Information In Detail
Step 3: Obtain Reviews

5. Citation Clean Up and Creation
A citation is a listing of the business name, address and phone number (NAP) on another website online. These are typically found in online directories, like Yelp.
Citations are crucial for local SEO.
Google compares the information on your Google My Business listing and your website with the information on hundreds of online directories.
If you want to rank locally, you need congruent NAP information across all directories.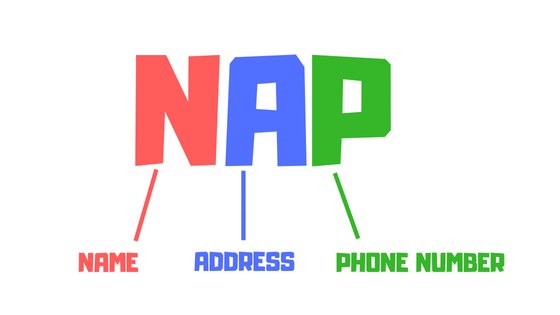 If the NAP on these directories is consistent with the NAP on your Google My Business profile and your website, it helps prove that you're a credible business.
If there are inconsistencies in your citations it will hurt your search engine rankings.
We have a 3 step process to get our client's citation information in order:
1) Find existing citations
The first step to making sure your NAP is consistent is finding everywhere online where your business is mentioned.
If you've ever changed business locations, changed telephone numbers, or your company name you NEED to conduct an extensive audit.
We have a process in place that allows our team to find all the important directories where Realty Management Associates was listed.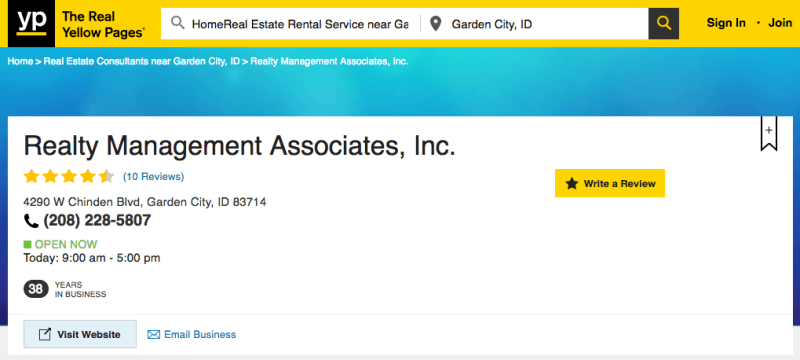 2) Fix existing citations
Once we performed the audit, the next step is correcting inconsistencies.
We manually reach out to the directories where there is an inconsistency and arrange for it to be corrected.
3) Create new citations
Not only do we need to correct existing citations, we also want to look for new opportunities.
Certain online directories can be a valuable source of lead generation.
Once we find new opportunities, we manually create a profile on each of them.
This is a long process and I recommend hiring an agency to help you with this.
Feel free to contact us for help you with your business' citations.

6. Local Business Outreach
A big part of the local SEO algorithm has to do with local relevancy.
One of the best ways to establish local relevancy is by getting mentioned on other local business websites.
A lot of local businesses want content for their website.
Content helps them increase their online presence, which in time can lead to bringing in new clients.
We saw an opportunity to establish an exchange of value by reaching out to other local businesses in Boise and offering to write a great article for their site.
The Plan
Find local businesses who currently have an active blog on their website.

Contact each company and offer them a high-quality piece of content

Co-ordinate the topic of the article with the marketing representative

Write the article and send it to the business with a link to Realty Management Associates included in the content.

The Execution
We built a list of hundreds of companies located in Boise.
We then reached out to each company via email pitching them a unique article for their website.
This is a manual process, but it's necessary if you want to build quality links to a local website.
This process is a numbers game.
You need to find a LOT of websites to get results. We reached out to 278 companies and roughly 20 agreed to our offer.
We proceeded to write the content for each of these websites.
The Results
20 links from Boise relevant websites

Realty Management Associates obtaining brand exposure
Note: To get this done, you need to provide the other local business with a genuinely useful piece of content.
Overall Results To Date
Realty Management Associates has had 96 internet inquiries (with a total of 123 doors) in the past 12 months.

They added nearly half their business in the past year through SEO leads.

Realty Management Associates has added 46 new doors to their portfolio. (Average property management contract is $4,000. This comes out to around $184,000 of revenues)