Having a properly optimized website for SEO is essential for your business to thrive. WordPress allows individuals with no prior experience in web development a chance to build their own website with ease. The best part is that WordPress is an open content-management system, which means people from around the world are participating on improving it. Webpage themes are always being created and updated.
WordPress also has plugins, which are always being created and updated as well. These plugins add functionality to your webpage so that individuals can add specific features to their website.
Today we are going to cover the 6 best free WordPress plugins to improve your SEO.
1. Yoast SEO

If there's one thing you'll realize after doing your research, everyone's list of top WordPress plugins contains this one. It is considered by many, the best plugin out there and it is the most downloaded plugin up to date.
My favorite feature is that the plugin forces you to choose a focus keyword when writing an article and to populate it throughout the text.
These are the main features as presented on their site:
Post titles and meta descriptions

Robots Meta configuration

Canonical

Breadcrumbs

Permalink clean up

XML Sitemaps

RSS enhancements

Edit your robots.txt and .htaccess

Clean up head section

API Docs
For more in-depth detail on each feature, check out the description on their site.
2.  SEO Friendly Images

This neat plugin takes care of your SEO image posting needs. It automatically updates all your images with appropriate ALT and TITLE attributes for SEO purposes.
The ALT text is the most important attribute when it comes to using images on your site. It properly defines what the image is to the search engines so that they can properly site it. This is one of the main reasons why images add to your SEO game.
The TITLE text allows the reader to see the text description of the image when putting their mouse over it.
3. WP Smush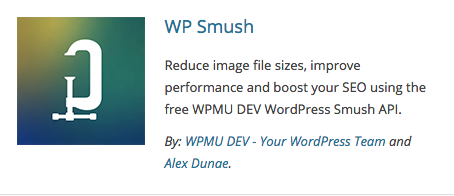 Simple and essential to anyone who wishes to have images on their site. WP Smush reduces image file sizes, this is one of the best free WordPress plugins to improve SEO.
4. Contact Form 7

This simple plugin does what it's called. Contact form 7 simply manages multiple contact forms with great customizability. You can customize the form fields, the appearance and the mail contents. Also, you can create multiple contact forms on different pages.
5. Google XML Sitemaps

This plugin is a must, allowing you to create an XML Sitemap, which will help the search engines better index your webpages. Quite simply, it allows the bots (crawlers) to better crawl and index your website and its webpages. Every time you post or create a new page on your website, this plugin notifies all the major search engines of your doing so. It is the best of its kind.
6. Google Analytics by Yoast

"What gets measured gets managed." – Peter Drucker
Analytics are essential, you need to know what going on so you can plan and act accordingly. Google Analytics by Yoast is a great tool to get this done. They provide a free and a pro version. The free version is great.
With this plugin, you are able to track error pages, search result pages and you can setup specific reports. Both the free and the pro version are always staying up to date so that you are using the latest tracking code.
To Conclude
Making sure your Website is optimized for SEO is a constant endeavour. There are tons of amazing plugins out there, we believe these are the 6 best free WordPress plugins to improve SEO. We look at these as being evergreen plugins that'll always benefit most websites out there no matter what they do.