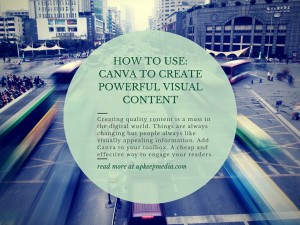 Today we're going to talk about a tool we can use to create powerful visual content. We've spoken about it before: Creating Quality Content is a great tool to grow your company's presence in the digital world.
There are 3 main mediums we can use:

Most Companies when starting out choose to focus on one medium until they gather up enough followers. Afterwards, they move towards different medium channels.
Why?
When it comes to information acquisition, people have different preferences. Having different mediums for your readers allows you to give not only what they want but also how they want it.
The Goal: Keep Them Engaged!
Now when we post our content online, we use a number of different channels/online platforms to do so:
Our Website/Blog

Facebook

Instagram

Pinterest

LinkedIn

Youtube

SoundCloud

Ads (and many more…)
A great strategy always entails a combination of these and others. Now one thing we all can see is the opportunity/ability to use pictures in almost all of these. Some of them are primarily about pictures (Pinterest & Instagram). Canva is also a great tool to use for your Facebook ads. 
A Picture Says A Thousands Words
It'll never go away. Pictures are powerful! Pictures add to your SEO strategy. Googles algorithm likes them and there's a reason for it: People like it.
How can we take a calculated and creative approach to this?
There are many different platforms we can use to create visually appealing images and infographics. Today we will talk about one of our favorites.
Canva
Canva is an online design tool that helps you create visually appealing images and graphics. If you aren't the most creative of persons, it doesn't matter. They have thousands of different layouts that you can choose from and get inspiration from.
It is super simple to use and it's free. They even have a tutorial section. The best way to really learn is to simply play around with it and try different things. It has everything you need to create amazing designs.
How To Use It
When you go on to Canva the first thing you'll do is create a profile. Signing up is free. All the designs you create will be saved.
Now when you go to create powerful visual content, it can be used for a wide range of purposes. Such as:
Social Media Posts

Documents

Blogging & eBooks

Marketing Materials

Social Media & Email Headers

Events

Ads
They already have thousands of templates you can choose from and edit to your liking but when you decide to make them from scratch you will have 4 aspects to use per design:
Layouts

Text

Backgrounds

Uploads
Almost everything is free. Canva does offer some premium options from the 4 design categories, which cost $1 each. This is where they make their money. It doesn't really need to be used but the option is always there as well.
To Conclude
A good content strategy is also a good SEO strategy. Good content is nothing more than useful information delivered in an enjoyable way. Getting creative with how you disseminate information to your followers will pay off. Canva is another tool you can add to your arsenal, it'll help create powerful visual content, which your followers will appreciate.
(Sidenote: This is an independent article written about Canva. In no way are we affiliated to them except being users ourselves.)