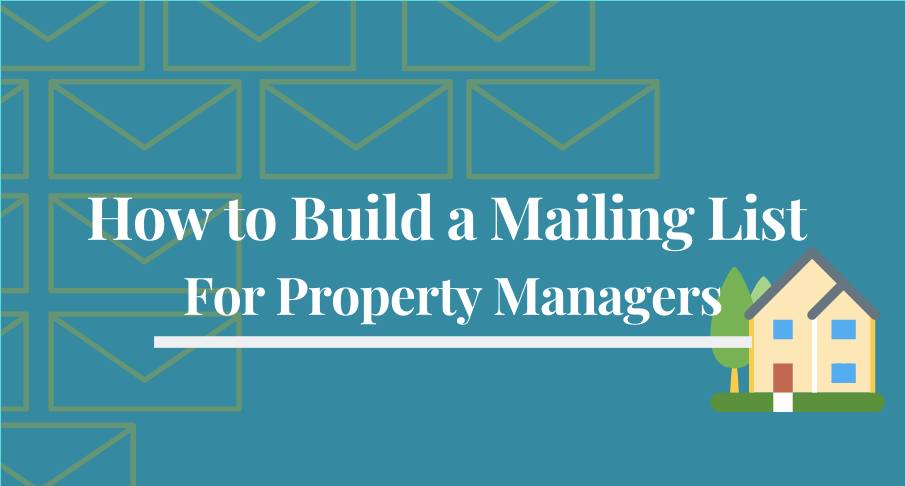 If you're looking for a new way to attract leads while keeping your current clients engaged, then you need a mailing list.
Creating a newsletter is one of the best ways to build a solid relationship with existing and potential clients. And not enough property managers are using this marketing tool to its fullest potential.
You might be wondering; how will I benefit from this?
Well:
It's inexpensive.

You get to communicate with your target audience directly and frequently.

It's faster than social media and word of mouth.

Email newsletters are less intrusive than cold calling because you only send them to people who subscribe.

It's a simple way of delivering value and offers to your subscribers.
That's why I wrote this article. To equip more property management companies with the knowledge they need to start (or pick back up) their email marketing. 
If you follow these steps, you'll have a working and growing mailing list in no time.
Building a Mailing List from Scratch
Before you start, it's always best to have an idea of what you'll need for a great newsletter, such as:
A reliable email marketing platform;

High-quality and informative content you want to share;

Email templates, and

A long list of contacts (or at least a small one to get started).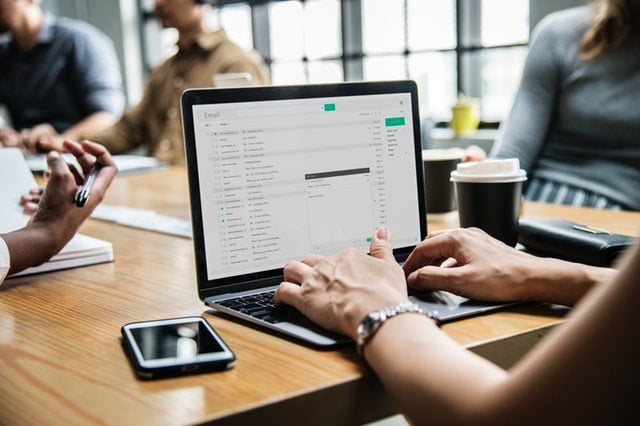 Don't worry if you don't have or know what some of these things are.
By the end of this post, you'll know everything a property manager would need to set up an efficient newsletter with these items and more.
Step 1: Choose an effective email marketing service.
Email marketing services are companies that have effective emailing systems that make marketing a breeze.
When dealing with a large audience, keeping track of sent emails can be quite confusing. And sending individual emails will take up a lot of unnecessary time.
A good email marketing service will help you save time by keeping things organized and automated.
There are many credible services you can choose from, but here are the top three most recommended according to our research:

MailChimp is our favorite because it's a simple email marketing service. It's ideal for small to medium-sized property management companies.
 MailChimp is a great place to start because of its user-friendly design, impressive features, and cost-effective options.
The best part about using this service is that you can always look forward to new features that you can incorporate to your email marketing as you get more comfortable with the platform.
Not to mention they've got email templates you can use as a starting point to create your own unique newsletter style.
Price differs in terms of subscription plans. A great perk for a newsletter beginner is that they offer a free plan that allows users to have up to 2,000 subscribers and send up to 12,000 emails per month.

SendInBlue is another great option that offers effective features and tools that you can use for free. Just know that its free plan is a bit limited when compared to MailChimp's.
But SendInBlue does have an amazing and easy-to-use interface. And you can conveniently integrate it with a number of third-party apps for improved usability.
With it, you can manage contact lists, optimize your email layouts and get comprehensive reports on your campaigns and more.
SendInBlue offers you flexible pricing if you choose to opt for its paid subscription.
Something that is unique to this platform is that it bills you according to the volume of emails you send; instead of the number of subscribers you have. And depending on this amount of sent emails, you should expect to pay from $0 to $145 per month for their services.

Lastly, you can opt for Constant Contact. Just like the other two mentioned, it also has its share of perks and useful features.
For example, Constant Contact offers you a 60-day free trial period to make sure you enjoy their services.
Also, this service allows you to customize and integrate it with other platforms to maximize productivity.
Constant Contact's simple and user-friendly interface is one of the main reasons why it's another ideal tool for first-timers. Generally, using this company's services will run you down between $20 and $95 every month.
Step 2: Plan your content.
Content is always the most important part of a newsletter. Which is why it is so important to plan out correctly.
From your targeted audience down to the timing of the email, you need to tailor your newsletter to fit what your reader is looking for.
Where to begin?
First, you have to know your newsletters' goal and audience before writing. This will help you figure out the best time for your chosen audience to receive the content.
Taking the time to consider these points will not only improve your newsletters' reach, it will also increase your lead conversion rates.
Setting goals.
A goal helps give any plan a clear direction, and your newsletters are no different.
What do you want to achieve with your marketing efforts?
At first, you can start with an easy long-term goal like gaining 5 new doors by the end of the year through email marketing.
Then work backward and think about what it will take to achieve that goal.
If we follow this example, you'll need to have an email marketing system up as soon as possible, then you'll have to start writing content that will convince readers that you're the best property manager for their investment property.
To be effective, your content should always respond to your target audience's needs and interests while working toward your chosen big-picture goal of growth. 
Knowing your audience.
Your audience determines when and what type of content you'll be sending out.
You have to pay close attention to rental investment property owners' preferences and should be able to put yourself in their shoes before sending a newsletter.
That means trying to imagine what they are doing at different points in the week.
Will they have time to read your newsletter? Is your content relevant to their current needs or curiosities?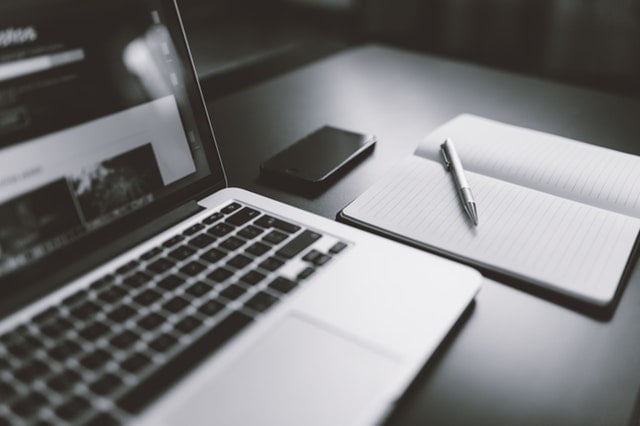 Be smart about your timing and frequency.
It's usually recommended to send your newsletters when you think that your audience will have enough time to read through them.
Depending on your audience, it could be early in the morning, during lunch break hours, evenings or during the weekend.
It will require some testing on your part. Try sending out your emails at different times of the day and then measure which time has the highest open rate. 
Frequency can also be a bit tricky. Too much or too little can be equally bad for your conversion rates.
The fact that you are doing email marketing at all puts you ahead of the competition. Just aim to be consistent.
Become a part of your audience's routine and start slow so it's manageable for you. Make them look forward to hearing from you.
Step 3: Create your emails.
Here's where you put what you've learned from step two into action.
That means coming up with your emails' template, catchy and attention-grabbing subject lines, and the actual content.
Coming up with a Subject Line.
For better results, your subject line also requires consideration. It's what gets people to open your email in the first place.
Different types of subject lines that you can include are those that:
Add a little bit of urgency and scarcity.

Are precise about the contents of the newsletter.

Are funny or interesting.

Add a personal touch (like including the recipient's name).
Make sure to switch up these 4 types of email subject lines to keep your content interesting and your audience engaged.  
Whichever you choose to go with, make sure it's short, concise and click-worthy.
Creating good content.
Content forms the main part of a newsletter but the last point in the creation process. You need to know and understand the other pillars to make sure you're creating valuable and strategic content.
The best way to increase your click-through rate is by ensuring that your content is relevant, short, and responding to one of your audience's needs.
Most importantly, your content needs to be useful. Make sure you provide information that's helpful for rental property owners. The more value you can provide, the better.
When it comes to content go with the 80/20 Principle. 80% of your emails should be educational content that helps the rental property owner with their investment. The other 20% can be promotional/follow up emails to schedule a call. 
Step 4: Grow your mailing list.
Now that you know how to craft your emails, you have to make sure that you have someone to send them to. 
1) Create a valuable incentive. 
The first step to building your mailing list is to create a lead magnet.

A lead magnet is an incentive that you're offering to your target audience in exchange for their name and email address. 
As a property management company, your target audience is generally a "do it yourself" landlord or a real estate investor. As such, you need to choose bait that will be attractive to your specific target audience.
For example; offering to email your visitors "A Comprehensive Guide to Managing Your Rental Property" PDF download for free.
Basically, you are encouraging people to join your email list by offering something of value in exchange for their information. In the end, your visitor will have a free guide and you'll have created a new subscriber. It's a win-win.
2) Get your lead magnet seen. 
As important as having an attractive lead magnet is, without proper promotion, you could be setting your amazing offer into the deep abyss of the internet.
There are two main strategies that you can use to drive traffic to your lead magnet; they are to acquire organic and/or paid visibility. 
Organic visibility is achieved thanks to Seach Engine Optimization (SEO). This strategy helps you increase traffic to your website so more people will find your lead magnet and sign up for your email list.
Paid visibility comes in the form of paid ads that we all regularly see on social media and when we look something up online. Using the paid ad section on Google or Facebook will also help drive traffic to your lead magnet if used correctly. 
To know how to get started with your first paid ad campaign, you can click here for more information about Google ads and click here for details on where to begin with Facebook ads.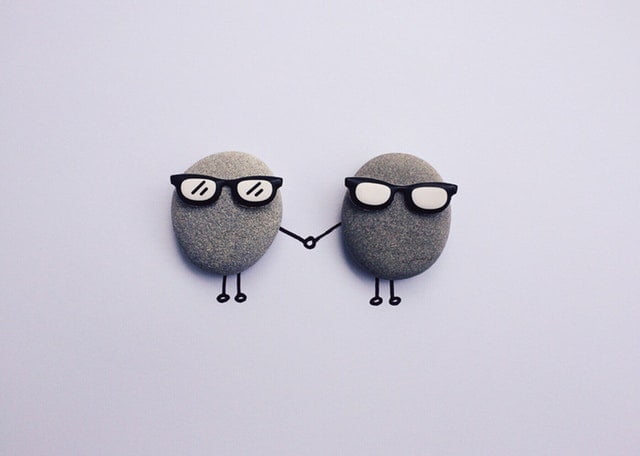 Step 5: Test your emails.
The last step is to test your email one last time to make sure that everything is working as it should and that your newsletter looks great regardless of the browser or device.
You do this last step by sending the draft version of your email to yourself or a friend and opening it on your phone, laptop, and tablet if possible, to make sure that your readers have the best experience possible.
Once you are certain that everything looks good and that your subscribers will enjoy what you have to offer, you have the green light to launch your newsletter!
Now you're all set to set the emailing world on fire! 😉
Don't forget that you can always reach out to the Upkeep media team if you have any questions or need any guidance with this kind (or any other kind) of digital marketing for your property management company.