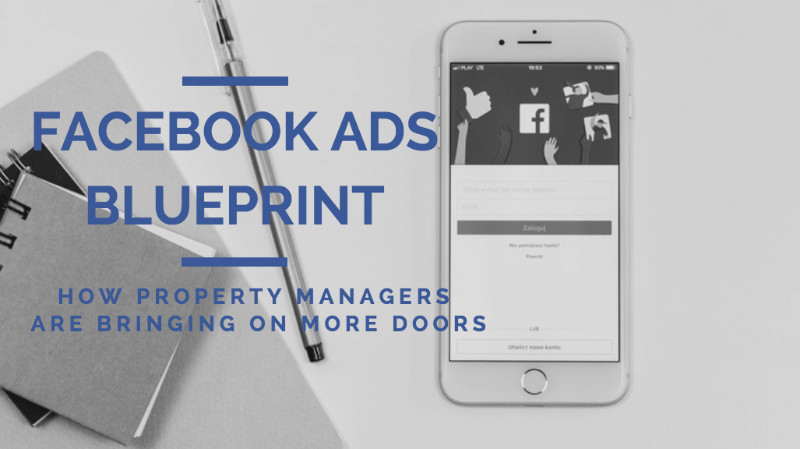 I think you'll agree with me when I say:
Facebook is an extremely popular platform.
But you may not know how to utilize it to get more leads and grow your property management business.
Sure, you have your business page, reviews, and your following but….
How do you use it to reach more of the right people (property owners and investors)?
Keep on reading because that's exactly what I'll be covering with you in this post.
Today, I'm going to show you how to set up your first Facebook Ads Campaign.
As promised,
This is going to help you reach your target audience, so you can bring on more doors under management.
Before we get to it, I'm going to provide to you an overview of why you should be using Facebook and the power of this platform.
If you don't want to wait, you can jump right down to: Setting Up Your First Facebook Advertisement
Find Your Target Market & Funnel Them To Your Website.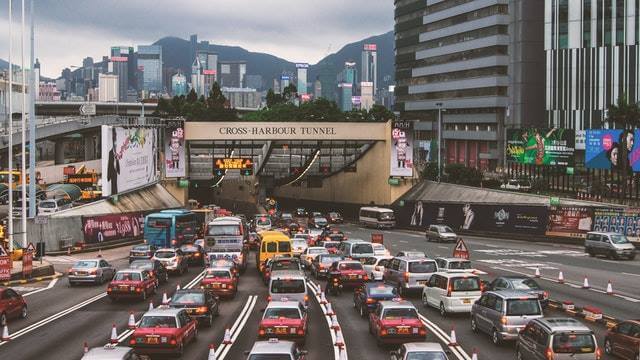 Almost all internet users do two sure things; they use search engines and they go on Facebook.
As a property management company using the internet to advertise and grow, one of your biggest challenges is to determine where your target market (rental property owners/investors) hangs out online and how to funnel them from these websites to your own.
Like many companies, you may have already used Google Ads (PPC) or SEO to get more leads.
But when it comes to Facebook… What are you supposed to do?
How exactly can you leverage this powerful social media platform to get more leads?
The best way is by running ads.
Knowing How To Use Facebook's Ad Platform Is More Important Than Ever.
Update!
Business postings are now going to be seen less.
Mark Zuckerberg recently came out stating that postings from businesses won't show as much as they use to in the news feed.
See Here: Mark Zuckerberg's Post
It's all to create a better user experience.
But now fewer people will see your company's posts.
So how do you adjust?
You use their ad platform. I'm going to show you how.
Why is Facebook Advertising So Powerful?
You might not know this, but Facebook knows EVERYTHING about You and every other user on their platform.
They partner with 3rd party data sources to compile information from all your online activity.
They know your income range, your interest as well as if you rent or own a home.
Don't believe me?
Here are some of their targeting options: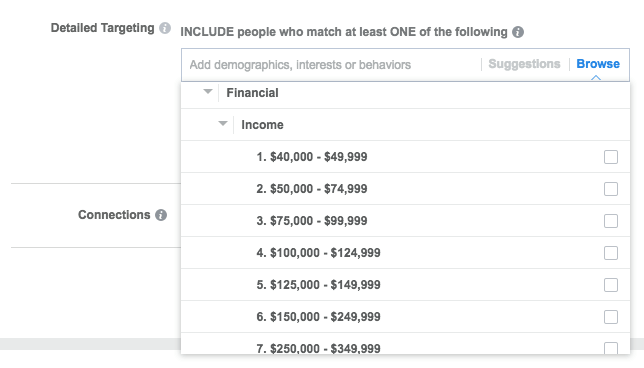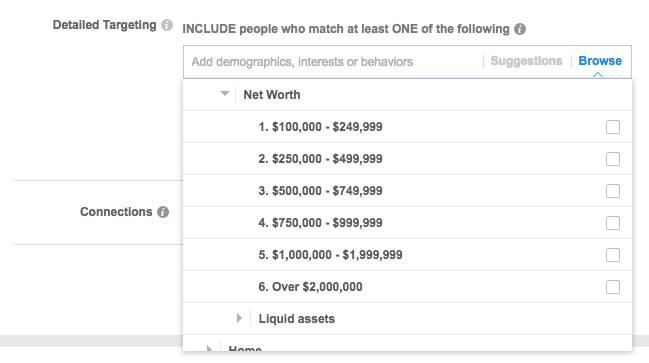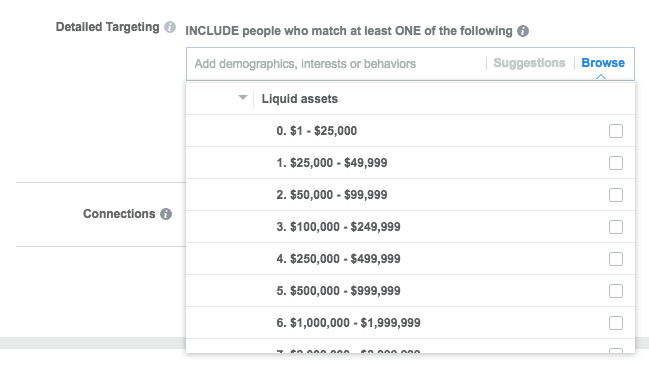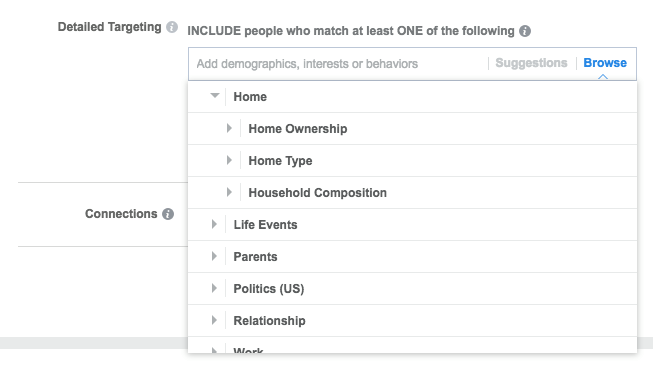 Look at this: Infographic of all Facebook's targeting options.That's a lot of useful data that will help you target the right audience.
Facebook's Platform is an Amazing Tool That Will Help Your Property Management Business.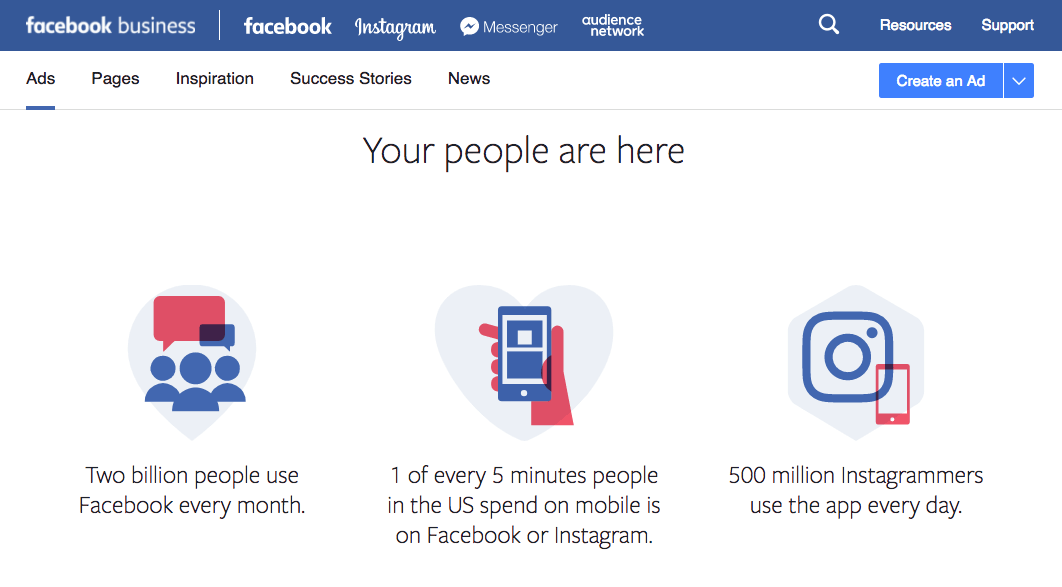 The great thing about Facebook is that they work hard to make sure that user experience isn't ruined by advertisements.
This is why Facebook has certain guidelines that advertisers need to follow.
These guidelines make the Ads part of the user experience when surfing through their Newsfeed.
Facebook's goal is having the ads not seem like ads.
Rather than disrupt the user experience, Facebook Ads are designed to look like the rest of the posts on your Newsfeed.
If you've ever had the unfortunate experience of being forced to watch an entire ad on YouTube, you'll know what I'm talking about.
Ads on YouTube frustrate users because they disrupt the flow of the user experience.
Facebook is smarter.
They want to integrate their ads into the natural flow of the experience.
For this reason, advertisements on Facebook are much more natural and generally the user will be in a better mood when they interact with your ad.
Think about how you navigate through Facebook.
You always scroll down through your feed. The majority of ads are found directly in your feed, so they won't interrupt the user's experience.
If the ad does not catch your attention, you'll simply keep scrolling down.
And this is Facebook's biggest secret to success.
Pro Tip: Making your ads part of the user experience so they don't seem like paid advertisements will drastically improve your Facebook Ads campaigns.
The better your ad, the more Facebook will reward you.
They want their users to have the best experience possible. To make sure of this, Facebook closely monitors user interaction with your ads.
When users interact with your ads in a positive way (through shares, likes, and comments) they'll reduce the cost you need to pay per click…allowing your ad to be seen by more people at a cheaper budget.
Why Your Persistence Will Determine Your Success.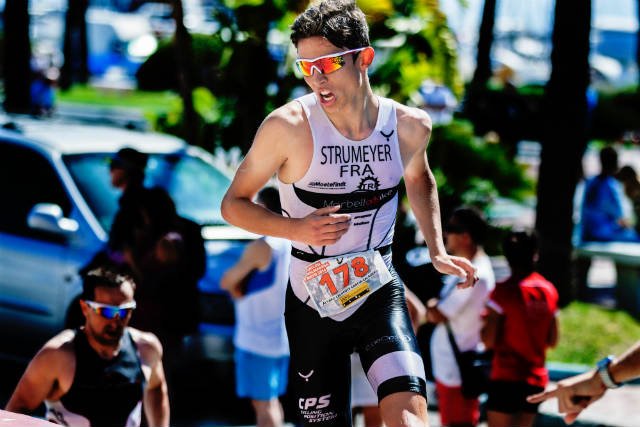 The more you advertise on Facebook, the better your ads will perform.
Facebook trusts advertisers who have more pixel data (the more data you have under your account, the more they trust you).
The greatest thing about Facebook Ads is that the more effectively you use it, the better their algorithm will be at finding your ideal clients.
Note: If you're not ready to invest your time and money into gathering and improving your overall Facebook Ad Funnel, you may want to look to hire professional help.
Setting Up Your First Facebook Advertisement.
Now there's a lot you can do with Facebook Advertising.
My goal is to give you an overview of some of the main things to keep in mind as well as help you set up your first campaign.
Now, I'm going to share with you one of the strategies that we use with our clients who are looking to bring on more doors under management.
Overview of This Ad's Strategy.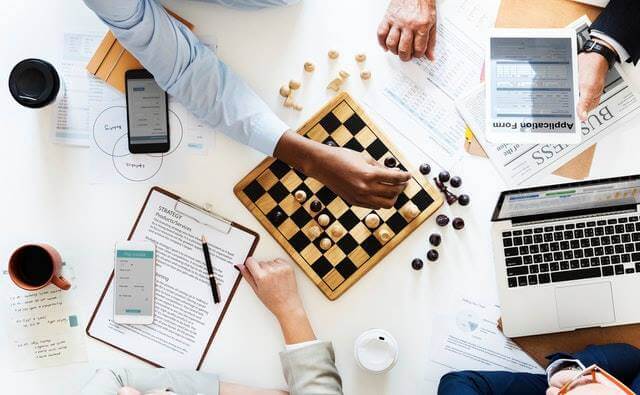 For our example, we're looking to offer a 'Free Rental Valuation' to Landlords/Property Owners in Portland.
You can set up the same campaign and target your area specifically.
If you are just getting started with Facebook Ads, the first thing you need to do is, go and install your Facebook Pixel on the backend of your website.
What's a Facebook Pixel? Why do I need it?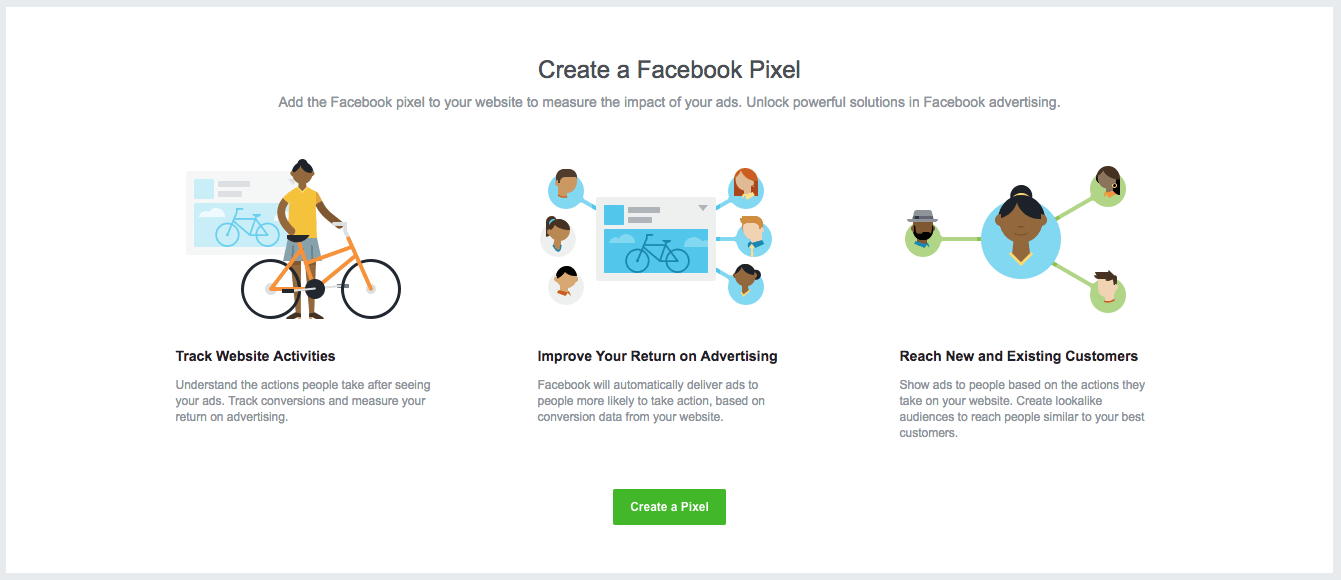 The Facebook Pixel is a snippet of code. You install your Facebook Pixel on the backend of your website, just like you do with Google Analytics.
It allows you to:
Track Visitors and Conversions

Build Audiences

Optimize Campaigns

Retarget Your Website Visitors
If you're serious about bringing in new leads, you need to make sure this is installed.
It's really easy.
We made a video you can follow:
Thanks, Stephen.
Note:
Remember we mentioned Facebook trusts advertisers with more pixel data. This is what we're talking about. Even if you do not plan to start advertising on Facebook straight away, make the effort and install the Pixel Now.
This will only help you in the long run. One of the main advantages of all these online tools and strategies is that they collect data that will help you.
Tracking your data and using it to measure and manage your property management business is essential. The great thing about online marketing strategies is that you have access to all this information. Make sure you use it.
Now that you've installed the Facebook Pixel, let's show you how to set up your campaign.
Setting Up Your Campaign – Step by Step
Step 1: Open Facebook Ads Manager
As long as you have a Facebook Business Page, you can go directly to the Facebook Ads Manager to create your campaign.
Click on the downward pointing triangle on the top right of the Facebook menu. Then click on "Create Ads."
If you don't have a business page, you'll need to make one before you begin advertising.
Note: As of May 2013, 16 million local business pages have been created. (Source: Facebook)
Step 2: Choose Your Marketing Goal
Once you're in Facebook Ads Manager you'll be shown this screen: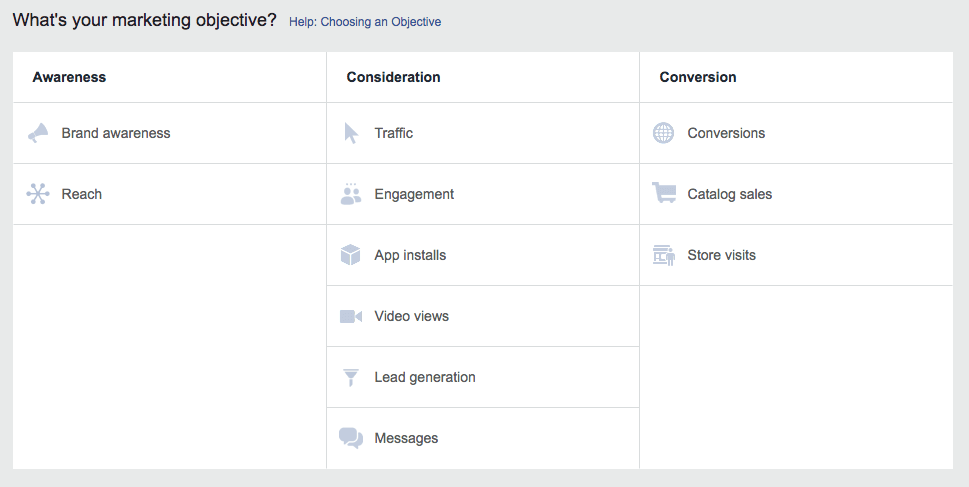 The ad we will be running will be targeted to Property Owners/Landlords.
The Offer: 'Free Rental Analysis'
For our ad example, the goal is to obtain their contact information.
Once you have their contact info, you can follow through on your offer and let them know what type of rental fee they can expect with their property.
The Marketing Objective: Click on 'Lead Generation' under the Consideration section.
Step 3: Name Your Campaign
The name of your campaign isn't very important. This is solely for your eyes, but I'd suggest naming it in a way that you can differentiate this ad campaign from future campaigns you run.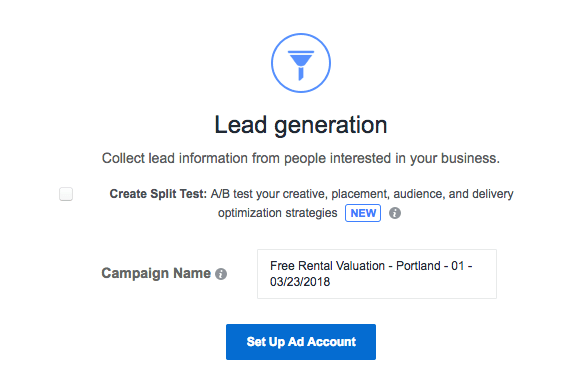 You'll see an option called 'Create Split Test' which means running the ad with different variants.
This would allow you to test the same ad with slight differences to see what performs best.
An example would be running the same ad copy but with different images. This would allow you to gain a better understanding of which image performs best.
Suggested Campaign Name Format: Ad Goal – Location – Internal Ad Number – Date
Step 4: Set Your Campaign
A) Choose Account Currency and Time Zone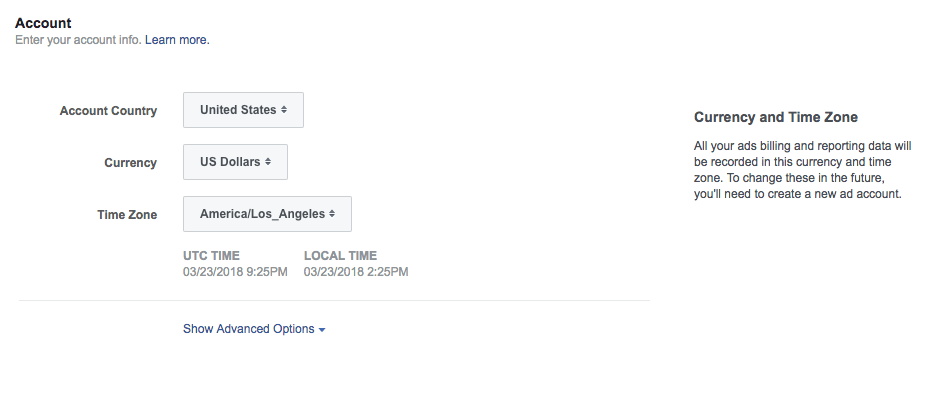 B) Choose Business Page and Accept Terms

C) Choose Your Audience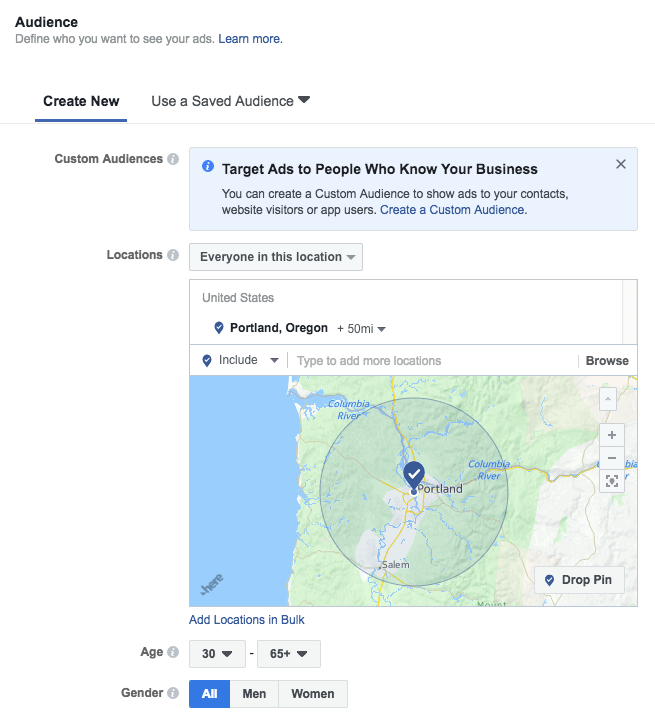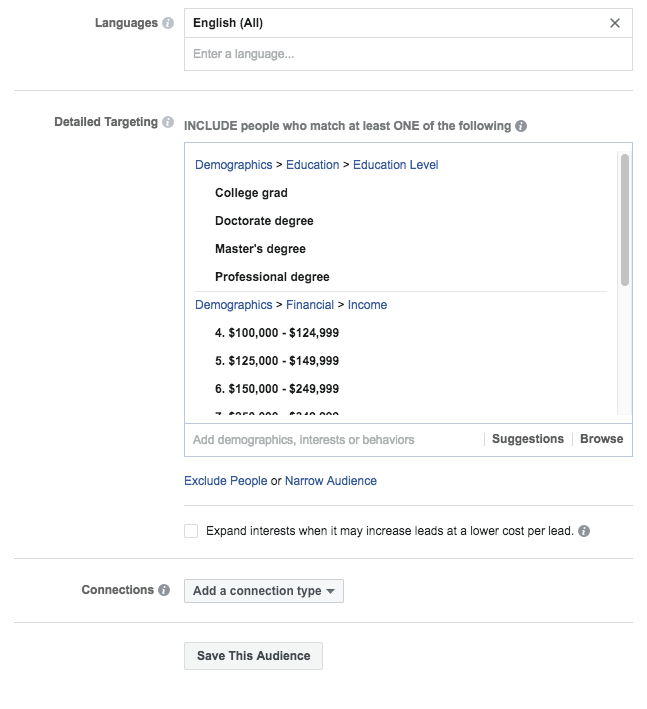 Custom Audiences => For your first ad, you can leave this area blank.
Locations => Make sure to think of your clients when choosing your location. In our example, we're targeting people specifically located within 50 miles of Portland.
Age => Think of your target clientele when selecting the age of people, you'd like to advertise to.
Gender => All, male, female.
Languages => Depending on your city, you may want to include Spanish as a language to target.
Detailed Targeting => This is where knowing about your existing clients and market is needed. 
This last section is extremely important. 
This is where you get to select the characteristics of your target audience.
So, where do we start?  
Start with your existing knowledge. What do your clients have in common?
Do the majority have college degrees?

Do they make a certain income?

Are they typically in a certain age bracket?

Are they typically in-state or out-of-state?
Targeting the right people is key to running an effective campaign and bringing in leads.
If your ad isn't being shown to the right people, you aren't going to get as many quality leads.
When you target the right audience, you have a better chance of maximizing your ROI.
Just remember that this will take some experimentation and patience to get right.
Check out this targeting resource for all the options you have when targeting people on Facebook. 
Additional Targeting Tips:
Track your ad set in a Google Sheet or Excel Sheet. This means tracking all the details of each ad (i.e. what audience demographics you are using). Tracking and measuring your efforts is essential so do not overlook this.

Generally, a good audience size will be between 500K to 1M.

Behavior is king. Interest is second. Behavior is an action you take. Interest is a hobby (it does not mean you do it). Just remember that when it comes to targeting: Behavior > Interest.
D) Choosing Placements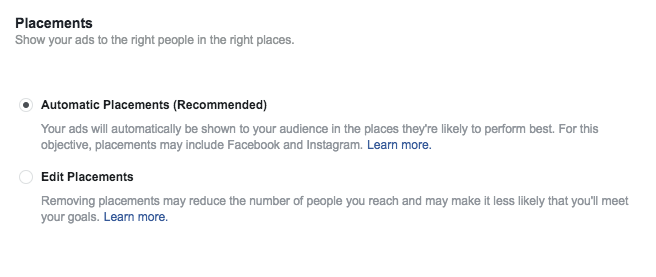 Facebook has different ad placements. You can either choose "Automatic Placements", which are recommended or "Edit Placements" which would be custom.
To start, keep it simple and choose: Automatic Placements (Recommended)
E) Budget & Schedule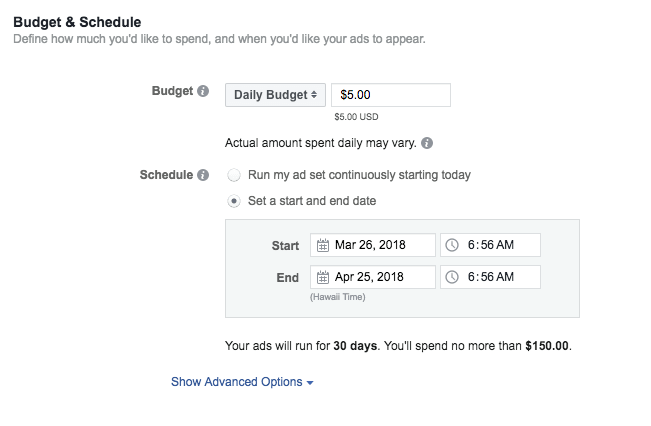 This is where you choose how much you'd like to spend as well as how long you want to run the ad.
For our campaign, we have chosen to run it for 30 days and spend $5 a day.
Step 5: Create Your Ad (Copy + Media)
A) Choose Your Ad Name
Again, this is solely for internal purposes.

B) Choose Identity – Your Business Page

C) Choose Format

In this case, we're going to use a single image.
Pro Tip: Do not use stock photos. Your image selection can make or break your ad.
D) Choose Text – Your Ad Copy
This is where you write out your actual ad.
For our example, the offer is a "Free Rental Valuation."
Whoever signs-up will send you their contact information and their rental property's address.
You will get back to them with the answer. Letting them know how much they can charge for rent.
When writing your ad focus on answering your target audience primary thought:
'What's In It For Me?'
They are signing up because they'd like to know how much they should be charging for rent.
Be clear about that. Make sure to Include that it's FREE.
Tell them what to do and what they'll get for doing it.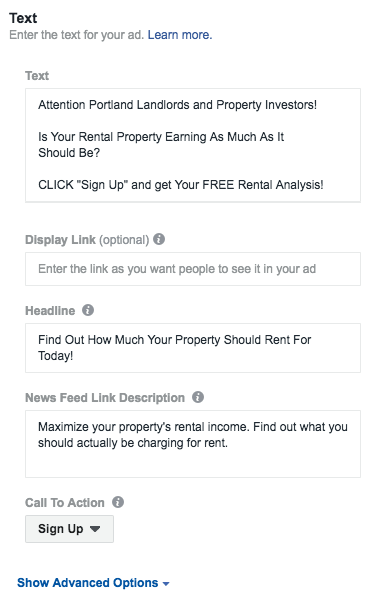 E) Create Your Lead Form
With Lead Forms, your target audience can fill all their information on Facebook.
This is specific to this ad.
The advantage is that the ad does not require anyone to leave Facebook's platform.
When they click 'Sign-Up', some of their personal information will automatically be populated by Facebook. They will need to fill out the rest.
What should you ask them for?
The less information you require them to provide, the more likely they are to do it.

After this, you'll need to set up the copy for the lead form. When your audience clicks on the "Sign-Up" a form will pop-up.
You'll need to choose an image (you can use the same one) and write out a Headline and body.
Good copy takes practice but always remind them what's in it for them and tell them what to do.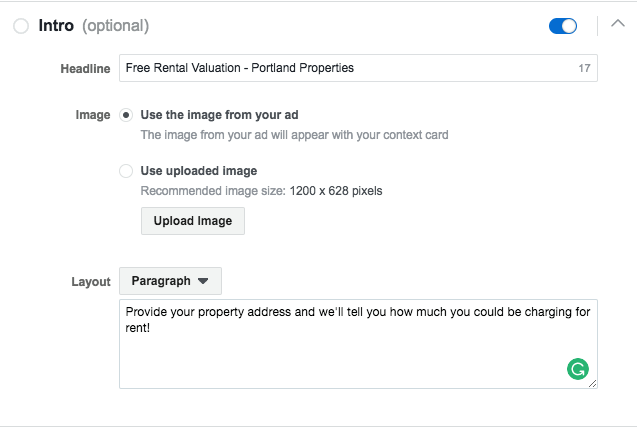 Now, we get to the actual questions.
What information do you need from them to complete a 'Free Rental Valuation' and get back to them with your answer?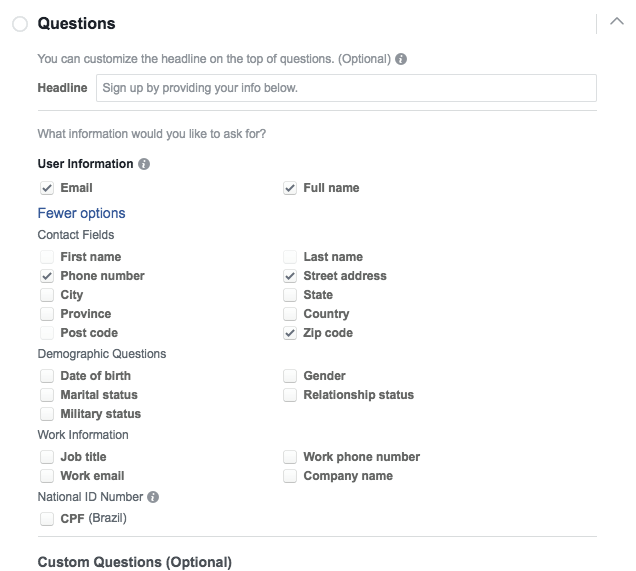 There may be more data you'd like. Remember, more questions may result in fewer leads. But, they'll typically be better leads as well. 
The next section is the Privacy Policy section. Facebook requires that you include one.
All you need to do is use your company website's privacy policy. Simply add the URL.
If you do not have one, search online for a Privacy Policy template. I suggest you add that on to your company website.
If you need some help finding a Privacy Policy resource/template, send us a message.
Lastly, you'll set up the "Thank You" page.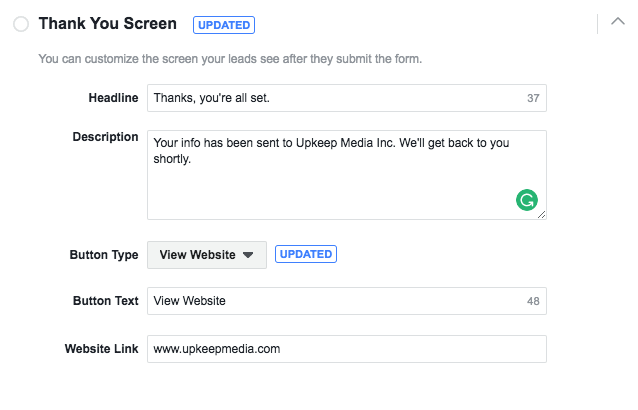 Now, you are all set. Click on Finish.
Step 6: Publish Your Ad
The last step is to publish your ad. Remember that Facebook has guidelines.
Once you publish it, you'll need to wait to get your ad approved. This generally only takes a couple of hours.
You'll get notified once it is. Then your ad will be live.
Track, Adjust and Keep Testing
There you have it!
Your first ad is set and running.
Just remember that it won't be perfect and there's plenty of room to improve.
Keep with it.
Facebook is an awesome tool you can use to grow your property management company and there's so much untapped opportunity.
Believe it or not, it's still in its early stages and the costs are very low.
Most companies focus on PPC and SEO and often overlook this.
Stand out from your competition and start utilizing Facebook to grow your property management business.
If you have any questions, send us an email or comment below!