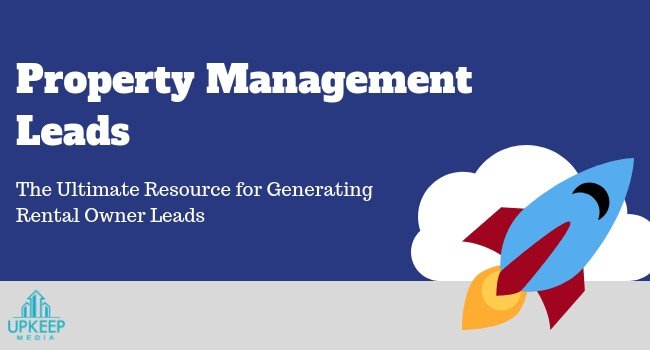 You're looking to grow your property management company.
You've come to the right place.
This guide is the most complete list of strategies to develop property management leads on the internet.
Period.
By the end of this article, I promise that you'll know exactly what strategies to implement in order to get rental owner leads for your property management company.
Calculate The Lifetime Value of a Customer
Before going into how to acquire more property management clients, I want to make sure you understand one important principle.
If your cost of acquiring a client is less than the lifetime customer value, you can scale your business.
Let's break it down using simple math.
If your average customer remains with your company for four years and pays $100 per month, the average revenues generated from of a property management contract is about $4,800 (12 months*$100 per month*4 years).
After you determine the average revenue generated from a customer, calculate your profitability for each client.
If you know that you typically have a 70% profit margin on each client, that would leave you with $3,360 ($4,800 * 70%) in profit from the average client.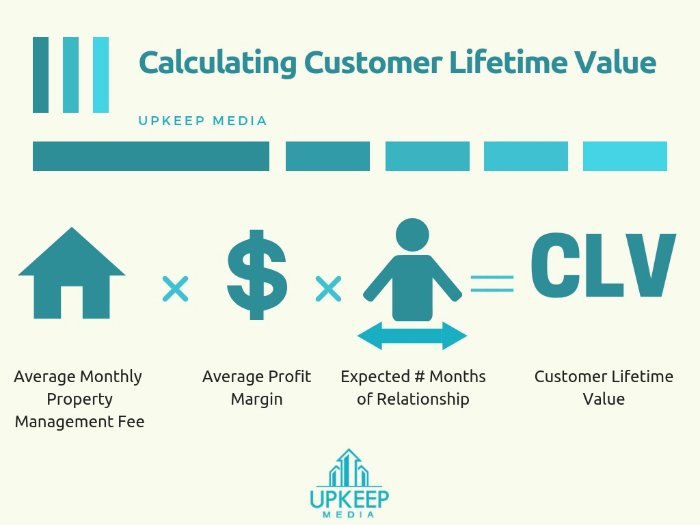 This means you have a considerable budget available for acquiring a client.
Using the figures above, if your average cost of acquiring a client is $500, you'll be making $2,860 ($3,360 – $500) per client you bring on.
Now that you understand you have a considerable budget for acquiring property management clients, let's look at how to bring in more leads consistently.
You've got a business to build so I won't waste your time.
Let's get into it.
Strategies for Property Managers to Generate Rental Owner Leads
How you produce your leads will vary depending on what stage your business is at.
Property managers that have 1,000 doors will have more resources at their disposal to spend on marketing than someone who is aiming to grow to their first 50 doors.
So what are you supposed to do if you're just getting started?
Or if you've reached a plateau, what strategies can you implement to help you push past that mark?
Business Development Ideas for Beginners
(For companies who are trying to get to their first 100 doors)
If you haven't reached 100 doors yet don't worry. You can quickly achieve that mark by implementing the following strategies. These methods will require more of a hands-on approach but won't cost you much money to begin.
1) Realtor Referral Program
Establishing relationships with local realtors can be a great source of leads for your property management company. Offer realtors a referral fee for every client they send you.
A realtor referral program can work even if you offer real estate sales. You'll simply need to sign a non-compete agreement stating that if the client decides to sell their property, you'll give the sale back to the realtor.
2) Client Referrals
Getting referrals from your existing clients is the best type of lead you can possibly get.
To keep your clients motivated, offer an incentive for existing clients to refer you more customers. Consider offering a free month of management services for every new door they refer you.
3) Friends & Family Referrals
If you're just getting started, make sure you let all your friends and family know about your business. Offer them a referral fee for every door they refer to you.
While it may not be necessary to offer a referral fee, it will keep them motivated to continue sending your referrals in the future.
4) LinkedIn
LinkedIn can be a goldmine for finding new leads. Use LinkedIn's detailed search options and search for titles such as "Real Estate Investor". You can then reach out to each person and talk to them about your services.
5) Attend Local Real Estate Investor Meetups
Using Meetup.com search for real estate investor meetups in your city. Attend the meetup and network with the real estate investors in attendance.
Once you do this, take it a step further. Reach out to the person in charge of the meetup and ask them if they would be open to allowing you to speak at one of their future meetups.

6) Host Local Real Estate Investor Meetups
Another option is to host your own real estate investor meetup. Go to meetup.com and create your own event.
Provide an information session for real estate investors. Make sure your info session is full of valuable material they can use to become better real estate investors. At the end of the meetup, let them know about your services and the benefits of working with your company.
7) Cold Call FRBO leads Off Craigslist
Check Craigslist for owners who are listing their properties for rent. Call those people and offer them your services.
While cold calling may seem tough, once you get the hang of it, it can become an amazing source of leads for your company.
8) Facebook Groups
Search for Real Estate Investor groups specific to your city. Become an active member and answer questions whenever you can provide value.
Make sure your personal Facebook profile clearly displays your company's name. Over time, people will click through to your personal profile from the Facebook group and see that you run a property management company.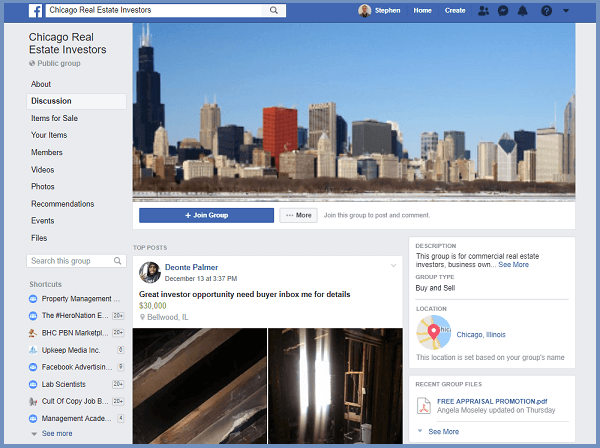 9) LinkedIn Groups
This is the exact same idea as Facebook Groups, except using LinkedIn. Use LinkedIn's search tool to find real estate investor groups specific to your city and start contributing!
Make sure your LinkedIn profile is completely filled out and demonstrates your skills.
10) Guest Blogging
Writing articles for websites where your target market hangs out online is a great way to build your authority. By getting featured on popular real estate websites in your city you can really build up your reputation, which will result in tons of leads for your property management company.
11) Get Interviewed on a Podcast
Being a guest on a popular podcast relevant to your target market can have a huge impact on your business. Being a guest on a popular podcast will immediately increase the level of trust people have in your abilities and will allow you to display your expertise in property management.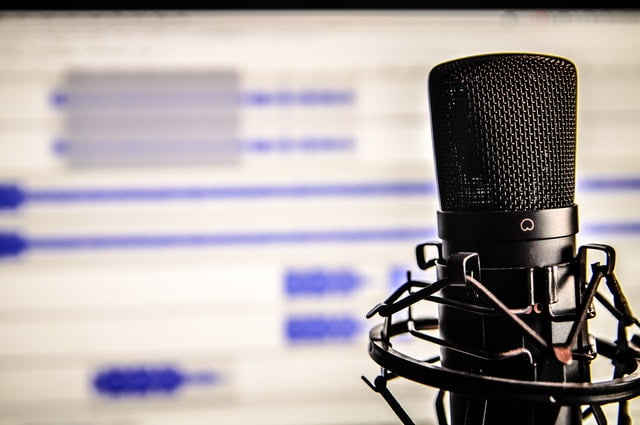 12) Browse the Local Newspaper
Find rentals listed in the local newspaper and reach out to the owners. Let them know about your services. If they're still using the newspaper to list their rentals there's a good chance they can use some help!
13) Affiliate with Local Businesses
Real estate investors need to deal with quite a few local businesses regarding their investments. A few examples would be accountants, repairmen, and landscapers. Reach out to these local businesses and offer them a referral fee for every door they send your way.
14) Join Real Estate Investor Clubs
This one is self-explanatory. By joining real estate investor clubs you have direct access to your target market. Through networking with members you can let them know about your services.
15) Direct Mailing
Request a copy of your county assessor's database. From here, find owners who's mailing address is different from the property address and send them a personalized letter offering your services.
16) Real Estate Investor Forums
Answering questions and participating in conversations on real estate investor forums can be a great way to find new leads. The trick is to find forums where your ideal clients hang out and then be as helpful as possible.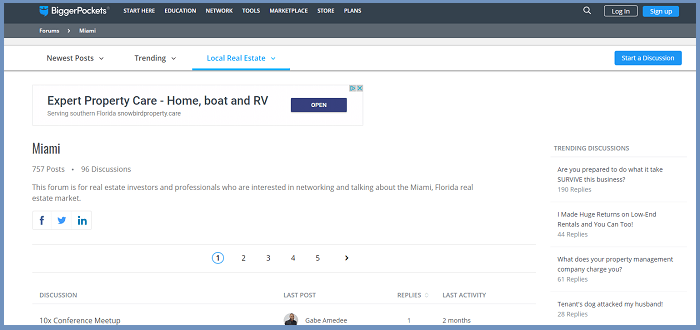 17) Business Network International (BNI)
Join your local BNI and start networking with other professionals. There's a reason they say 'your network is your net worth'.
18)Your Tenants' Previous Landlord
When you contact your new applicant's previous landlord make sure you let them know about your services. One of their previous landlords may just be an owner-landlord who's tired of dealing with their tenants.
19) Property management companies
If you're just starting out, you should reach out to established property management companies in your city. Often they'll have a number of properties they turn away. To get yourself started, you can form a referral partnership with them.
Strategies for Companies Looking to Grow At Scale
(Already Managing 100+ Doors)
1) Start a Podcast
Starting a podcast for real estate investors and landlords is a great way for property managers to promote their company. Podcasts are growing increasingly popular and don't seem to be going away anytime soon.
2) Content Marketing
Creating valuable content for your property management website can be a huge source of leads for your company. Start writing or filming (if you prefer video) blog posts that solve the main pain points your ideal clients have.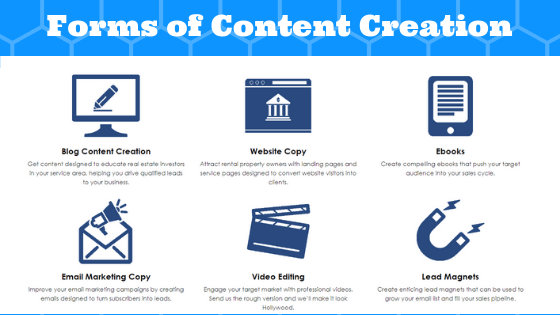 The key to content creation is consistency and promotion. Make sure you're consistently producing high-quality content and promoting it on social media every time a new article is produced.
3) Facebook Advertising
Facebook has a ton of valuable data on their users. As a consumer, it can be a bit scary. As a business owner, it's a powerful marketing channel. Start running Facebook Ads to landlords and real estate investors in your local market.
4) Google Ads (PPC)
Running Google Ads to make sure your company shows up at the top of search results for terms like "property management + your city" can generate a ton of leads for your company.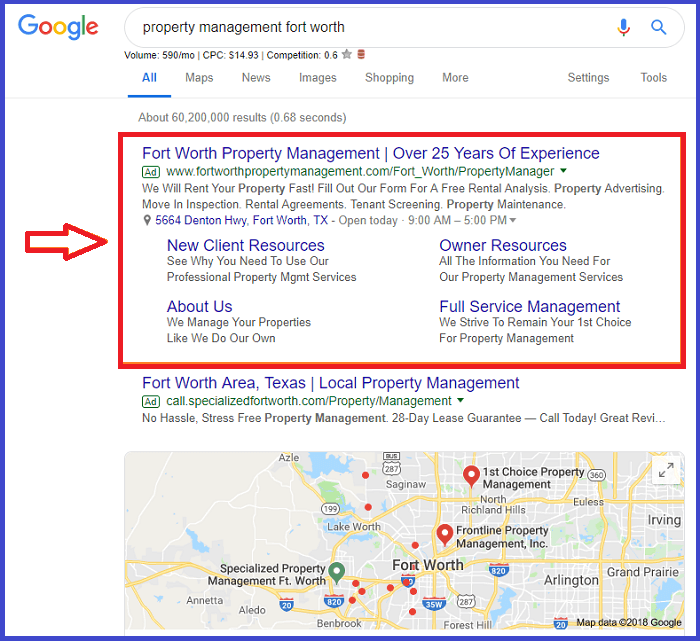 Make sure you know what you're doing when it comes to running ads for your company. Otherwise, you'll likely end up wasting a ton of money.
5) Search Engine Optimization (SEO)
Search engine optimization requires a ton of work and can take a long time to come to full effect. However, over the long run, this will be the best source of leads for your company.
If you're just getting started we suggest focusing your efforts elsewhere. However, if you're an established business you should definitely start investing in your website's SEO.
6) Put a Wrap on Your Car
Car wraps can be a great way to increase your brand awareness. Make sure you have an eye-catching design that quickly explains exactly what your company does.
7) Email Marketing
Creating precisely crafted emails for people who opt-in to your email list is a popular way to bring on additional property management leads. In order to do this successfully, you need to create an effective lead magnet that entices owners to leave you their name and email address.
8) YouTube Videos
YouTube can be an incredibly powerful source for lead generation. It is currently the second biggest search engine in the world (after Google). Start creating videos specifically for real estate investors in your city. Make sure to include your company's contact information at the end of each video.
9) YouTube Ads
If you want immediate exposure for your videos, you can pay to have your videos show up as ads before relevant videos on YouTube. For example, you can run YouTube ads to people who have an interest in real estate investing.
10) Facebook Messenger Bots
Facebook messenger bots are growing increasingly popular. Messenger bots allow you to automate conversations with people who visit your website and your Facebook page. Having a bot set up will allow you to build custom marketing campaigns inside of Facebook messenger, similar to email marketing campaigns.
11) Buy An Existing Company
Buying an existing property management company is one of the quickest ways to grow your business. You can contact business brokers to find out if there are any property management companies
12) Host Webinars For Local Landlords
Hosting webinars can be a great way to generate new leads. Make sure your webinar is targeted at real estate investors/landlords in your local area and provides information they would find useful. The more useful the content in your webinar, the easier it will be for them to realize that using your services is the best choice they can make.
13) TV Commercials
Most TV stations offer local advertising opportunities. While there are definitely cheaper ways to develop leads, tv commercials can also have a huge impact on your brand awareness.
14) Billboard Advertisements
Another traditional form of marketing is billboard advertising. Taking out a billboard in your local area can be a great way to build brand awareness.
15) Advertisements in local magazines
If your city has a local real estate magazine this could be a great place to advertise your property management company. You know that the majority of people reading the magazine are serious about real estate investing and could use the services of a property manager.
How to Increase Your Conversion Rate
Now you know what strategies to implement to generate leads for your property management company.
But how do you convert those leads into clients?
While it's impossible to close 100% of your leads, there are certain factors that will significantly improve your conversion rate.
To close a sale people need to feel like they know you, like you, and trust you.
There are two important components that will help you accomplish this.
These apply no matter how many properties you currently manage. Whether you have 10 properties or 1,000 properties under management these are important factors.
1) Improve your Online Reputation
While this may not directly bring in leads, improving your company's Google reviews can greatly impact the conversion rate of new owners who call your company once they hear about you. You should definitely implement a reputation management program to help your company earn high-quality reviews.
If you need help with your online reputation don't hesitate to reach out to us at Upkeep Media regarding our reputation management services.
2) Property Management Website
Regardless of whether the lead finds out about your company online or offline, I can guarantee they will look up your company online. Your website will be one of their first impressions of your business.
This applies no matter how many properties you have under management.
Don't underestimate the power of a website with a great user experience. In fact, a client of ours recently experienced a 144% increase in leads solely by redesigning their company website.
Check out this article for tips on how you can improve conversions from your website.
Additional Tips To Close a Sale
Speed Matters
The amount of time you take to respond to an inquiry is extremely important. The longer you take to respond to a lead, the less likely you are to close them. You should be contacting leads within 5 minutes of them reaching out to your company. According to a study by Lead Connect, 78% of consumers buy from the company that responds to their inquiry first.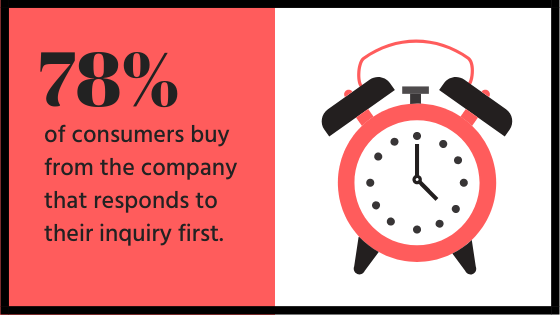 Following Up With Leads
If the lead doesn't respond the first time you reach out don't give up! Make sure you're following up with your leads. The optimal number of phone call attempts is six times before you stop trying to get in contact with them. 95% of all converted leads are reached by the sixth call.
Conclusion
Now that you know what strategies you can use to generate leads for your property management company and how to increase your conversion rate on those leads it's time to take action.
Choose which strategy you want to focus on and take action. Don't over think it! Too much thinking leads to analysis by paralysis.
If you'd like help figuring out which strategy is right for your company, or need support implementing the tips found in this guide, don't hesitate to contact us. We would love the opportunity to work with you. We offer a FREE 30-minute strategy session call that could easily help you double your company's growth.