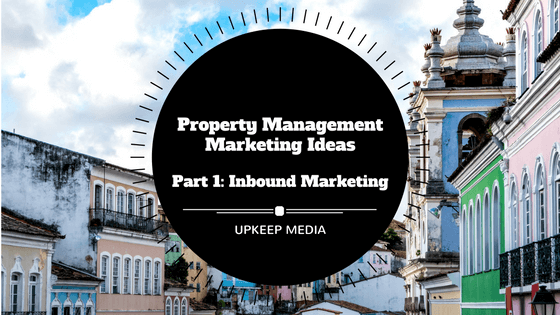 So you need some property management marketing ideas?
Times have changed and what used to work may no longer. Consumers have evolved and the way they look to buy has followed.
Some History:
Traditional marketing entails spreading the word about your product or service in order to get new clients. To accomplish this, marketers have used a wide range of "outbound" techniques to do so (banners, magazine ads, tv & radio commercials, etc..).
These tactics have become less and less effective over time due to consumer's ability to more easily block them out of their day-to-day lives. Before caller ID came along, telemarketing worked quite well. In the past, TV ads worked a lot better, today, due to TiVo or DVRs consumers can easily skip over advertisements. Due to easily available online video services such as Netflix, consumers can watch endlessly without being disrupted by advertisements. Radio ads used to be much more effective but due to service like XM/Sirius radio or music services like Apple Music and Spotify, radio ads do not reach anywhere close to the amount that they did in the past.
People no longer wish to be interrupted by ads they do not wish to see. They now use the Internet to shop and research for what they want. Consumers primarily start shopping by first using the search engines such as Google.
In order to take advantage of these changes, you must shift the way you think about marketing. Today "Inbound Marketing" has become the most cost effective way to gain new clients and grow your business.
Understand where your clients are going to find your service and position yourself there. Knowing that most people search online for what they wish to buy before buying it.
The first thing we must know is what keywords are they using to find your service?
Keyword Research 101:
Step 1: Put yourself in the consumer's shoes.
When it comes to expanding on any property management marketing ideas, your first move should be to ask yourself: How is the consumer trying to find my service online? Knowing that most will turn to search engines first; what would they search for?
Let's say we are a property management company in San Jose, California.
Brainstorm and write down all the search terms you'd use to find such a service.
"Property Management San Jose"
"San Jose Property Management"
"Property Management Companies in San Jose"
After we have a good amount of keyword ideas written down, we want to check and see if they are any good.
Step 2: Check Keyword Volume
This step will end up surprising you because a lot of the time, what you believe to be the best keyword, won't be. We must always check if people are actually using it.
So how do we do that?
Tool #1: Google AdWords Keyword Planner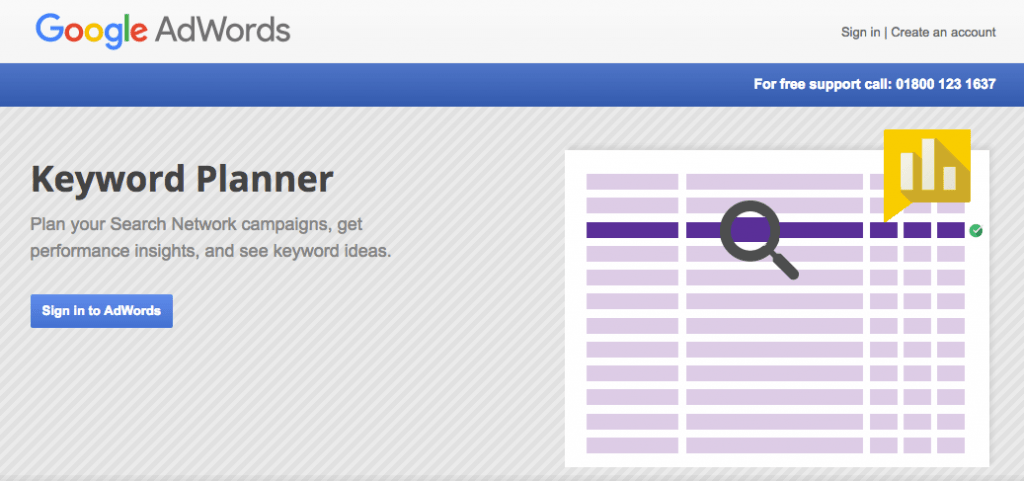 What is Google AdWords?
"AdWords (Google AdWords) is an advertising service by Google for businesses wanting to display ads on Google and its advertising network. The AdWords program enables businesses to set a budget for advertising and only pay when people click the ads. The ad service is largely focused on keywords." (Source)
(Source)
Now that we know what Adwords is, we will go over why we actually are going to use it initially. (Hint: It is not for the Adwords)
Whether or not you wish to target these keywords using Adwords (inorganic search results) or by targeting the keywords on the normal search results (organic search results) is another subject, which we will cover in the future.
Today, we are looking at this strategy from the perspective of targeting the organic search results.
We will initially use this tool to verify our keywords and see if there is any search volume for them.
How?
Once you are signed in, you will see this: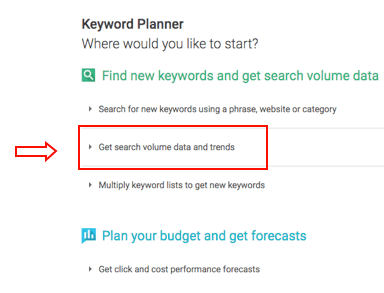 Bonus: If you choose the option above Search for new keywords using a phrase, website or category, they will also give you other keyword ideas and their average search volumes.
Then we will type in the Keywords:
"Property Management San Jose"
"San Jose Property Management"
"Property Management Companies in San Jose"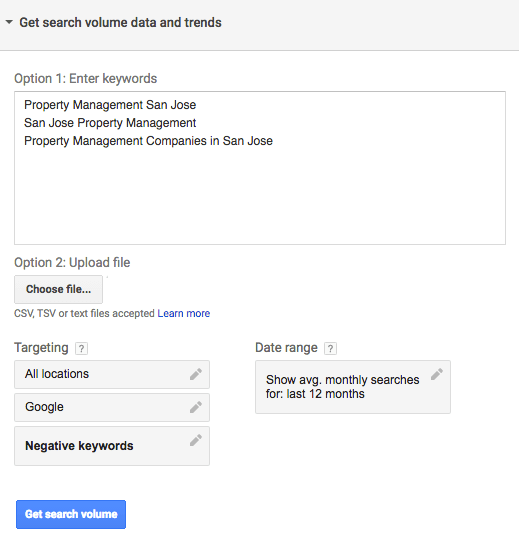 The results show an average of: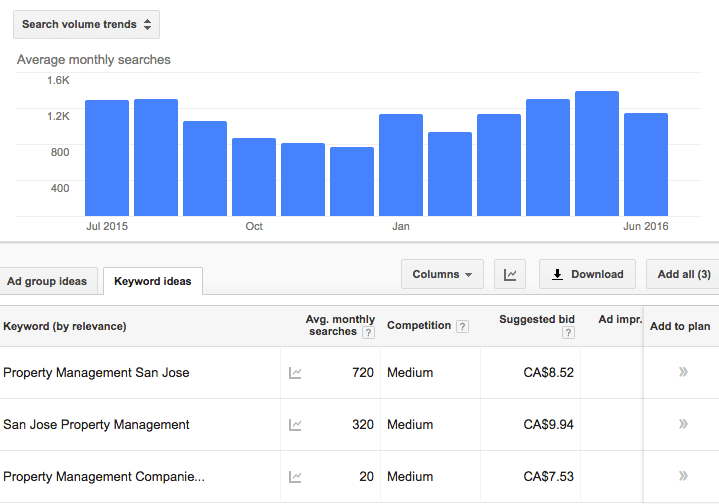 720 searches per month for "Property Management San Jose"
320 searches per month for "San Jose Property Management"
20 searches per month for "Property Management Companies in San Jose"
Now that we know the volume of each keyword, we must determine the difficulty of each keyword. What this means is that we must analyze the websites that are currently ranking for them and determine if we can currently compete.
Not all keywords are created equal, you may find one with huge search volumes but the websites that are currently ranking for them on Google's search engine results may be too "strong".
As you invest time in developing your online presence, your website's "strength" in the eyes of Google will improve. As your site strengthens, you will be able to target more and more difficult keywords.
There are many different factors at play but we will cover one metric that can give you a general idea of the overall strength of your website and your competitors'.
Tool #2: Moz Bar Plugin
For this example we will look at the Google Chrome Moz Bar Plugin.

You can find it by simply writing "Google Chrome Moz Bar Plugin" in Google search.
Once you download it, you can see exactly what it does. It will give you a few general metrics that you can use for your research.
We will only look at one of the metrics today.
DA = Domain Authority
Moz's plugin gives you a general rating on the strength of the overall website. As an example Google's DA is 100, which is the highest possible.
How will we use this?
Search "Property Management San Jose" on Google search.
Click on the Moz Bar Plugin, which is on the top right of the page.
This is what we get (we will only look at the first four search results):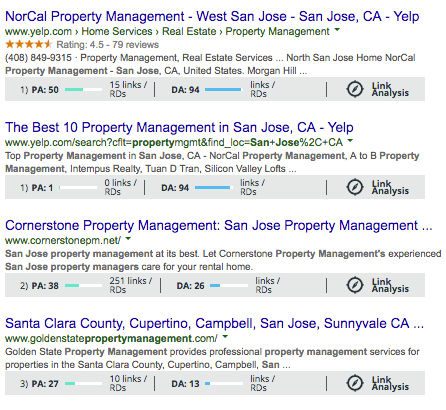 (Snapshot as of July 29th, 2016)
Now we can see that the first two results are from Yelp, which is a directory, and happens to be very strong. On the other hand, the two next results are actual property management companies and their DA's are not as high as Yelp's.
You need to know where you website stands to know if you can compete. You can go on to your website click on the Moz Bar and discover your website's DA. Now you do not necessarily need to have a higher DA than your competitions' but the higher it is, the better. You do want to be somewhat close to the same DA or higher than some of the websites that already rank. If you aren't very close, you will need to look at strengthening your overall website and that comes with how active you are online. There are many different aspects to this, which we will cover in future posts.
Remember that this is only one of the many ways to analyze your website and your competitions' but it is a good overall tool to use as a start.
To Conclude:
This is one of many property management marketing ideas that will help you in positioning yourself online so that your potential clients can find you. The goal is to increase the amount of targeted leads contacting your company.
Once you have determined which keywords you would like to target, you must implement a strategy to target them. The most common way will come from content creation, a subject we will cover in future posts.