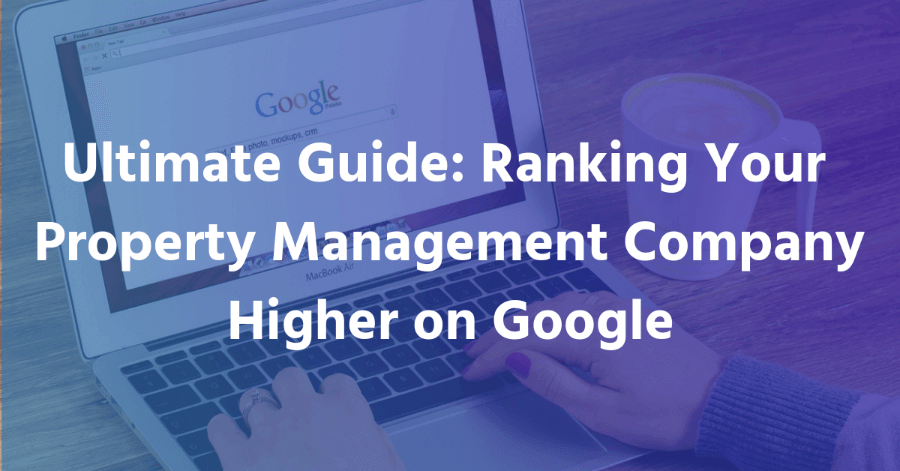 Everywhere you look on the web these days, there are articles and articles and…more articles on "how to rank your business with local SEO".
You have a bunch of theories that you should understand, strategies that you should implement, and a whole lot of SEO jargon that frankly makes very little sense to most business owners who simply want to bring in more business using the internet.
The good news is that you can bring in more business and it's not that complicated.
In this article, you'll find out exactly how we rank property management websites on a consistent basis.
Step 1: Keyword Research
Yes, we've all heard about keywords and how important they can be. But do we really understand why?
What does it really mean in terms of search engine optimization for your business?
Every effective SEO Campaign starts with in-depth keyword research and selection.
The good news is that, for local property management companies, it's pretty straight forward.
All you need to do is your homework.
For our example, I'm going to guide you through how I'd do keyword research for a local property management company in Dallas, TX.
Using Google Keyword Planner, we're going to conduct two types of searches.
To start, enter your "city + keyword".
I'd type in "Dallas Property Management" for example.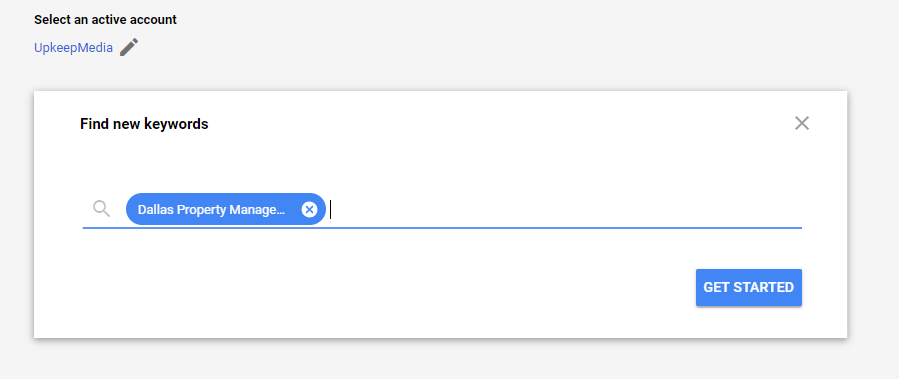 Next, click on Get Started.
You will be directed to a new page.  
Scroll down and click on Ad Group Ideas.
Now observe the different keywords by relevance. Choose the one with the highest search volume.
Once you identify the keyword with the highest search volume, you can make it your primary keyword. Consider that your pillar keyword.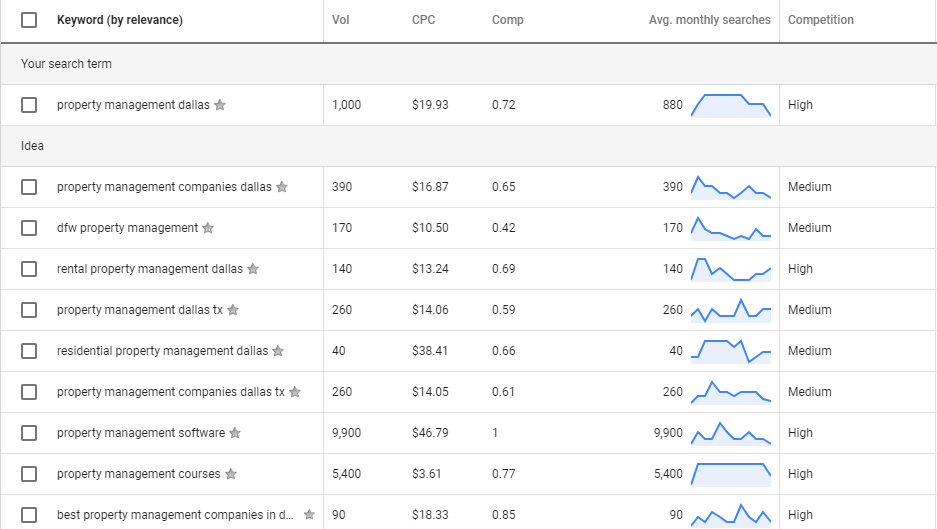 After determining your pillar keyword, look for variations of that keyword. After doing the necessary research, you'll have made a list like this:

Wasn't that difficult, was it?
Later on in this guide, we'll be showing you how to target all the different variations of your main keyword.
But for now, we'll conduct the second search.
Your goal now is to find more specific keywords. You can check for surrounding cities that you may serve.
In this case, I'm going to check for "property management fort worth".
This is what I found:

There are tons of opportunities in the smaller surrounding cities. You should perform this exercise with 5-10 surrounding areas.  It's highly dependent on what you have to offer as a business so you need to be smart about this. 
People are so concerned about being #1 in Google that they forget it isn't what actually brings in the customer.
It's not always the top ranking sites that win the business.
The search result that gains the client is the one that offers the most value to the person conducting the search.
We'll get into this a bit later in the article.
Now you have your primary keyword and keywords for surrounding areas.
That's a great start. But here's an important question we need to address.
What do I do if I search "keyword + city" and there's very little search volume?
If you operate in a small city, this may happen.
You may think you cannot optimize your site for SEO.
Don't worry. You can.
All you need to do is go to the Google Keyword Planner. Enter the search term but don't enter any city extension.
Click on 'Get Started'.
On the upper left of the screen, you'll see "All Locations".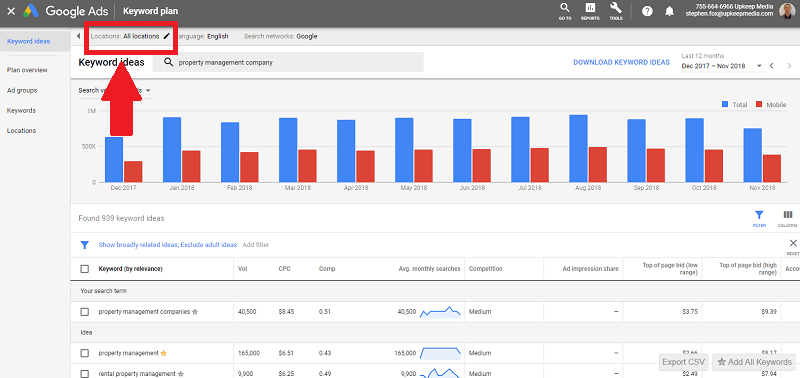 Click on this and enter your location.
To better illustrate, let's assume I was trying to see how many searches per month there are for "property management company" in Irving, Texas (small population in comparison to Dallas).
I would simply enter the term "property management company"  instead of "Iriving property management company". I would then change the Location to Irving, Texas like this: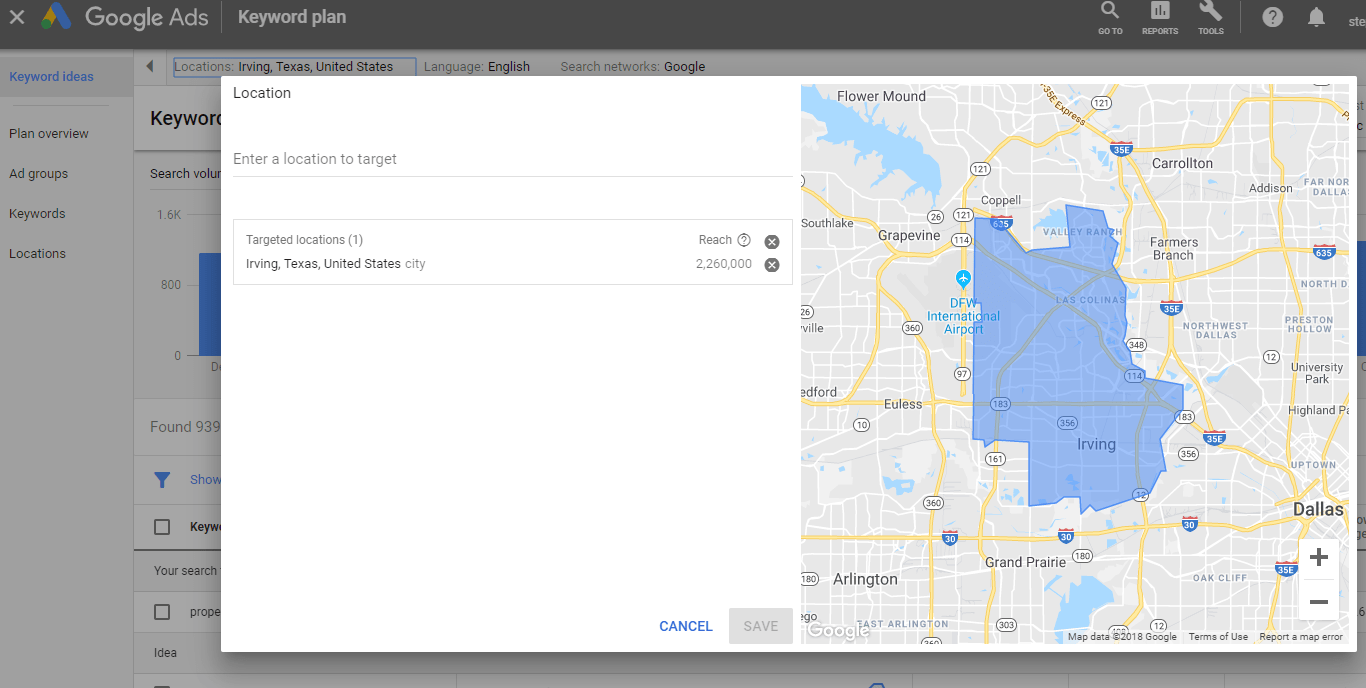 This search query will show you the search volume for a property management company in this specific geographic location.
Step 2: Competition Analysis
Now that you've come up with your keywords, you'll need to start prospecting for links you can build to your website.
A great way to find link opportunities is through competitor analysis. In short, you want to analyze the websites who already have demonstrated success in local search results.
If you can find gaps in their strategies, you can work towards filling those gaps and beating your competition.
The tool that I recommend using is Ahrefs. Open Site Explorer is also a good option but I personally find Ahrefs to be more effective.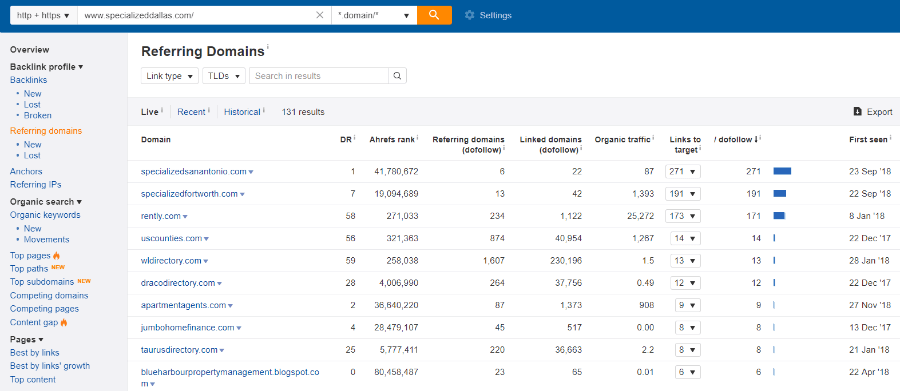 When you perform your competitor analysis research, you should look for these link types:
Sponsorship links

Guest Posts

Editorial Mentions

Locally relevant directories

Locally relevant guest posts

Niche relevant guest posts

Resource pages

Directory submissions
Once you find these links, run them through Ahrefs to check their UR. Identify the links which show a UR of 20 or more. Do this for your top ten competitors.
The second step in your competitor analysis should be an evaluation of their overall marketing strategy.
Try to answer the following questions:
Do they blog consistently? If they do, do their blogs offer any real value? Is it possible for us to create higher quality content?

Do they use paid ads? Do they show up in Google in the PPC section?

How many pages of their site are indexed in search engines? Do they have hundreds of pages indexed or is it a smaller website with only a couple dozen pages?

Are their social media posts updated regularly? Which social media platforms are they not active on? Can we use other social media channels to reach our target audience?

Do they produce video content? Are they active on

YouT

u

be

? Are their videos educational and informative? Is it possible to provide higher value than they are currently providing?
By finding the answers to these questions, you can find the areas that you need to focus on. You will be surprised as to how many property management companies have blogs but their content provides absolutely no value. They are hardly using their social media in the right way to market themselves and their videos rarely provide any value.
That is your area of opportunity. That is how you can beat them.
Step 3: On-Site Optimization
Local property management companies generally have pretty simple websites (not many web pages).  As a result, on-site optimization is generally easier on these sites as you don't have to deal with duplicate content.
Nevertheless, a site audit is still important, whether the site is small or large.
Some useful tools to conduct such an audit include:
Using these tools you can perform a thorough analysis of your website.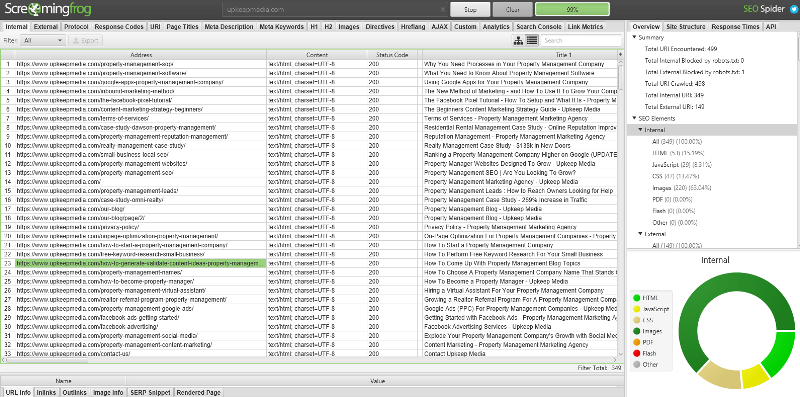 Below we'll tell you exactly what you should be looking for.
URL Structure
Your URL structure is extremely important if you want to optimize your website for search engines. It's important that you have short and clean URLs. For example, if I'm trying to rank a page for "Irving Property Management" I would want my URL structure to be:
www.example.com/irving-property-management
You also want to pay attention to keyword cannibalization in your URL structure. If you're trying to rank one page of your website for "Irving Property Management" make sure you don't have this keyword in the URL of any of the other pages on your website. For example if the URL I'm trying to rank is:
www.example.com/irving-property-management
I want to make sure I don't have any other pages or posts on my website with Irving Property Management in the URL. I often see this occur in blog posts accidentally. 
Metadata
META information for each page of your website is quite essential if you want to optimize your site for SEO. If you don't have this meta information, Google crawlers won't be able to rank your page. 
There are two key elements of META information. These include your Meta Title and Meta Description.

Meta Title
Your Meta title is the title of each web page on your website. It's often referred to as your Page Title. It should contain your primary keyword,
If you want to rank for multiple keywords on a page, you should try to use as many as you can (naturally) in your meta title. Keep in mind that in search results, only 55-65 characters will be displayed. So, make sure whatever title you use is effective enough to catch the user's attention.
An example of a Meta Title could be:
"Dallas Property Management Company | #1 Law Firm in Texas"
Meta Description
Your meta description doesn't directly affect your rankings but it does affect your CTR (Click Through Rate).
It can go up to 160 characters. You can have something like:
Mr. ABC is an experienced property management company serving clients in Dallas for the last 20 years. If you are looking for help managing your rental property find out how we can help.
By using this title and description, you can rank for several different variations of keywords.
Simply changing your meta information can often improve rankings, especially in areas where your competitors are relatively inactive.
This does not mean that your meta data alone can get you the #1 ranking but it definitely can help you get out of the top 100 and into the top 30s or 50s (I've even seen it boost companies on to page 1 in some cases).
Try to use a call to action at the end of your meta-description. This can improve click rates. Don't worry about including your contact information in the description because your goal is to motivate the searcher to click through on the search result.
If you put in the phone number, they might just call you directly without clicking the link. This will decrease your CTR (Click-Through-Rate).
Obviously, you want them to call but as far as SEO is concerned, your click-through rates will help improve your organic rankings which in turn will increase your profitability in the long run.
Header Tags
Your content on each webpage should be structured with header tags. You want to make sure you only have one H1 tag. The rest of your content can be structured with H2, H3, and H4 tags. 
It's important that you include a synonym of your primary keyword in your H1 tag.
So, for our example of a Dallas Property Management Company an effective H1 tag would be:
"Get Help From a Rental Management Company in Dallas, Tx"
The remaining content on your page should be structured by topic and subtopics with H2, H3, and H4 tags.
Website Architecture
Once you've optimized your URL, meta tags, and headers you should create quality content. Don't worry too much about using your keyword in your content. As long as you keep your keyword density between 1-3%, you should be good.
Internal Linking
Effective site architecture is probably the easiest way to improve your ranking without the need for more inbound links.
Effective site architecture should:
flow link equity to your most important pages

allows search engines to crawl through your website more efficiently

guide your website's visitors to your most important pages

allow you rank more easily due to creating topical relevance by grouping similar pages together
Make sure you do NOT:
use site-wide menus, sidebars and footer links

go overboard with internal linking
Make sure you HAVE:
Locations pages

Keyword-rich anchor text

Links within your content

A blog with good content
Your goal is to use your homepage to boost your other important pages. The link equity that you generate for your Locations page will eventually flow down to your other targeted pages.
It is also a good idea to build internal links from within your blog posts to redirect users to your other main pages.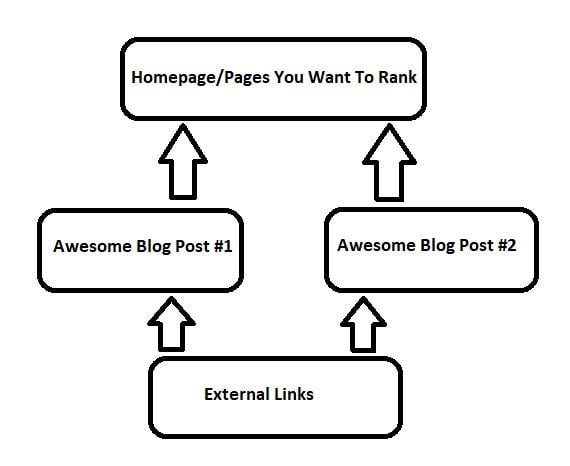 Site architecture can thus dramatically improve the authority of your site and make your link building efforts ten times more effective, enabling you to get more results with fewer links.
Name, Address, Phone (NAP) Consistency
While we discourage the use of site-wide internal links, you should definitely have site-wide NAP information. You can place this information in the footer including your company name, address and phone number.
Make sure this information is consistent throughout your website, your business listings, social profiles, business citations and other registries or blogs/sites where your business information is available.
You should always use exactly the same NAP information everywhere.
It is also a good idea to place a Google Map widget with your NAP information which you can also place in the footer.
Website Speed
The worst thing you can do to hurt your revenues is to have a slow site.
If your site is slow, find a solution immediately. 
You can move off shared hosting to independent hosting. You can also hire a developer to improve your site speed (Give Us a Call!). Whatever you do, don't skimp out on your website's speed because Google loves websites that load fast.
If you want to check the speed of your website, use Pingdom. Your goal should be to get your site speed to under 2-3 seconds of loading time.

Another option for testing your website's speed is Google's Page Speed Insights. They provide you with recommendations on what you need to fix to improve your website's speed. Take these recommendations and hand them off to a developer to fix.  
Broken Links & 404 Errors
Another big no-no. Broken links can be extremely annoying for the users and they can also really damage your organic rankings.
Closely monitor them and make sure you run regular site audits to ensure that you don't have any broken links.
The best tool for this is Screaming Frog.
If you find a broken link make sure you either remove the link or change it to a URL that exists. 
Mobile Friendly Website
Google devalues all websites that are not mobile friendly. This is mainly because more than 60% of searches are now conducted on mobile devices.
Since Google's rankings are greatly dependent on the user experience, having a non-mobile friendly website is not going to help you on the "user experience" front.
In simple words, make sure your website is mobile friendly. If you don't, you will hurt your revenues and your organic rankings.
You can use Google's Mobile Friendly Test. It's a simple tool that will allow you to know if your site is mobile friendly.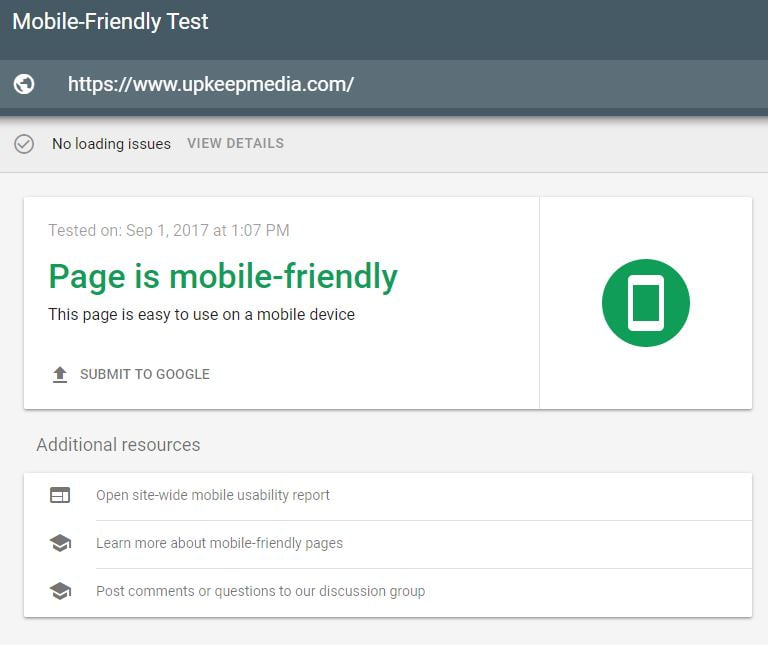 Structured Data
You should always use structured data.
This will help Google understand your business. You should markup content that is visible on your website and you should also markup your NAP information in the footer.
You can use Google Data Highlighter to do this on your website if you don't have any coding experience. 
Duplicate Content
Make sure all the content on your website is 100% unique.
If duplicate content issues arise due to pagination or through categories, tags, and archives, you can use Siteliner to identify these issues and fix them.
If you have a WordPress site, you can install SEO Yoast or All in One SEO pack which will enable you to no-index categories, tags, and archives.
Google My Business Page
This is the foundation of your SEO campaign.
Make sure all business citations match your Google My Business listing.
Also, make sure your NAP information is 100% accurate and is aligned with the information on your website.
Your business name should be exactly the same. Your address should be a physical location (not a P.O box).
Your phone number should match the one on your website and so should your website URL.
Your working hours should be consistent on all platforms.
You should also have a short introduction with your primary keywords and you should link this introduction to your website and other social media accounts.
Make sure you keep your website updated and populated with new content, images, updates etc. and share these on your Google My Business page.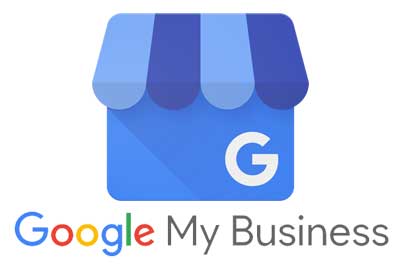 NAP Audit
It is important to clean-up any business citations you already have before you start building new ones. There are several useful tools that you can use to do this including Bright Local, Yahoo, White Spark, Moz or Yext.
Either fix the citations yourself or get somebody to do it for you.
If you know you already have a lot on your plate, it's best that you outsource the task to someone else.
Similarly, you can either build the new citations yourself or outsource the task. Again, depending on your workload, it might be a better idea to do the latter.
Link Building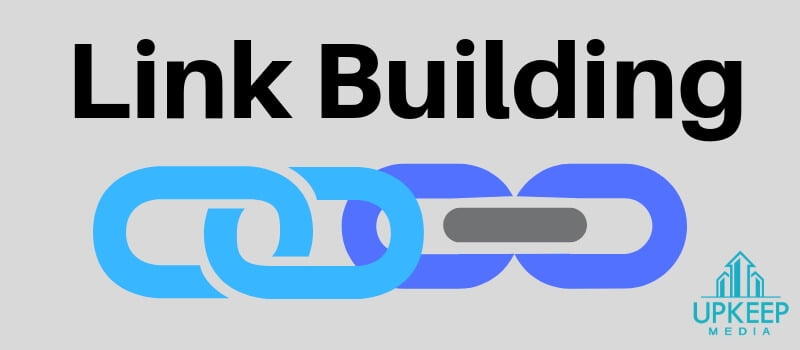 All the steps that have been outlined above will set up your website for a link building campaign.
Often by using these strategies, you'll see a huge improvement in your website's rankings. 
Nevertheless, you still need to build links if you want your website to show up on page 1 of Google. There are different types of links that you should try to get including:
1) Locally Relevant Links
These are the most essential for local SEO. You can look to acquire the following types of local links:
Local bloggers

Local directories

Local businesses 

Local chamber of commerce
Start with your immediate area and then expand into neighboring cities. A great way to build up local links is to create an in depth local guide. You can then reach out to all the locations mentioned in the guide and ask them if they would be willing to show their website's visitors your guide. 
One way we love to build up local links is by guest posting on related industry websites.
If we stick with our example of a Dallas Property Management Company, we would reach out to local realtors and ask if we can write an article on their blog about the legalities of owning an investment property. In the article we write, we would then insert a link back to the Dallas Property Management Company's website. 
2) Industry Specific Links
These are links from websites directly related to your industry. These include:
Property management directories

Property management websites

Property management specific forums
A simple google search for "Property Management + directory" or "Property Management + "blog" should help you find a bunch of link opportunities.
When you're building up links to your website you need to keep track of the anchor text you have used, the websites you have received links from, and the date you received the link. Link building is a long term process so organization is key.
During your link building campaign you should:
Aim for a consistent string of incoming links each month

Use a tool like

Linkio

to create link building road maps and stay on track

Aim for quality over quantity
Develop Your Social Profiles
Don't underestimate the power of social media.
Understand that social profiles do have an impact on your local SEO performance. You can place your address and phone numbers on most of your social profiles so this is as good an opportunity as any to improve visibility.
Again, make sure any NAP information you include on your social accounts is the same as the one on your website and other business citations.
User Interaction
Google uses SERP click-through rates to see how users interact with different websites.
If your website comes up in search results, and people click it but bounce off immediately, this will have an impact on your ranking.
Google will perceive this as your website not providing sufficient value to the user. This means it's not worthy of being listed in top search results.
For this reason, you should try to improve your bounce rate, average time users spend on your website as well as the number of pages that they view per visit.
Demonstrate Your Credibility
This is a very important parameter when trying to improve your local SEO rank. You have to create greater credibility for your website. 
Do this by displaying reviews/testimonials. You should also display a strong value proposition.
If you have been featured elsewhere, promote this fact and reference the site that promoted you.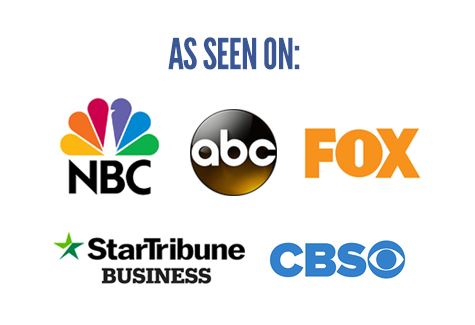 Use case studies to demonstrate how your service can provide better results, etc.
Make sure you don't lie and that you first satisfy your initial customers to get positive reviews.
When you can display more credibility, users are more likely to choose you. This applies to both business to business and business to consumer operations.
Make your clients happy, display their satisfaction and improve your credibility. It's a very simple formula.
Online Business Reviews
Reviews on Google My Business can really help your rankings.
In addition, reviews on other platforms like Facebook, Yelp, and Yellow Pages can also have an impact.
No matter which platform they're on, reviews are bound to have a positive impact on your reputation.
To Conclude
That's about the gist of Local SEO. We know everyone has made it out to be something that is extremely confusing and difficult to implement.
It can take a significant amount of time and investment to get results but if you stick with it you'll have a consistent flow of rental owner leads for your business.
Overall, if you really think about it, SEO is really not that difficult. All you need to is optimize your website, ensure your NAP information is consistent across all platforms, focus on your links and work towards improving the user experience.
The result?
Local rankings for your property management business. 
We hope that helps!
If you would like help with this process we would be happy to answer any questions you may have. Don't hesitate to reach out to us and find out how we can help!