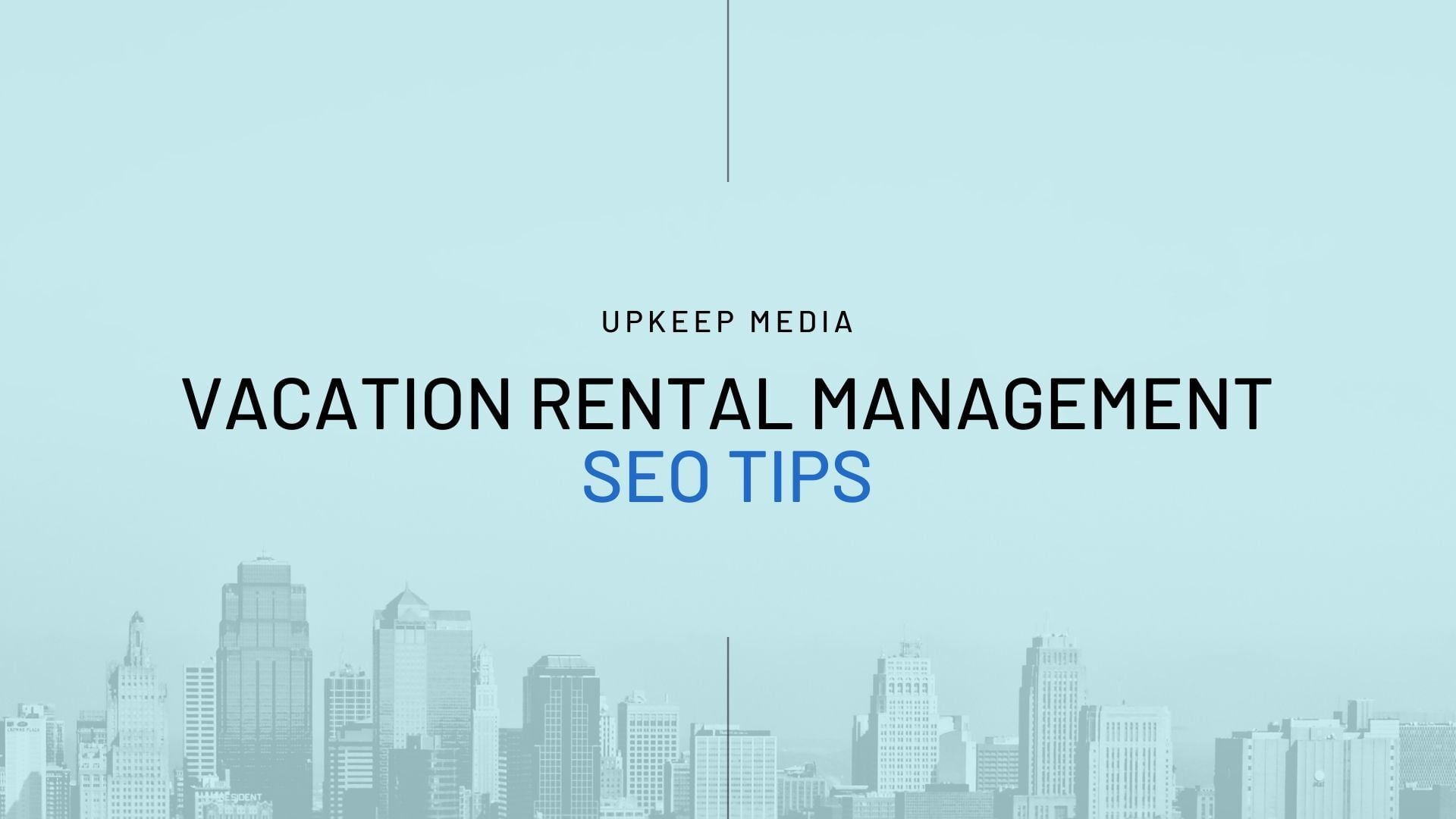 Have you done an online search of your vacation rental website lately? How does your website rank on search engines like Google compared to other vacation rental websites in your area?
Many people will not look past the first page of Google, so it's important that your website is ranking as high as possible. If your vacation rental website is ranking lower than the first page, it is most likely due to gaps in your Search Engine Optimization (SEO).
SEO is a strategy used to maximize your website's online visibility through search engines such as Google and Bing. By implementing these strategies, you can ensure your content is appealing to search engine algorithms, helping you to rank higher in searches by both prospective guests and owners.
If you are a vacation rental owner or manager, here are some simple steps by us here at Upkeep Media to improve your website's SEO and search ranking.
Use The Right Keywords For Your Industry
When someone uses a search engine, the search engine crawlers scan your website. The crawlers look at the content on your website to understand the relevance of your website. While crawling through your content they'll take note of different keywords they find. Using these keywords, the search engine will determine a list of websites that best match a user's specific search. How you rank in this search engine list will help greatly impact your website's online visibility.
To help ensure your website ranks high on search engines, it is important to do keyword research. Once you have identified the keywords that are relevant to your business you'll need to incorporate them into your website copy and backend navigation. For example, if a potential guest searches "vacation rental in (your local area)", you'll want to ensure you have a page on your website that is targeting this keyword.
However, the problem with these search terms is that they are highly competitive, and often very generic. Using only these terms, you will face an uphill battle competing with businesses that already hold the top search rankings, like Airbnb, VRBO, and others.
To combat this, an alternate strategy is to choose relevant but less competitive keywords to improve your rankings. These keywords should be local to your area and vacation rental property niche. Remember, the more specific, the better!
To target these low-competition keywords, you should be thinking about niche search terms that potential guests might be searching for. These keywords should be "long-tail" keywords, meaning they contain at least three or more words.
An example might be "vacation home rentals for bachelor parties in Phoenix". This long-tail keyword might have a lower search volume, but the chance you will rank higher when potential guests search those exact terms is much higher than more general keywords.
To create a strong SEO strategy, it is important to think about your guests, what they're looking for, and what search terms they will be using.
If you own a vacation rental property management company and are targeting property owners, the strategy is very similar: Using long-tail keywords with a lower search volume will help improve your search rankings and ensure owners can find your website.
Some great examples of keywords that will attract searches from owners include "how to make your New Orleans vacation rental stand out" or "how do I price my vacation rentals in San Diego?". As a vacation rental business, it is important to ensure your keywords work with a variety of different searches from different audiences – both owners and guests.
As we mentioned above, finding the right keywords is all based on how well you know your audience and the needs you fill for them. It is important to anticipate the search engine searches of both owners and potential guests and incorporate those keywords into your website.
However, don't overdo it on the keywords. Do not sacrifice the readability and user experience of your website for the sake of "keyword stuffing" your website copy. This will not appeal to website visitors and will only work to discredit your SEO in the long run.
Competitor Analysis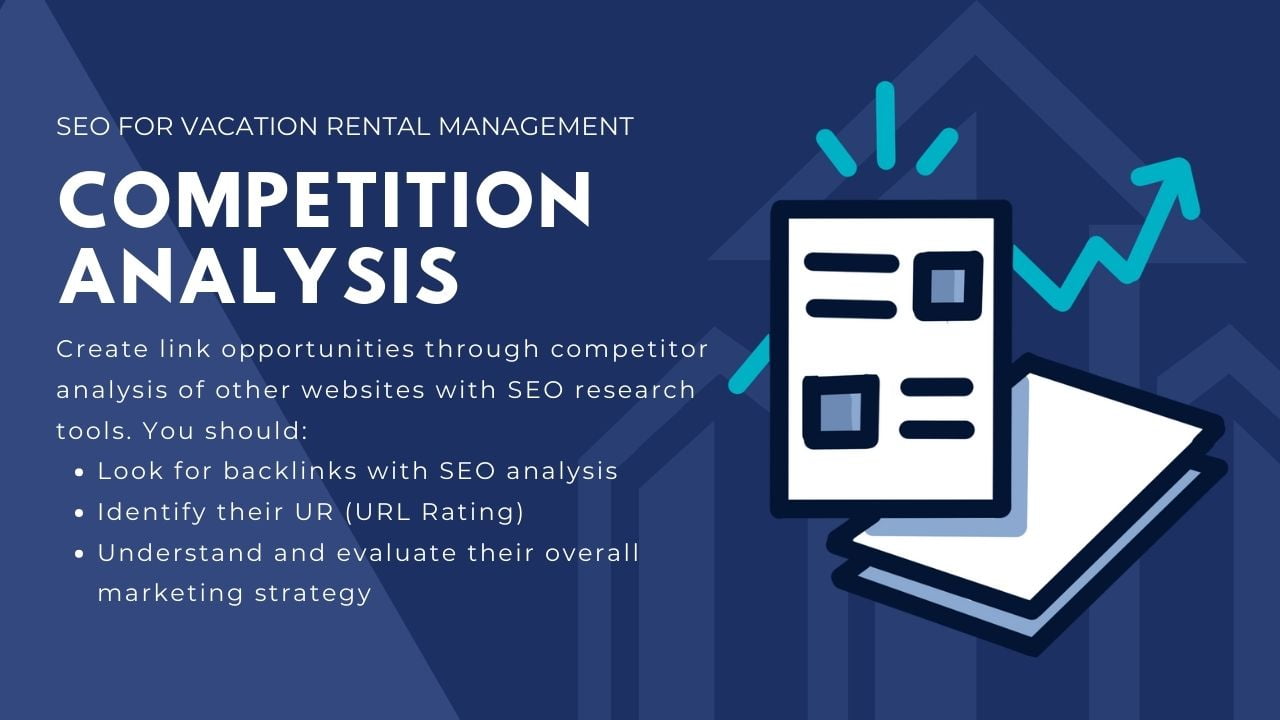 Once you have established a strong SEO keyword strategy, it is time to start creating link opportunities for your website. A great way to begin curating these opportunities is by doing a thorough competitor analysis of similar businesses that have already solidified high search results in your local industry.
A competitor analysis will help you to uncover opportunities to improve your SEO ranking and understand gaps in your competitors' SEO efforts. To really set yourself above the crowd, it is important to leverage these competitor gaps to your advantage.
One tool that we highly recommend is the Ahrefs SEO analysis tool. These tools will help you to run objective SEO analytics on not only your website but your competitors' websites as well.
When performing a competitor analysis using SEO research tools, you should look for links to your competitors' websites. Remember, the more backlinks a website has, the higher their domain authority, and the more likely that Google will rank their website on their first page of results.
Some links you should be looking for include:
Sponsorship links
Guest posts, both local and niche relevant
Editorial mentions
Resource pages on industry websites
Local and niche directory submissions
Once you have identified these links, you can use the Ahrefs software to identify their UR (URL Rating). UR is often determined based on a scale of 1-100 and gives you an idea of the website's link strength. Identify the links that show a UR of 20 or more. These are the links you should be pursuing and replicating for your site. Make sure to do this entire process for your top ten competitors to ensure you have a well-rounded competitor analysis to build your SEO strategy from.
After doing an analysis of your competitors' link-building strategies, it is time to move on to the second stage of your research: understanding and evaluating their overall vacation rental marketing strategy.
In this stage, you should be looking for key marketing initiatives that your competitors take to promote their business online and improve their overall visibility and SEO. Some questions to ask yourself when reviewing could include:
Do they have a content strategy such as creating blogs consistently? Do these blogs provide real value to potential guests or owners?
Do they use paid ads?
How many of their pages are indexed in search engine results? Do they have hundreds of pages indexed or only a few?
Do they update their social media often with high quality, engaging and informative content?
Do their use video content, photography, or stock photography?
Do they make themselves a valued resource for both guests and vacation homeowners?
Once you have the answers to these questions, you will have a good idea of what guides your competitors' overall marketing strategy. By understanding this strategy you can begin to identify what you need to focus on and what you should be doing to set yourself apart. You'd be surprised at the opportunities that are out there!
Optimize Your Vacation Rental Website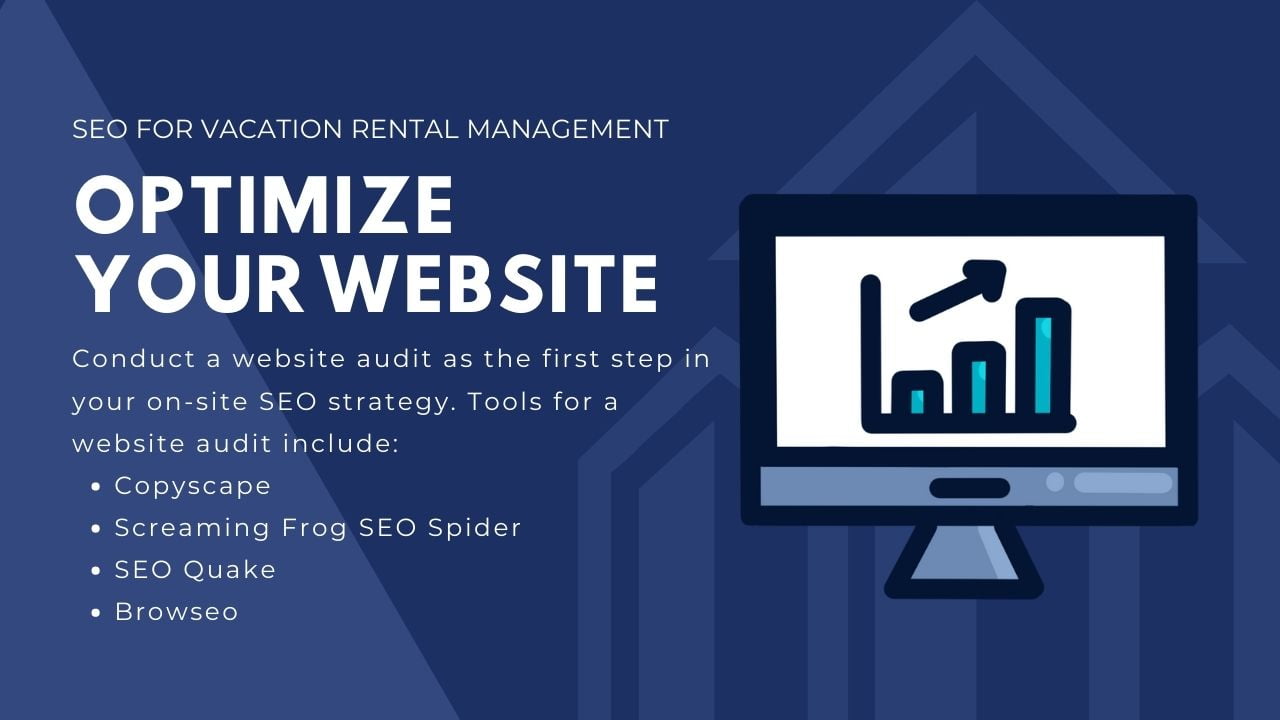 In general, most vacation rental management companies have simple, straightforward websites with minimal subpages. This is not only a benefit for your potential guests and vacation rental property owners, but also helps you maximize your on-site optimization.
As the first step in your on-site SEO strategy, you should conduct a site audit. This audit will help you determine how your website is performing and offer opportunities to improve its functionality and search engine performance.
Some of our favorite tools for conducting a website audit include:
Once you have conducted your website audit, it is time to start implementing everything you learned to improve your overall online presence. Here are the key factors you should consider in order to boost your vacation rental SEO.
1. URL Structure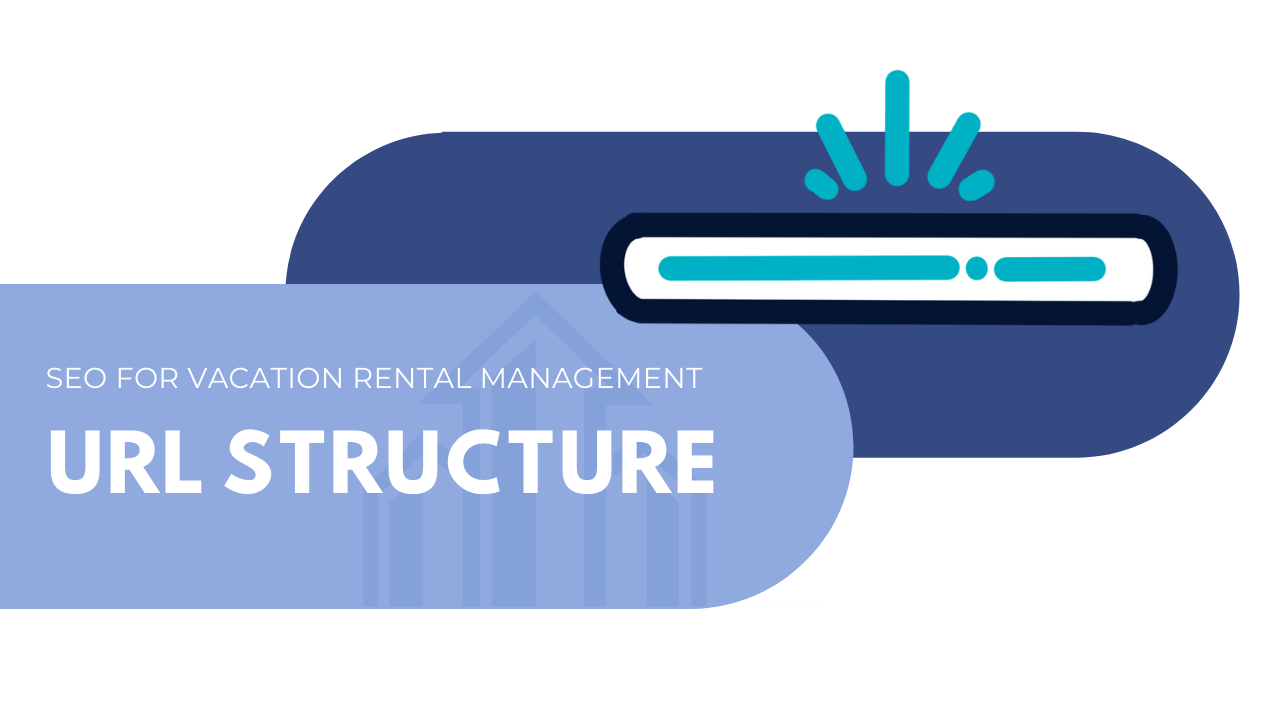 Your URL structure is very important if you want to ensure search engines capture your website in their results. Short, concise, and clean URLs are key for helping the algorithms do their work.
You want to avoid keyword cannibalization in your URL structure. For example, if you want search engines to direct visitors to a specific page on your website, it is important to make sure no other pages have these same keywords in the URL.
2. Metadata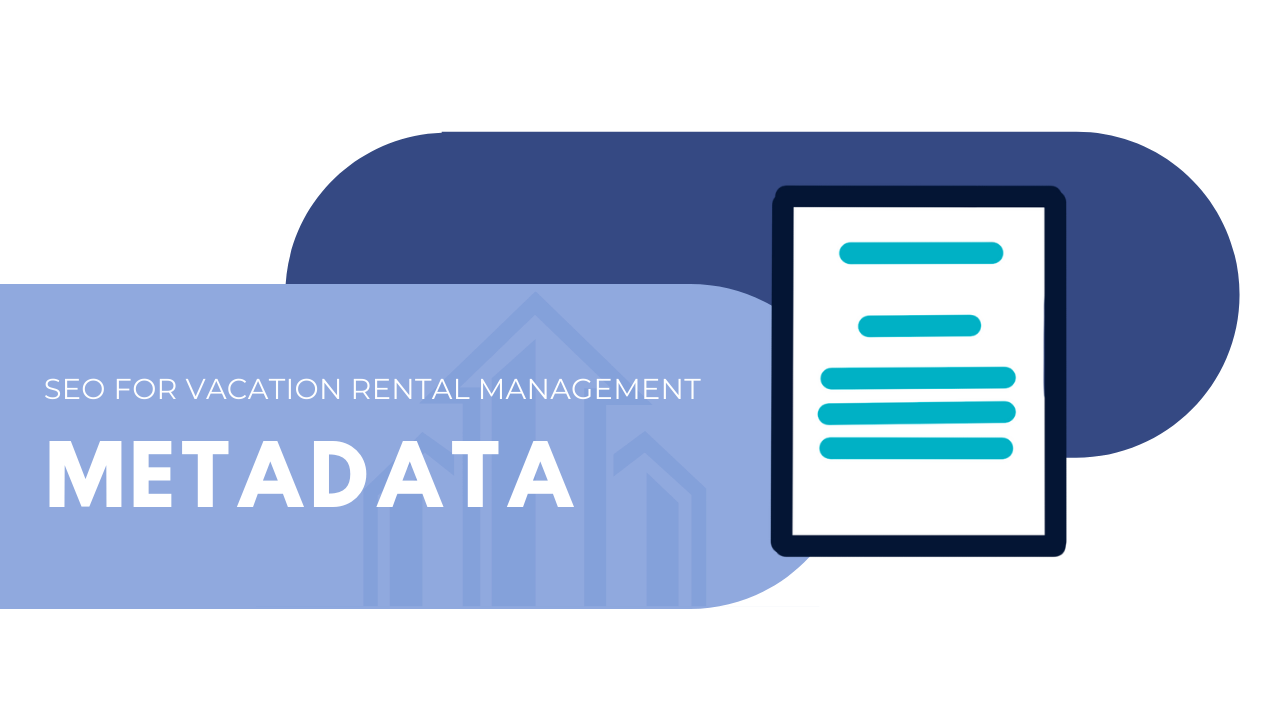 Metadata is the information that search engine crawlers latch to when they are conducting an online search. Metadata is essential in the overall optimization of your website.
There are two elements of Metadata, including:
Meta Title
A Meta Title is the title of each subpage on your website. This title should contain the primary keyword of the page. To use multiple keywords and appeal to a variety of search terms, you should try to use as many keywords as possible in your Meta Title.
Search engines will display 55-65 characters per Meta Title, so make sure you use these titles effectively to capture your audience's attention.
Meta Description
While Meta descriptions do not directly impact SEO, they do impact your click-through rates and audience experience. Meta descriptions describe the content of each specific subpage, usually in fewer than 160 characters.
This is an important place to create a call-to-action for your potential guests and vacation owners – this will significantly improve your click-through rate and, by extension, your SEO.
Header Tags
Header tags should include your keywords and synonyms for your keywords to help boost your search engine rankings. Each subpage should be structured with only one H1 so you only have a singular H1 tag for the search engine crawlers. The rest of the page should be structured with H2, H3, and H4 tags.
3. Website Structure and Content Keywords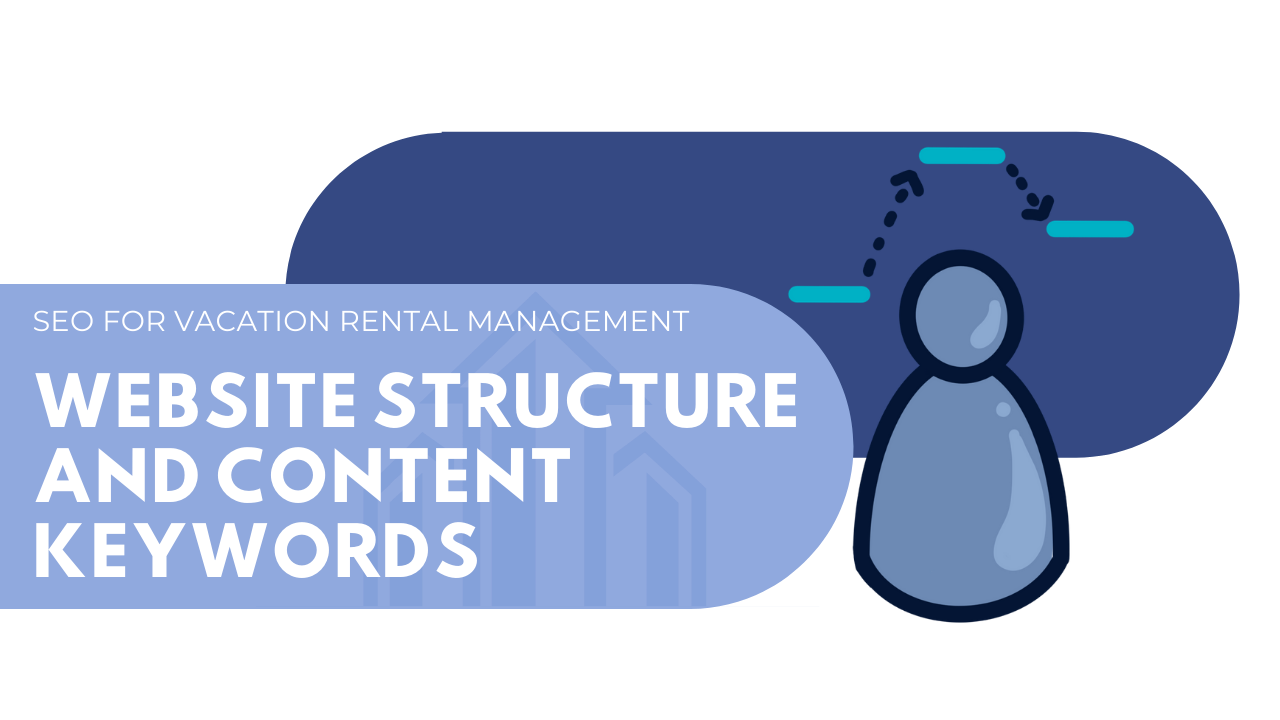 As we've explained above, the priority for your website structure should be user experience and to make your content useful and engaging for your audience. Don't stress about overusing your keywords in your content; to be effective, you only need a keyword density of about 1-3% of your total content.
Internal Linking
When creating an effective website, it is important to remember internal linking is as much about the user experience as it is about garnering a higher search engine ranking.
Here are some do's and don'ts when structuring your website:
DO:
Establish strong link equity to your primary web page.
Encourage search engines to crawl all of your website subpages.
Guide your visitors to your most important pages. Group similar pages to make this easier.
Focus on keywords, anchor text, strong links within your content, and a blog with valuable and relevant content to your audience
DO NOT:
Use footer links, sidebars, and site-wide menus
Overdo it with internal links
4. Website Speed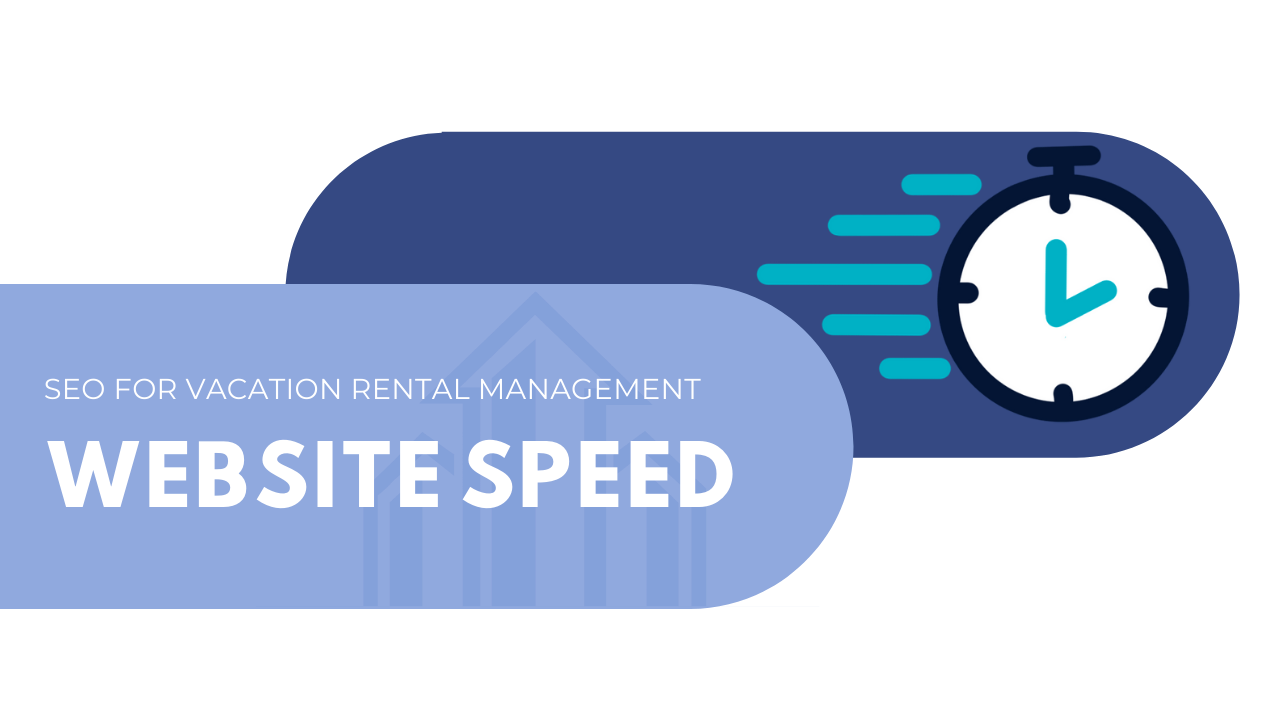 From both a user experience and SEO perspective, a slow and ineffective website is detrimental to the success of your business. To check the speed of your website, we recommend using a site speed checker such as Pingdom. Your site's loading speed should be no more than 2-3 seconds.
If your website loads slower than that, fix it immediately! There could be any number of reasons why your website is not functioning properly. If you want to learn more about your optimal website speed, contact us today to learn more.
5. Broken Links and 404 Errors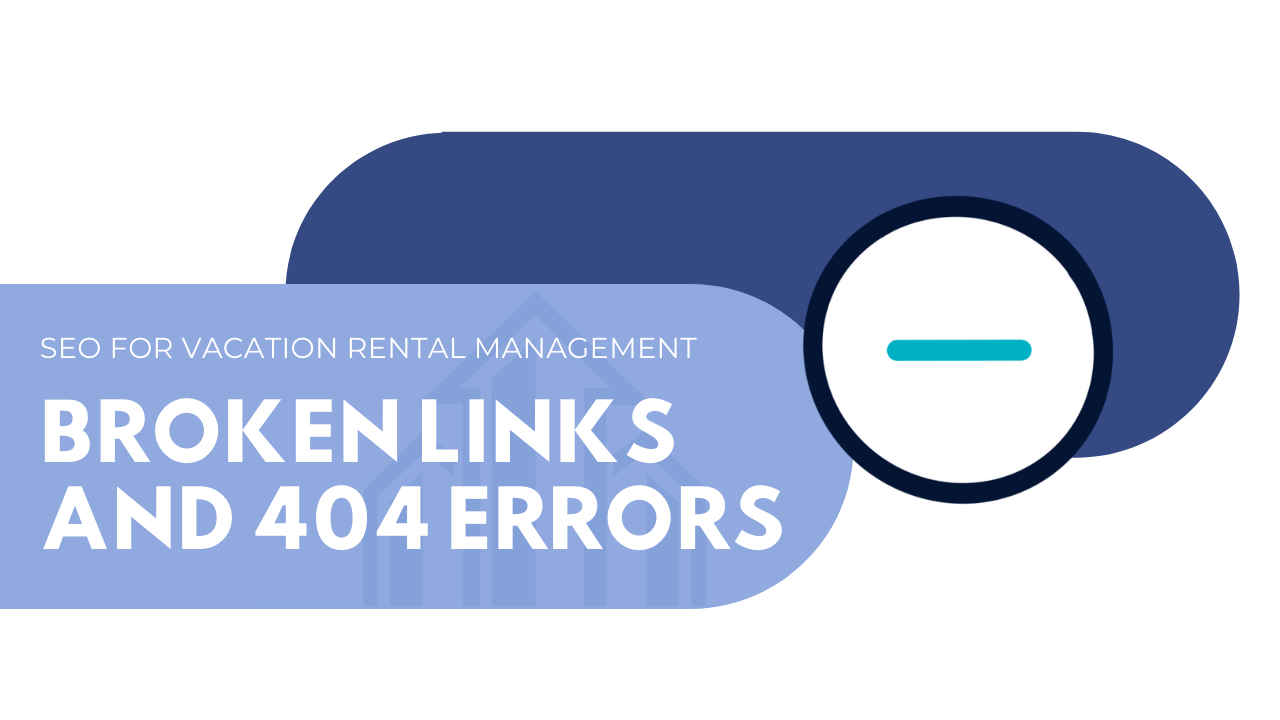 It's important to ensure that all of the links on your website are working. Not only are broken links frustrating for your site visitors, but they can also really damage your search engine rankings.
To help combat broken links we recommend doing routine website audits and using a tool like Screaming Frog to address broken pathways.
6. Mobile-Friendly Website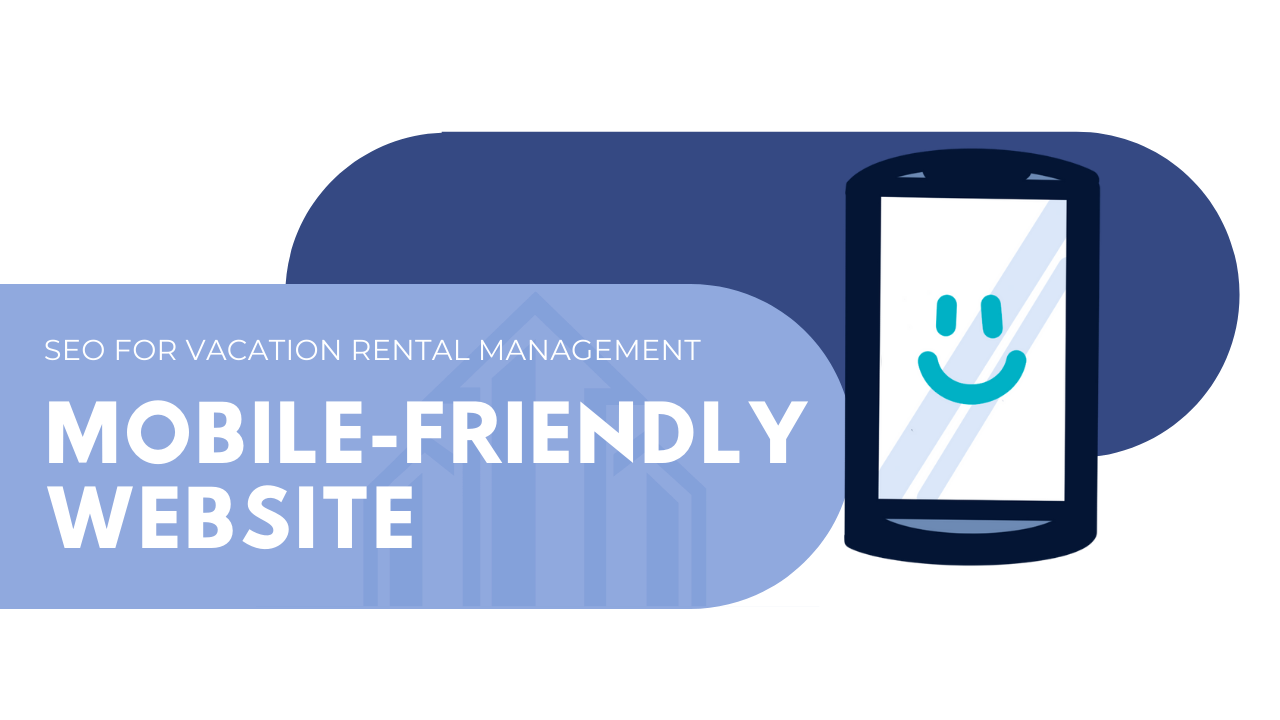 It is no secret that we are connected to our phones now more than ever. In fact, more than 60% of searches online are now conducted on mobile devices rather than on a desktop or laptop.
Because of this, Google devalues any website that is not mobile-friendly. To make sure your website is mobile-friendly, we highly recommend doing an audit using Google's Mobile-Friendly Test tool.
7. Duplicate Content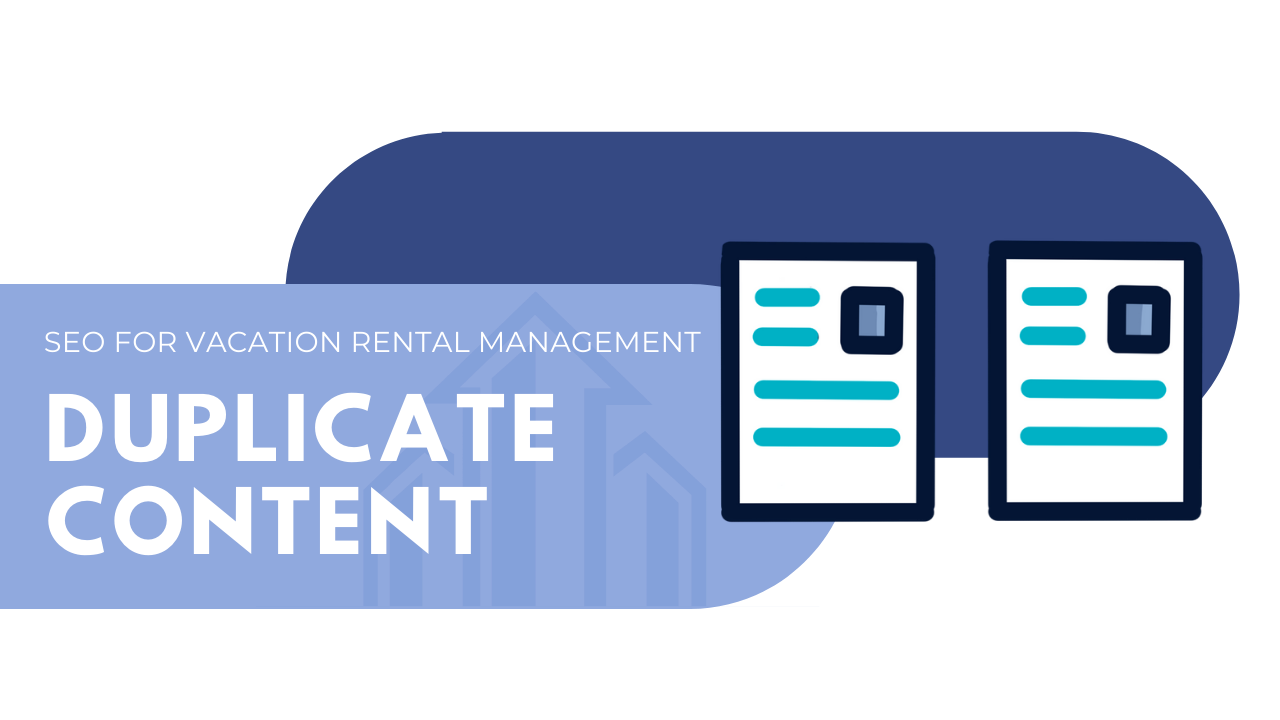 This is very important from not only an SEO perspective but also from a legal standpoint. Make sure all of your content on your site is entirely unique and 100% plagiarism-free.
We highly recommend that you run all content through a plagiarism checker and check all categories, tags, and archives for duplicate content.
8. Link Building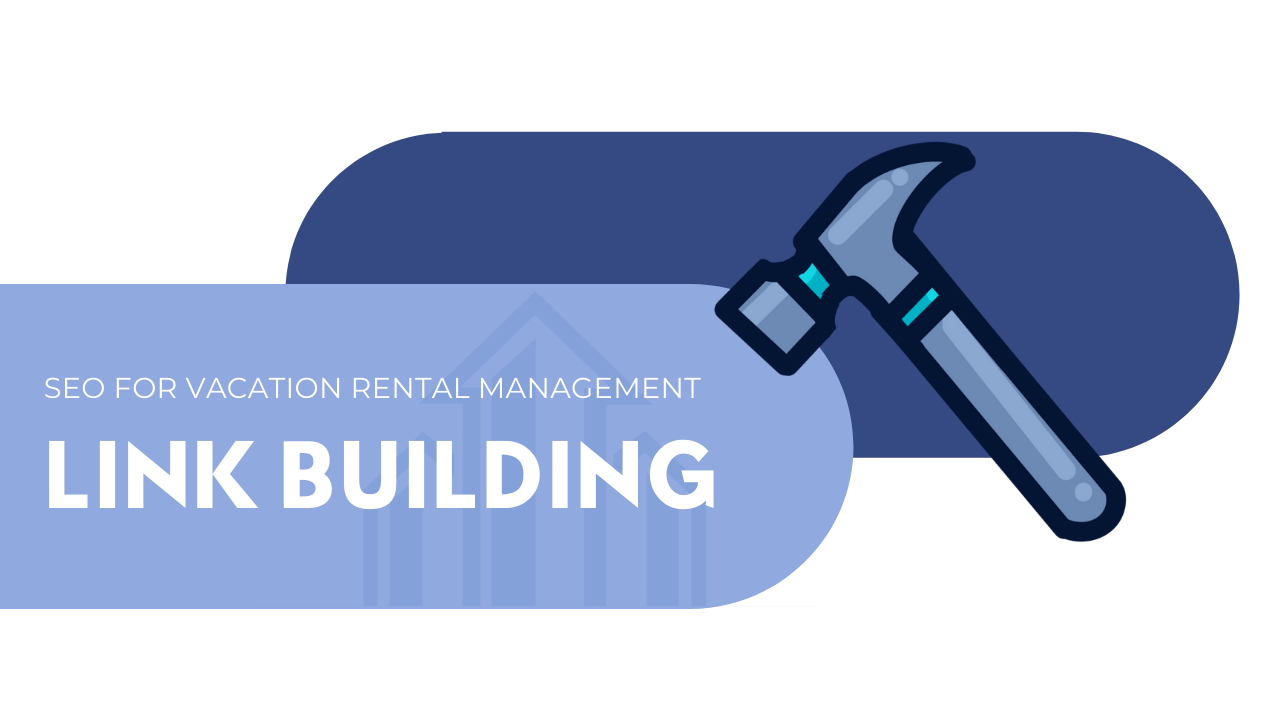 All of the internal website factors we reviewed above are great building blocks for establishing a strong, well-optimized website. Often, by implementing these strategies alone, you will see a huge improvement in your website's overall performance and ranking.
However, you still need to build backlinks to your website to help you show up on the first page of Google. Here are some of the different types of links that you should be prioritizing for your website:
Locally Relevant Links
Local links from bloggers, directories, businesses, and your chamber of commerce are all helpful in building website relevancy in your area. We highly recommend focusing on your immediate area and then expand into neighboring cities and areas.
Not sure where to start? Here are some of our proven methods to help boost your local relevant links.
Create a local, in-depth travel guide featuring local hotspots, activities, and businesses. Ask the businesses you highlighted in your guide to share with their audiences.
Guest-posting on related local and industry websites. For example, reach out to local realtors to offer a guest blog on something specific to your industry. In this article, you should insist that a follow link is included so readers can be directed back to your site.
Industry-Specific Links
Similar to locally relevant content, these links help boost your profile and web presence in your industry. When you are conducting a link-building campaign, it is important to remember the anchor text you have used on various websites that you have received links from so you can stay organized and continue to check up on the effectiveness of your link-building strategies.
Some important things to remember when conducting a link building strategy include:
Consistent links are key – you should have a steady flow of new links added every month.
Use a tool to help you stay organized and efficient.
Quality over quantity!
9. Demonstrate Your Credibility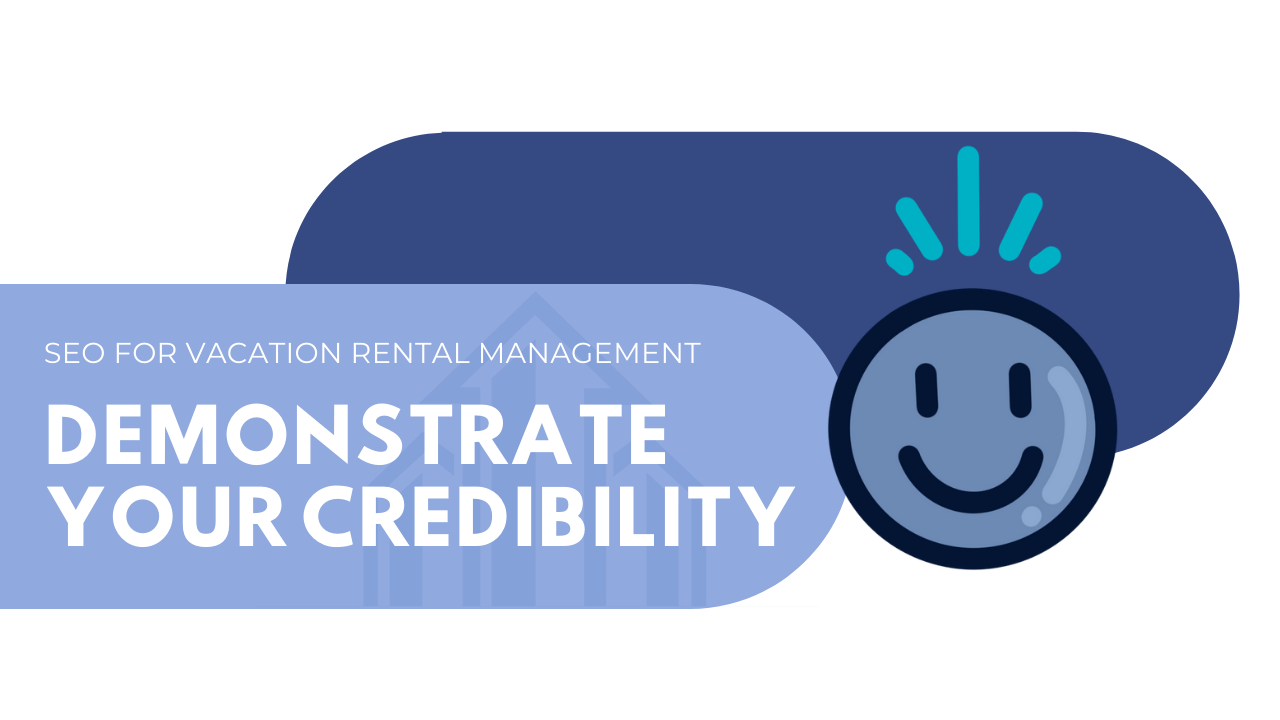 Another way you can boost your SEO ranking is by exemplifying your credibility on your website. This boosts the trust your guests and owners have in your business and services.
Some strategic ways to amplify your credibility on your site include:
Sharing reviews and testimonials.
Promoting a strong value proposition.
If you have been featured in media or other top-ranking websites, be sure to promote that!
Use case studies to show your expertise in the industry.
Conclusion
There you have it, SEO for vacation rentals in a nutshell. We know it can be a daunting responsibility, but in its simplest terms, SEO can be broken down into four main tasks:
Optimizing your website.
Building quality content that's optimized for specific keywords relevant to your business
Focusing on building backlinks.
Always keep the user experience top of mind.
By implementing these four strategies with the tips we shared above, you will be well on your way to a highly optimized website. The result? A highly visible and user-friendly experience for both potential guests and vacation homeowners.
Remember, you can always get the help of experts. Contact Upkeep Media today to find out how we can use SEO to amplify your vacation rental business.