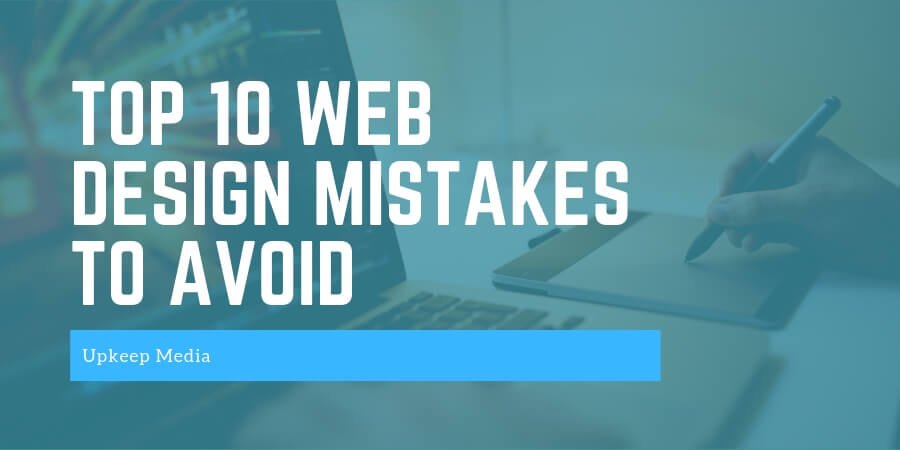 Your website is no longer a luxury.
It's a necessity for your property management company to reach its goals. 
I'm not just talking about the way it looks.
The user experience and how simple it is to navigate the site are also huge issues that can impact your company's bottom line. 
You only have 10 seconds to make a good impression on a potential rental property owner lead. 
If your website doesn't capture their attention immediately, they'll most likely never come back. 
This article could probably be called the 100 most deadly mistakes in website design. But let's narrow the focus to the 10 most disastrous.
Avoid these mistakes, and I promise that your property management website will be much better off than your competition.
If you follow this advice, you'll be setting your company up for smooth sailing throughout the year.
The Top Ten Deadly Property Management Website Mistakes 
Your website is arguably your most important marketing asset.
Your property management website should be your 24/7 sales representative, and if it isn't churning out leads, take a minute to consider these statistics:
A single bad experience on a website makes users

 88% 

less likely to visit the website again

48% of people say a website's design is the number one factor in deciding the credibility of a business

Your website's conversion rate could increase by

 200% to 400% 

with a well-designed interface
To put it simply, the way your website looks and functions matters to your bottom line. 
Here are the top 10 worst mistakes we see all too often on property management company websites. 
1. YOUR PROPERTY MANAGEMENT WEBSITE IS NOT CLEAR ABOUT WHAT YOU DO AND WHY THEY SHOULD WORK WITH YOU RIGHT AWAY
This is probably the worst mistake you can make. 
Why? 
Because the average human attention span is less than 8 seconds.  
The rest of your website can be perfect, but if your website doesn't give a good first-impression, users are going to leave and go looking for another property manager.
Here's an example of what not to do: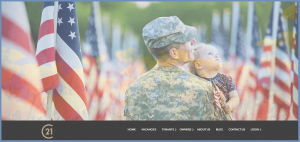 Your site should at least display:
Your services

Your phone number

Social proof (ie. testimonials, awards, and industry affiliates)

And professional images in clear view once your website loads
2. YOUR WEBSITE IS NOT BUILT FOR SMARTPHONES
Mobile-friendliness is crucial. 
Here are a few stats that give a glimpse into exactly how important:
63% of all online traffic comes from a mobile phone.
52% of users said that a bad mobile experience made them less likely to engage with a company.
Unfortunately, I see way too many property management companies with websites that don't function properly on a mobile device. 
If your website happens to fall into this category you need to get this fixed ASAP.
A mobile-friendly website should be sized and coded for easy interaction on a mobile device, meaning:
It's easy to read the text (no squinting)

It's easy to navigate (buttons and links are large enough to be tapped with a finger)

It's pleasing to look at (the user experience is enjoyable)
Need help fixing your website? Check out what we do here.
3. YOUR PROPERTY MANAGEMENT WEBSITE LOADS SLOWLY
We live in the age of instant gratification.
That means people have become extremely impatient while they're surfing online. 
If you make them wait for your website to load there's a good chance you won't be hearing from them. 
Now, when I say fast, I don't mean under 10 seconds, or even under 5 seconds.
53 percent of people expect a web page to load in 2 seconds or less.
4. YOUR FONT SIZES ARE TOO SMALL 
Don't you hate struggling to read the text on a website?
So does your website's visitors. 
You want to make their experience as pleasurable as possible when they land on your website.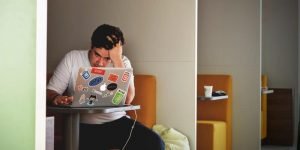 To have a more legible property management site:
The text should be above 16px.
Use a Sans Serif font so it's reader-friendly across device types and at small sizes.
If you need to zoom in to read your website's text on a mobile device, it's time to update your website. 
5. YOUR WEBSITE HAS LOTS OF BROKEN LINKS
Hyperlinks that do nothing when clicked or lead to "404" error pages are the bane of any web surfer.
Not only does it look unprofessional, your website's visitor automatically loses their interest, becomes frustrated and leaves your site.  
To avoid needlessly losing any potential leads, test your site regularly to ensure that all links work as promised. You can use a tool like Screaming Frog to see if you have any 404 errors.
6. YOUR SOCIAL MEDIA ICONS ARE IN YOUR WEBSITE'S HEADER
Forgetting to link to your social media platforms is a big no-no, but so is putting the icons in your website's header.
This is a problem I see all too often with property management websites.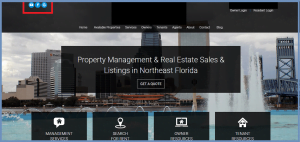 Placing your social media icons in your header welcomes users to leave your site right away.
Once they land on your social media page, they risk forgetting about your website and browsing through pictures of their friends. 
To avoid this pitfall: .
Put your social media icons anywhere but the top.
7. YOUR BUTTONS AREN'T BIG ENOUGH TO CLICK.
When making sure that your property management website is mobile friendly, it is critical that you do not forget this point.
With mobile traffic on the rise at over 60 percent, these buttons need to be big enough to easily tap and navigate to the desired action or page.
The goal is to be as thoughtful as possible when it comes to your website's visitors.
8. YOUR WEBSITE DOES NOT HAVE HEADINGS OR SUBHEADINGS.
Your property management website ought to present a unified, consistent look. The idea is to reassure viewers of your solidity and stability, not to convince them you're wildly artistic.
But the truth is that most readers skim headlines and emphasized text to decide if they're interested in a webpage. 
When a website can't be easily skimmed, it's a user experience killer.
If you don't use headings to compartmentalize your content, you're going to lose a ton of visitors who could have been potential leads.
As much as you should remember to only use two or three fonts and colors per page (max), don't forget to organize your content in bite-sized chunks with titles.
9. YOUR CONTACT INFORMATION ISN'T EASY TO FIND OR ACCESS.
Your contact information is not only a way for a lead to reach out to your business, it also provides legitimacy for your property management company.
Your business' email, phone number, and address all help to build trust with a potential client.
44 percent of visitors will leave your website if there's no contact information or phone number available on your homepage.
The end goal of getting visitors to your website should be to get a property owner to get in touch with you.
If they cannot find your contact information, they'll move on to your competitor. 
This information, unlike your social media icons, can be placed at the heading of your website's page for easy access.
10. YOUR WEBSITE IS NOT HTTPS (SECURE)
Unfortunately, data breaches and hacks are becoming all too common. 
How common?
In 2018 there were over 33,000,000 hacked websites, and the numbers are only growing.
Not having a secure website is going to hurt your website's performance in search engines and cause concern for its visitors. 
Especially if you ask for any personal information from your site's visitors.
If you ask them for anything, from their email or phone number to their first and last name, your site needs to be secured. 
If it isn't, Google won't show your website high in their search results and it will reduce your online exposure. 
To solve this problem, you can buy an SSL certificate through your hosting provider.
Not sure if you have an SSL certificate set up?
You can quickly check by making sure your website's address begins with https://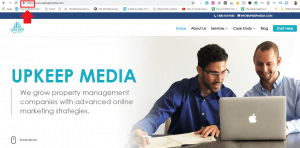 Now you know the 10 most disastrous web design mistakes that property managers make, and how to fix them.
If your property management website has any of these red-flags, make sure to fix them as soon as possible so that you won't lose out on anymore.
Your website is your online sales rep, wouldn't you want them to be set up to make every sale possible?
Any tips I missed out on?
Leave me a comment below and I'll add it to the list!