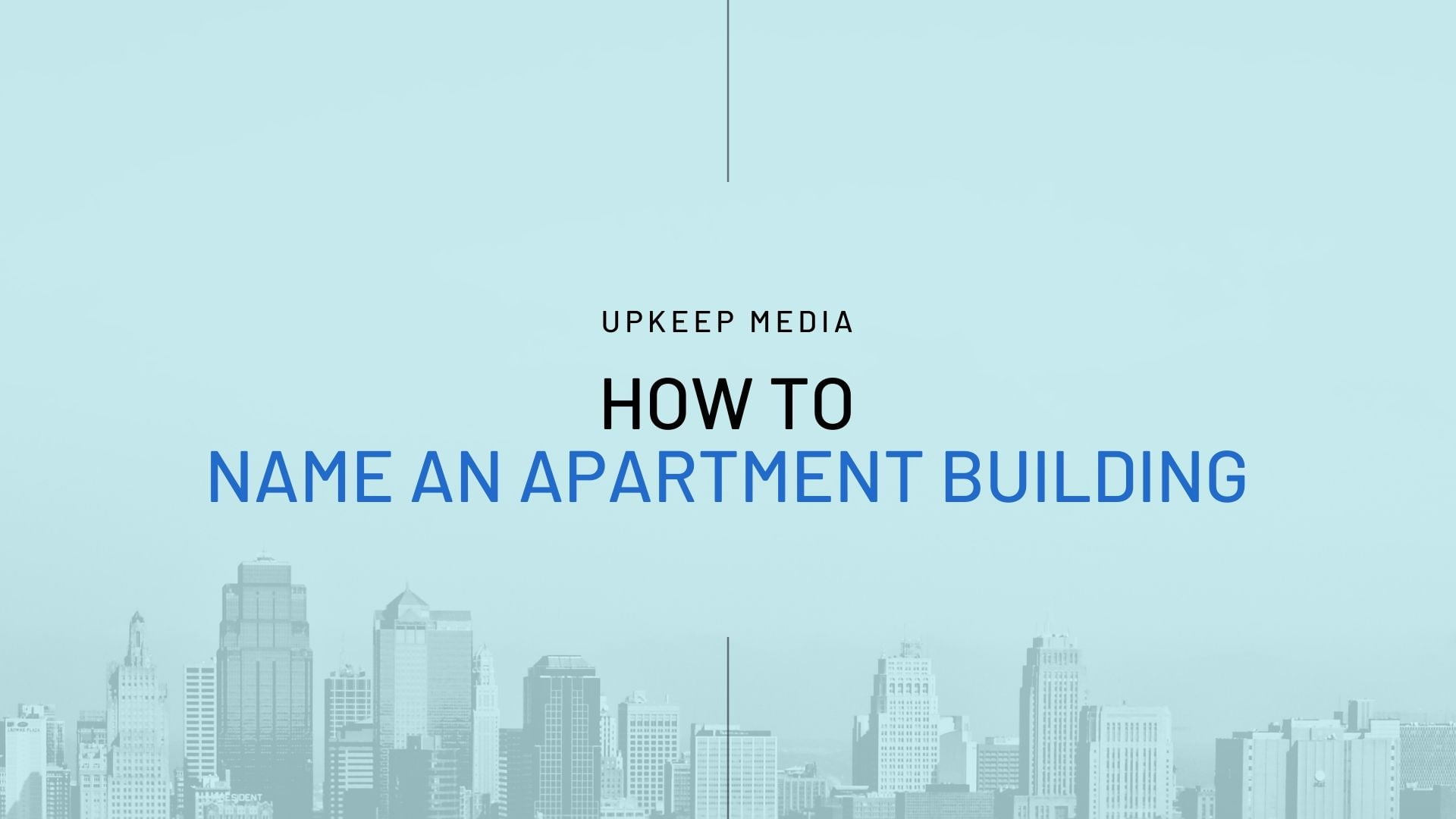 If you are currently purchasing or building a new apartment or condo complex, you have probably thought about what you're going to name it.
Finding the perfect name for your apartment building is crucial. Whether you are well into the process of naming your new apartment building, or whether you haven't even considered it yet, we are here to help.
The name you choose for your apartment will make up your building's brand and marketing. It will also establish your building's brand, character, identity and place in the local neighborhood.
An apartment building's name can profoundly impact the type of residents that live there. A good name is proven to attract more residents that are aligned with the overall feel you want for your apartment building.
But how can you find the right name for your apartment building?
Lucky for you, in this post, we are providing tips and tricks for finding the perfect name for your apartment complex.
Choose a Unique Name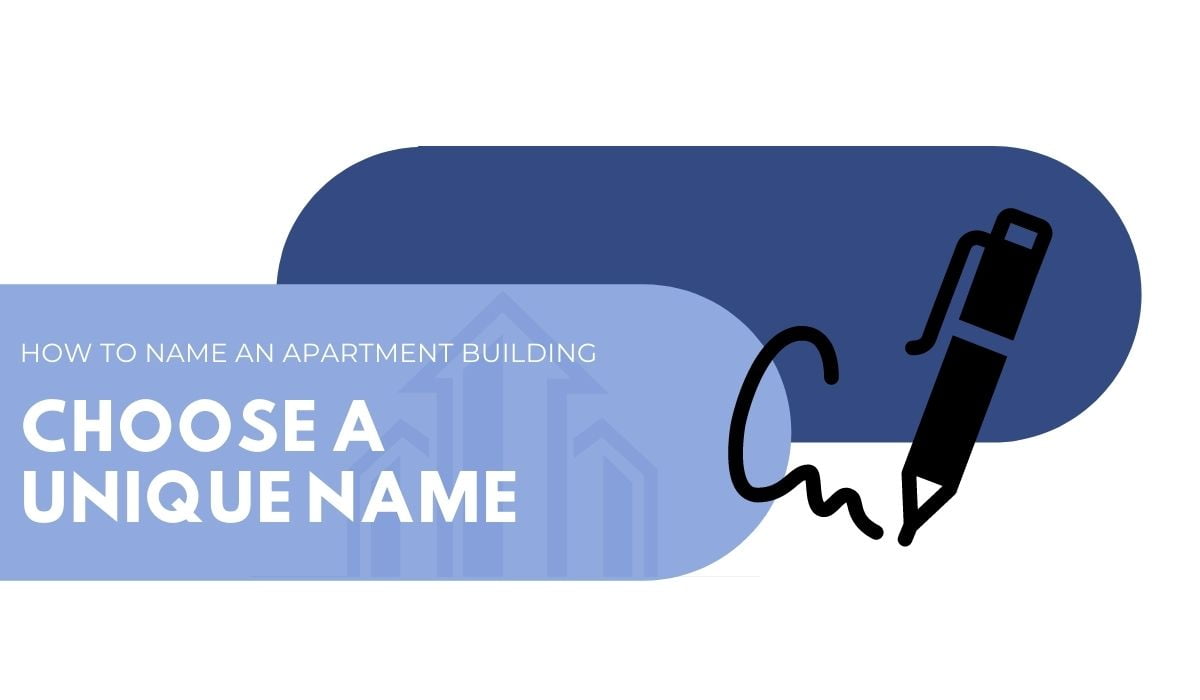 Often, apartment complexes use words like "park," "village," and "place" in their name, no matter the city or local area they are situated in.
However, while these words are certainly on brand with apartment buildings, they are overused. Therefore, these words will not help your apartment complex stand out from the crowd.
To help your apartment building stand out, we recommend choosing a name that is unique, special and bold.
That said, make sure it's also easy to say and spell so that people can easily find more information about your apartment community, even when just referred by word of mouth.
When naming an apartment building, we recommend using the 3s model: choose a unique name that is short, sweet and simple.
Research the Local Area or Neighborhood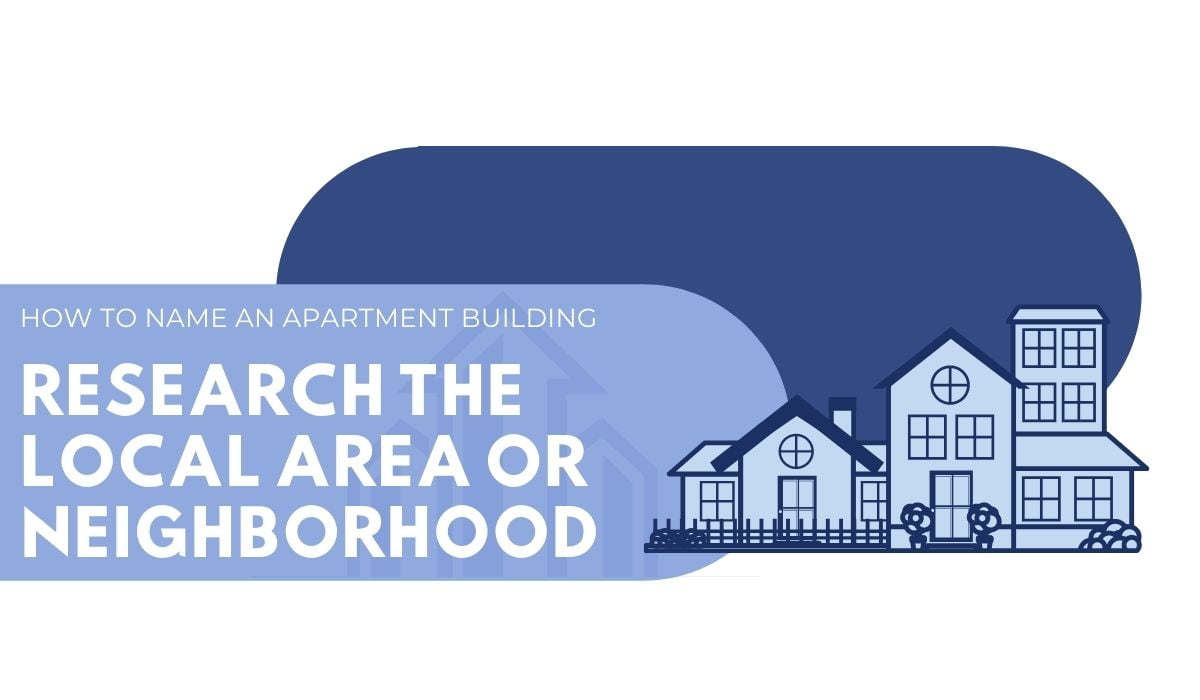 One of the most important first steps when thinking about your apartment's name is to do thorough and comprehensive local research.
Picture this scenario:
You find the perfect name for your apartment building. You're so excited and begin creating your branding and signage around this name.
Then, you realize this name is already being used for another building in your city!
You have now wasted time, resources and maybe even money chasing down a name that should have been researched and eliminated early on in your naming process.
Don't let this scenario happen to you!
It is important to know the names of the other apartment buildings and even businesses in your area. Refrain from naming your apartment building a name too similar to another name that already exists.
We also recommend doing a Google and social media search of your favorite potential apartment names to ensure there are no buildings or businesses outside of your area with similar names.
Similar names can cause prospective residents to be confused when they are searching for information on your property.
Not to mention, this could have detrimental impacts on your Search Engine Optimization and advertising strategies.
Align with your Overall Brand Vision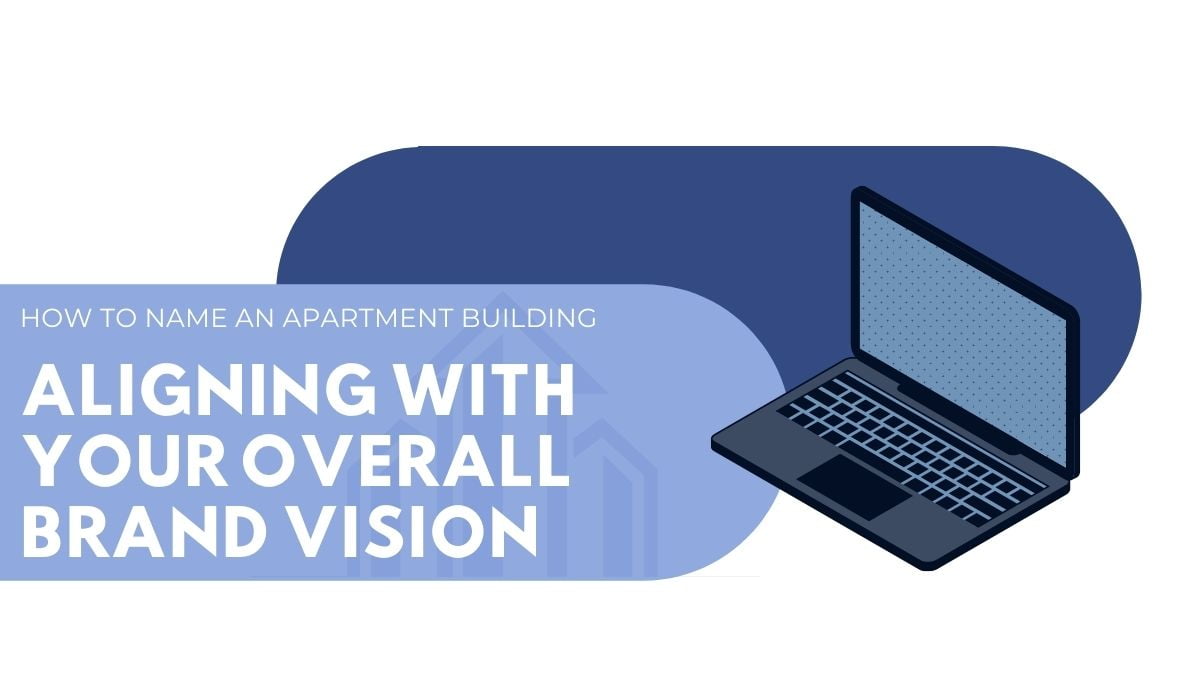 When naming your apartment building, it is strategic to think about your building's overall brand and marketing strategy.
A name should align with the overall vibe and vision you have for your complex.
For example, is your brand…
Boutique and exclusive?
Free-spirited and boho?
Trendy and young?
Sophisticated and classic?
Traditional and charming?
When you understand your target resident audience, discovering the vibe, character and identity of your apartment building should be simple.
Think Long-Term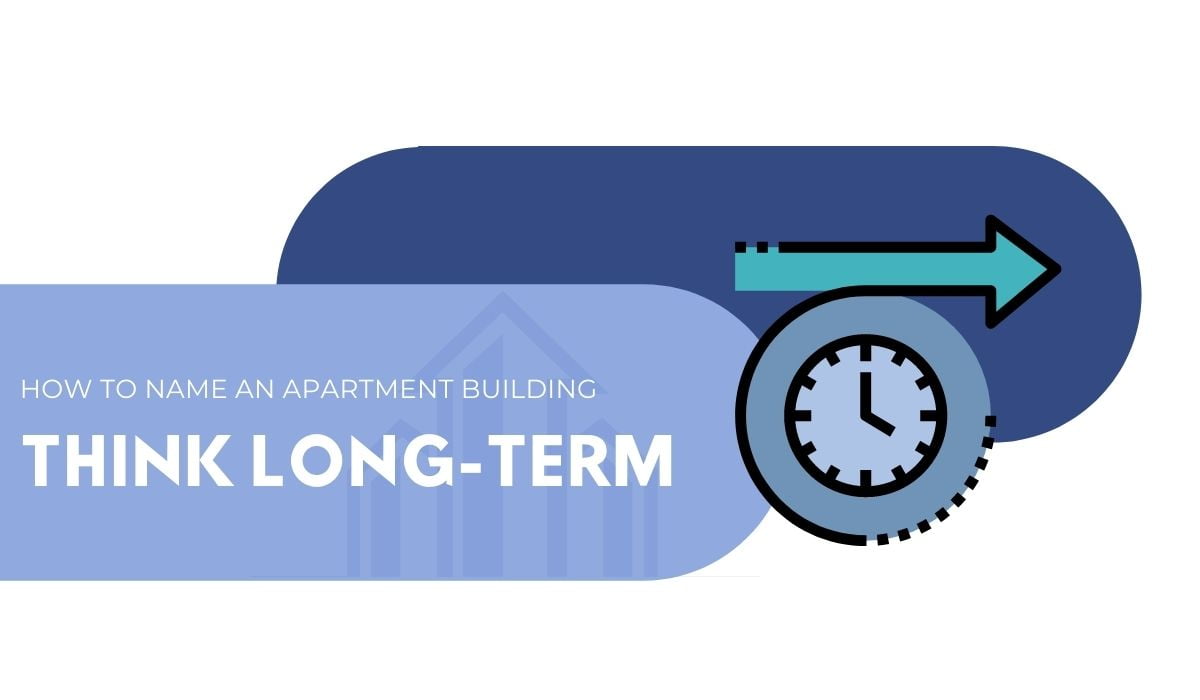 When thinking about the name for your apartment building, ask yourself:
How will this name age?
Will this name still be reflective of my building identity in 10,15, 25 years?
Will this building name still attract my ideal tenant?
We recommend sticking to clear, concise language when choosing an apartment building name. We advise against using slang or trendy phrases that will lose their luster and relevancy over the years.
If you think your apartment building's name may need to be revisited in 10 years, you should reconsider its name.
Overall, you want to choose a name that will always be in style! This will save you time, money and resources in the future.
Make it Memorable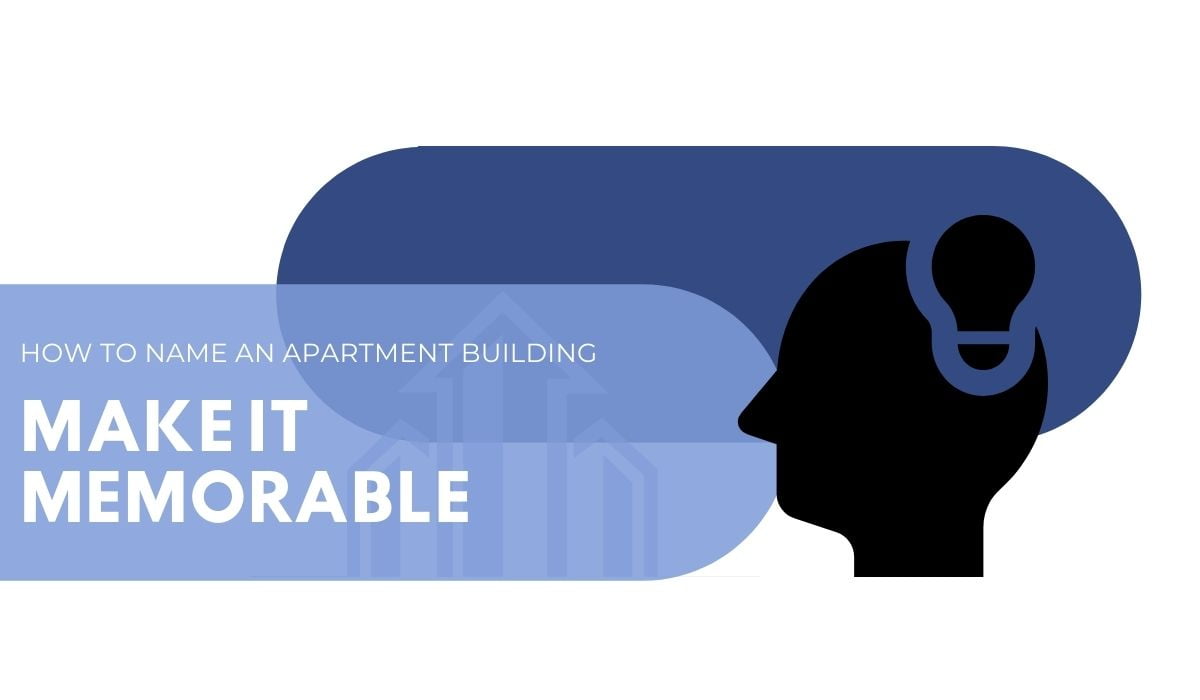 No matter your ideal tenant, it is a pretty safe bet to assume that they are searching for a new apartment online. Prospective tenants who are searching for available listings online come across so many different apartment names.
So, how do you ensure yours stands out?
Here are our top three tips for choosing a memorable name for your apartment building.
Keep it brief – The shorter the name, the more memorable it will inevitably be. We recommend choosing a name that has a maximum of two words with as minimal syllables as possible.
Put alliteration to work – Alliteration, or phrasing words together that all start with the same letter or sound, is a fun way to make an apartment building name memorable.
Highlight a unique element – Does your apartment have a unique feature, element or appearance? Consider using this uniqueness to your advantage with a complimenting memorable name.
Get Feedback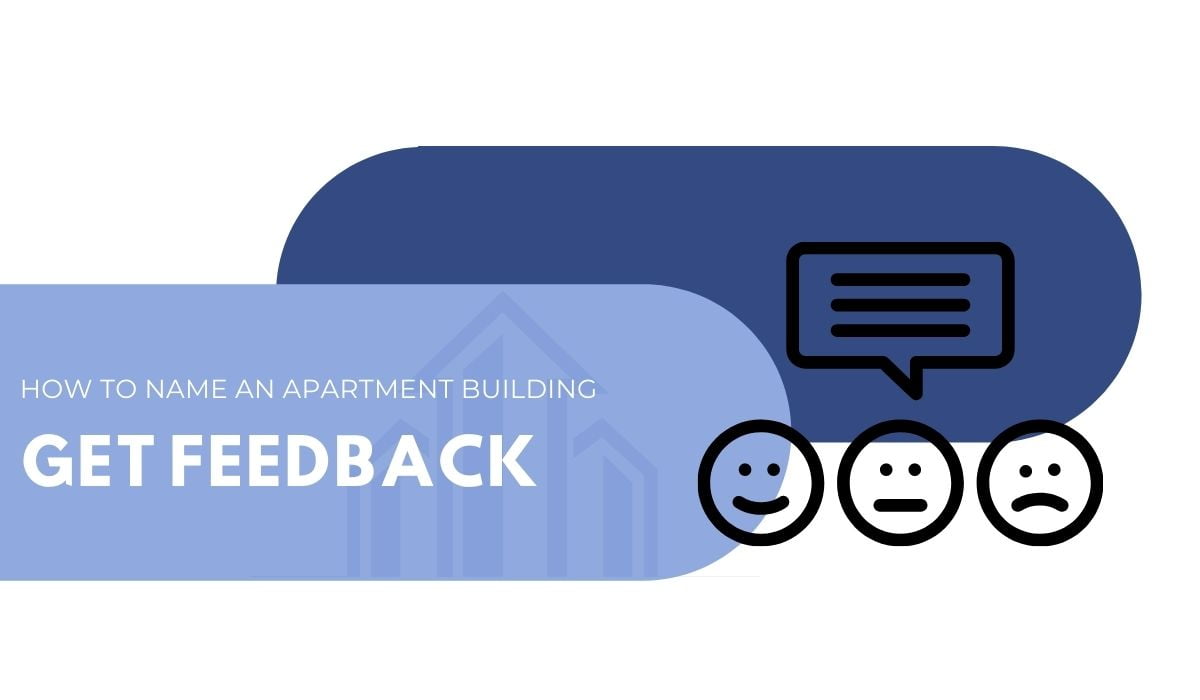 Once you have chosen your favorite apartment name options, you should think logistics.
Your first step should be to check if the domain name (or URL) of your chosen name is available.
Remember: you want your domain name to be short, easy to spell and free from hyphens or extra characters.
You can check available domains through a number of free and easy website search engines, including namecheap.com.
If your preferred domain isn't available, there are some ways to work around it.
For instance, we recommend searching for available domains using your chosen apartment name and related keywords such as "rentals," "apartments," or "living."
Some options could include:
[ApartmentName][Neighbourhood/City]
[LiveAt][ApartmentName]
[ApartmentNameLiving]
Consider Hiring a Marketing Expert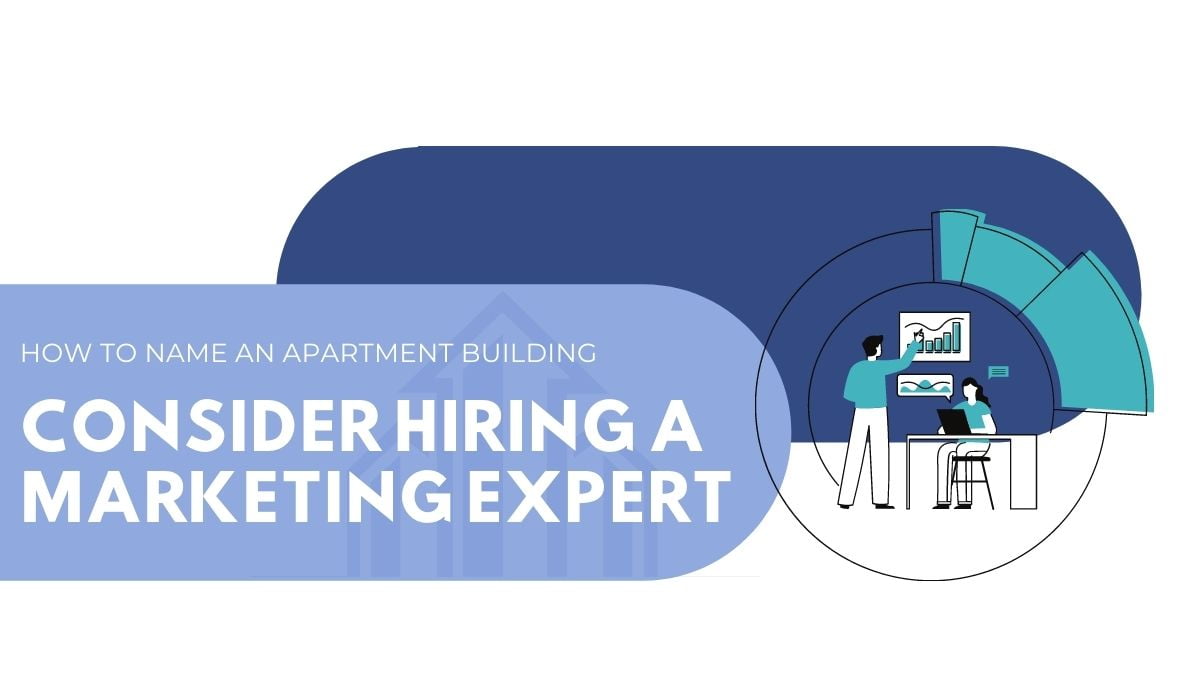 If you still aren't sure how to name your property and it seems overwhelming, consider working with a property management marketing company.
When you work with a team of marketing experts who have experience in the real estate industry, you'll undoubtedly feel less stressed.
Upkeep Media can help!
At Upkeep Media, we can help you save time and potentially costly mistakes with our unique skillset.
We can help you brainstorm apartment names, bring new ideas to the table and take care of all your apartment complex marketing!
Want to learn more about Upkeep Media and how we can help you? Contact us today!
Conclusion
While naming an apartment building might be challenging, it doesn't have to be impossible.
As an overview, here are some of our tips and tricks when thinking about naming your apartment building:
Choose a unique name
Research the local area/neighborhood
Align with your overall brand vision
Think long-term
Make it memorable
Get feedback
Consider hiring a marketing expert
Finding the perfect name for your apartment building is super important as it can help attract your target tenant and ensure your apartment is memorable.
If you'd like further help, Upkeep Media is here for you.
At Upkeep Media, we work specifically with property managers and investors to streamline their marketing efforts, including choosing the perfect apartment name.
Contact us today!