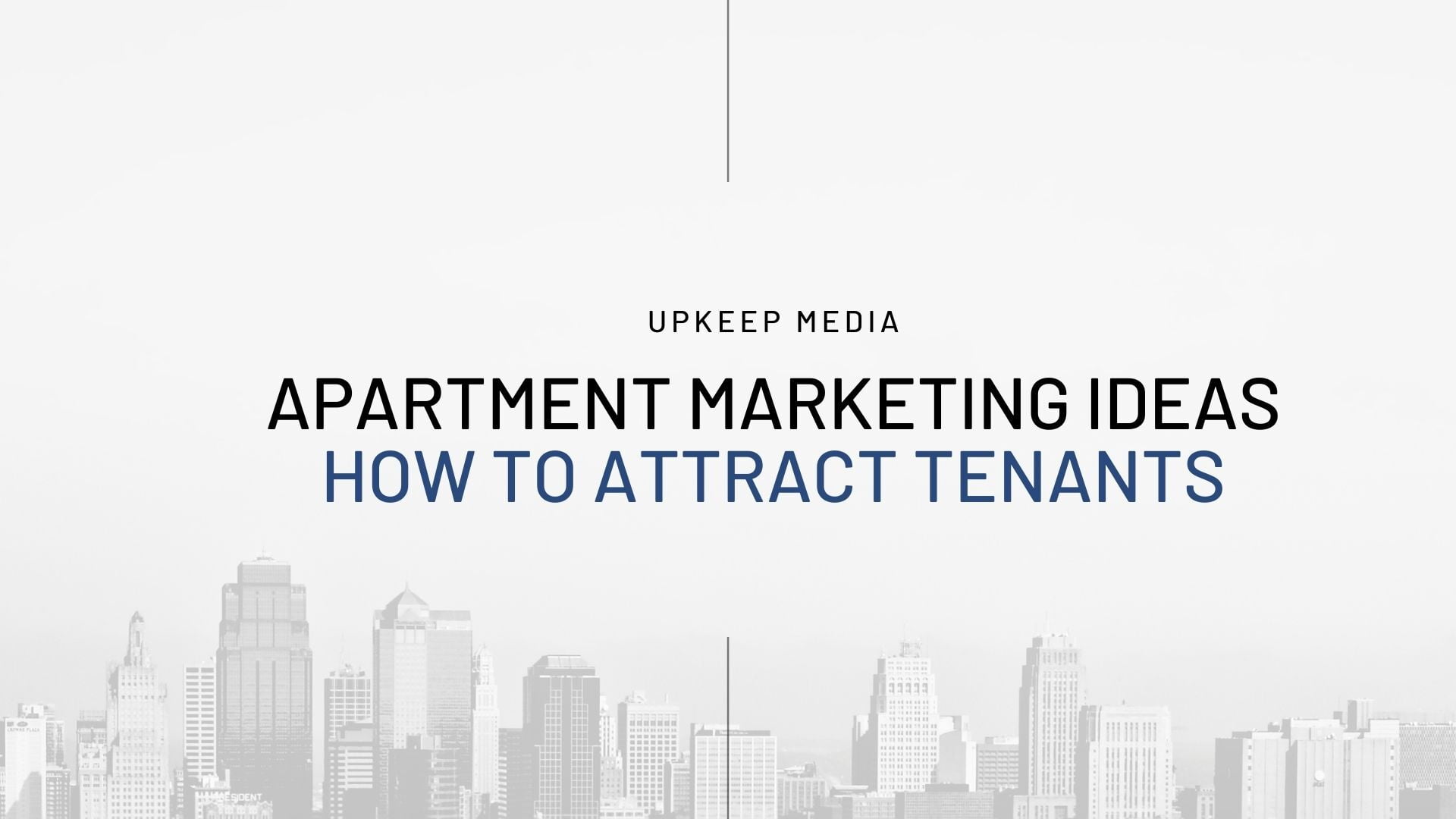 As a property manager, you may be responsible for one or hundreds of apartment and rental property spaces. No matter the scale of your business, it can be challenging to come up with the right marketing strategy to attract ideal tenants and rent your apartments quickly and cost-effectively.
The hard truth is, there is no single way to market your rental properties. In reality, there are numerous strategies you can integrate that will attract new tenants and, most importantly, signed leases!
The good news is that nowadays, there are many different channels for marketing your vacant rental properties. From social media to listings websites, you have the freedom to create a marketing strategy that is multifaceted and fits your goals as a property manager.
Today, we're going to be sharing some of our top tips for marketing your apartment, including resources for keeping your current tenants happy. After all, the happier your tenants are, the less likely they are to move out and leave you with the need to market your vacant apartment anyway!
This comprehensive guide by Upkeep Media will help you create a dynamic and engaging marketing strategy for your apartment.
10 Ways To Increase Leasing Traffic to Your Apartment Community
1. Social Media For Apartments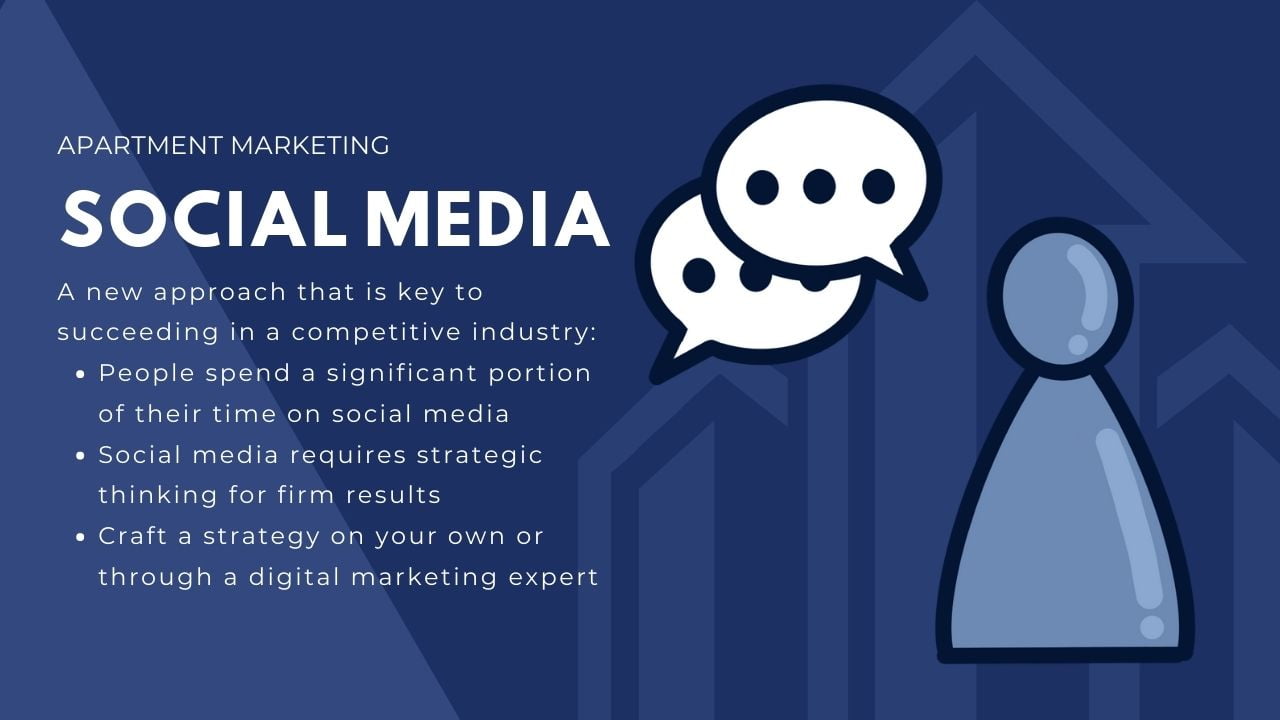 For businesses across all industries, social media has changed the game in how we market and engage with our target audiences. For property managers, this shift is no different.
When looking to entice potential new tenants, especially in highly competitive rental areas, it is important to reach your tenants where they spend most of their time – often that is on social media.
Particularly in today's environment, where physical gatherings are limited, reaching potential tenants through social media is often a recipe for marketing success.
However, that is not to say that social media marketing doesn't require its own strategy and industry know-how. Marketing on social media to potential tenants should be strategic, thoughtful, and most of all, beneficial to the tenant.
We highly recommend working with a social media or digital marketing expert to help craft an engaging social media strategy that won't spam or annoy potential tenants.
Some excellent ideas to help market your rental properties on social media include:
Post New Apartment Listings Across All Channels
While this may seem obvious, it is important to post your rental listings across all social media channels in order to expand your reach and connect with as many potential tenants as possible. Facebook, Instagram, Twitter, and even Pinterest all have active users, followers, and opportunities to share your rental listings.
We recommend prioritizing Facebook Marketplace to share your rental listings, with expansion opportunities into different social channels once you feel confident in your social media marketing strategy and engagement.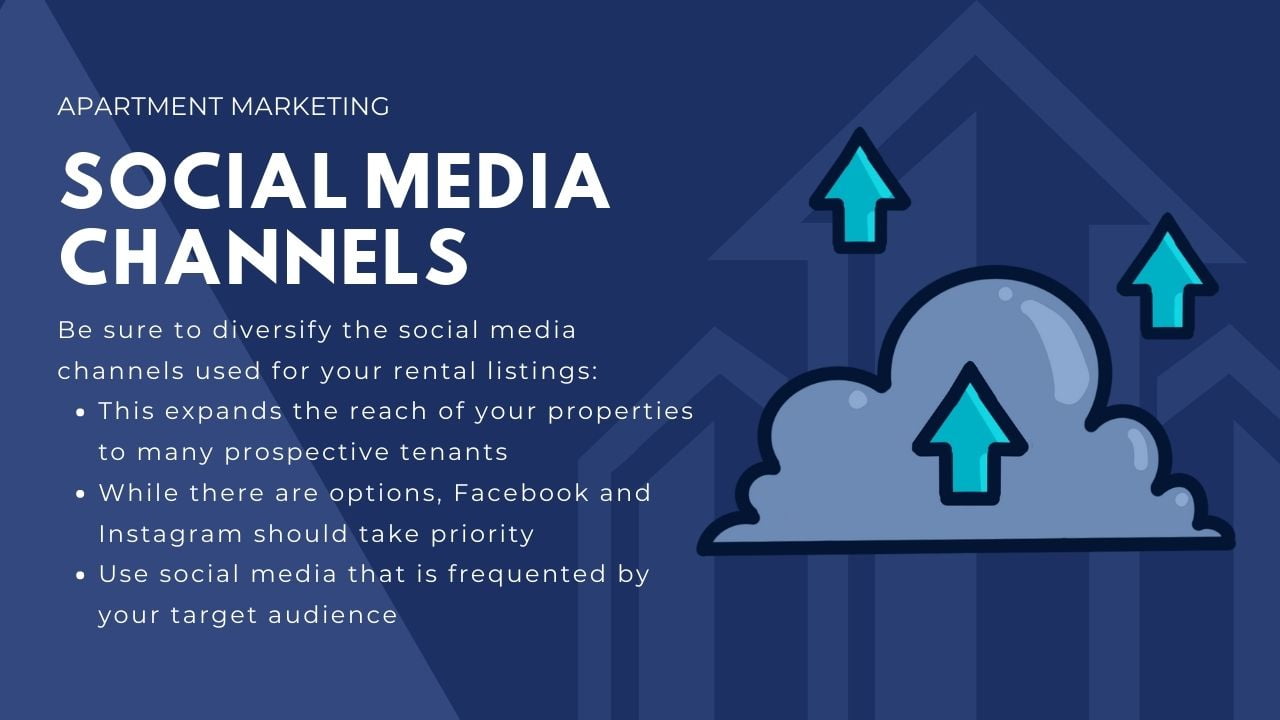 When creating your rental listings and sharing them on social media, it is important to adapt the content to fit your target market.
Looking for recent retirees to rent your condo in an over-55 retirement village? We recommend using Facebook as this is the most common social media channel for older adults.
Do you have a one-bedroom apartment in a trendy, up-and-coming neighborhood? Amplify your listing on Instagram, where the average user is generally a millennial or younger.
No matter how you choose to market your rental listings, you will achieve much more success if you tailor these listings to the potential tenant you'd like to attract.
Actively Engage With Tenants All Year Round, Not Just When Looking For Renters
Another top tip for creating engagement on your social media channels is by making it a priority to engage with your audience all the time, not just when you're looking for potential tenants.
This is especially important for a large apartment complex that may be engaging with both current and potential tenants on their social channels. Using your social media to add value and exemplify your client management skills is an excellent way to build hype around your properties, and you as a property manager.
Some great examples of this engagement include:
Sharing information about your units, properties or buildings. Even when you don't have available rentals, this helps to keep your properties top-of-mind for your audience.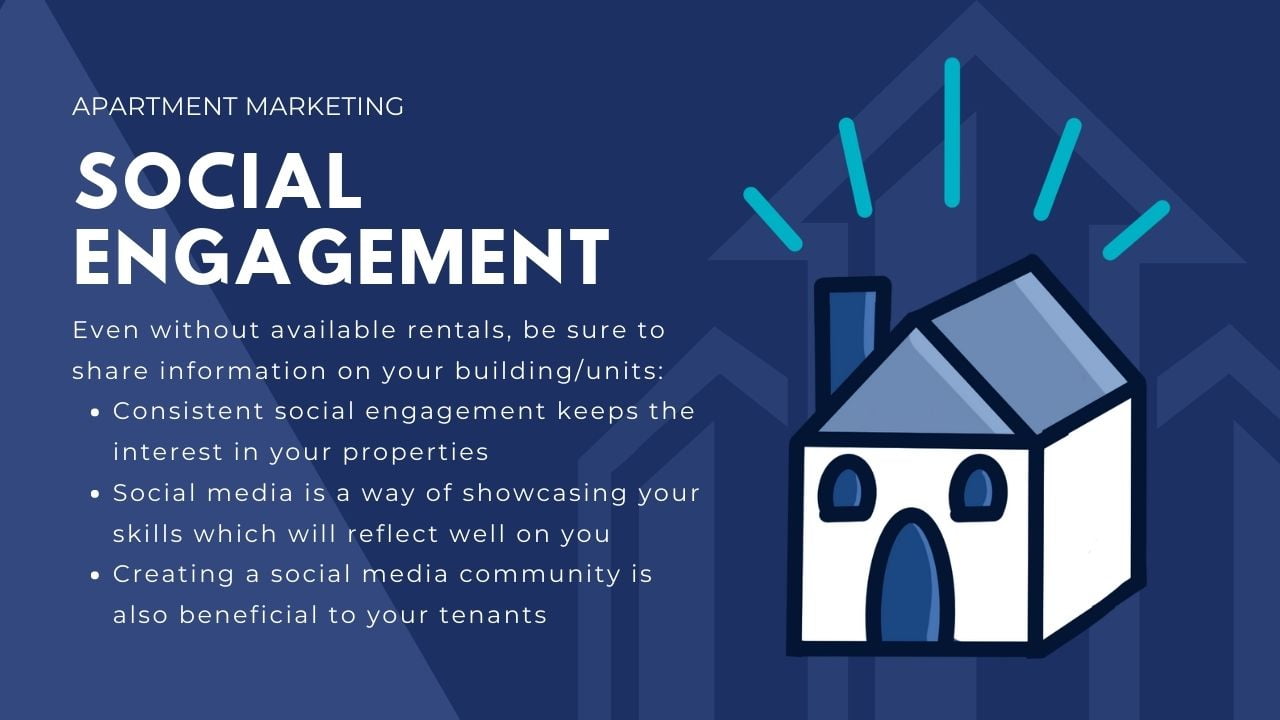 It also makes it easy to build hype and interest when you do have a rental property available. Creating a sense of exclusivity is a sure-fire way to help attract new tenants and even new properties to manage.
Showcase your skills. Social media is an excellent way to share small, bite-size pieces of content highlighting your business and all the great work you do. Don't be afraid to give your followers an insight into your properties, your business operations, and how you go above and beyond for your tenants.
Remember, your potential tenants are interviewing you as much as you are interviewing them, so make sure to make a good first impression!
Create a community. As a property manager, it is one of your responsibilities to create a community for your tenants. This same sense of community should be extended to your social media channels. You can create a community on social media by:
Engaging with other organizations and businesses in your community through follows, shares, likes, and comments.
Engage with potential tenants by answering questions, responding to DMs (direct messages) and posting engaging content.
Sharing inside information about your business and properties, like virtual tours, photos and, examples of your great work.
Sharing rental listings when they become available and engaging on social media rather than redirecting potential tenants to different websites.
2. Utilize Your Apartment Advertising Ideas And Run Ad Campaigns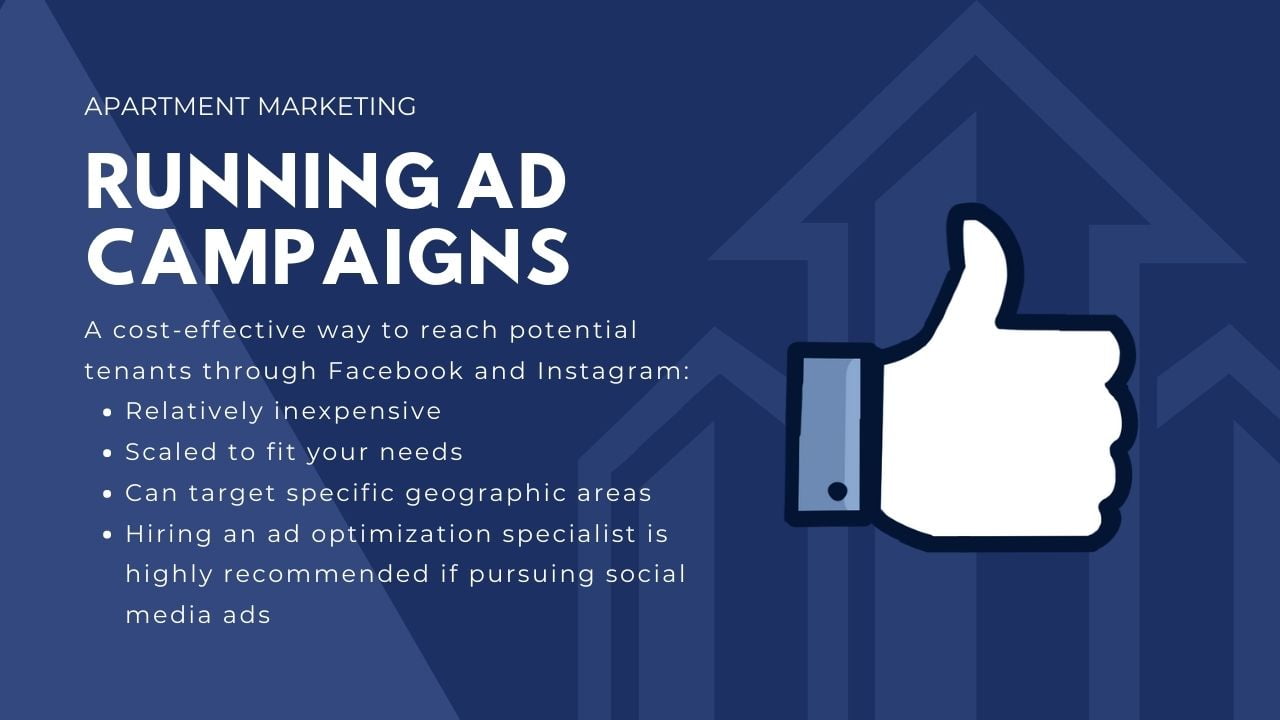 One of the most cost-effective ways to reach potential tenants with your available property listings is via Facebook and Instagram paid ads. This form of advertising is relatively inexpensive and can be scaled to fit your specific needs.
You can include a number of specialized features so your ad will appear on the social media feeds of your ideal tenant in the geographic area you prefer.
Running ad campaigns on social media is fairly intuitive, but if you are going to be using this strategy as your main source of advertising, we highly recommend speaking with an ad optimization specialist to help you amplify your advertising online.
3. Don't Forget About the Tried and True Marketing Technique – Rental Listings!
One of the most common forms of advertising available rentals is through online rental listings. Online rental listings are the 21st century equivalent of real estate signs or traditional newspaper ads.
Online rental listings have come a long way in recent years with many sites offering online review tools and intuitive search functions that help potential renters find their perfect home.
With the majority of Americans owning a smartphone, online listing sites are becoming even more popular for potential tenants looking for their next space. As a property manager, it is important that you invest the time and resources to effectively advertise your rentals on these major online rental marketplaces.
Your listing is only as good as its ability to engage potential renters and garner interest in your property. Later on in this article, we will share some of our tips and tricks for creating an excellent rental listing that is sure to draw in high-quality tenants.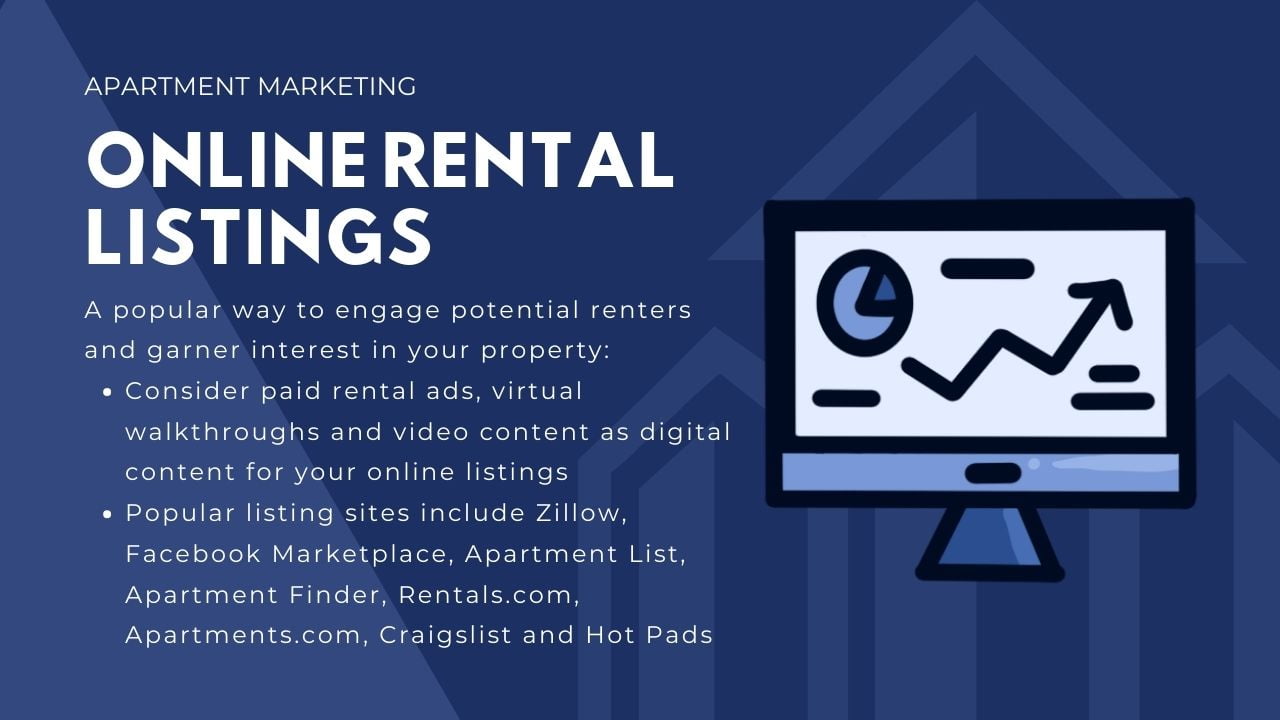 When considering using online rental listing sites, we encourage you to consider additional features such as paid rental ads, virtual walkthroughs, video content, and other resources for tenants to view your space online. In light of COVID-19 and social gathering restrictions, being able to share your space online is even more critical than ever before.
Some of our favorite websites to list your rental property are Zillow, Facebook Marketplace, Apartment List, Apartment Finder, Rentals.com, Apartments.com, Craigslist and Hot Pads.
If you are concerned with finding a very specific type of renter, especially in a competitive rental market or major city, there are a number of tools that you can use to help refine your rental listing's reach.
For starters, we encourage you to do your research on what types of applicants each online rental listing appeals to. For example, HotPads is considered to be a popular rental listing site amongst corporate professionals looking to relocate for work.
By contrast, Facebook Marketplace generally appeals to an older crowd, so you might use this specific platform if you are looking for someone to rent your apartment located in a retirement community.
As one of the first online marketplace forums, Craigslist is still hard to beat as one of the primary rental listings services. Keep in mind that it is important that whenever you are using a rental listing site that you take proactive steps to protect yourself against scammers and fake renters who use your listings for negative purposes.
4. Maximize Your Website
Maximizing your website and online presence can significantly help to bring in potential new tenants. By listing available properties on your website, tenants can more easily find information on your rentals, contact you, and access information even if they live in a different city or even another country.

5. Consider Developing An Ongoing Blog
Online studies show that websites that have a consistent blog presence often perform better than sites that do not have a blog.
In fact, some online researchers even believe a site with a blog can perform almost 55% better than a site with no blog!
Your apartment website is no exception to that rule.
Content marketing, while often a time and resource investment, can help to fulfill many different purposes throughout your business.
A blog can help to establish your expertise, create content for your social media channels, and drive web traffic from search engines to your website.
In order to effectively engage your audience through a blog, we recommend posting at least 1500 word articles on average once a week. These blog posts should be primarily localized content that is specifically designed to appeal to your target tenants.
Some excellent examples of a blog post that you could create for your website could include:
A city guide to your local area
Tips and resources for renters and tenants
Guides to effectively finding a rental property in your area
Other helpful content for potential tenants to use when looking to rent at one of your properties
When creating a blog for your business, it is important to remember some key fundamental rules around digital marketing, search engine optimization, and content management.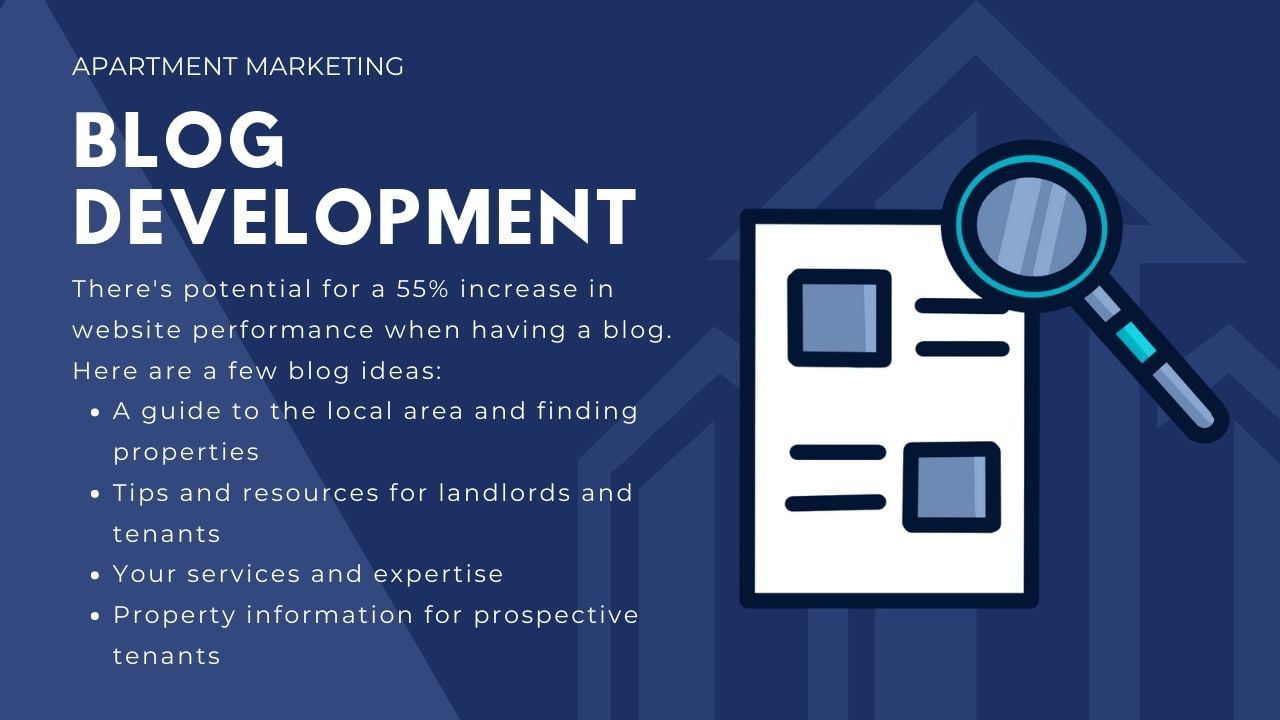 Keep in mind that a blog should be used to help drive web traffic and encourage secondary engagement from your visitors. This secondary engagement could include emailing you to inquire about rental listings and entice visitors to rent from you.
6. Invest In An SEO Strategy
A good search engine optimization (SEO) strategy is an important component of any digital marketing plan. Search engine optimization is a series of strategies that help to drive organic web traffic to your website through search engines such as Google and Bing.
While search engine optimization strategies can become quite complex, there are a number of easy-to-use solutions that you can effectively integrate into your business right now.
By using keywords, you can help guide search engine algorithms to effectively capture your content. When someone Googles relevant search terms in your area, the more targeted and specific your keywords are, the more likely you are going to drive web traffic from Google search.
Overall, there are a number of key steps that you can take as a business owner to ensure that Google and other search engines are optimized to work in your favor. In addition to the keyword strategies discussed above, there are a number of other SEO strategies you can take to ensure that potential tenants can find you easily and effectively online.
To dive deeper into the world of SEO, we highly recommend working with an SEO specialist to help further refine your content.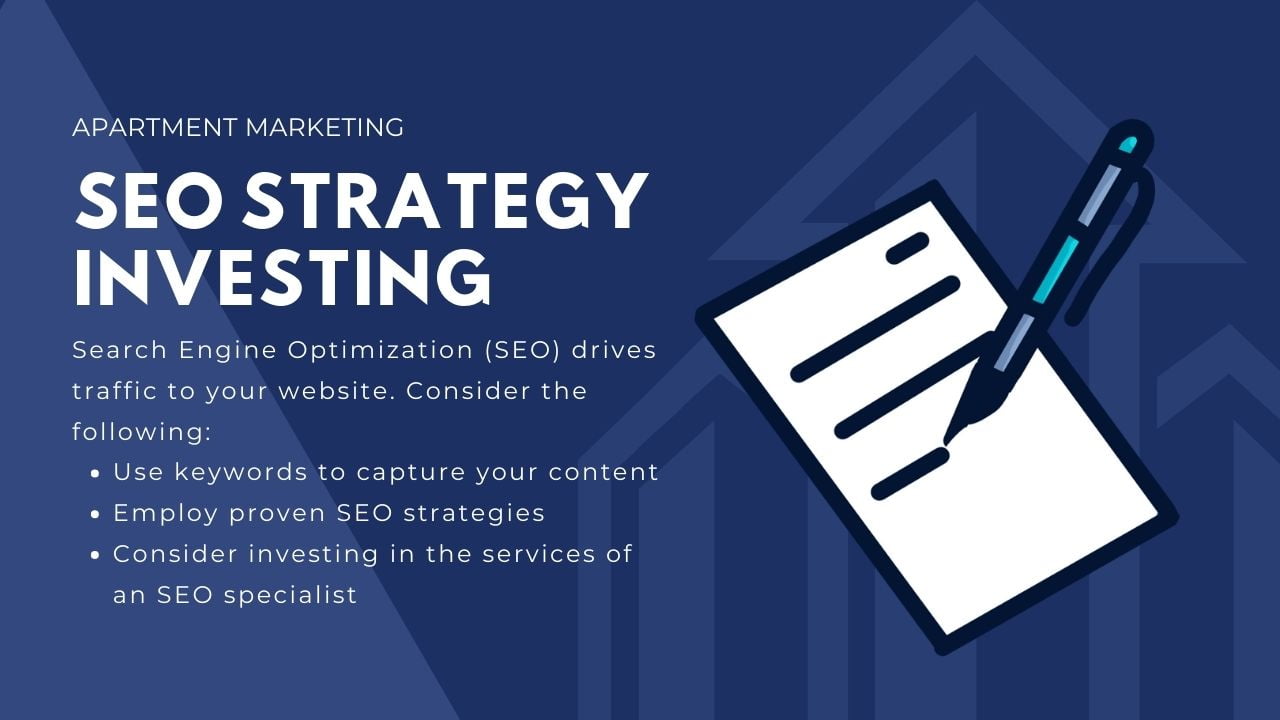 7. Google My Business
By claiming your Google My Business account, potential tenants can more effectively find your business and contact information. This will help them feel assured that you are a reputable landlord. Claiming your Google My Business account is relatively simple and can be easily accessed from your main Google Business account.
Once you have claimed your Google My Business account, you can input important information such as an address, contact information, website, blog posts and other important updates so potential tenants can find your available listings.
In addition to creating essentially an online calling card for your business, claiming and maintaining your Google My Business account is a critical step in helping search engines find your business to share with individuals searching for rental listings in your area.
8. Google Ads Campaign
Working to establish a strong website and strategic search engine optimization process are critical first steps in leveraging your online presence. To take your online marketing to the next level, it might be time to look at paid digital ads.
Google Ads is an excellent tool for marketing your apartment listings online. This type of advertising takes advantage of an internet marketing model called pay-per-click, or PPC for short. With the PPC model of digital marketing, you (as the advertiser) create an ad and pay a small fee each time one of your ads is clicked.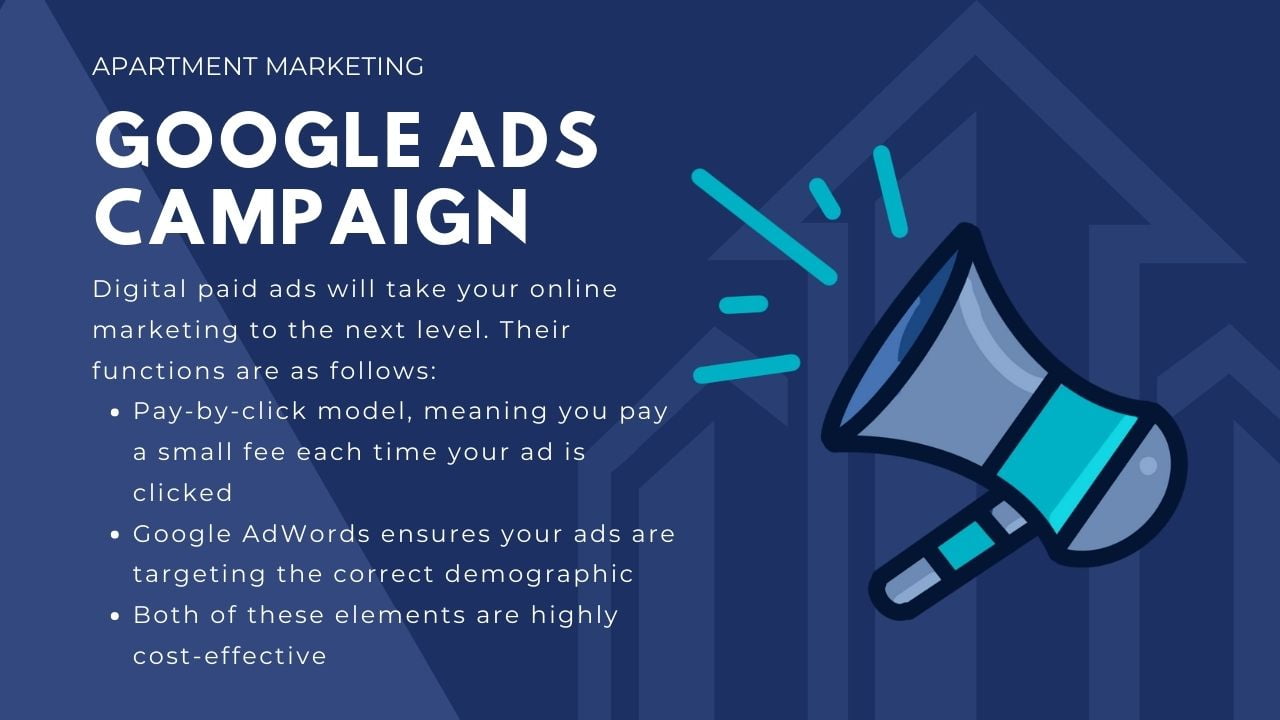 This is a highly cost-effective strategy because it takes advantage of search terms that match your particular apartment.
In addition, you are only paying for the customers that click on your ad. In theory, your ad could be viewed thousands of times but you will only be charged for the number of times a customer clicks on your advertisement.
Google Ads has a number of critical functions that help get your apartment listing in front of the correct audience. Google Ads uses a highly sophisticated system involving ad buys and keywords to ensure that your ad is reaching the proper demographic.
Within your Google Ads marketing campaign, you can identify your ideal potential tenant using a number of different demographic profile markers. These can allow you to segment your search in a number of different ways, including targeting people of a certain age, individuals who live in a certain geographical area, or even targeting an individual's perceived income.
Through Google Ads, you are able to create apartment listings that are hyper-focused while still being extremely cost-effective.
For specific strategies on how Google Ads can benefit your apartment rental business, reach out to a digital marketing specialist who can help guide you through the process.
9. Utilize YouTube to Advertise Your Apartment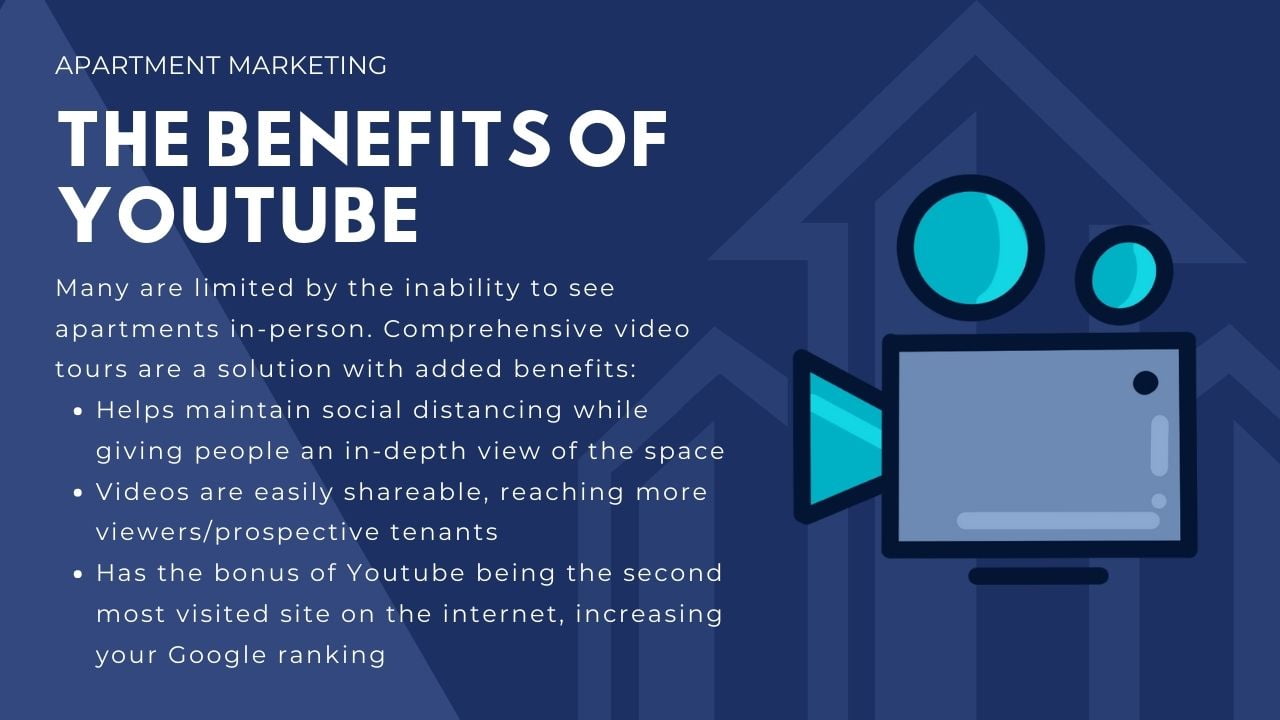 Now more than ever, it is important to invest in creating comprehensive video tours for all of your available apartment listings. During the COVID-19 pandemic, the ability for potential renters to come to see your apartment in person is limited.
YouTube offers a comprehensive way to provide potential renters with virtual tours to successfully replace in-person showings of your available units. In an increasingly digital world, it is essential to give renters the option to view your available apartments online without ever having to physically leave their home.
Creating YouTube video tours is relatively simple and effective, and can even be done right from your phone.
Here are some of our top tips for creating engaging and effective YouTube virtual tours:
We recommend using vertical videos while creating virtual tours for YouTube. To create a vertical video, simply hold your phone vertically to shoot and ensure that all images are clear, well-lit and show a comprehensive view of your space. Vertical videos are more easily shared on social media.
Conduct a YouTube video tour just as you would an in-person walkthrough of the apartment. Make sure to show all the main rooms, special features, appliances, storage spaces and anything else you feel that potential renters would want to see.
We recommend having a simple narration as you go through the apartment so potential renters are able to get more information, in addition to seeing the space. If you don't feel comfortable adding a narration, we recommend adding copyright-free music to keep viewers engaged.
Be sure to capture video of any outdoor spaces, common areas, or other interesting neighborhood features that you feel would be important to potential tenants. If your building has amenities such as a pool, lounge, fitness center, or concierge, we recommend getting video footage of these spaces as well.
Take the time to invest in a smart and engaging copy for your YouTube video title and description. Be sure to use important keywords that will help boost your search engine optimization and help potential renters easily find you online.
Remember, the power of YouTube and search engine optimization should not be underestimated. YouTube is the second most visited site on the internet!
Posting to YouTube has major perks including increasing your ranking on Google and helping potential renters find you via keyword searches.
10. Make Your Content Count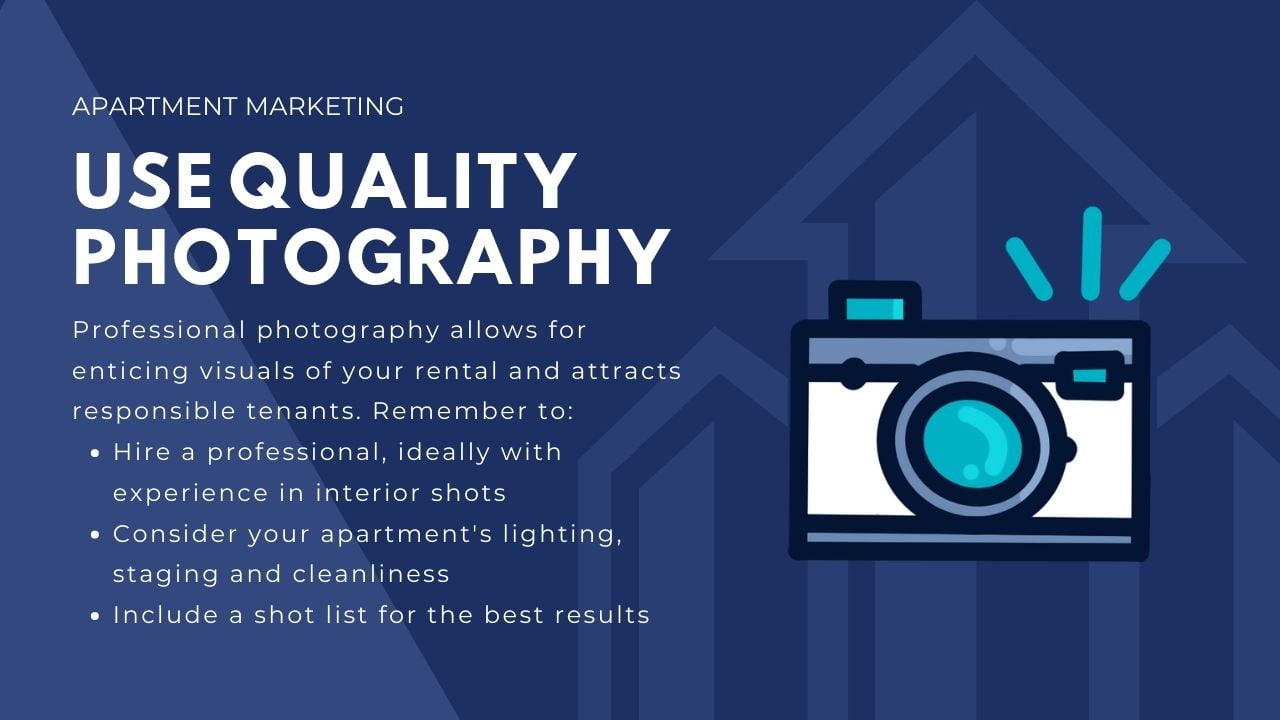 While we've shared a number of marketing strategies above to help ensure you amplify your rental listings and attract potential tenants, there is still one overall strategy that is sure to return positive results!
Investing in high-quality photography, videography and advertising is important to ensure that potential tenants are excited about your property listings.
There truly is no better investment you can make than good visuals to represent your available rental space. We encourage you to see this for what it truly is: an investment in your property to help attract quality and responsible tenants.
We recommend hiring a photographer with experience in shooting interior residential shots to help maximize your property listings. This photography should be used on your website, online property listings, social media, and other forms of advertising to help garner interest. Don't forget to make sure that your photos are well-staged, high-quality, and showcase the very best of your rental listing.
Some important factors to consider when photographing your rental property include lighting, staging, the cleanliness of the apartment, and comprehensive visuals of the entire space that you'd like to include.
For any rental property, including apartments, here are our top recommendations for creating a helpful shot list for your photography. This shot list should be given in advance to your photographer so that you can maximize your time and resources while still getting the best photos possible.
Our ideal shot list would include:
5-6 exterior pictures including the outside of the building and general area
8-10 interior shots including all bedrooms, bathrooms, kitchen, living room, and closets
3-4 creative or scenic shots that give a peek into the overall vibe of your space
Photos of all amenities and other building features such as security, lobby, or outdoor spaces
Photos of appliances and other premium features such as wood floors, washer, dryer, kitchen appliances and anything else that you feel makes your property unique
Community photos of the general geographical location and amenities close to your rental listing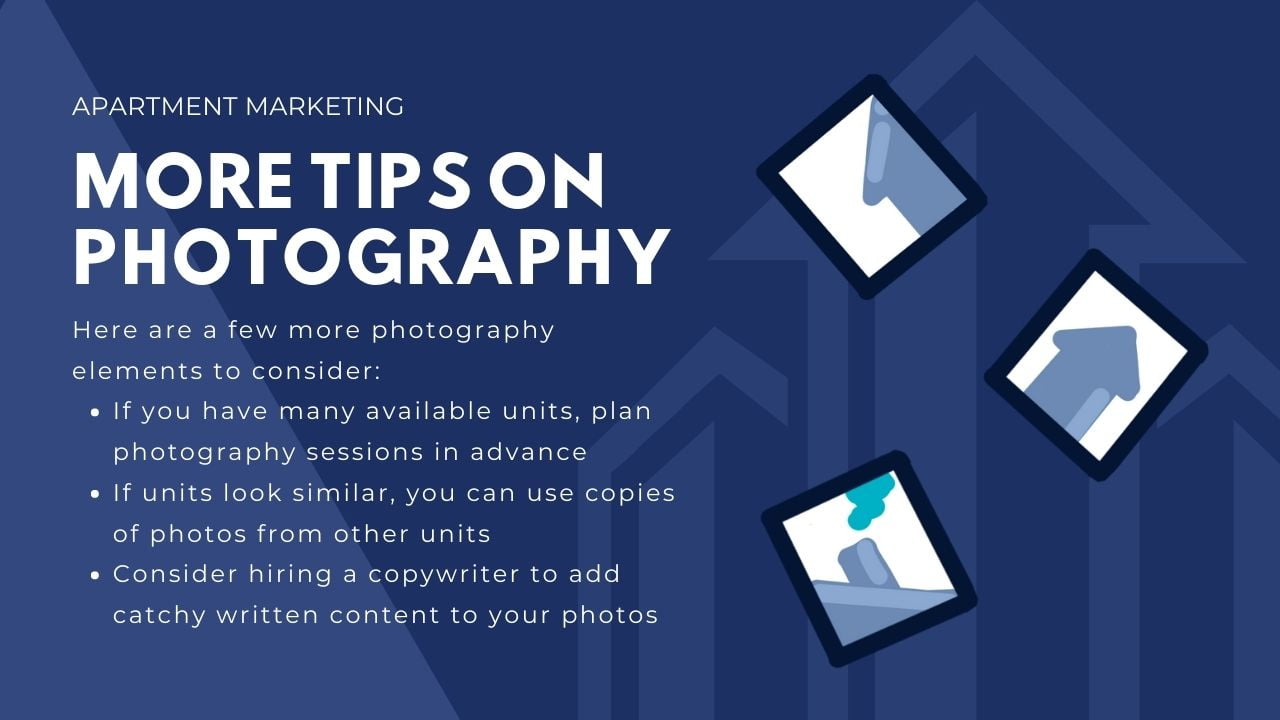 For property owners who are managing high numbers of available spaces, we encourage you to plan these photography sessions in advance to ensure that you are maximizing your photographer's time and resources.
If you have multiple units that look similar you can use photos from the same space to help entice potential tenants.
Along with excellent photography, we encourage you to create thoughtful and intentional copies to help communicate your message with potential tenants.
This may be an excellent time to hire a copywriter to help create catchy headlines, informative descriptions, engaging calls to action, and to help capture the vibe of your building, community and space.
It is extremely important that this copy is error-free and thoroughly proofread for grammar and punctuation. Remember, your apartment listing is the first impression that your potential tenant gets of your building and your property management skills, so it is worth the investment to put your best foot forward and present yourself in the most positive light.
Conclusion: Marketing For Apartment Units
As we shared above, there are a number of different marketing strategies you can employ to ensure that your rental listings are getting the attention they deserve.
For the purpose of this article, we focused on online marketing efforts but there are a number of offline marketing strategies you can use as well. While many of these options might not be accessible to you during the COVID-19 pandemic, there are certainly opportunities to help engage potential tenants in real life through a number of different strategies, such as open houses, community events, and advertising in local papers and other relevant forms of media.