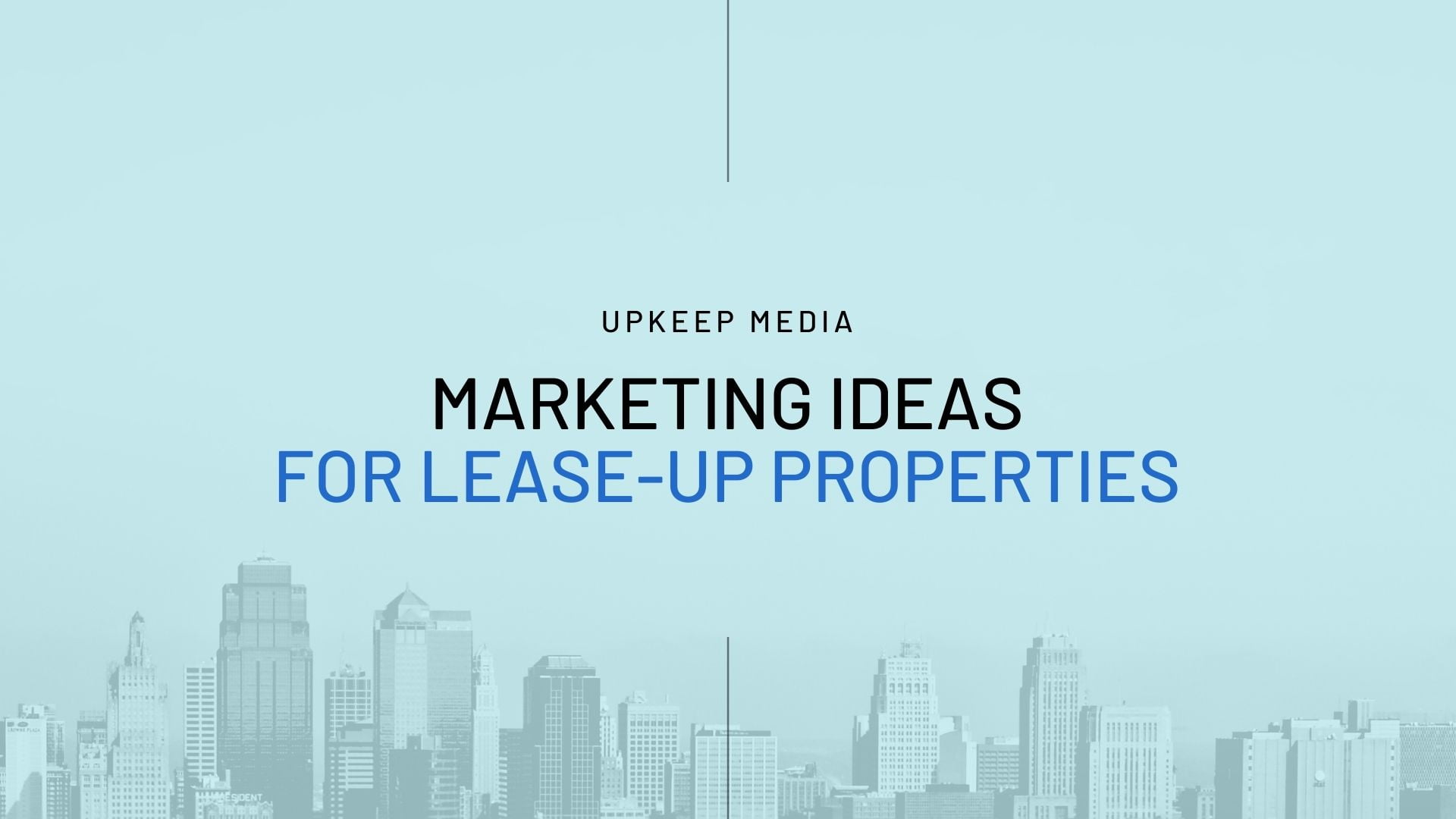 Marketing a lease-up can pose significant challenges that you might not experience when marketing traditional multi-family complexes.
In many large cities and competitive rental markets, lease-ups are constantly being developed. This means you will need to take advantage of various marketing strategies to make your apartment lease-up stand out from the crowd.
Not to mention, it can be challenging to market a lease-up since the building is still under construction. However, there are effective marketing strategies that you can use nonetheless.
In this article, we will be explaining our top marketing methods for filling vacancies in your apartment lease-up. These tactics are specifically designed to leverage both online and offline opportunities to find new tenants.
Online Marketing Tactics for Lease-Up Properties
Here is a comprehensive look at digital marketing tactics that you can take advantage of to help attract and secure new tenants for your lease-up.
1. Create a Website
When creating an online marketing strategy for your lease-up, your first step should be to create a website to generate traffic and leads for potential tenants.
Your website should provide images and important rental information, and should be designed to anticipate your potential tenants' questions and concerns.
In order to ensure that you effectively meet your tenants' needs and address their questions in the most efficient way possible, here are some of our recommendations for what your lease-up website should include:
 Your website should include:
A contact form so you can easily collect prospective tenant contact information. This should be protected and used exclusively to follow up with any questions or concerns.
A property description, including a list of amenities, location and other factors that will make your building more enticing than other buildings on the market.
Information about specific units, such as floor plans, rental rates, square footage and unit amenities.
Information about the neighborhood, including the walkability score, nearby amenities and even some recommendations on grocery stores, restaurants and other necessities.
Mock-ups, 3D renderings and photos of what the units will look like. You should also consider providing these same visual assets once the property is complete.
Construction and completion timelines.
And finally, an online rental application so prospective tenants can apply directly on your website to rent your property. This is a critical step for creating an effective sales funnel on your website and enabling you to connect with serious potential renters quickly.
2. Leverage SEO to Your Advantage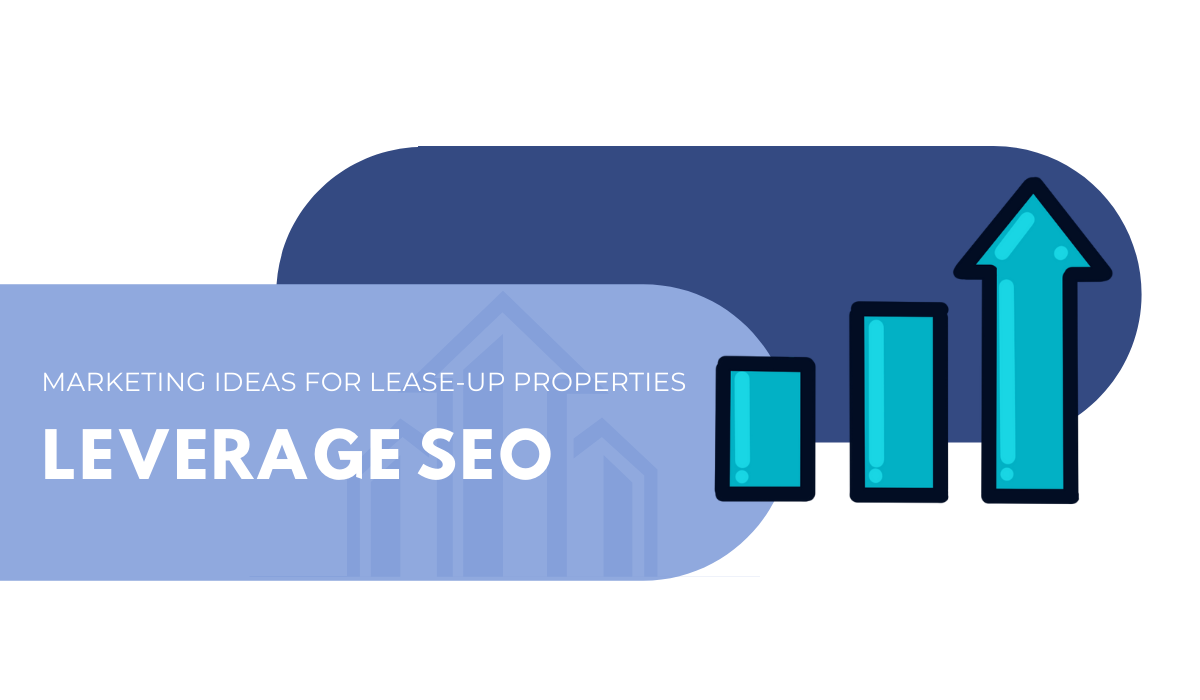 In today's age of integrated digital marketing, simply creating a website is not enough to set you apart from your competitors.
To maximize your web audience potential, we recommend implementing search engine optimization (or SEO) strategies to improve your website's rank on search engines, such as Google.
By ranking higher on search engines, you will help drive web traffic and capture the interest of users who are conducting web searches using specific keywords that relate to your apartment lease-up.
While more advanced SEO strategies can be quite intensive, a good start for any business is using localized keywords that you think would be relevant for the type of tenants you're looking for.
By leveraging these keywords within your own content, you can attract potential renters from search engines and drive them to your website.
3. Use a Google AdWords Campaign to Drive Web Traffic
In addition to Search Engine Optimization, we also highly recommend taking advantage of a pay-per-click Google Adword campaign. These campaigns are often called PPC advertising.
PPC advertising uses localized keywords to help boost your website to the first page of Google in the ads section. Certain keywords can be challenging to rank through traditional SEO efforts for highly competitive industries and markets.
To combat this, PPC advertising might be the solution to boost your website to the top of the search engine results list.
Since you may be competing against large companies, such as Apartments.com and other large rental listing sites, PPC advertising is a viable and often effective option. It is important to use AdWords that will resonate with your target audience to help generate more leads and boost your website's visibility.
Google AdWords campaigns can be successful with or without large ad spends, and they are a great way to target your audience, boost brand awareness and generate more leads through your website.
4. Provide 3D Renderings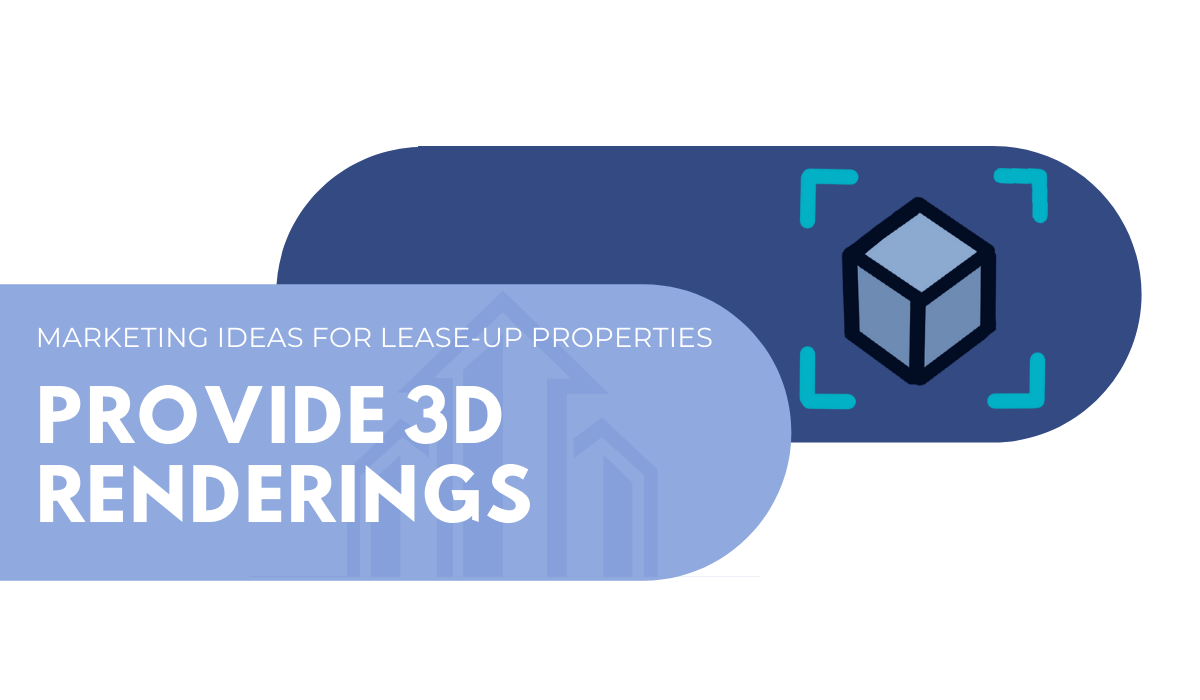 Another great way to grab the interest of your prospective tenants is by providing 3D renderings to give a photorealistic, clear and detailed view of what your property will look like once complete.
These renderings should show the full experience of both your available units and the entire property as a whole.
To maximize your visual content, all photos, videos and 3D renderings of your building should highlight the space, design and functionality of your multifamily complex.
As lease-ups become more and more popular, prospective tenants are more willing to sign a lease with only 3D renderings as a reference point, so use this to your advantage!
5. Update All Local Listings and Online Information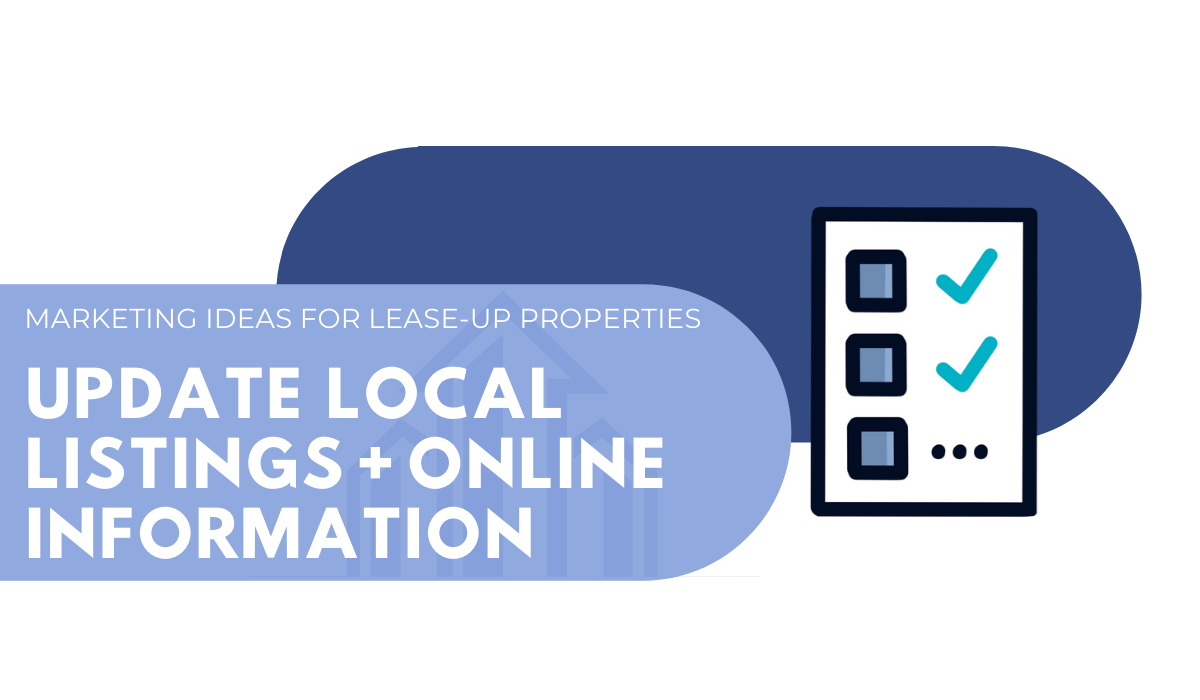 While this may seem like an obvious step in your online marketing campaign, you'd be surprised how many companies miss these simple changes to their online platforms and listings.
Here is your critical reminder to create and maintain your online reputation through local listings and online information!
These local listings could include sites like Google My Business, Yelp and Bing.
We highly recommend updating your contact information to ensure it is reflective of your current offerings and promotions. Make sure your address, website, contact information and other logistical details are also updated.
These online information listings are also great places to share construction updates and progress pictures. That way visitors will know that the information they are receiving is current.
These listings should be routinely reviewed on a monthly basis to ensure that all information is accurate and up-to-date.
6. Take Advantage of Social Media
Creating a social media community for your lease-up can help potential tenants feel connected to your building. But don't forget to share important information and drive users back to your website!
The information available on your website should be recreated into bite-sized social media posts. This will help your followers get all the relevant information about your lease-up.
We highly encourage you to keep your social media account up-to-date and make an effort to post consistently to help leverage leads and direct prospective tenants to your website and online rental application.
Here are some ideas of what you could post on your social media accounts:
3D renderings, videos and photos of different areas of your property, including the main shared spaces, amenities, property features, neighborhood and individual units.
Photos and videos of construction as it progresses to reinforce your completion timeline and communicate any changes.
In-depth posts about the building's amenities and special offers for potential tenants.
More information on monthly specials, open houses, giveaways, contests and new tenant promotions.
These tactics are great ways to engage your social media following and leverage your channels to help find prospective tenants.  
7. Entice Renters with Modern Floor Plans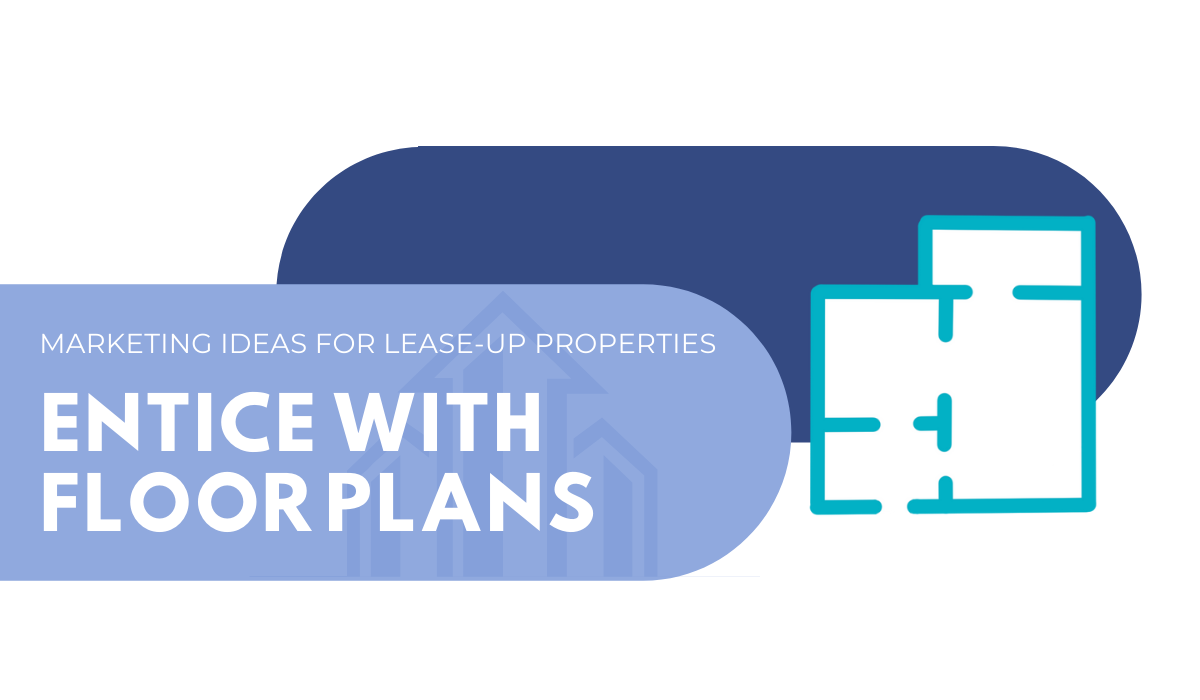 One of the biggest challenges of marketing a lease-up is the inability to show prospective tenants physical spaces and locations.
To combat this challenge, it is very important to have updated floor plans available on your website. This will help prospective tenants understand the layout of the building and the units available.
Floor plans should be designed and presented in a way that an average person can understand the space. They should provide a detailed look at where prospective tenants may be living and how these spaces can be used for function and design purposes. After all, these units are their new homes!
Floor plans can be extremely confusing if not done right. So, you must review and accept feedback on your floor plans to ensure that you are giving your prospective tenants a clear and high-quality look into their new potential living space.
8. Create An Email Marketing Strategy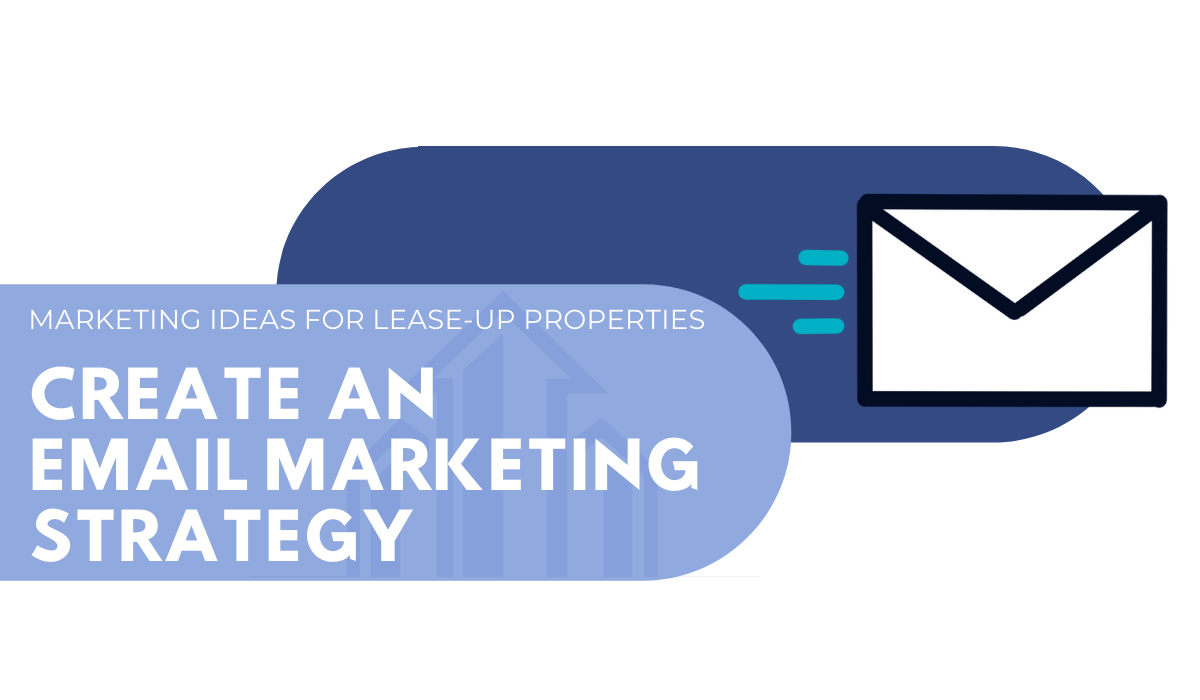 As you move through your online marketing campaign, you'll begin to organically build an email list from the prospective tenants that have expressed interest in your apartment lease-up.
As this list grows, an email marketing campaign might be a great way to keep in touch with both tenants who have signed a lease and prospective tenants who have not yet committed.
These strategies may differ slightly depending on your audience.
Still, by creating a comprehensive email marketing strategy, you can continue to hold the interest of your prospective tenants and share important information about your building.
Some information we recommend sharing through an email marketing campaign could include:
Development updates on construction
Move-in dates for tenants
News about the apartment complex
More in-depth insights into specific areas of the building or neighborhood
As email marketing is a very direct form of online marketing, it is important that you don't spam your prospective tenants.
We recommend sending an email newsletter at least once a month as a way to keep in touch with potential tenants without bothering them by over-communicating.
Offline Marketing Ideas for a Lease-Up
As we shared above, digital marketing strategies include several cost-effective ways to reach potential new tenants. But don't forget that there are also effective offline methods available to you!
Here are some ideas to boost your offline marketing potential for your lease-up.
1. Collaborate with Local Businesses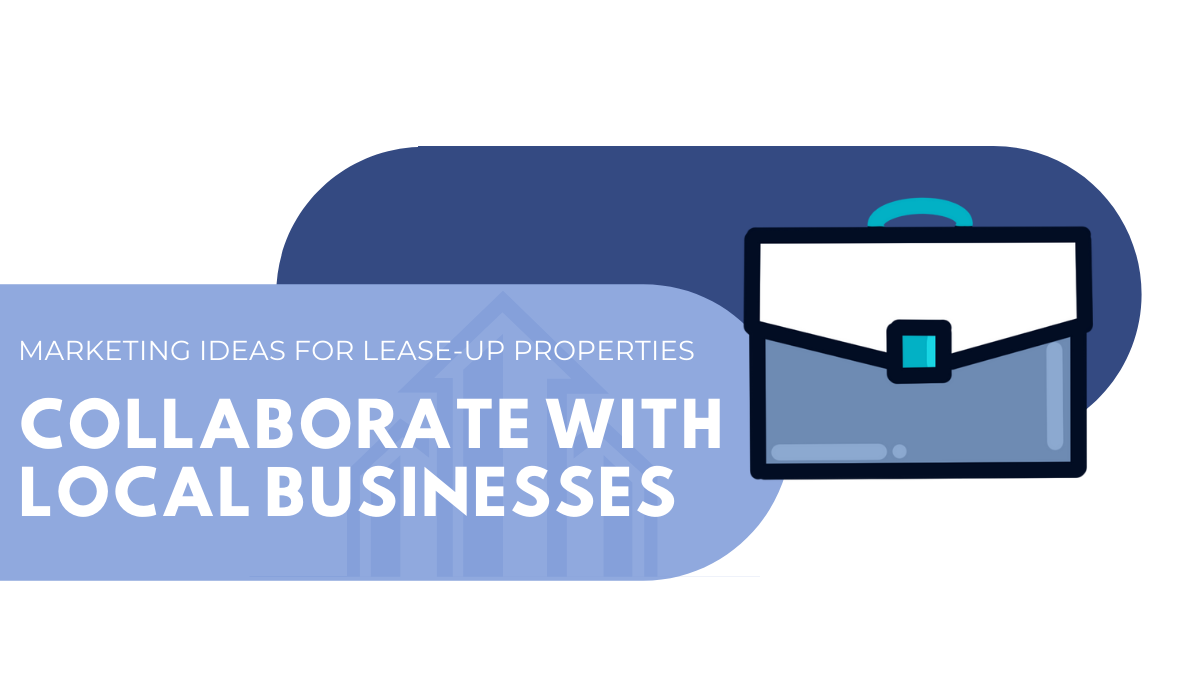 Collaborating with local businesses in your area is a great way to boost your property's visibility, reputation and to help market your lease-up.
By collaborating with local businesses, you can effectively reach new audiences that may otherwise not engage with your property or company online.
One way to collaborate with local businesses is to provide printed materials and property information for businesses to share with their customers. As a result, potential tenants who may visit these businesses will have access to your property marketing materials.
This is an incredibly effective method if you are specifically targeting older audiences, such as seniors, as this audience may not be as receptive to your online marketing campaigns.
For these audiences, old-school word-of-mouth, organic offline marketing is the way to go.
2. Use Print Materials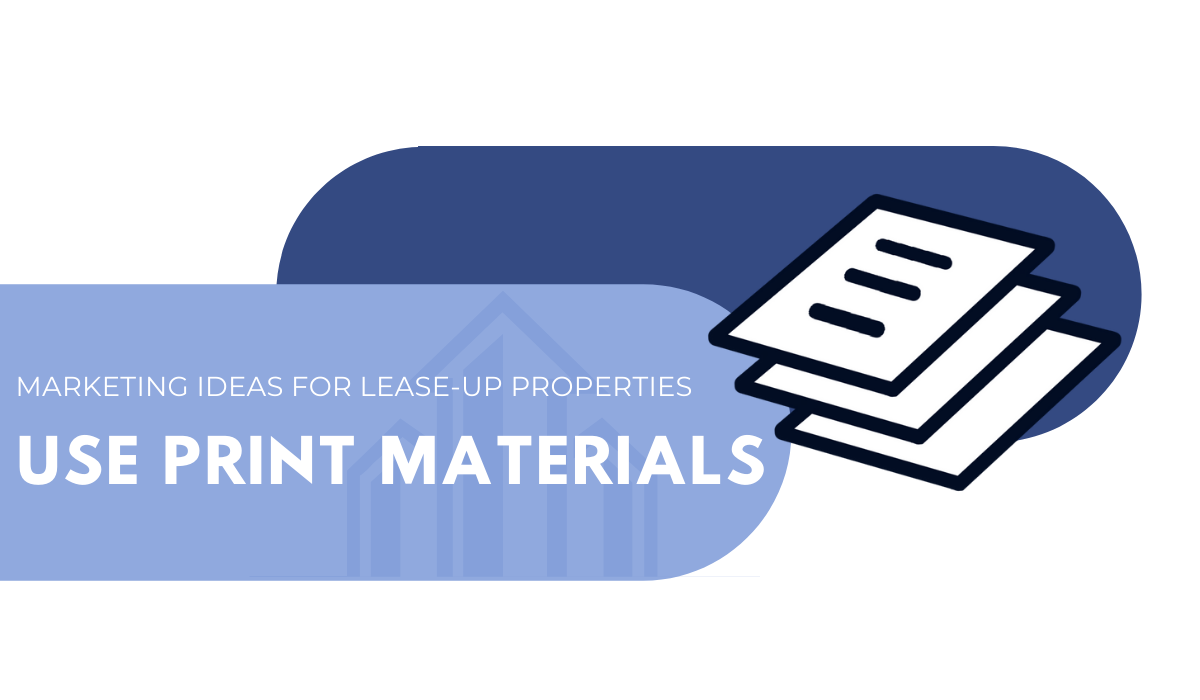 As we mentioned above, print materials are an excellent way to help reach new audiences and share information about your lease-up.
You can use printed materials at events that you host, specifically targeting new prospective renters. We'll talk more about that below.
Some examples of printed materials that you should have on hand include:
Brochures that highlight your property and the specific units and/or living accommodations that you provide.
Business cards that prospective tenants can take and use when they need to reach someone within your company for more information.
Specific information that gives prospective renters an overview of your property and opportunities to lease in your building.
Small signage and other creative materials can be used to capture interest, especially when displaying your other printed materials.
3. Leverage On-Site Signage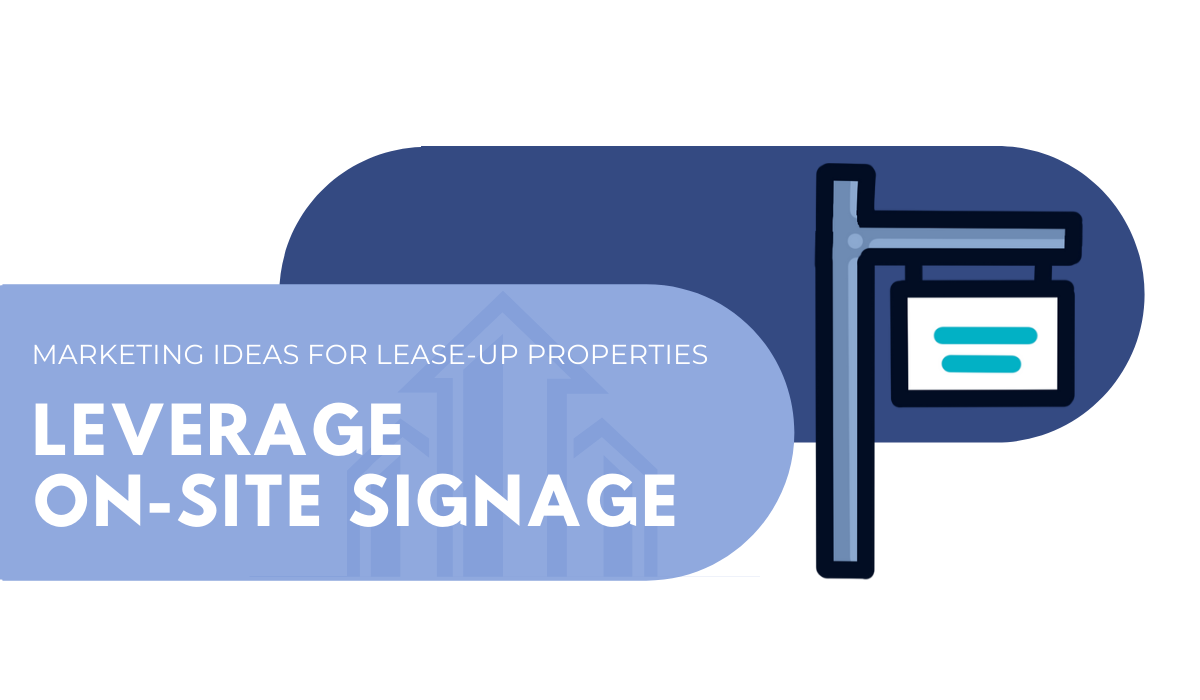 On-site signage is a great way to amplify a boring construction site into an effective marketing tool. On-site signage will help to capture the interest of a passerby and create excitement for your new project.
A few examples of on-site signage could include:
Pop-up banners
Sign wraps for construction gates
Large banners
A billboard
On-site signage should include a call to action, such as a URL to sign up for more information. This is why it is a great idea to have digital marketing strategies, such as a website, integrated into your offline marketing campaigns.
4. Host An Open House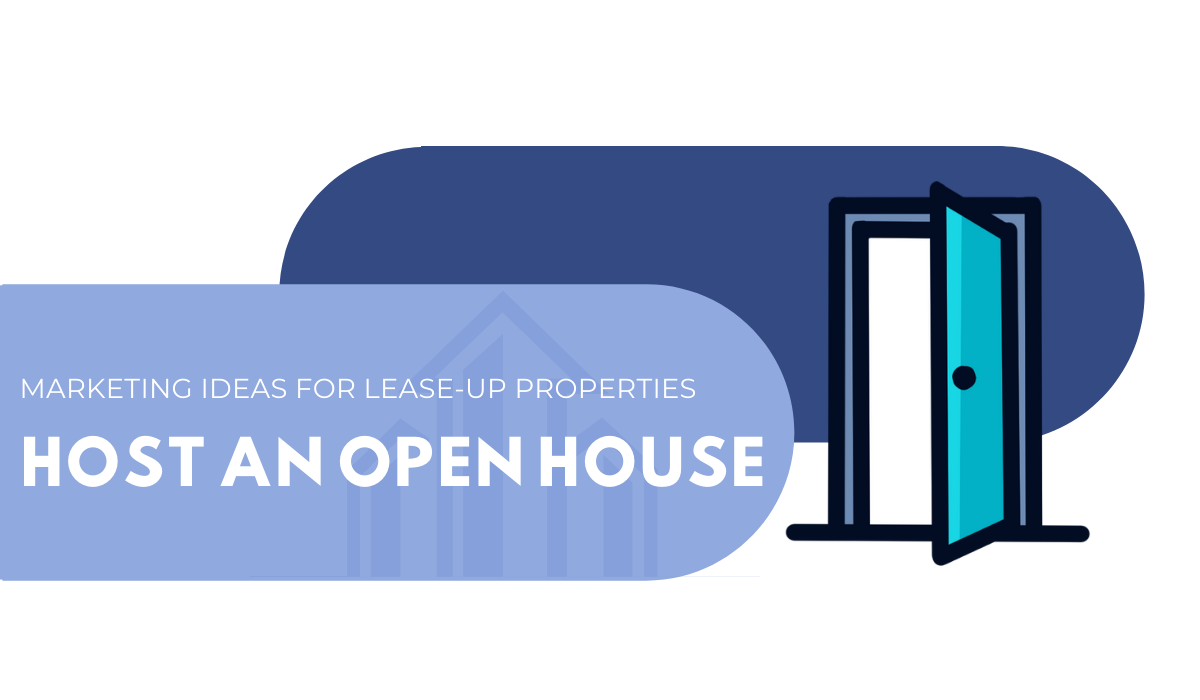 Even though your property may not be finished, it is possible to host an open house to help show off the building to prospective tenants.
In fact, your prospective tenants will feel more connected to the progress of your property if they're able to get an inside look into the development of their new home.
During an open house, it is important to share specific, tangible information, including:
The plan for how things will look
Floor plans
3D renderings
Construction timelines
Once you have captured their interest, you can continue to follow up with serious potential tenants to provide more information and encourage them to sign a lease.
We highly recommend that you begin your open house campaigns as soon as possible. Pending access to the building, we recommend showcasing the property throughout each stage of its construction.
This is a great way to build a sense of community with your prospective tenants and help them feel connected to the progress of your new build.
5. Host Q&A Sessions for Potential Tenants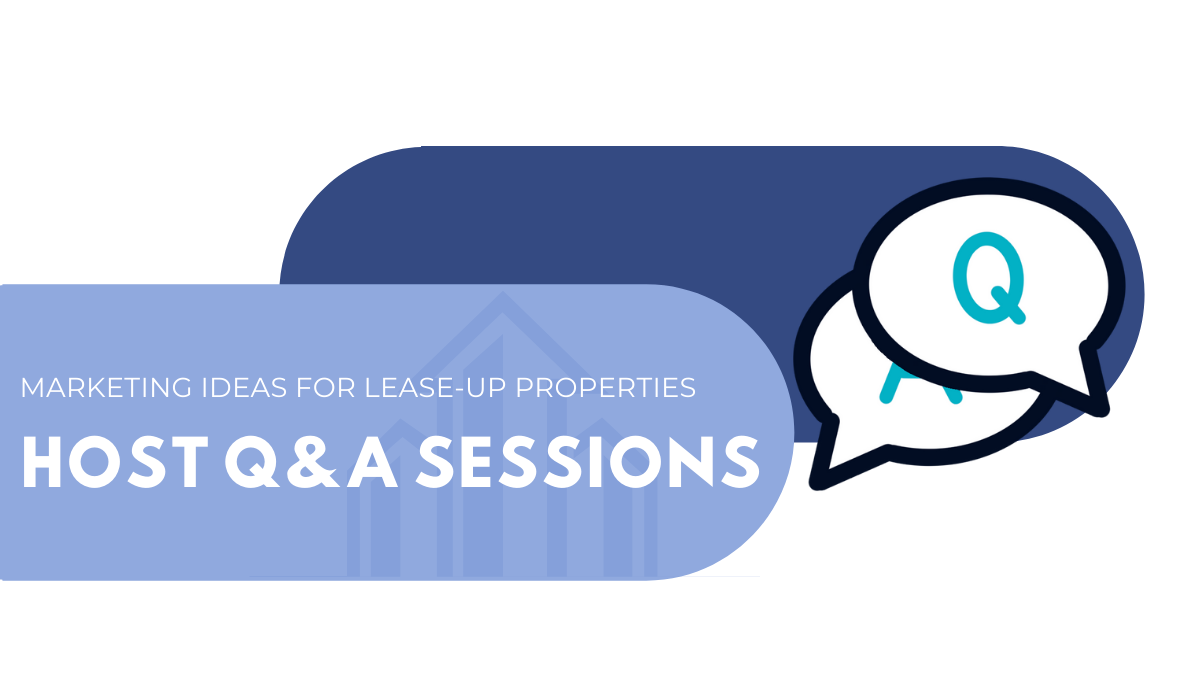 While you can undoubtedly use Q&As on your website and social media as a tool for answering questions from potential tenants, hosting an in-person event can also be an excellent opportunity for your property.
Hosting an in-person event can be a great way to meet and vet potential tenants, allowing them to ask questions and get answers from your company in real-time.
Many prospective tenants may be hesitant to sign a lease for a property that is not yet finished. So, an in-person Q&A event can be a valuable tool for calming those hesitations and helping clear up any confusion about what it means to lease in a lease-up style property.
In addition, these Q&A events are also an opportunity for your business to garner helpful feedback from perfective tenants and show that you value their time and opinions.
6. Create a Referral Program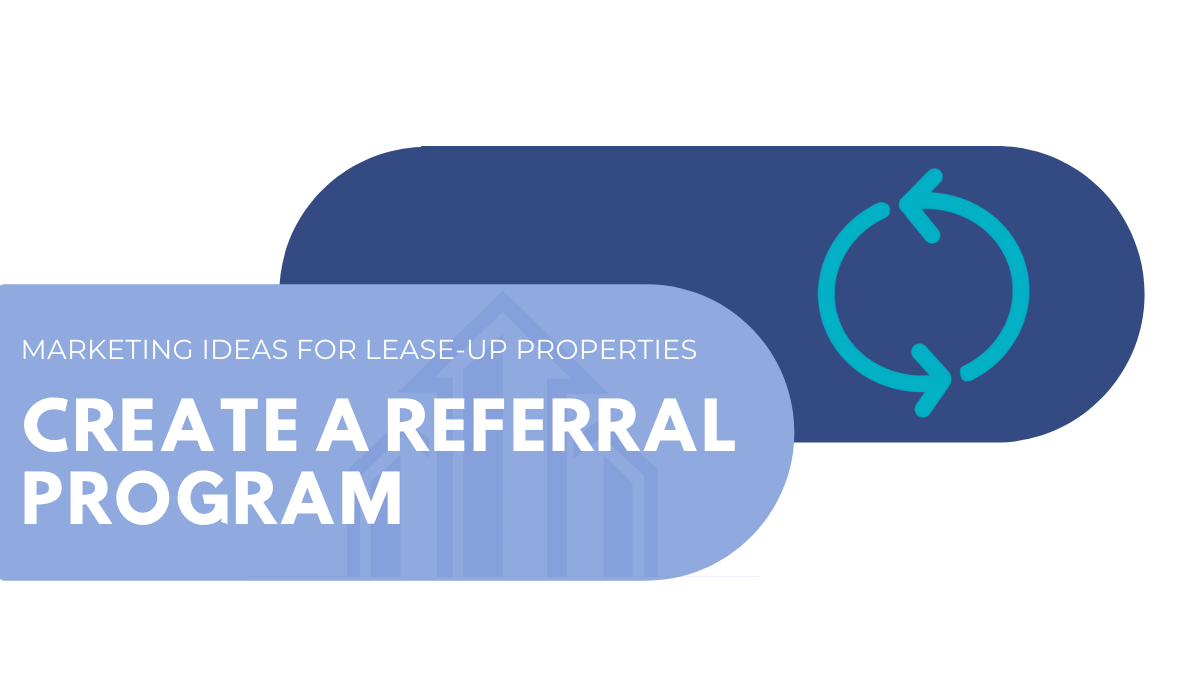 Setting up a referral program is an excellent way to encourage people to spread the word about your new property authentically and organically.
A referral program is relatively simple. It rewards residents who share information about your property with their friends and family. A referral program can offer financial benefits or other compensations that are appropriate for your type of property.
If you do choose to create a referral program for your lease-up property, we highly recommend sharing this program on social media and integrating it into your overall digital marketing strategy as well.
PRO TIP: Ensure your Marketing Campaign and Materials are Cohesive and On-Brand
Whether you are working on online or offline marketing tactics, it is important to ensure that your campaign has cohesive branding, is visually appealing and has content that engages and informs readers.
All of your materials and content should look similar and have a recognizable creative and cohesive look.
Your logo assets, brand design and colors should be used on your website, print materials, social media and anywhere else that you are marketing your property. This will create a consistent and well-represented image for your company and new building.
In general, creating a brand strategy is integral to the success of both your online and offline marketing strategies.
Bottom Line: How to Market Your New Construction Lease-Up Property
When marketing a lease-up, there are many challenges and opportunities ahead of you.
Marketing a property that is not yet complete can create hesitation because prospective tenants cannot view their specific unit or the building as a whole.
However, with strategic and well-integrated online and offline marketing strategies, you can help combat these hesitations and find the perfect tenants for your building.
With the effective marketing methods we mentioned in this post, you can start filling vacancies in your lease-up and begin to build a sense of community in your building.
Want to learn more about marketing lease-up opportunities? Contact the expert team at Upkeep Media today.