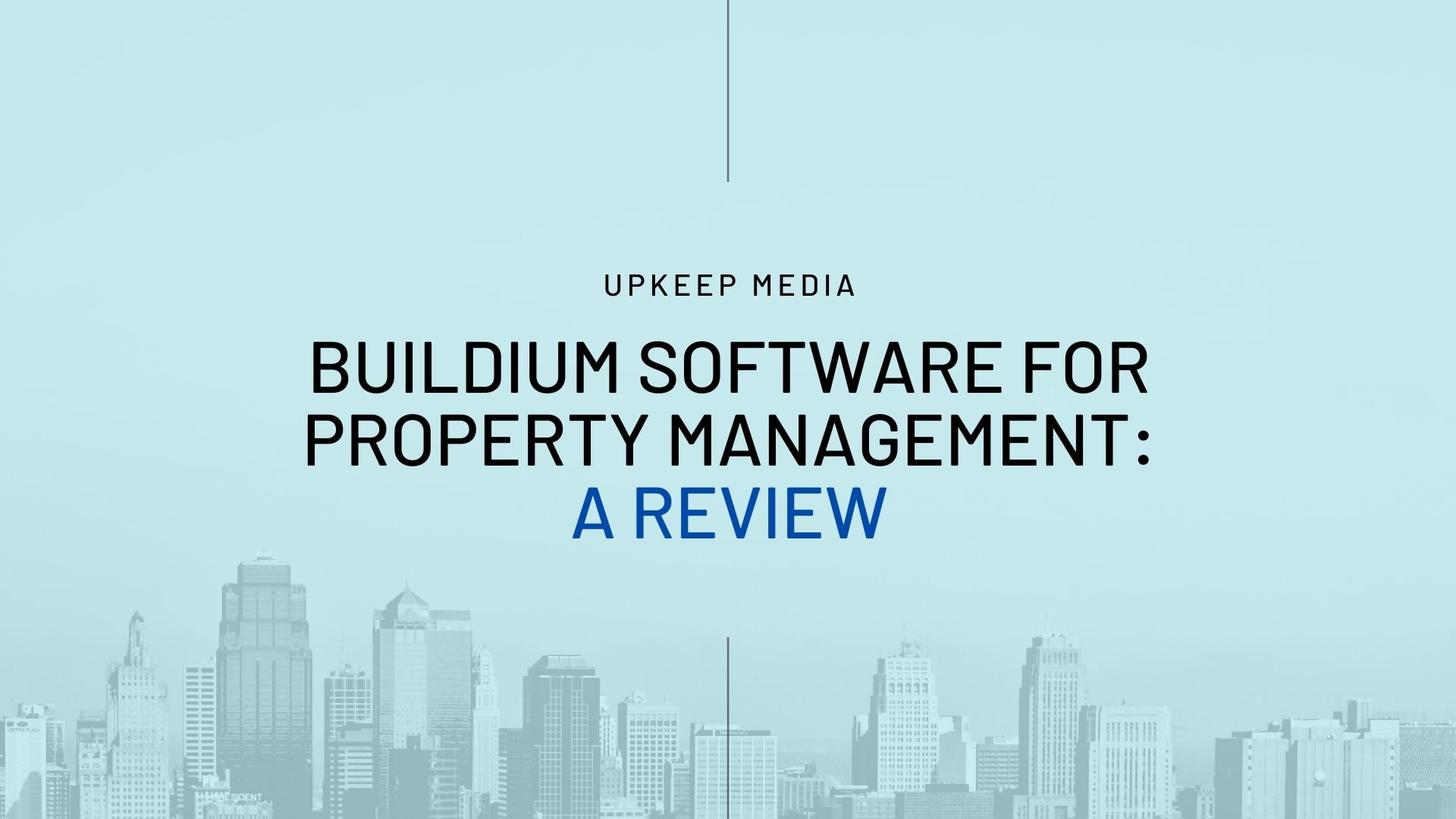 Buildium is an all-in-one property management software designed specifically with a property manager's needs in mind.
From property accounting to owner portals and leasing services, Buildium is the ultimate tool for every property management company.
This software has so many functions that it can seem a bit overwhelming at first.
Not sure where to begin learning about Buildium and its advanced range of features?
We've taken an in-depth dive into the services and functionality of Buildium's software so you don't have to.
Here is everything you need to know about the Buildium property management software.
Buildium Rental Management & Accounting Features 
Buildium bookkeeping software takes the ease of similar cloud-based accounting software available, such as Quickbooks, and adjusts those tools to fit the specific needs of property managers. 
This comprehensive accounting software can track budgets, manage vendor payments, coordinate your rent schedules with tenants, and ensure you are effectively following all transactions in your business.
With Buildium's built-in accounting software, you can rest assured that the expenses you incur for your properties and business are being properly recorded and analyzed, ensuring good financial health for your company.
Property Accounting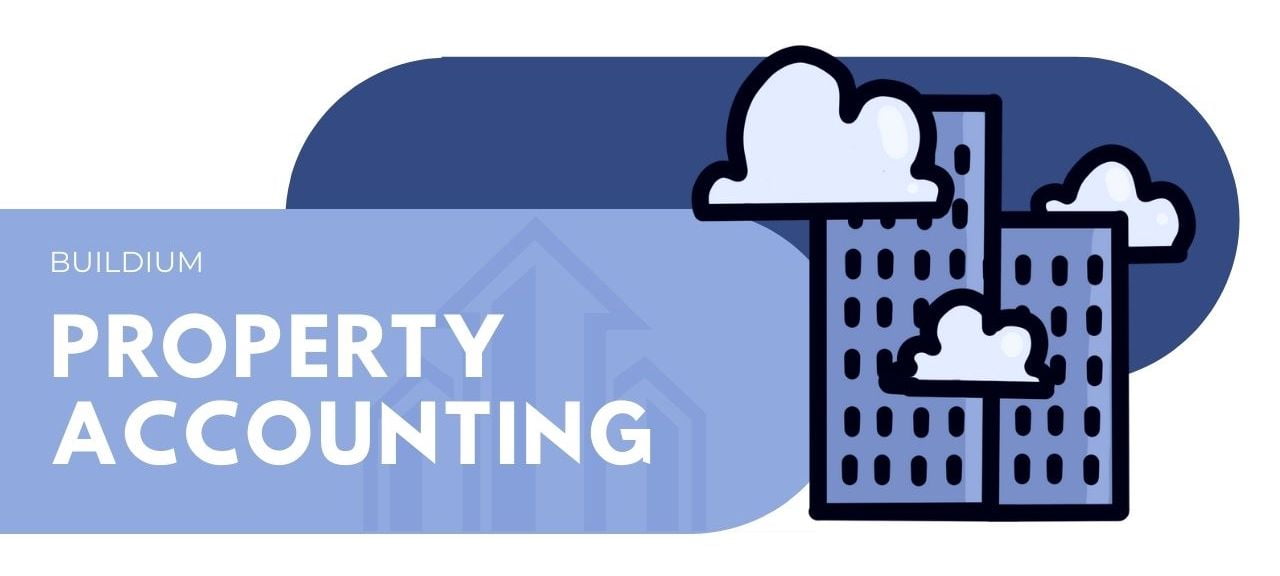 Because Builidum's property accounting software is designed specifically for property managers, you never have to worry about incomplete or inaccurate bookkeeping again. 
With their cloud-based property accounting software, property managers can record and view every transaction made through their business. This includes fees, payments, deposits, and refunds.
You can create comprehensive transaction notes directly in the software to keep track of troublesome payments, tenants who are habitually late, and outstanding or unpaid fees. 
The Buildium property accounting software really does ensure no transaction slips under the radar and that all invoices are paid in a timely manner.
In addition to traditional property management accounting, Buildium also gives tenants the ability to pay their portion of maintenance fees through the common allocations function. This way, you'll never be chasing down individual payments again. 
Buildium's property accounting software also ensures your accounts payable are in tip-top shape. With their built-in calculator functions, the Buildium software shows property managers any outstanding amounts owed to your company and to vendors.
You are able to easily create work orders and invoices directly in the Buildium platform for a seamless online payment process. The system can even allow you to set up automatic payments for recurring items or monthly invoices, saving you time and possibly money. 
One of the greatest Buildium features is the ability to automatically reconcile bank accounts in real-time. By doing this, every check and deposit is recorded to ensure accuracy and improve the effectiveness of your property management accounting. No manual data entry here!
Through their full suite of financial reports and tracking, the Buildium property management accounting software can generate a number of helpful and comprehensive reports. This vital function ensures you can continually check on the financial health of your property management business operations to identify any risk factors, unpaid bills or invoices, and address inefficiencies.
All reconciliation reports created through Buildium are audit-compliant. Some of the reports that can be easily created with the Buildium accounting software include:
Balance Sheets;

Income statements;

Cash flow statements;

'Budget versus Actual' comparisons;

General Ledgers;

Rental owner statements and ending balances.
Company Financials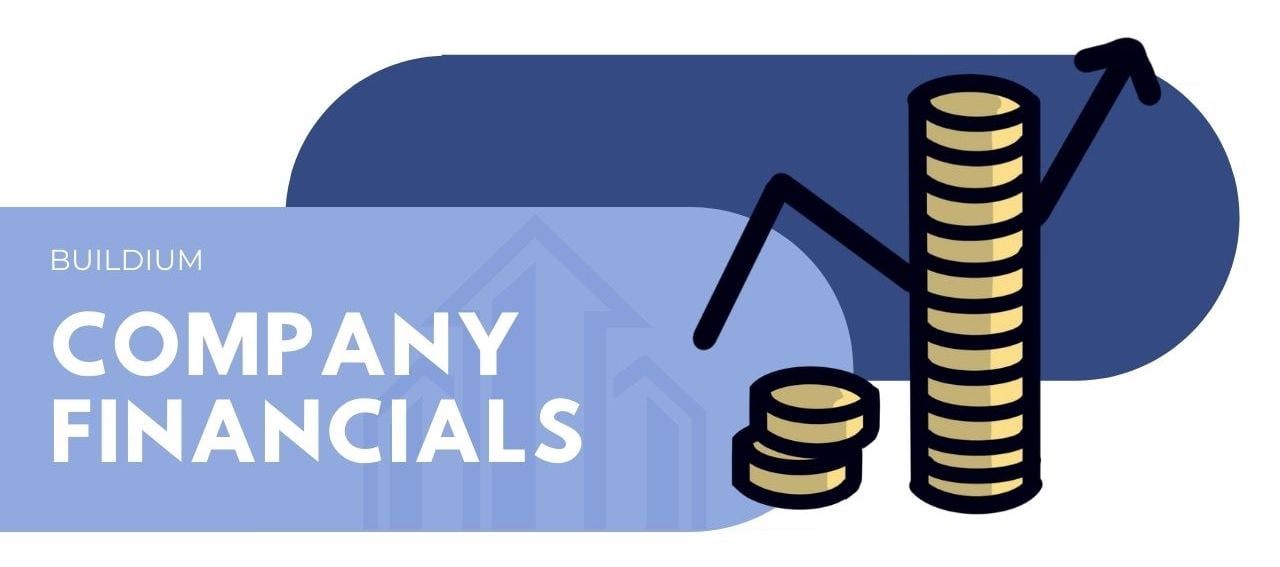 Managing the financial health and growth of your property management company is made easy with Buildium's side-by-side accounting data platform.
This headache-free approach to property management accounting allows you to track every dollar you spend and earn through automated tracking and collections.
With the Buildium online payment platform, you can easily manage incoming rent, security deposits, and other tenant fees without ever having to enter the bank. 
Buildium's online payment service even allows property managers to split bills and automate recurring payments. This is particularly helpful for property managers who have vendors that work across managed sites and in your central office. 
Their hassle-free data system gives property managers the ability to add their company's financial information and transactions into the system through simple forms made exclusively by Buildium. This is unlike any other accounting software on the market and is designed specifically for property management companies. 
In addition to real-time input of financial transactions, property managers can also automate recurring monthly expenses like office rent, insurance, or legal bills through these customized forms. 
Online Payments with Buildium Tenant Portal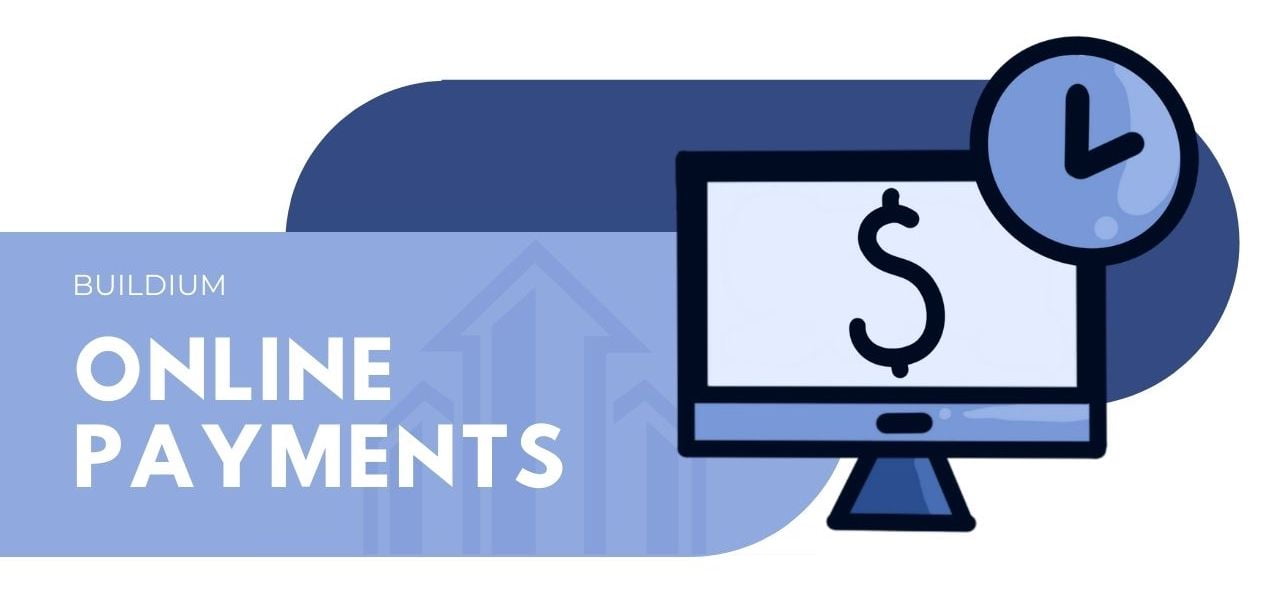 With Buildium's automated collection and payment processing system, property managers can cut payment processing time by up to 70 percent with an online payment portal!
This means you receive your money faster and more efficiently. 
Tenants or residents can authorize a bank account or credit card through the Buildium resident site and set up a recurring payment schedule. This ensures timely payments and fewer headaches for you and your tenant.
Through this payment processing software, you never have to worry about insufficient funds or juggling finances to account for banking delays.
Payments are deposited into your bank account automatically!
In addition to the timely collection of rent and other payments, you can pay your own company bills through the Buildium platform in the most efficient way possible.
Payments will be automatically recorded.
Thanks to Buildium's fully integrated general ledger accounting software, you won't have to worry about recording transactions or double-checking bill payments.
Retail Cash Payments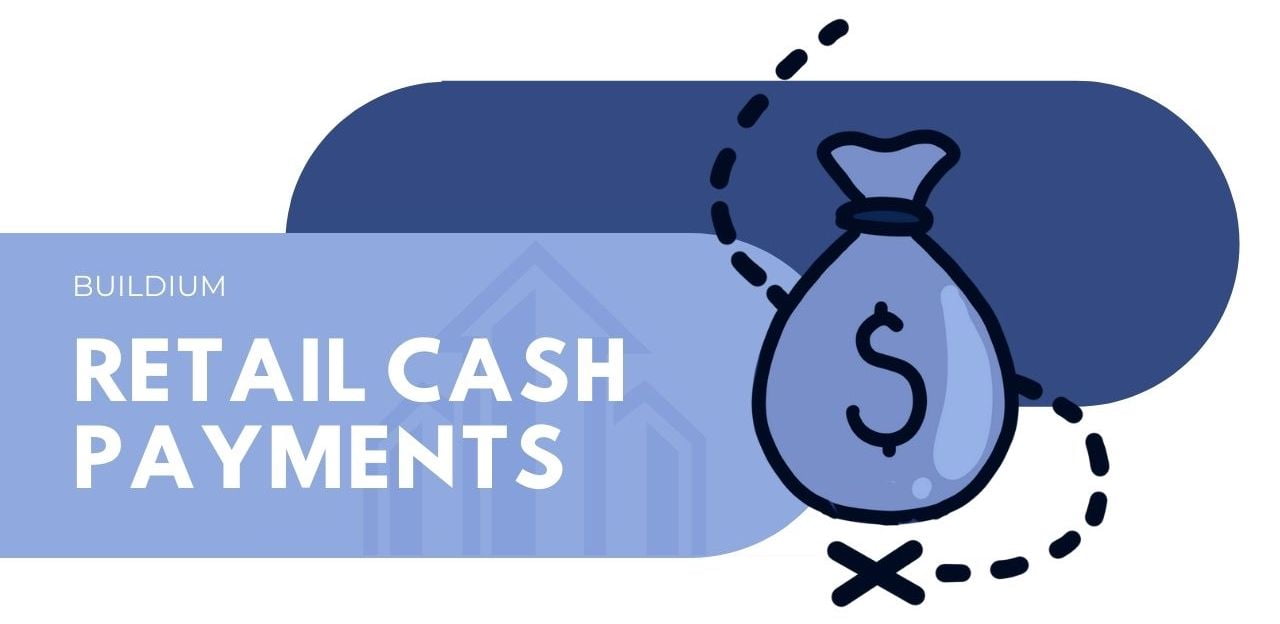 Buildium offers a premium service for your tenants called PayNearMe which allows residents to make cash rent payments at over 20,000 trusted locations across the United States.
This easy-to-use system is perfect for property managers who may run large residential complexes or low-income housing developments. 
With PayNearMe, residents can use cash to pay their rent without needing a bank account, credit card or photo/government-issued ID.
To use PayNearMe services, all a resident requires is a printed payslip or mobile payment code from you, the property manager.
Once they have obtained this code, residents can visit a participating PayNearMe location, show their unique payment code and make their monthly rent payment or other fee payment in cash.
This accessible option is perfect for all types of residents and helps to ensure you receive your rent payments in a timely fashion. 
Payments made through PayNearMe transactions are deposited into your company bank account within 5 business days without any risk of payment reversal.
After each PayNearMe payment is deposited, the Buildium accounting software will update automatically so you never have to worry about tracking your payments.
PayNearMe helps eliminate the risk of fraud, theft and other payment disputes. You can rest easy knowing PayNearMe payments are guaranteed.
1099 e-Filing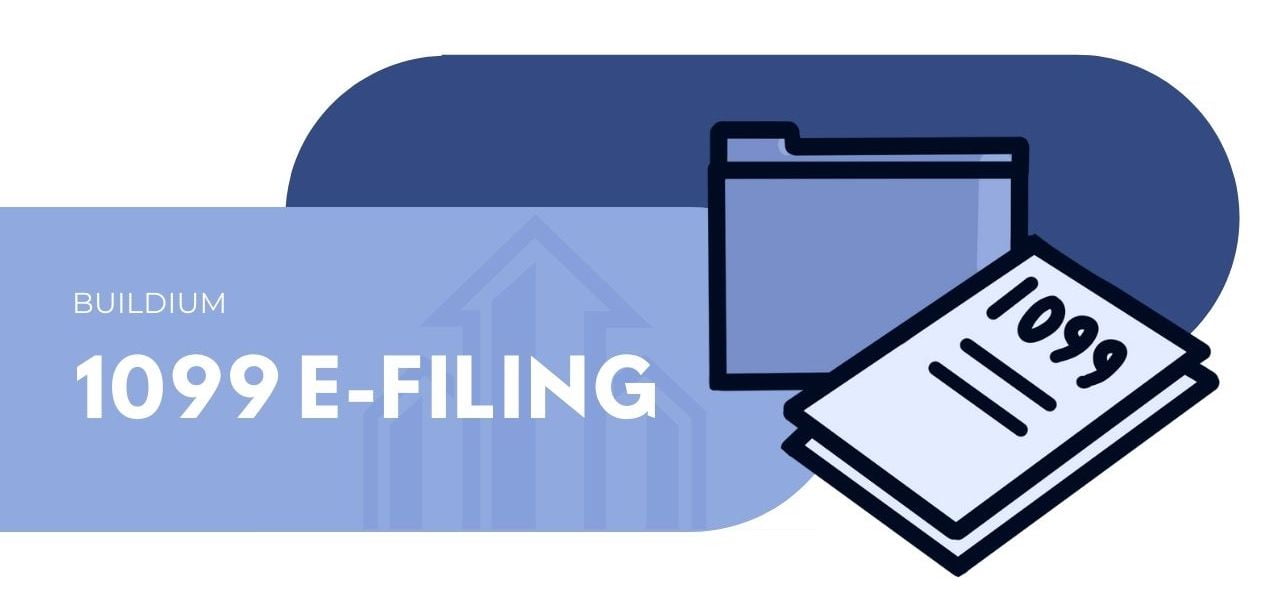 One of the most underrated Buildium software features is the ability to create 1099 e-Filings in minutes.
Simplify your tax season by electronically filing your 1099s through the Buildium software. This will save you time and unnecessary headaches from filing on your own. 
This simple e-Filing system promises accuracy by tracking all owner and vendor payments directly in your Buildium account. This way, there is no hectic filing system to manage come tax time.
Property managers can easily generate online tax forms and have them completed, postmarked, and sent via UPS the same day you e-File. It doesn't get easier than that!
With the Buildium e-Filing service, you can also get a jump start on tax season. Buildium opens its e-Filing tool a month before the IRS official tax timeframe.
With this extra time, property managers can verify tax numbers, view recipients with missing tax information and ensure all files are properly organized before you officially file. 
Once you have filed through Buildium's e-Filing service, Buildium will send digital copies of your 1099s to recipients in addition to a hard copy for your office filing.
Digital copies are completely free and you can track their delivery to ensure all recipients receive their digital copy and meet key deadlines. 
Buildium Tenant Portal & Business Operations
The primary benefit of Buildium's business operations software is the flexibility it provides to fit your specific property management needs.
No more trying to manage everything in generalized accounting and CRM softwares!
Buildium's programs are designed with the property manager in mind. They easily fit into your current business operations and processes.
Here are our thoughts on some of Buildium's primary business operations features and services. 
Resident Center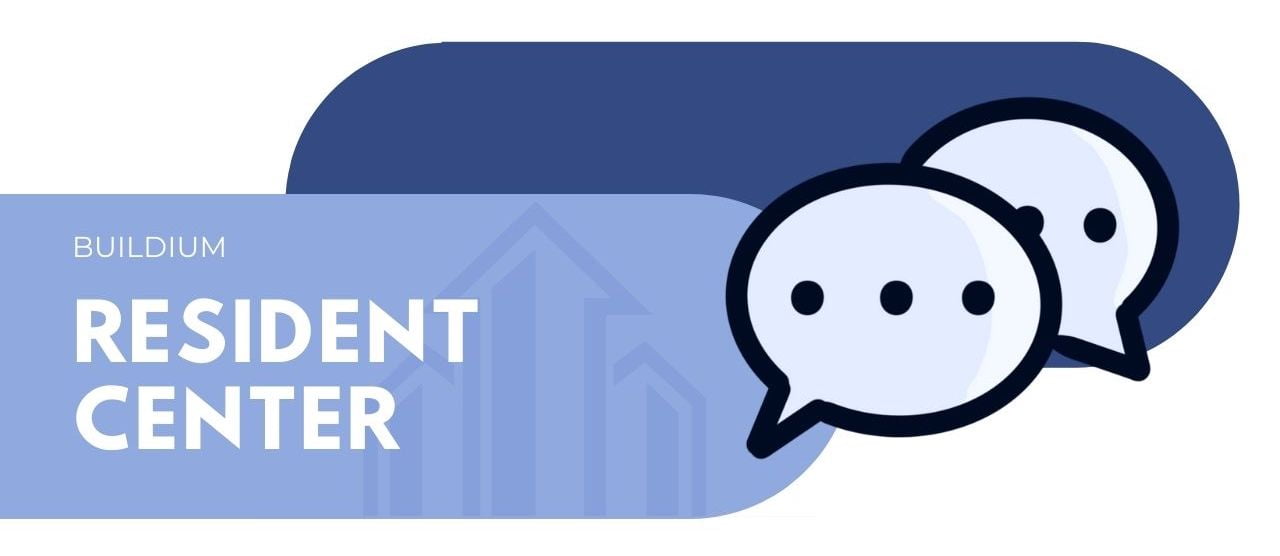 With Buildium's resident center, property managers can simplify their day-to-day business operations and create a central place for their residents to interact with each other and with you.
This simple, streamlined resident portal is perfect for communicating with residents, collecting rent, and managing maintenance requests. The platform also adds a layer of professionalism to your dealings with residents and vendors alike, helping you become a better property manager.
Through the resident center, one of the most beneficial features for property managers is the ability to collect rent or fees online directly in the Buildium software.
Property managers can view a resident's payment history and even allow residents to register a bank account or credit card to process recurring monthly payments. The resident center is accessible via desktop or mobile app. 
Residents will love the Buildium tenant portal because of its community-building function and accessibility. Property managers can quickly and effectively share important notices and updates with residents using the announcement board and individual or group emails and text messages. 
Additionally, the resident center offers a community message board so residents and resident associations can easily meet, discuss issues, and share news. This is a great way to connect your residents to one another and create a sense of community within your properties. 
Owner portal
Similar to the resident center, the owner portal allows property owners to see an overall financial snapshot of their building and investment.
This accessible owners portal provides financial data and reports directly from property managers. It helps lessen the number of emails you send to owners on a routine basis. 
The Buildium owner portal allows property managers to share financial reports in real-time, including profit and loss statements, accounts payable and accounts receivable and specific transactions made on behalf of the property.
Comprehensive financial reports, such as balance sheets, are available to property owners from any device through the owner portal. Other important documents available through the owner portal include receipts, leases and many more types of critical documents. 
The Buildium owner portal is the perfect way for owners to manage and track their property investment.
Owners can send funds to their property managers and view their overall transaction history, helping them keep an eye on the financial health of their investment.
Property managers can easily share important notices and updates directly in the Buildium platform through the platform's hundreds of email and mailing templates. Property managers can even send vital documents through traditional post with the EZMail option, which automatically prints and sends written documents for as little as $0.80 per mailing. 
Document Storage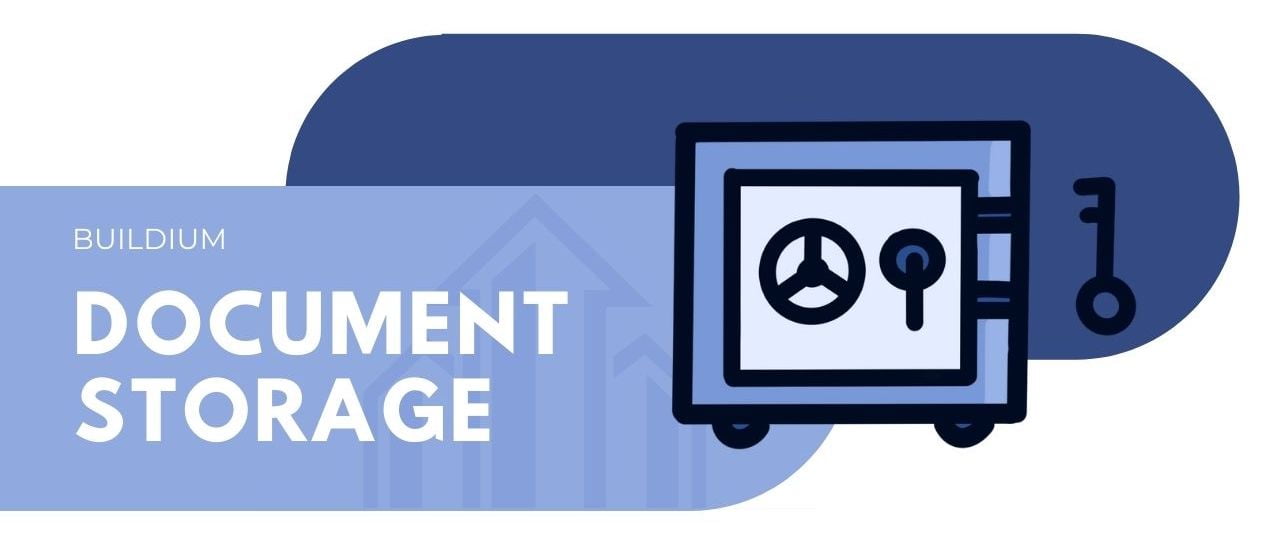 No matter the size of the property you manage, the sheer amount of important paperwork can be overwhelming and costly.
With the Buildium cloud-based document storage feature, you can easily sort and file every lease, insurance policy, and important document directly on the digital platform.
The platform allows for an unlimited number of document uploads so you can keep accurate historical and current records. These documents can be accessed anywhere through the Buildium desktop or mobile app and can be shared with residents and owners. 
Some of the important documents that Buildium stores in their digital filing system include:
Leases';

Property policies and guidelines;

Addenda;

Receipts and transaction records;

Meeting minutes;

Inspection reports;

Floor plans;

Maps;

Maintenance request information;
Maintenance Request Tracking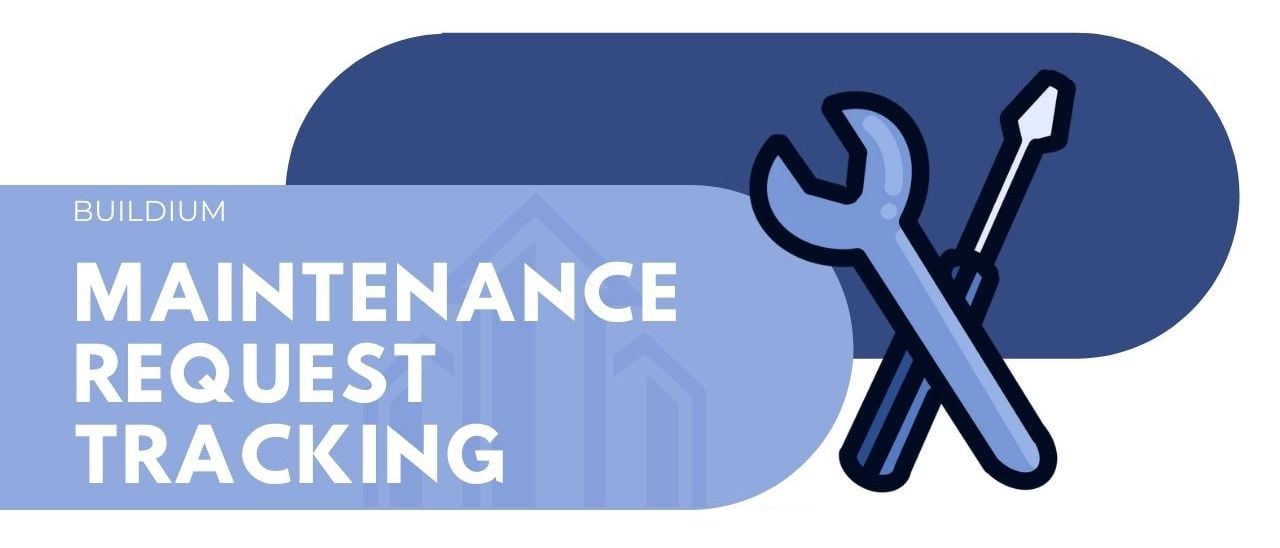 In addition to collecting rent, the Buildium resident center portal also allows residents to submit and track their maintenance requests.
This intelligent maintenance management tool allows residents, owners, or employees to submit maintenance requests and work orders with the ability to attach photos or videos directly from their phones.
Once this work is assigned, residents can track the status update of their maintenance request directly in the resident center platform without ever needing to contact their property manager directly. 
Buildium maintenance management software also lets property managers track vendor progress and manage efficiency.
By tracking the performance analytics of all vendors, you can rest easy knowing that all vendors are being continuously evaluated. The more efficient vendors are assigned the most maintenance claims.
You can even schedule recurring maintenance tasks that need to be performed on a routine basis, like mowing the lawn or shoveling snow!
On top of managing workflow and tracking maintenance requests, the Buildium maintenance request tracking software enables property managers to manage their expenses with fully-integrated rent roll and accounting features.
Vendor bills and expenses are all accurately tracked within the Buildium property accounting software. They're also paid within the system so you never need to worry about cumbersome data entry or missed bill payments. 
Renters Insurance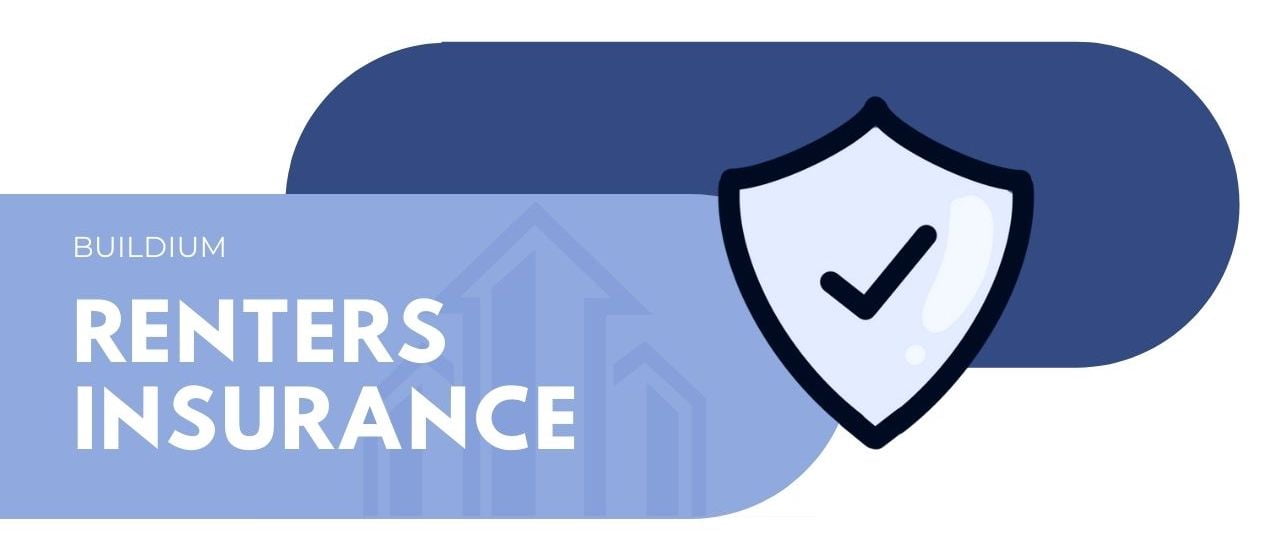 In partnership with MSI, the Buildium platform is able to offer Renters Insurance to protect both yourself—as the property manager—and your residents.
With this unique self-service feature, your residents have access to renters insurance that is fully integrated with Buildium's software, is easy to use and enroll in, and protects everyone from accidents and liability.
When you use the Renters Insurance, powered by MSI through the Buildium platform, property managers are able to enforce a resident liability insurance requirement. You can track this insurance to make sure it is kept up-to-date by your residents. 
This specially-designed Renters Insurance provides up to $100,000 in liability insurance coverage with the option for residents to choose $10,000, $15,000, or $30,000 of personal property damage coverage based on their unique needs.
These policies also protect residents from guest medical expenses and emergency living expenses. Plans for residents begin at the low price of $12.00 per month.
Analytics and Insights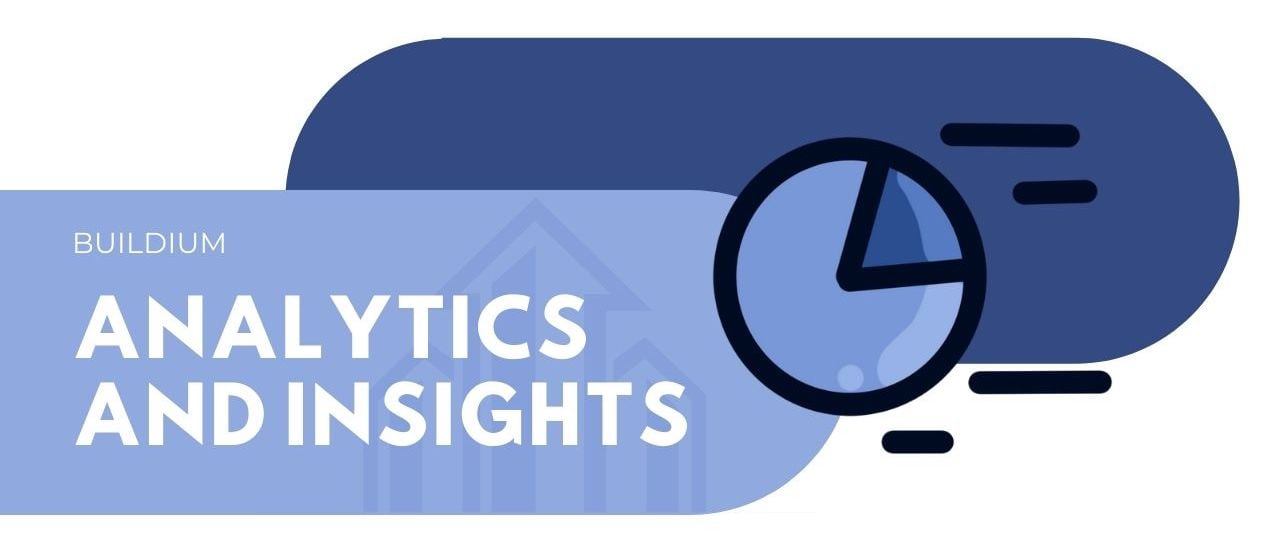 With all of its services, features, and capabilities, the Buildium property management software is able to show property managers valuable data insights into their business and provide actionable recommendations for saving money and improving efficiency.
This real-time performance and personalized insights can help you set and reach your goals, no matter the size of your business. 
As a property management software, Buildium is able to offer valuable comparative data so property managers can see how their data compares to industry benchmarks and companies of similar size.
This is the perfect way to gain insight into how you stack up against your competition and create opportunities to realize your full business potential. 
Buildium Property Management Software: Tenant Management Tools
When looking for the right property management software, you'll want to find one with in-depth leasing features.
With Buildium's full suite of tenant management tools, property managers can spend their time finding the right tenants and maximizing their rental opportunities.
From syndicated rental listings and online rental applications to tenant screening tools and eLease software, the Buildium tenant management software helps to effectively manage your rentals and overall business operations. 
Rental Listings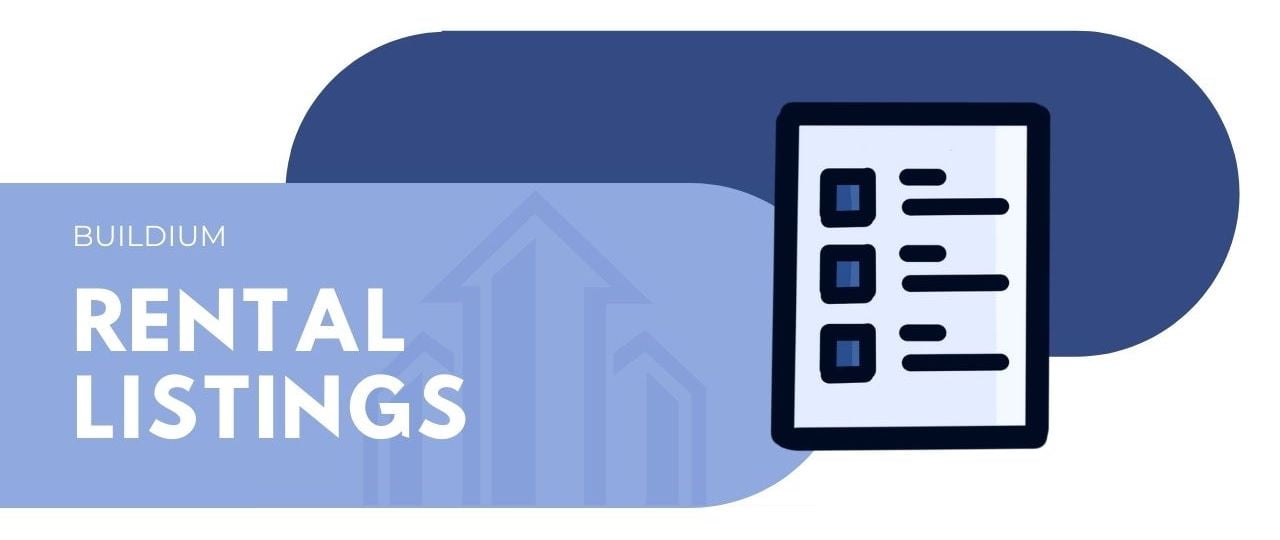 With the Buildium rental listing management tool, property managers are able to upload a rental listing to their website and syndicate this listing with some of the top rental sites on the web including Apartments.com, the Zillow Rental Network, Facebook Marketplace, and many more!
The ability to syndicate your listings lets property managers show their listings to millions of potential renters nationwide without having to individually post on each site. 
The rental listing tool even allows property managers to customize their listings based on the unit available for rent. These specialized descriptions include important information for potential tenants like the number of bedrooms, type of building, amenities, monthly rent, etc.
Paired with the ability to include photos and videos, your listings will be ready and waiting when you are!
Rental Applications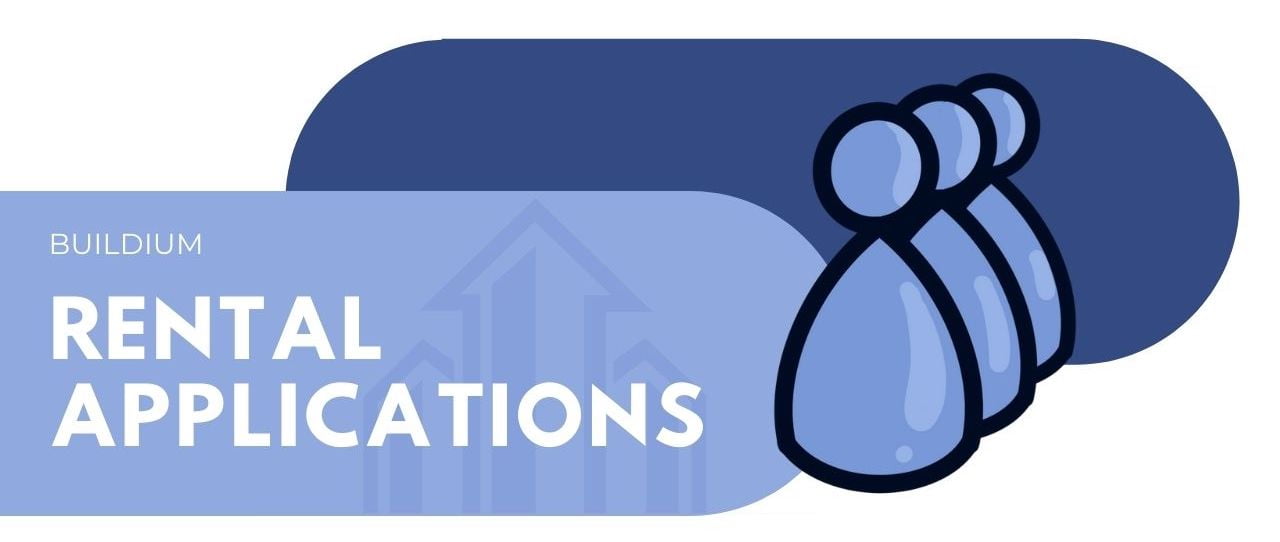 In addition to syndicating your rental listings, property managers are able to create a customized rental application to help find the best potential renters.
With the Buildium custom rental application form feature, property managers can use the premade standard application or customize it with their own questions and required information.
These online rental applications are easily accessible to potential tenants through your Buildium marketing site. It allows applicants to pay any applicable fees directly within their online application. 
Tenant Screening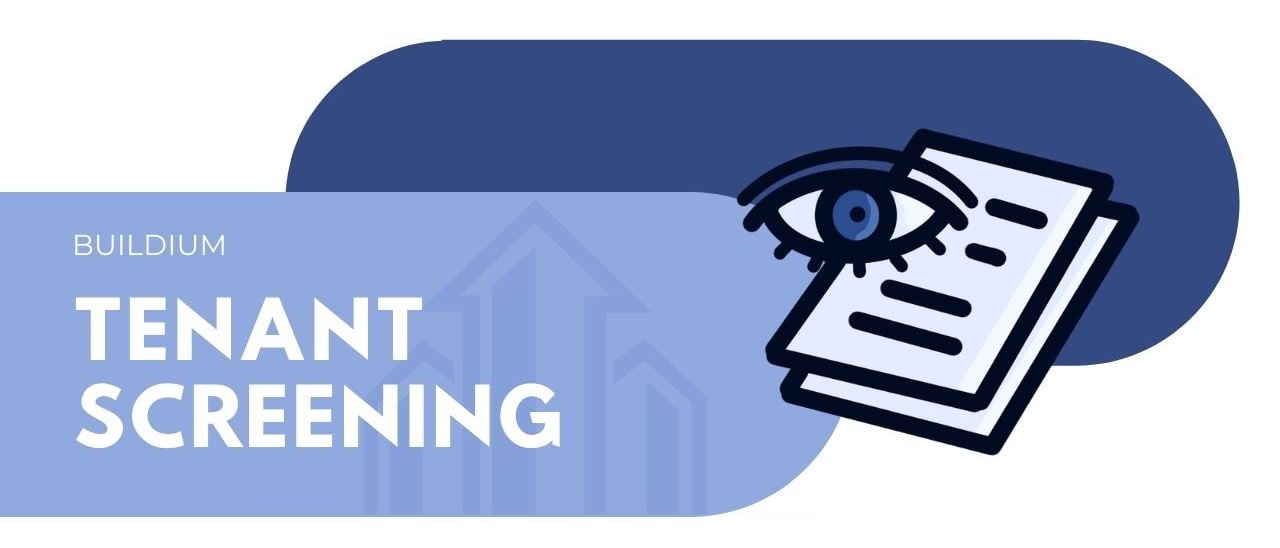 The Buildium platform easily sorts and manages each rental application so you can quickly and thoroughly screen and review applicants using custom checklists and comprehensive tenant screening. 
Through this comprehensive screening feature on Buildium, property managers can access full background checks on potential tenants, including data on credit history, criminal records, and prior evictions. This screening tool helps to effectively screen applicants prior to your review so you aren't wasting your precious time viewing unfit applications. 
eLease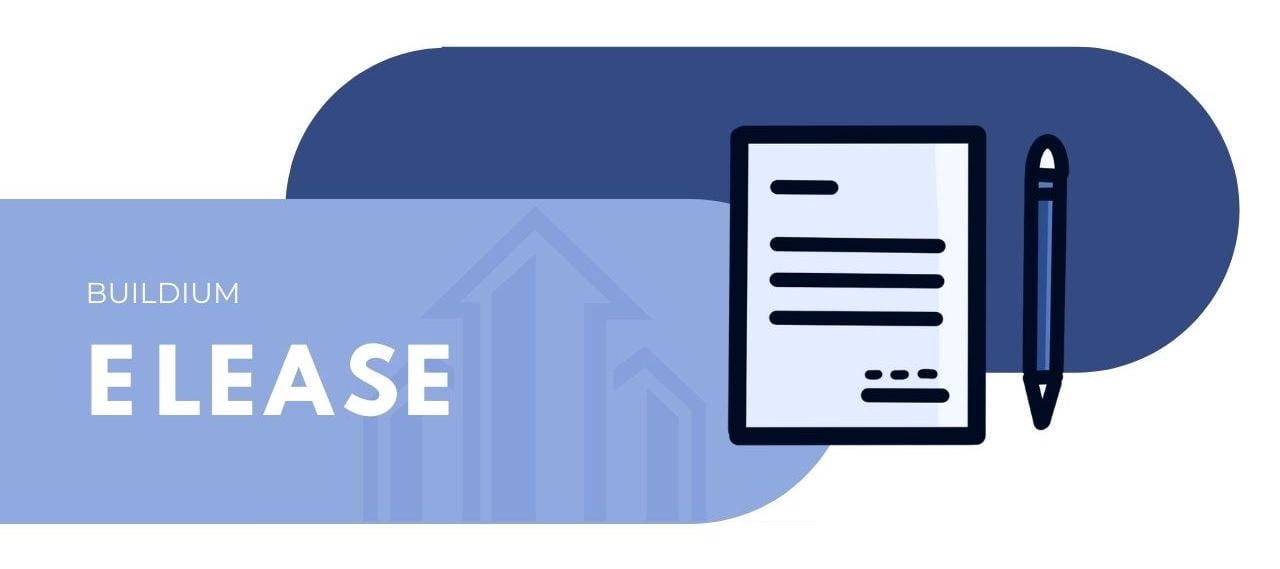 As many property managers know, the traditional leasing process often comes with a mountain of paperwork and filing.
With the Buildium eLease service, everything about the tenant experience is online so you never have to worry about misplacing important documents ever again. From a tenant's initial application to their lease (and subsequent leases), the Buildium eLease filing system is second to none. 
Property managers can collect legally binding digital eSignatures through Buildium's partnership with Adobe Document Cloud. No need to worry about your tenants – they can sign your digital eLease from a desktop, tablet, or even on their phone!
All eLeases can be easily tracked with just the tenant's name, phone number, or unit address.
Property managers can even save time with Buildium's premade lease templates. Either use one of these helpful templates or you can create and reuse an online template that fits your unique needs.
These templates utilize auto-fill fields so you can easily change lease details like tenant names and rental amounts. 
Buildium Pricing: How Much Does Buildium Cost?
Buildium property management software is priced in three tiers and is based on your company size, needs, and accounting requirements. All tiers of the property management platform include vital services such as:
Accounting

Maintenance

Tasks and violations

Resident and Board member communications

Online portals for residents, Board members, and owners
The monthly cost for the Essential service starts at $50/monthly, the Growth service starts at $160/monthly and the Premium service option (with all of the features listed above) starts at $460/monthly. For more information on Buildium and their tiered pricing packaging, visit  www.buildium.com/pricing