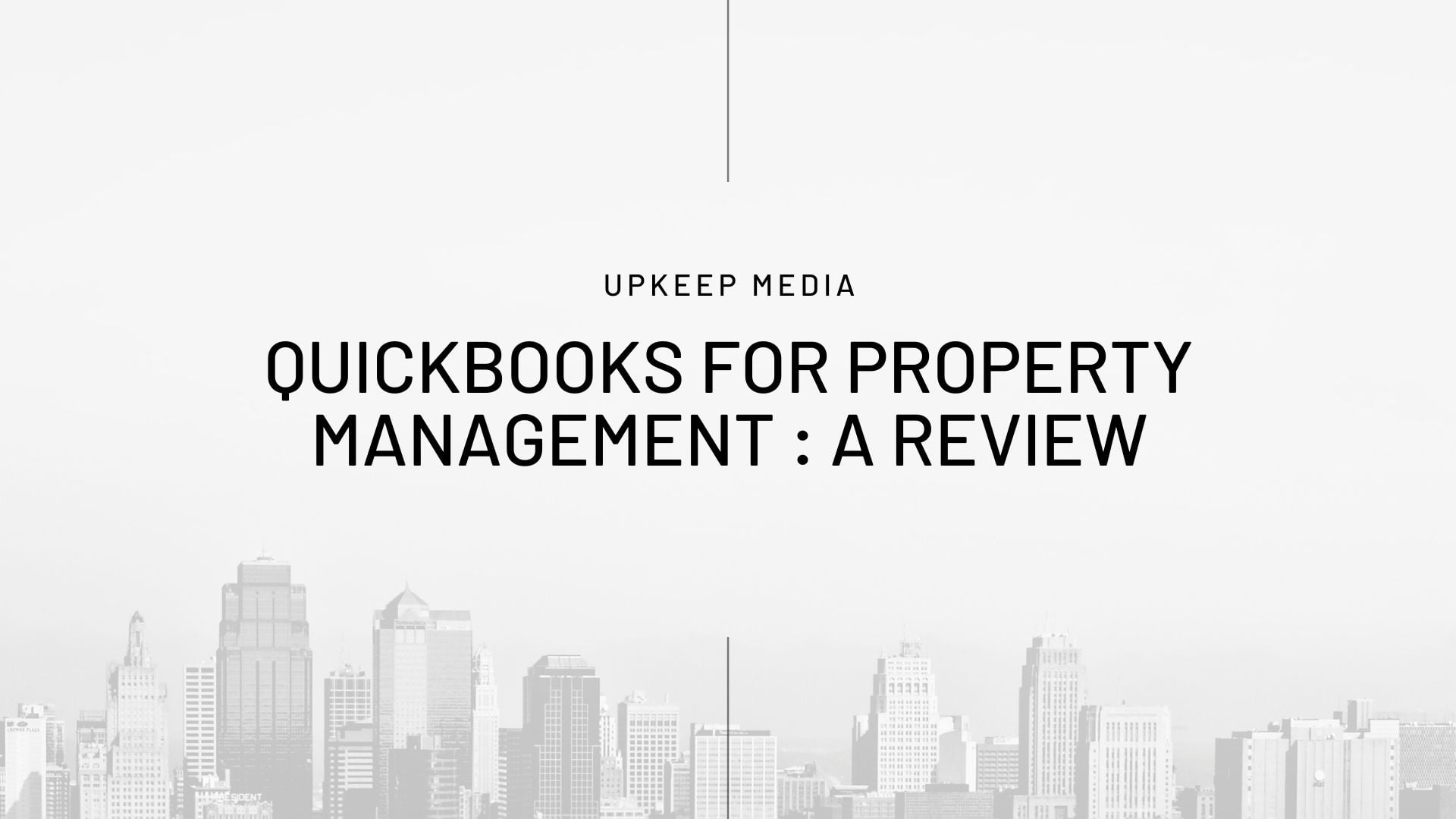 Whether you are a new or well-established property management company, finding the right accounting tool is an important step toward setting your business up for success.
There are many factors to consider and several options on the market today, so where do you start?
Running a property management company requires extensive organization due to the many tenants, maintenance requests, and vendors that need to be tracked.
With multiple properties, this organization multiplies, and it becomes even more important to thoroughly track and record all company transactions. 
By streamlining your accounting processes, you can grow your property management business. This creates a more integrated experience for your tenants and property owners.
QuickBooks, the world's leading accounting software, has the right tools in place to help manage not only the financial health of your business but also your overall business operations. 
In this article, we'll share some of our top reasons why you should consider QuickBooks when looking for a property management accounting software for your business. 
Their Wide Range of Services and Features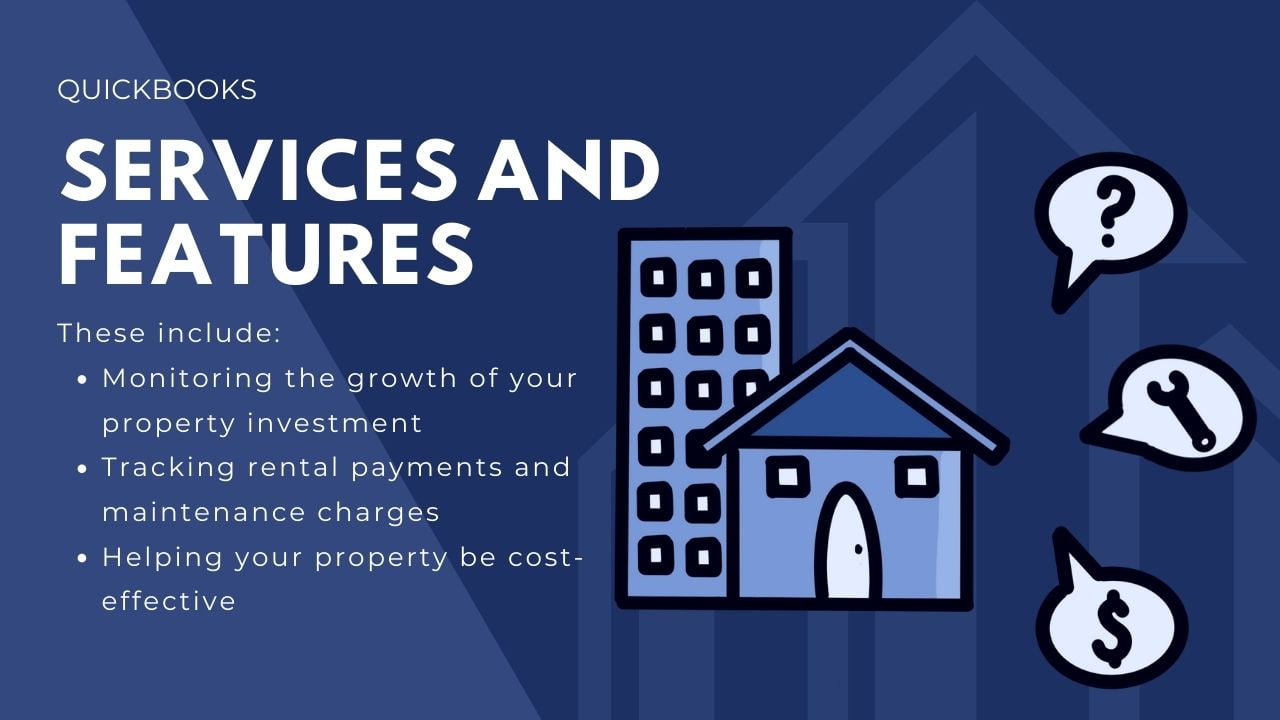 As any property manager would agree, managing multiple investment properties can be an overwhelming task. Between juggling maintenance charges, security deposits, tenant payments, and paying property owners, property management business operations are complex and multifaceted. 
To help address these complexities, QuickBooks goes beyond traditional accounting software to help create a full suite of comprehensive accounting tools. Pair QuickBooks with a full-suite CRM software, and you'll have everything you need to manage your day-to-day property management operations. 
No matter how big or small the task, QuickBooks can accurately track and monitor the progress and growth of all your rental properties. 
You can even tie these tasks to transactions so you'll never miss an invoice or bill payment again. QuickBooks software helps you to track rental payments, maintenance charges, and more to ensure all jobs are being done efficiently and cost-effectively. 
QuickBooks For Monthly Rent Payment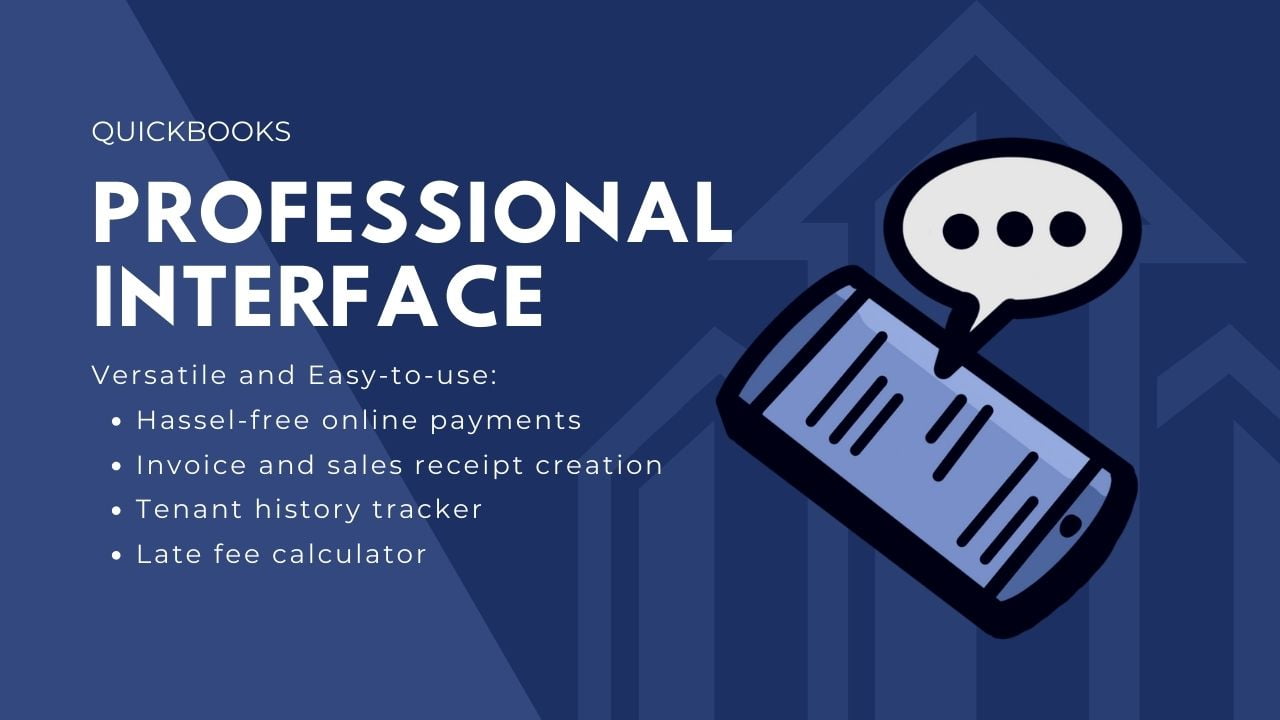 As a tenant, there is nothing more frustrating than a property manager who offers limited options for rent payment. With QuickBooks, property managers can use a versatile and professional interface that allows tenants to easily pay their monthly rent. 
The QuickBooks software accepts hassle-free online payments, such as monthly rent payments, via credit card and Apple Pay. As a property manager, you can create invoices or sales receipts for tenants' month-to-month payments in Quickbooks. 
This also helps property managers easily see the history of their tenants to help address any issues with late payments. In this regard, property managers can also charge tenants late fees using QuickBooks' finance charge feature to calculate and add the late fees to their invoices.
With many people doing their banking online these days, your tenants will appreciate an online option for paying their rent month-to-month. By streamlining your tenant experience through software like QuickBooks, you can dedicate your time and resources to more important tasks rather than chasing down rent. 
Property Management Accounting Features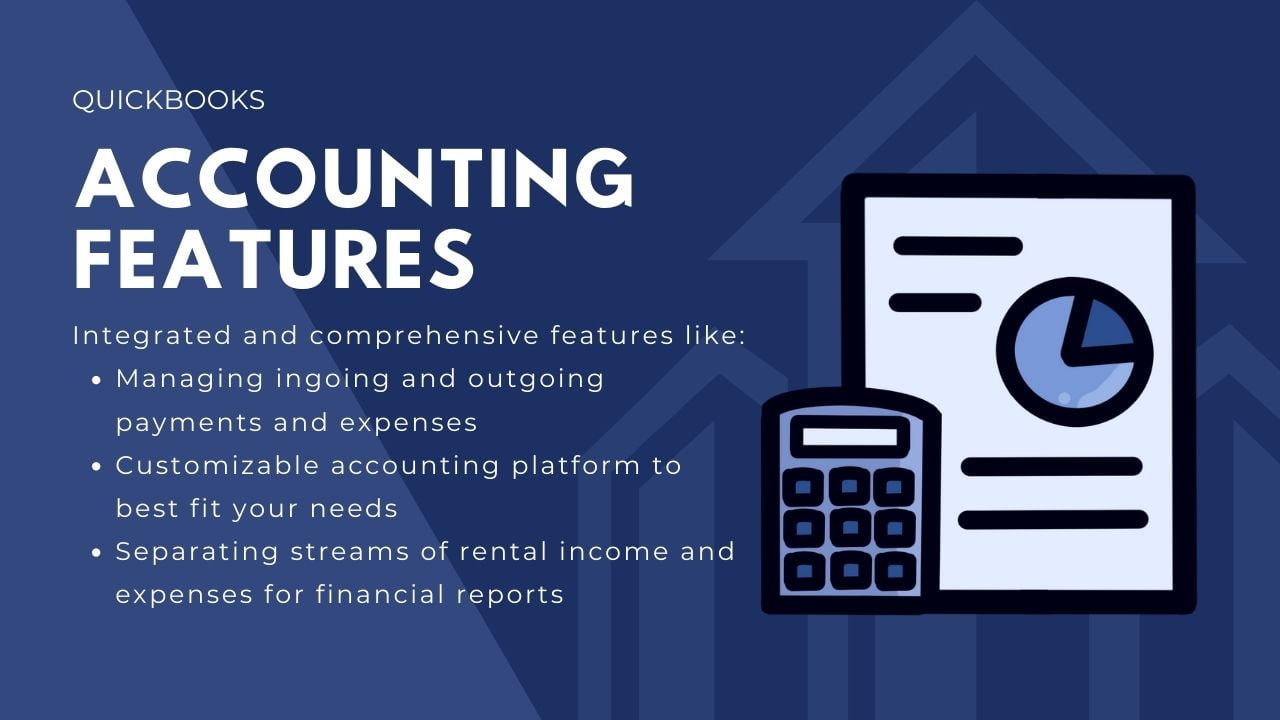 If you're looking for the best bookkeeping software for rental properties, the bread and butter of the QuickBooks software are its integrated rental property bookkeeping features. 
By streamlining your rental property accounting, including incoming and outgoing payments and expenses, you can effortlessly manage all of your transactions and keep a close eye on your business' overall financial health. This is vital for any company, as it lets you address inefficiencies and lost revenue and identify opportunities for growth or additional profit. 
As a property management company, you have a specific set of needs that general accounting software can't always adequately address. That isn't a problem with QuickBooks! With QuickBooks' friendly interface and intelligent software, you can create a custom accounting platform that fits your unique business needs.
In particular, QuickBooks allows property managers to separate various streams of rental income and expenses by property. This way, you don't have to worry about accidentally mixing up your expenses between different property sites. This is a lifesaver when it comes time to present financial reports to different property owners or filing during tax season. 
Pairing QuickBooks with a Property Leasing Software

QuickBooks offers great automated functions for tenant charges, owner payments and income/expenses tracking.
However, to get the full suite of services for your property management company, you'd be well-off to pair QuickBooks' accounting software with a residential lease software. This will streamline your entire leasing process to ensure you are spending your valuable time finding the right candidates for your rental properties. 
While QuickBooks itself does not offer this feature, there is software that offers lease templates and electronic signature functions in a cloud-based digital archive.
With the click of a few buttons, property managers can list their available units, find tenants, collect online applications, screen potential applicants, and create a digital e-Lease for their new tenants to sign.
Pairing these features with QuickBooks' accounting services will streamline your business processes and cut down on physical documents/filing.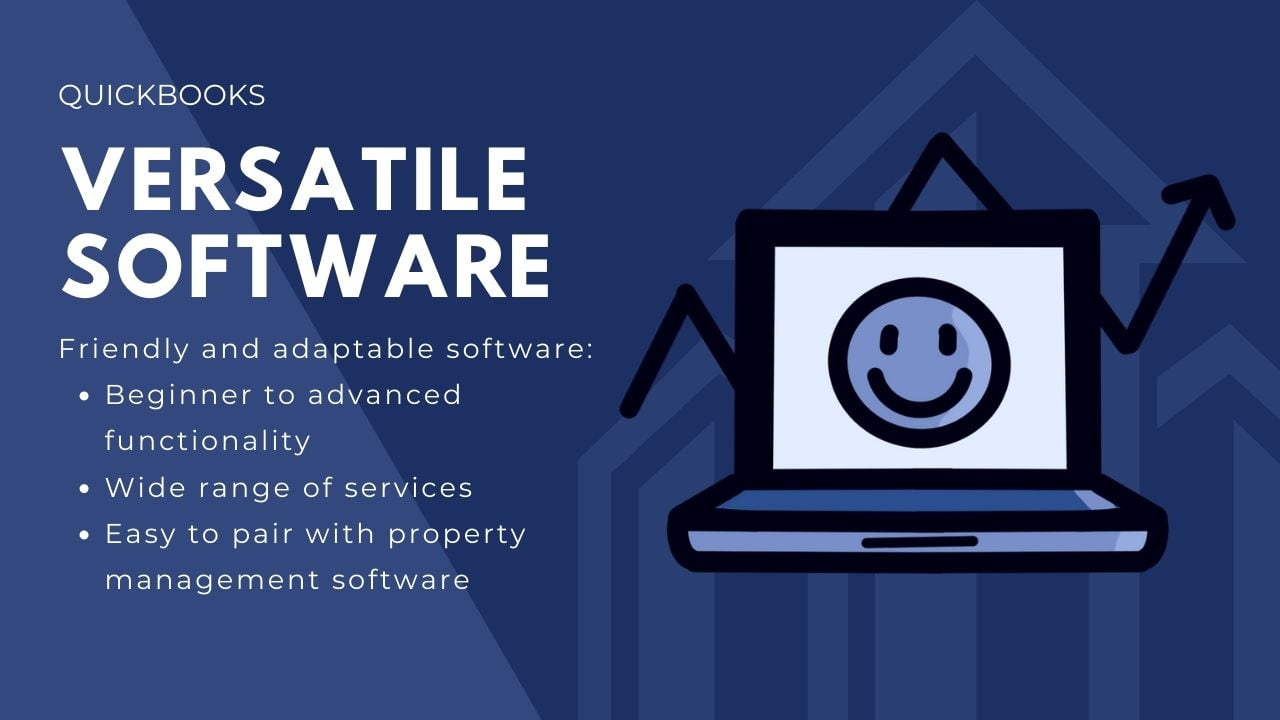 As we mentioned above, QuickBooks is one of the world's leading accounting softwares for businesses of all sizes across many different industries. The primary benefit of QuickBooks is its highly adaptive and intuitive software that is simple to use but is incredibly versatile.
The QuickBooks interface is streamlined and customer-friendly, but their services and features range from beginner to advanced functionality. 
QuickBooks rental property software allows any property management company to easily collect online payments (such as rent), create invoices, organize receipts for expenses, track maintenance work, pay vendor bills, track employee time, organize payroll and create comprehensive financial reports.
The opportunities for QuickBooks' range of services are truly endless. 
Property management software integrates with QuickBooks quite fluidly.
You can pair QuickBooks with a receipt tracker app like Receipt Bank, an employee time tracker like TSheets, or a true CRM software. The opportunities to create an entirely customized business operations experience is unlimited with QuickBooks software.
Pricing on all QuickBooks plans and integrated apps vary, so we encourage property managers to book a free trial or demo to address their unique business needs. 
Our Final Review of QuickBooks for Rental Property Management Companies
While at first glance, QuickBooks might not seem like the logical accounting and business operations solution for a property management company, a deeper look shows immense potential and opportunity. QuickBooks is designed to be incredibly versatile and completely customizable with its rental property bookkeeping features, making it the perfect choice for a property management company looking to grow and maintain its business. 
We highly recommend keeping up with current QuickBooks software upgrades and developments to ensure your property management needs are met in the most effective way possible. 
For more information on QuickBooks and QuickBooks for property management companies, visit quickbooks.intuit.com