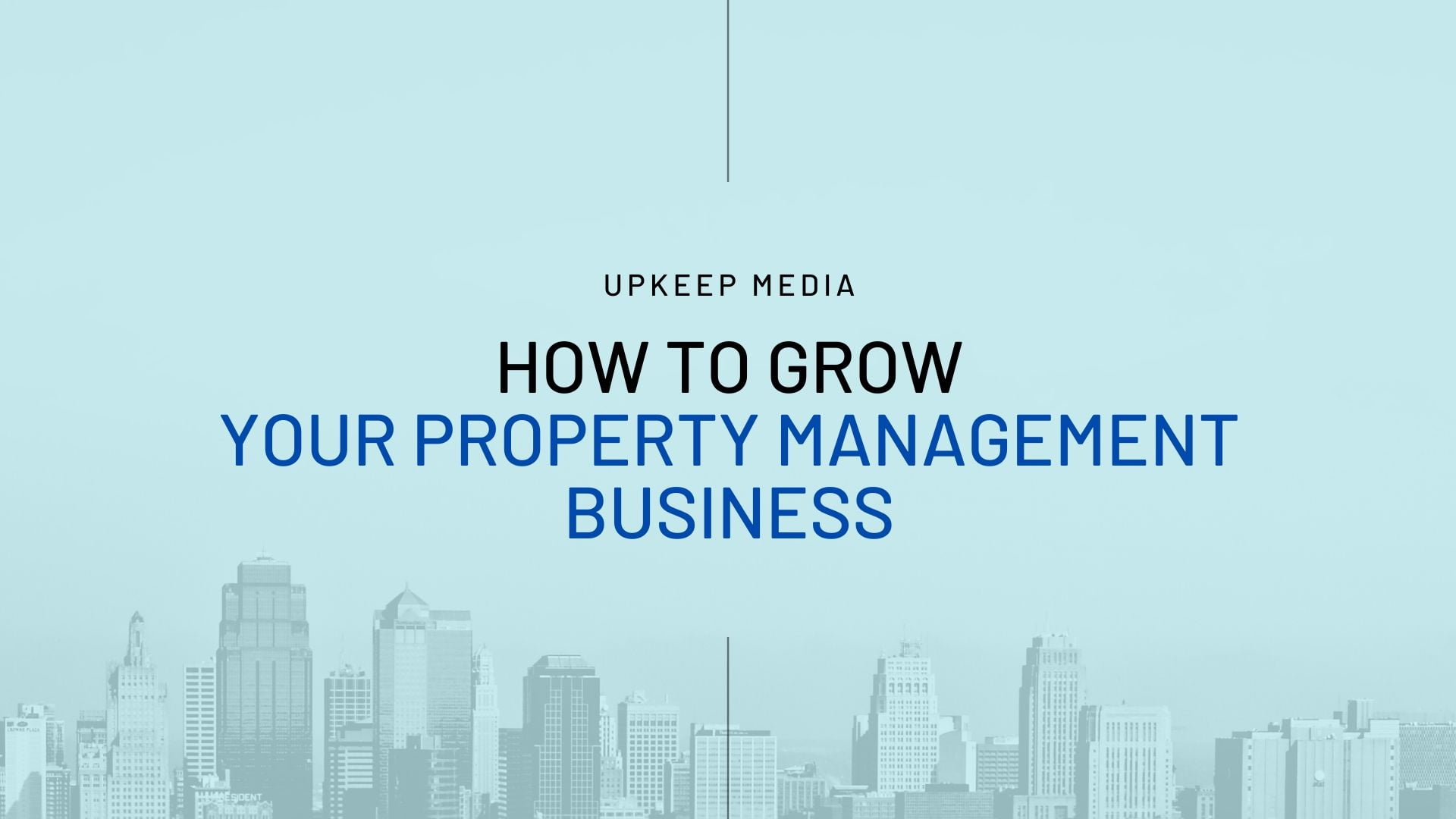 In this post, I'm going to show you how to market and grow your property management company by leveraging the internet.
In fact:
These are the exact marketing and advertising strategies we use to help companies just like yours – never worry about growth again.
The best part?
All of these strategies work great in 2020.
Let's dive in.
[Online Marketing Foundation] What you need to grow your property management company using the internet:
This section covers the foundational pieces that you need to advertise your property management company.You will learn how to get more property management clients.
Meaning:
This is a really important section and you should look to implement each one – if you are serious about growth.
1. Make a great first impression with a professional (high-converting) property management website:
A professional property management website is a must.
All your online efforts start here.
It's the face of your business.
If you want to utilize the internet to grow your property management company, you need a professional website.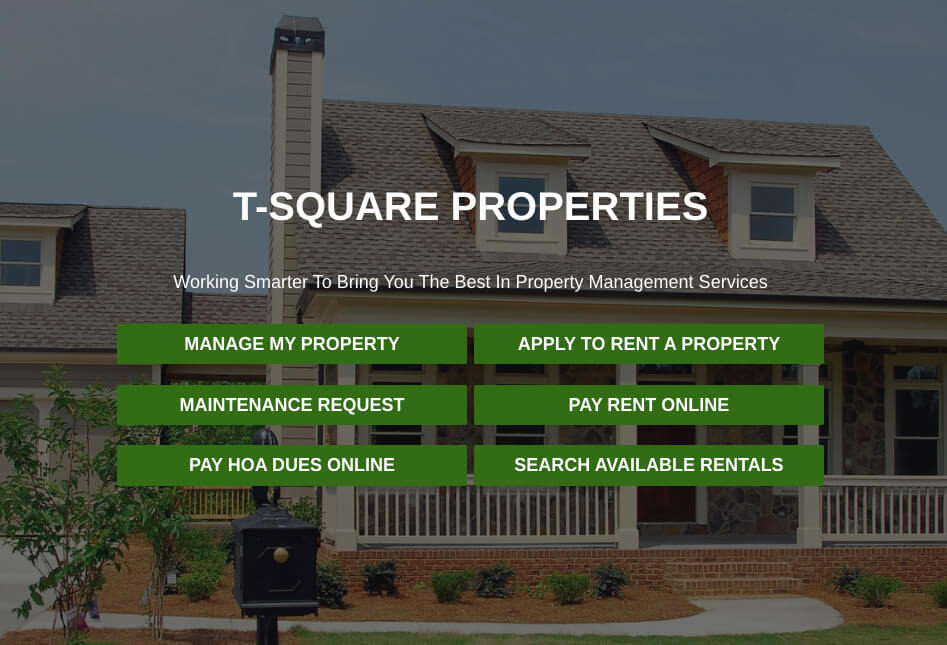 They (property owners and investors) need to:
Find you
Know, like and trust you
Contact you
Which means:
Your website needs to exude professionalism and convert web visitors into leads.
2. Make sure your website is mobile-friendly, so you can be found on smartphones.
There are more people with smartphones than computers.
If you're implementing an online strategy you need your website to be mobile-friendly.
This is a no brainer.
Mobile traffic accounts for 52.64% of total global online traffic.
Internet users spend on average 69% of their media time on smartphones.
Times are changing.
Even Google favors websites that are mobile-friendly.
All in all, it's important.
Book A Free 30-Minute Strategy session
3. Create verified business listings to build trust and authority.
You need a Google My Business page for your property management company.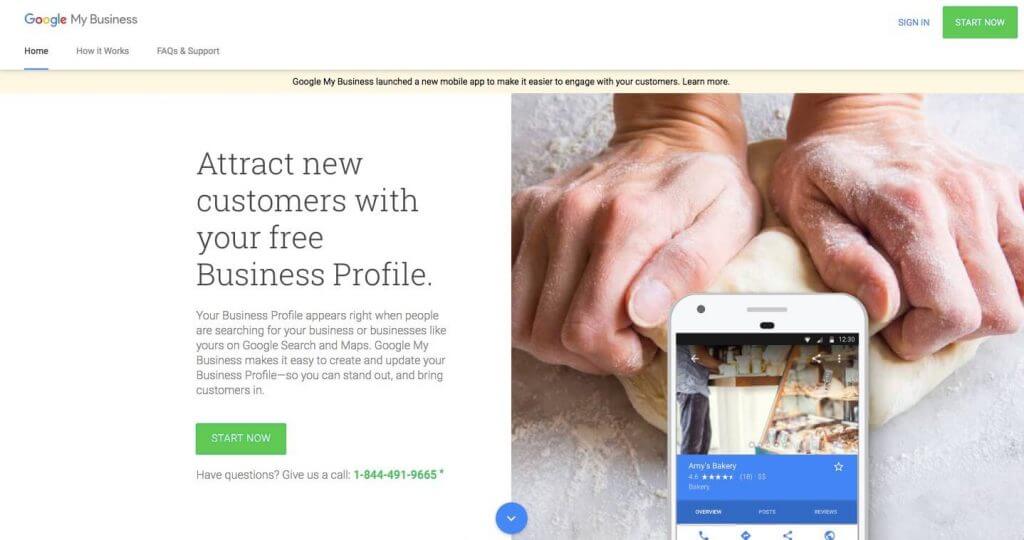 It's important that your business information is correct and congruent across the internet.
Specifically:
Business Name
Address
Phone Number
Website
Remember that there are other websites like BBB and YP.
Make sure your property management business info is the same on these as well.
4. Focus on online reviews to let owners know you help others just like them.
Understand that anyone using the internet to make a choice is invested in research.
Property owners and investors are no different.
Which means:
They want to work with the best.
They will look at your reviews to gauge the quality of your service.
93% of local customers use reviews to determine if a local business is good or bad.
You'll greatly improve all your efforts if you work at generating consistent positive reviews.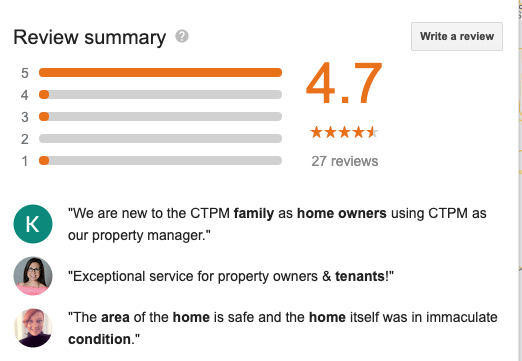 Make the effort.
It will pay off.
5. Ask your happy clients for referrals to get more business.
This is pretty straight forward and overlaps with the above.
If you have happy clients, you should ask them for referrals.
The trick is when to ask.
Think about the different points you touch base with your clients and when it would be best to ask.
Then build it into your business processes so you don't forget to do so.
Consistency wins the race.
6. Display badges of professional associations and awards to build more trust.
If you're part of associations like NARPM, make it visible.
If you hold professional designations, make it visible.
These position you as an authority and they help to build trust.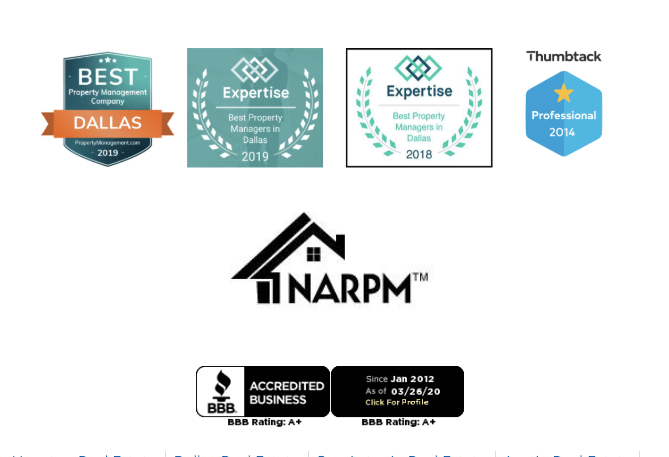 People want to work with the best.
Let them know that's you.
[Content Marketing] How to provide value to property owners so they know, like and trust you:
This is what your website visitors ACTUALLY interact with.
In this section:
Everything we are about to cover does more or less the same thing in different ways.
They are all different forms of online media (i.e. content).
The important point to remember is:
They help build a relationship with your potential customers.
How?
By providing helpful information that will allow them to solve their problems and reach their goals.
Every time they interact with your content, it's like you are having a conversation with them.
Ok, let's dive in.
Book A Free 30-Minute Strategy session
7. Help owners with your company blog and win their business.
You need to engage with your potential clients.
How?
Display your expertise and help your web visitors solve their problems.
Cover property management topics that owners and investors are interested in.
Here's a few examples:
How do you raise rent on a tenant?
When should you hire a property manager?
What do property management companies charge?
They can find your website and have their questions answered by YOU.
This starts the relationship.
Here's another example:
Say you have a client (John) and he tells his friend (Ryan) about your property management business.
Before Ryan calls you to inquire, he checks you out online.
He looks at your reviews. He likes what he sees.
He visits your website. He likes what he sees.
It looks nice and professional (nicer than the other ones he had checked out).
The best part?
He sees that you have a blog and it's focused on providing a bunch of helpful tips related to managing his rental properties.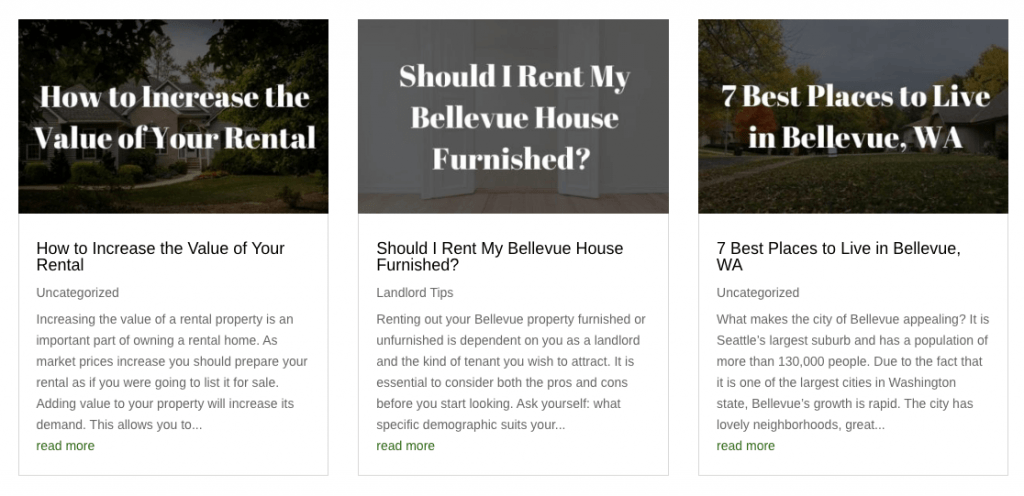 So:
He reads a few of them.
Whether he knows it or not, you are actively building a relationship with him by helping him solve his problems.
Here's something else you should know:
If you want to show up high in the search engine results, blogging is an essential aspect to doing so.
When you blog:
You not only help build a relationship with your readers…
You improve your chances of showing up on page one (SEO) of Google.
That leads to more targeted traffic and business.
We'll dive into the SEO topic in the third section (traffic sources).
8. Create YouTube videos to stand out and build trust.
Did you know that YouTube is the second biggest search engine in the world?
More and more people are using video to share and consume information.
Some prefer to watch videos over reading articles.
For this reason:
It pays to have a few videos on your website.
You can cover the exact same topics as blogging.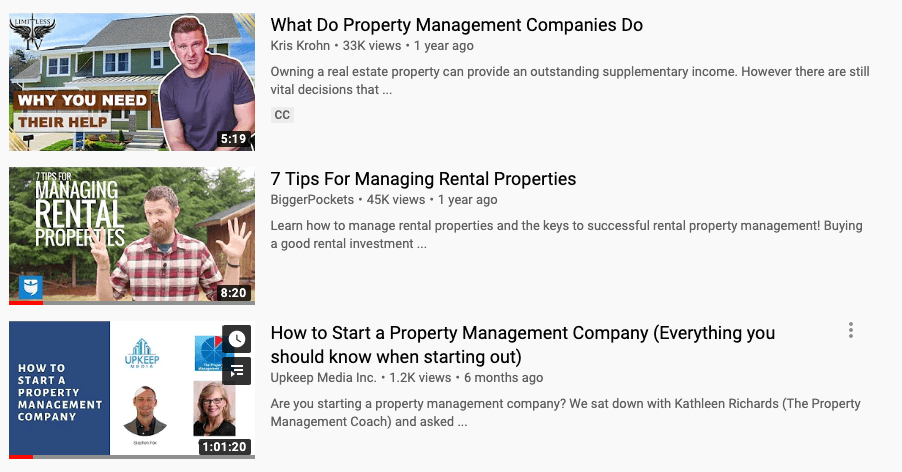 It's much more interactive and your potential customers can see exactly who they are doing business with.
As you can see, it's the same concept but using a different form of media.
Which do you prefer?
9. Provide a helpful guide in exchange for their contact info.
Of course, you want your potential clients to call you or send an email the moment they land on your site.
We all do.
But, most just don't do that.
They need more time so we should accommodate them.
Our goal is to start the relationship and keep in contact. This way we remain top of mind.
One of the best ways to do that is to create a lead magnet.
What is it?
It's a downloadable PDF that provides value.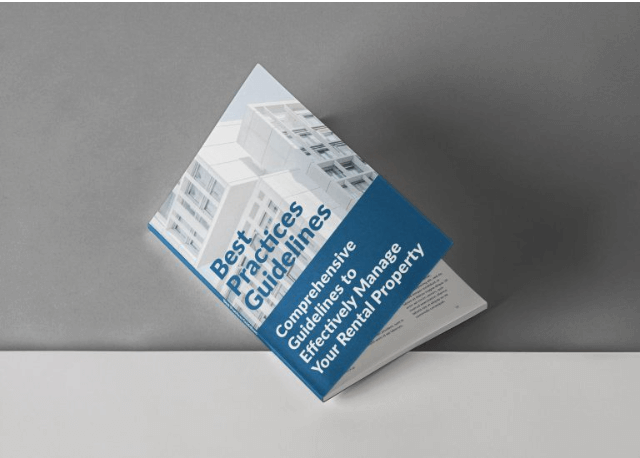 That's right!
It's Very Very Very Helpful.
It's just like a good blog post or video.
Note: We have a lead magnet on the right showing you 36 different ways to generate property owner leads. It's the most complete resource you'll find on the internet. And it's free! The catch is that we'll email you every time we come out with more helpful tips on growing your property management company.
It solves a need.
It helps them get closer to their goals.
It gives you an opportunity to keep in contact with them.
Better yet:
It gives them a reason to keep in contact with you.
If they benefited from your lead magnet – why wouldn't they want to keep in touch?
By downloading it, they sign up to your email list.
That's next.
10. Keep in contact with email and provide helpful tips to owners.
Now that they've signed up,
You can continue to email them every time you have more helpful tips to share with them.
This can be:
a simple email,
a link to a helpful article,
a link to your new blog post,
a link to your new video.
This is how you develop your relationship and build trust with them.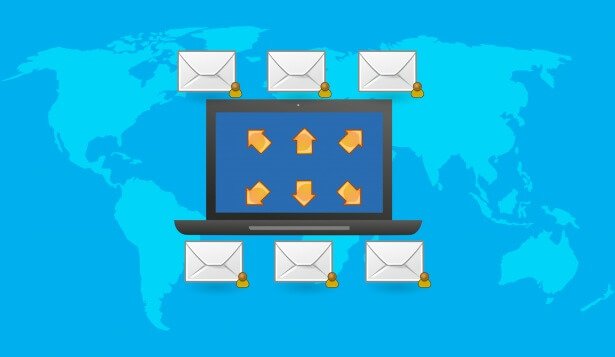 Is the big picture starting to make sense now?
11. Be present on social media so people can find your business.
There's a high chance your potential clients are spending time on social media.
I will come out and say that your social media accounts (alone) won't necessarily bring you in more doors.
But,
You do need them if you are planning on marketing your property management company online.
Clients can find you there and check your reviews.
They can also look at the kind of information you are sharing.
Tip: Post blog posts, videos, and testimonials.
Social media ties in well with everything else but this alone won't help. You need to use it to share helpful information.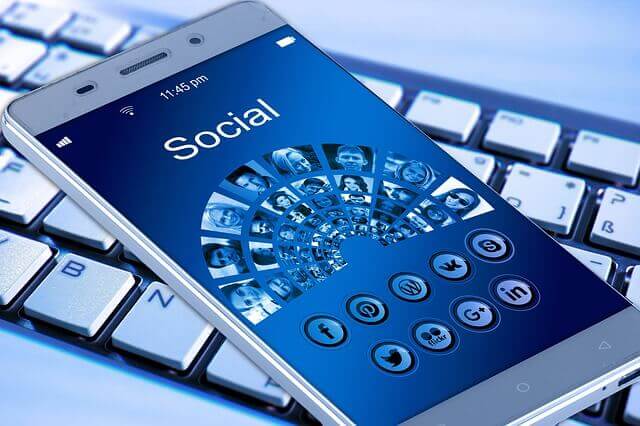 We'll go into the best tool you can use to capitalize on social media's popularity in the next section.
[Traffic Generation] This is how you target property owners, so they can find your property management business:
Now that we have all the branding in check we need to target the right people.
The fire started and it's time to pour on the gasoline.
In this section:
We'll go over the main traffic sources.
Meaning:
The best ways to drive property owners to your website.
12. Use search engine optimization (SEO) to give your company an online presence.
Why use property management seo?
It's simple…
There are over 3.5 billion searches per day.
Studies show that 76% of local searches result in a phone call.
98% of searchers choose a business that is on page one of the results they get.
If someone is looking for a property management company in your local area…
Don't you want them to find you over your competitors?
Of course, you do!
By investing in search engine optimization, you have the ability to put your property management company in front of the eyes of people (property owners and investors) who are actively searching for the services you provide.
And there's a lot of power behind this. When they find you on their own and make the decision to contact you themselves it changes the dynamic of the sale.
Why?
Because they found you themselves.
Remember…
People want to buy, not be sold to!
Choice is powerful.
Book A Free 30-Minute Strategy session
13. Start Google Ads advertising (paid search) to get more leads.
If you want rental owner leads from the internet and you'd like them as fast as possible…
Google Ads is your best bet.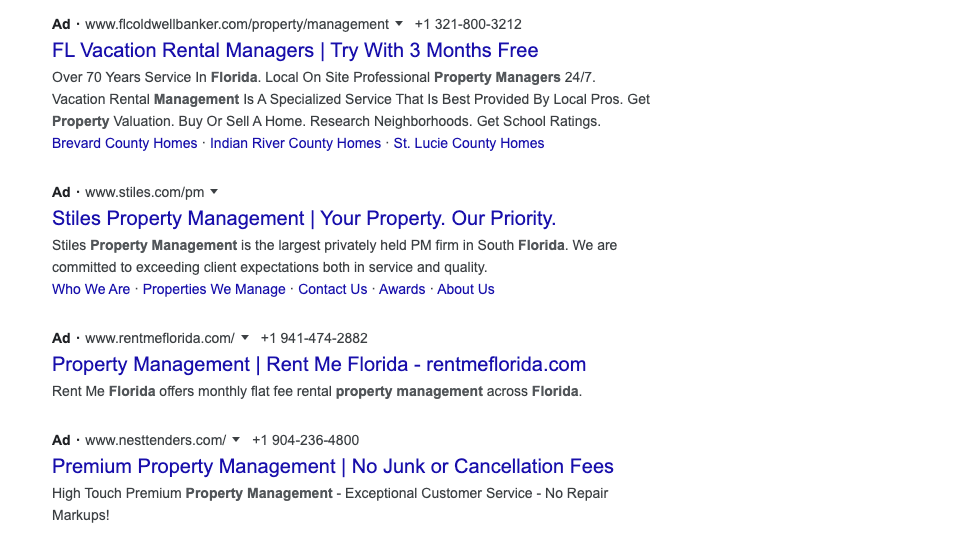 Just know that it'll require you to spend ($$$).
All good things come at a price.
Google is one of the biggest companies in the world and they earn 95% of their revenue from advertising.
The main advantage to Google Ads is that you can be on the first page of Google tomorrow.
That's why a lot of companies that enter a new market utilize Google Ads.
Another great advantage is that it's very easy to track your efforts.
This month I spent 'X' number of dollars – I got 'Y' number of leads and I closed 'Z' number of doors.
If you track your numbers well, it's a lot easier to plan the growth of your company.
14. Run Facebook Ads to reach more owners and manage more doors.
Almost all internet users do two sure things:
They use search engines
They go on Facebook
When it comes to social media platforms, Facebook is king.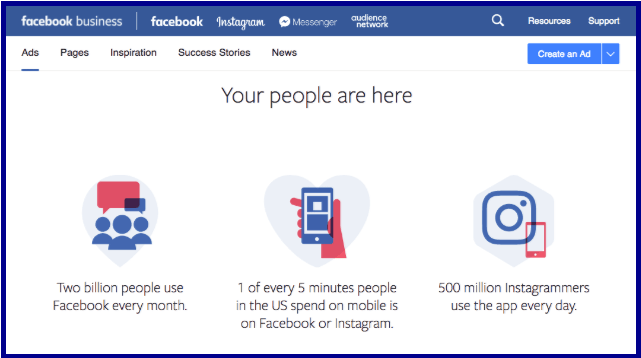 There are over 2.27 billion monthly active Facebook users (as of Q3 2018) and it's growing by 10% every year (Source: Facebook 10/30/18).
Roughly two-thirds of U.S. adults use Facebook.
The average Facebook user clicks on 8 ads per month.
There are tons of real estate investing Facebook groups, so you know property investors are spending time on it.
If you are serious about growth, you'll look to take advantage of their ad platform.
All in all:
You know your target market is spending time on Facebook.
Learn how to use it and never worry about getting leads again.
If you'd like to learn more about how property managers are using Facebook's advertising platform to bring on more doors, click here.
If you rather we do it for you, send us an email or give us a call!
15. Remarket to owners so they come back and contact you.
Have you ever visited a website and after leaving the website, you see their ads everywhere?
That's remarketing.
Remarketing is one of the most powerful tools you have at your disposal.
Did you know:
Website visitors who are retargeted are 70% more likely to convert.
Let's walk through an example that'll give you an idea of how this can play out.
It'll show you the power behind it.
Let's say you are using Google Ads to increase the amount of owner leads for your company.
You run a property management company in Austin, Texas and a property owner named Bob searches: 'austin property management'
Bob clicks on your ad and reads through it.
He didn't submit his information because he just started his search.
Bob just wants to keep looking around.
Most people are like Bob.
During his search:
He keeps seeing your company's ads on Facebook as well as with Google's retargeting option.
Over the next two weeks he sees 3 more of your ads:
Sharing a link to helpful content on your website.
Sharing a link to a case study – successful client experience.
Sharing a video of a happy client (another owner just like him).
After all that…
Bob remembered your company best.
So:
He called you.
Bob thought that since you marketed so well to him, you'll be able to do the same for his rental.
You got the lead and you picked up your new client – Bob. That's the end to the happy story!
Do you see the power behind this?
You understand that people don't decide instantly so you took the initiative to remain present by retargeting them (the property owner).
Leaving less to chance and seizing the opportunity.
Book A Free 30-Minute Strategy session
Bonus: Advertise on Target Websites – Focused PR
Are there websites that you are confident real estate investors spend time on?
Would you like to have exposure on those sites?
If so…
That's pretty much what this strategy is all about.
There may be sites that are specific to real estate investing and you'd like to get exposure on them – so that you can connect with that readership.
You may:
Pay to advertise on that website's sidebar.
Write a guest post or sponsored post on their blog.
Be mentioned in their newsletter.
Be a guest on their podcast.
You'll be able to position yourself as an authority by providing helpful property management tips.
Even though this can be useful…
When it comes to traffic generating strategies:
You're better off using SEO and Google Ads to start (that's my opinion).
If you would like to know why, send us an email.
[Conclusion] It's time to take action and grow your business!
I hope this guide showed you new ways you can market your property management services and grow.
There's so much opportunity and it's up to you to seize it!
Now I'd like to hear from you:
Which strategy from today's post are you excited to implement first?
Or maybe you have a question.
Either way, leave a comment below right now.
Did I mention we can help you get on the right path?
If you'd like help figuring out which strategy is right for your company – contact us today.
Send us an email, give us a call or book a FREE 30-Minute Strategy Session.
I promise it will help you reach your goals (as long as it's related to growing your property management company).