ChatGPT has gone viral. Funny enough, similar AI has actually existed for the past couple years and thankfully we've been aware of this.
A lot of property managers have been asking us: is it going to change everything?
Lucky for you, we've got the lowdown!
We'll start by giving you a rundown of the risks of using ChatGPT so that you can be well-informed. Once you understand the risks, we'll show you how to leverage ChatGPT for your property management company.
The Risks of Using ChatGPT for Your Property Management Business
Before we go into How You Can Use ChatGPT For Your Property Management Company, we're going to address the risks of relying too heavily on it.
Using ChatGPT to create content for your primary website (ie. your property management company's website) can be risky and we'll do our best to breakdown why:
1. Google Rewards High-Quality Content
The biggest risk is the fact that Google rewards high-quality content that demonstrates expertise, experience, authoritativeness and trustworthiness (E-E-A-T).
Google has recently announced that the quality of content is what is considered, no matter how that content is produced.
So why exactly are we telling you that using ChatGPT is a risk?
Google is not against AI generated content, but that doesn't mean you should rely on it for content creation.
Certainly, it is a helpful tool (as you will see later in this blog post!) but creating content that truly demonstrates E-E-A-T takes a lot of legwork, research, and editing.
As well, Google states that "using automation—including AI—to generate content with the primary purpose of manipulating ranking in search results is a violation of our spam policies."
You don't want to rely too heavily on AI generated content, because let's be honest — once you get on Google's bad side it can be hard to bounce back.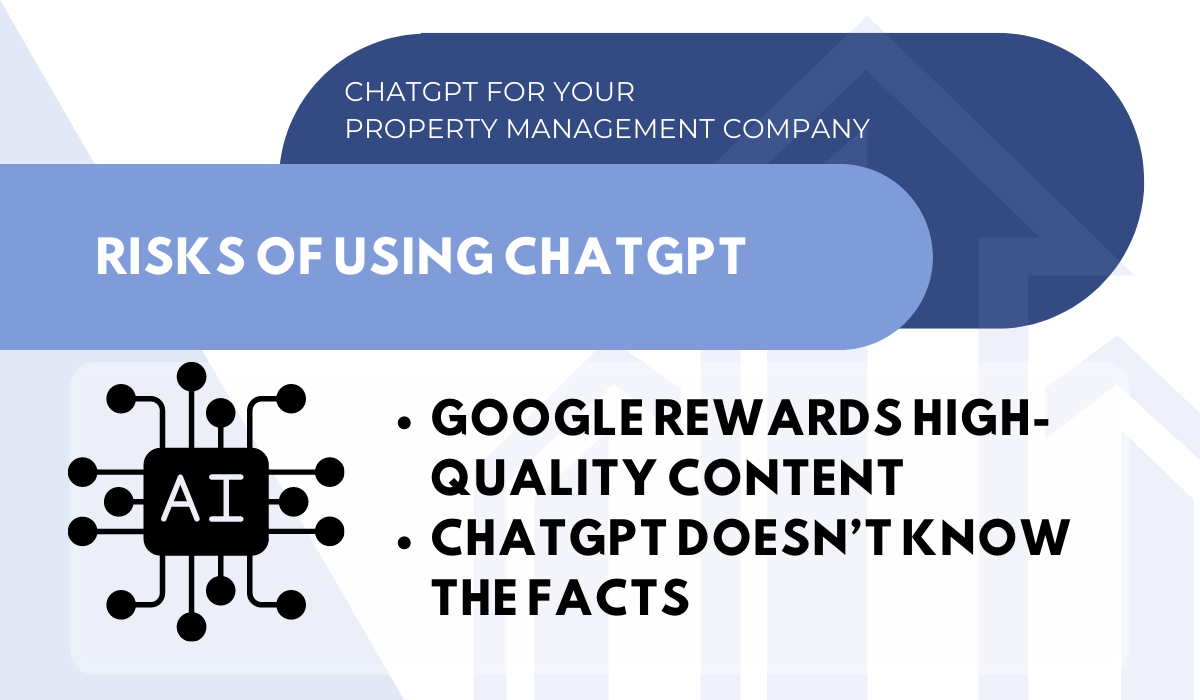 When it comes to your business, you know it is better to be safe than sorry. Using ChatGPT to generate content may seem appealing, especially when you have likely been hearing a lot about it recently. ChatGPT is becoming a buzz word in the industry.
But we have plenty of first-hand experience when it comes to AI generated content, and the long-term risks of using ChatGPT to generate content are far greater than any short-term benefit.
2) It doesn't know the facts.
ChatGPT doesn't know the difference between true and false.
Google rewards high-quality and helpful content, and if you rely too heavily on ChatGPT, the content you create won't have the same E-E-A-T as something written by a professional.
A big reason for this is because GPT was only trained on a data set up until 2021. This limitation should go away once they figure out how to train it in real time, however right now this is one risk.
Of course, this isn't the main risk with using it for content creation when it comes to SEO because you can have someone manually review the facts.
All this to say, you shouldn't be using AI generated content on any websites that you want to build to last (for example: your property management company's website). The risk far outweighs the reward.
Ways to Use ChatGPT for Your Property Management Business
Now that we've covered the risks, let's look at how you can leverage AI for your property management company.
1. You can use it to brainstorm blog topics.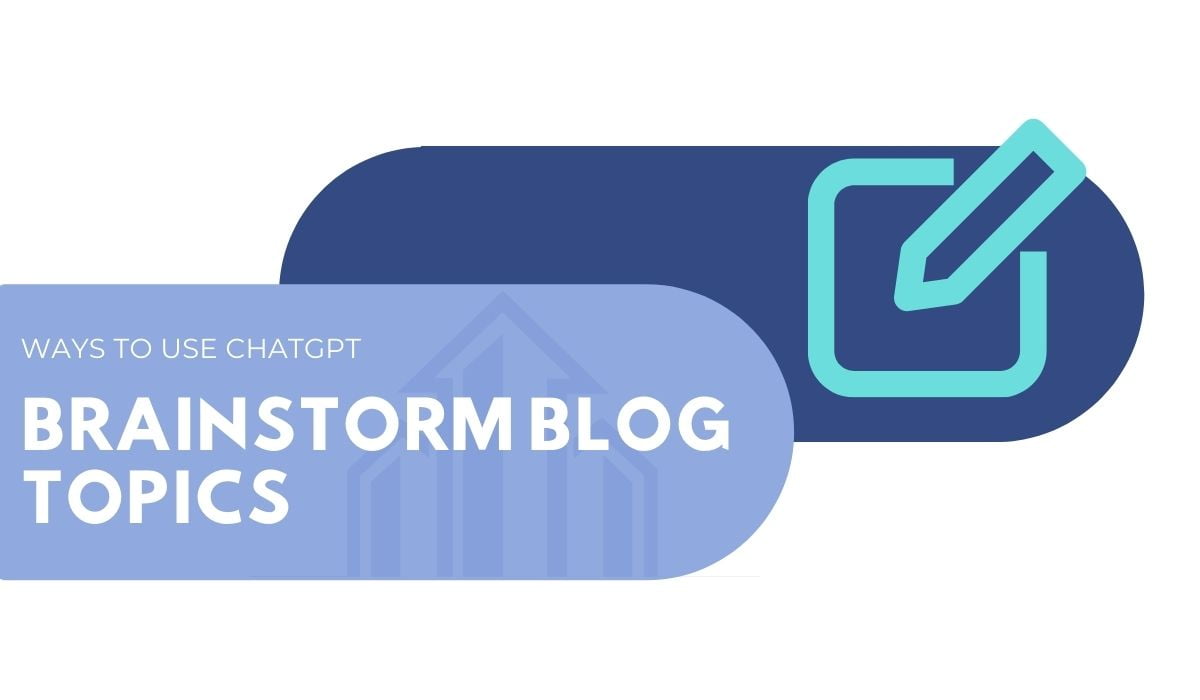 Ask ChatGPT to give you a list of topics to target on a blog about property management. You can ask ChatGPT to give you a list for a range of topics.
If your target audience is rental property owners, a good example would be asking ChatGPT to generate a list of the top 20 things people search for about managing a rental property.
Once ChatGPT has generated that list, you can get more specific and have it generate a list of the top 20 blog article ideas related to your subject.
Keep in mind that ChatGPT is unable to factor in actual search volume when generating results. You'll want to make sure that you are covering topics with high search volume, in order to have the best chance of reaching your target audience.
2) You can use it to help build outlines for articles.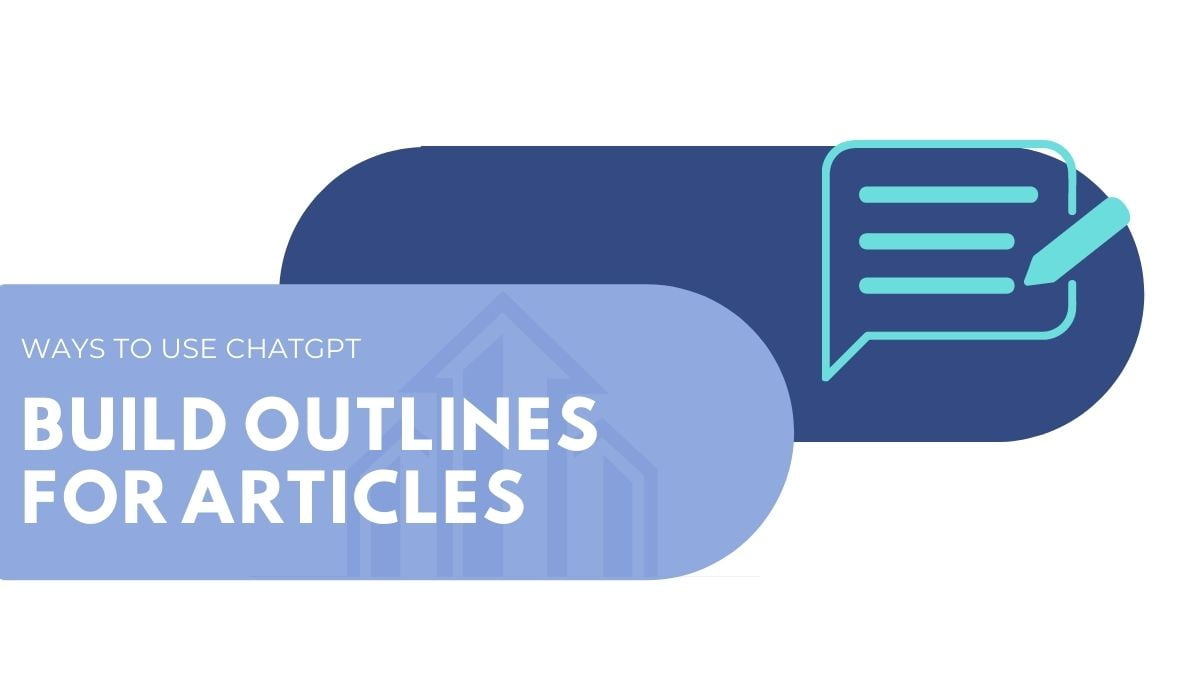 Writing an article, where to begin? We love outlines! While it would be risky to use ChatGPT to actually "write" your content, you can definitely use it to get some help with an outline.
You can prompt ChatGPT to create an outline for your blog. This will provide you with a framework for when you are writing an article for your blog. Trust us, writing an article feels a lot less daunting when you have a clear structure in place, guiding you every step of the way!
3) You can use it to help build outlines for videos.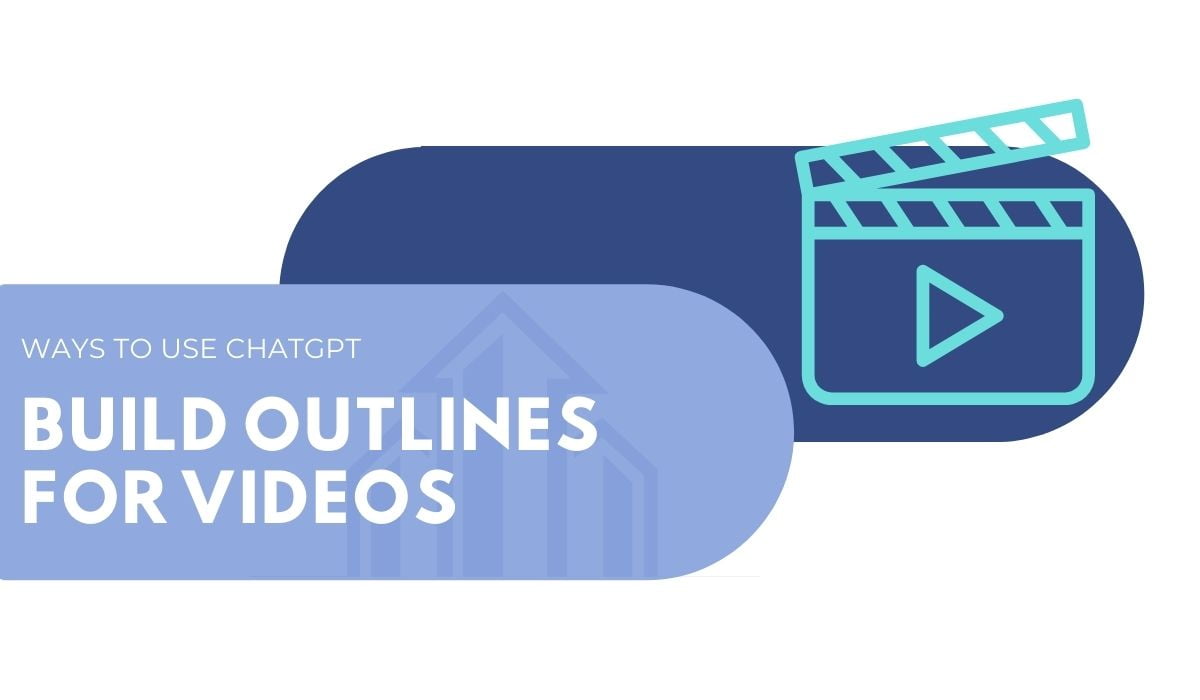 More and more often, property managers approach us because they want to make videos, but don't know where to begin.
If writing an article can feel daunting, then creating a video script and recording yourself can definitely be a bit terrifying! We have lots of tips and tricks, and for us, it all comes down to having a good outline.
Just like you can generate an article outline, you can generate a script outline. You will follow the same steps as creating a blog outline, only this time around, you'll be focusing on an outline for your script.
Once you have an outline you feel good about, you'll be able to write your script and then get ready for lights, camera, ACTION!
4) You can use it to create better titles for your content.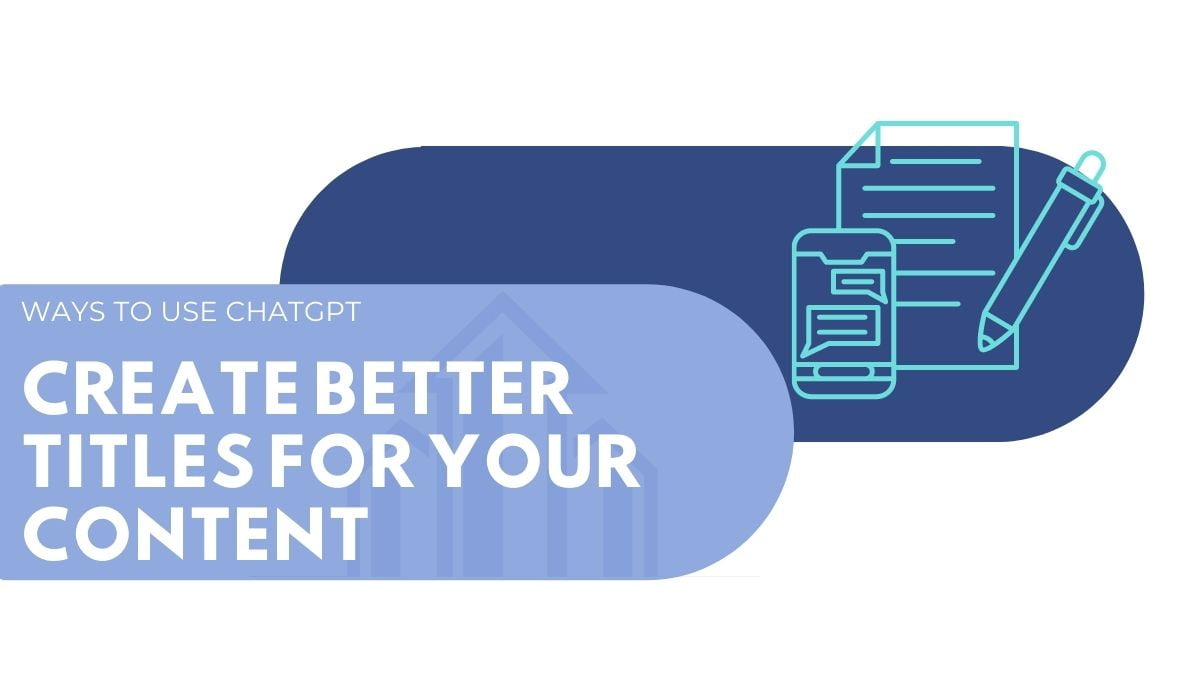 We've all been there – coming up with the perfect title is hard!
You can instruct ChatGPT to develop some ideas for you. When it comes to the prompt you will use, you have a few options.
You can ask ChatGPT to generate 5 ideas for the title of your blog post.
Or, if you have already come up with a title that you think is pretty catchy, but want to see what else is out there, you can ask it to write some alternative titles for you.
Let's say you have landed on the topic "How to find great tenants for my rental property."
Hey, that's not a bad title. But you can have ChatGPT pull some other options, by asking for alternatives.
This is a quick way to brainstorm titles!
5) You can use it to create social media posts.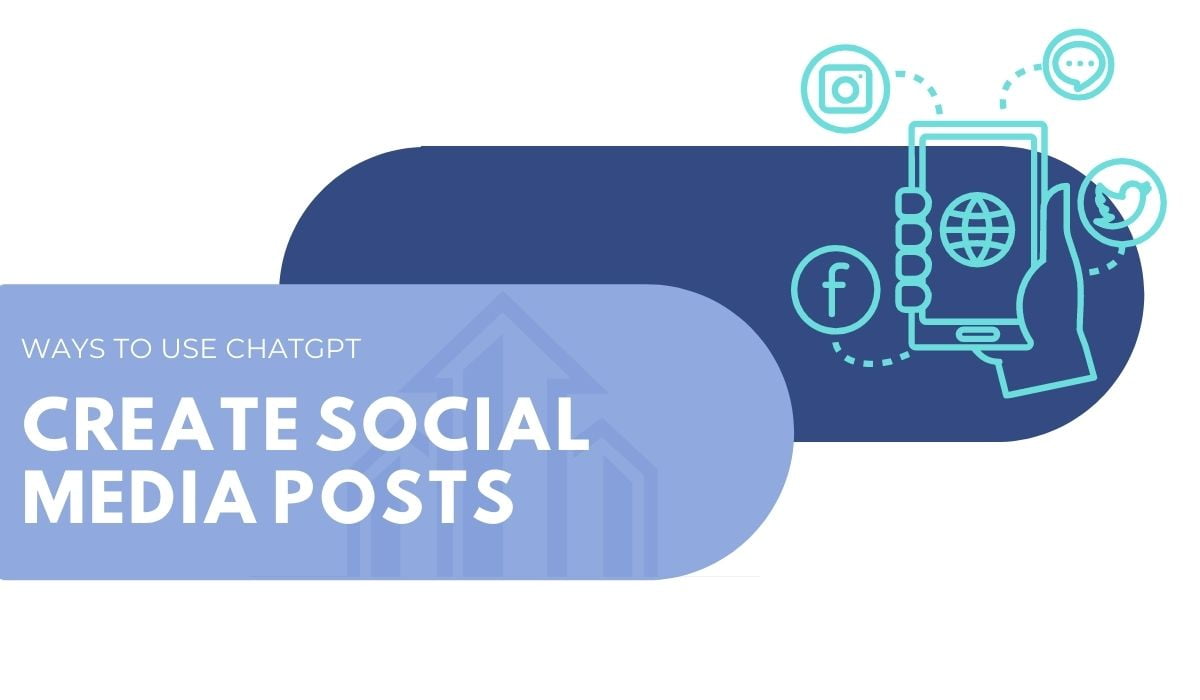 You can use ChatGPT to help you create social media posts for platforms like Instagram, Facebook, and Twitter.
Examples of Instagram Prompts
Write a friendly and professional Instagram bio for a property management company.
Generate 5 Instagram post ideas about property management services.
What are the best hashtags for a property management company?
Examples of Facebook Prompts
Generate 10 interesting topics to post about in my property management Facebook group.
What are some of the most popular types of Facebook posts for property managers?
Create a Facebook post about the benefits of working with a property manager.
Examples of Twitter Prompts
Write 10 funny tweets about why everyone should work with a property management company.
What are 5 possible tweets to create based on the information provided?
What are some great ideas for Twitter threads on property management?
6) You can use it to write catchy rental listing ads.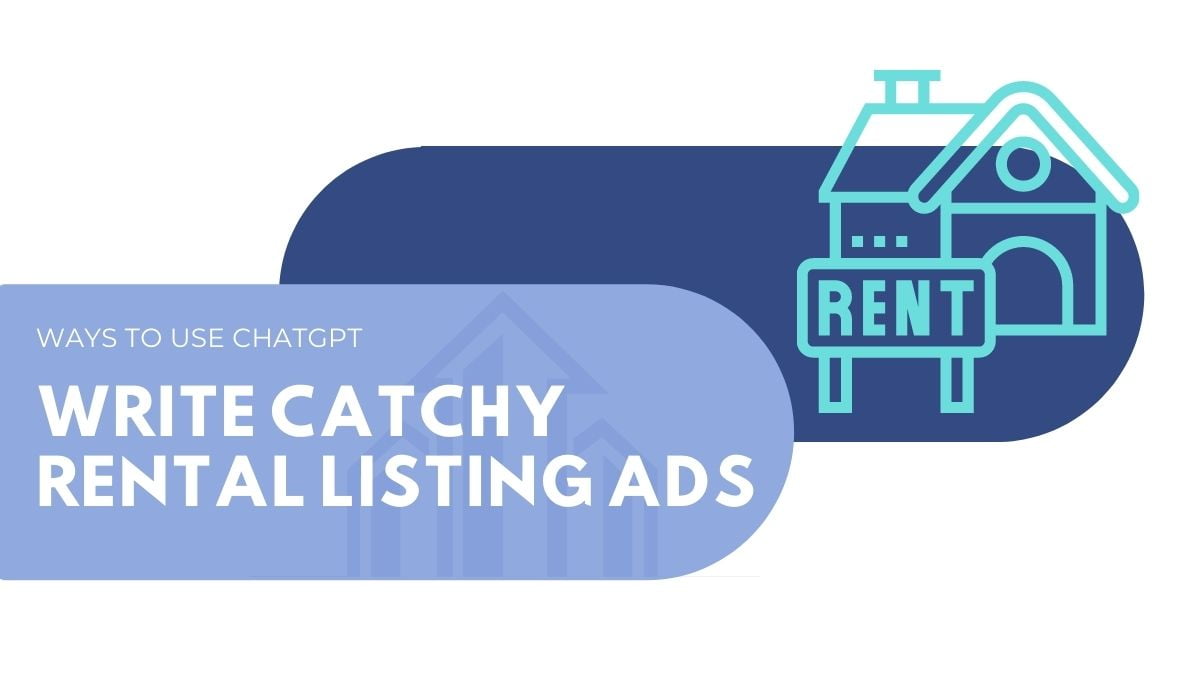 You don't want to use ChatGPT to create all of the content for your website, but by now, you should have a strong understanding of the ways you can use it to get you started on the right path and give you inspiration.
Another way you can use it is to help you write catchy rental listings.
You know the property you are marketing is great, but maybe you are struggling to explain all of the great amenities it has to offer.
Try prompting it to write an ad for you. Tell it all of the amenities and features, and direct ChatGPT to write a catchy rental listing for you.
Once generated, you will likely want to make some edits, but you will have an excellent framework!
Conclusion
There you have it! After reading this post, you are now ready to use ChatGPT to help you out with many aspects of your day-to-day work, like creating social media posts, writing catchy blog titles, producing article outlines, writing rental listings, and handling some aspects of content creation!
The risks of using ChatGPT to write content for your site are greater than any short-term benefit.
You invest heavily in your online image and reputation, so we recommend against using ChatGPT to write content though it is a helpful tool in many aspects of content creation.
Similar AI has existing for years, and we have been aware of it. So, we are happy to have been able to put this post together to share with you.
Many property managers have been asking us about ChatGPT and we wanted to share everything we could with you so you can make informed decisions about using the software.
For more information, contact Upkeep Media today.