One of the most important decisions you can make for your real estate business is your domain name. Your domain name is your online identity.
You may already have ideas for what to name your site. But what should you keep in mind when registering a domain name? What mistakes should you avoid? What should you include?
If you're searching for a good domain name for your real estate business, you should do your homework before taking the plunge. In this guide, we'll teach you how to choose the right domain name for your real estate company.
It all starts with an idea
Think of domain names that are brief, memorable and simple. They should also succinctly and accurately describe your real estate business. You can't go wrong with your business name, so consider including it in your domain name.
Consider using a keyword. When choosing one for your business, it's important to consider its popularity in search engines. Popular keywords equate to lots of organic traffic and vice versa. There are many tools available online, which can help you get better insights on how much volume a keyword attracts.
Use some variations when using a keyword as your domain name. Avoid using an exact match domain (EMD) for your real estate company. It may even land you a penalty from Google. EMDs were abused in the past to rank highly in search engines. But if you must use an EMD, make sure it's not purely for SEO purposes.
Also, make sure that the keyword is area-specific. For example, using a domain name like JohnDoeSFHomes.com may work best if you sell homes in San Francisco. However, avoid choosing a domain name that is lengthy and too generic.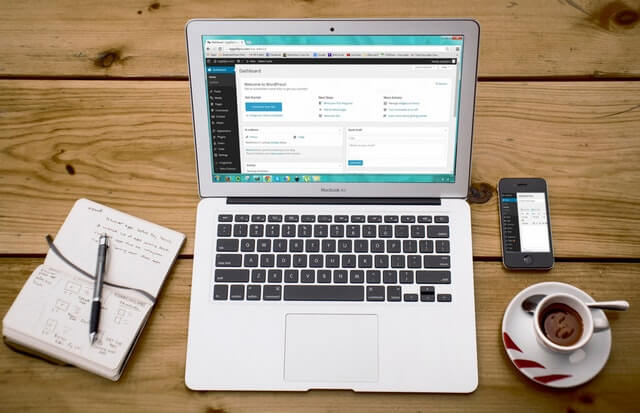 Keep It Short & Simple – KISS
Shorter is usually better, even if you can't pack in everything you want. The fewer characters a domain name has, the easier it is to type, say and share. It's also more practical since a shorter name is easier to place on your business card.
With a short but well-thought out domain name, you can achieve a strong brand that complements the powerful content on your website. Needless to say, an effective domain name makes a professional impression.
Use Your Own Name or Team Name
Standing out from the crowd is important as far as branding is concerned. Using your own name for your domain name can be a great way to start building your personal brand. However, avoid using generic names like JohnDoe.com or JaneDoe.com.
A Few Real Estate Domain Names Examples:
Here are some guidelines you can follow when deciding on the domain name for your real estate company.
Location term +  Realtor Term.
This formula is great for laser targeting your audience. It's recommended that you mix the various components of the formula to get different results.
The end result should be brief, easy to remember, and most importantly, sound professional.
Examples:
FloridaRealtyAgents.com

BostonRealtors.com

LondonEstateAgents.com

OkanaganRenters.com

JasperRealEstate.com
Adjective + Location + Realtor Term.
Typically, domain names that contain adjectives often have better clickthrough rates than those without. They generally sound catchier, like BestFloridarealty.com
Examples:
IncredibleDenverRealty.com

MajesticChicagoEstates.com

FantasticFloridaRealty

PrestineGreenValleyHomes.com

AmazingSacramentoHomes.com
Your Name + Realtor Term.
You can also choose a domain name with a nature term. Example: HopkinsHomes.com.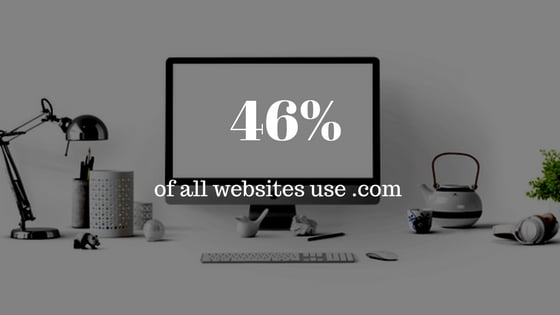 Check for Domain Name Availability and Registrars to Use
Once you've brainstormed several domain names for your real estate company, check to see whether they are available. There are various online tools which you can use. Once you have confirmed it's available and no one else is using it, it's time to purchase it.
Owning a domain name requires that you find a domain name registrar. Popular registrars include Register, NameCheap, Hover, Hostgator, GoDaddy and the like.
Upon registration, you'll be asked how long you intend to own the domain. This will depend on your preferences. One year is the typical minimum.
If possible, buy similar domains as well. This prevents competitors from buying them up. For example, if your primary domain name is FloridaTopAgents.com, consider securing FloridaTopAgency.com and Florida-Top-Agents.com as well. Doing this helps your prospective clients avoid problems when trying to find you online.
Some of the most common mistakes to avoid with your domain name registration include:
Not reading the fine print. Remember to read the fine print carefully, as you should with any major business purchase. Hidden fees can be allocated to your registration without you even realizing it.

Not researching past usage of the domain name. There's a possibility that your domain name was used by someone else before. You can use tools like the Wayback Machine to get an insight of how the site looked in the past. If the domain was previously used we recommend moving on to another domain. 
Avoid Using the New Top Level Domains .apartments, .biz, .realtor etc.
Recently, ICANN, the group responsible for granting new top-level domain names, has made additional naming options available. Now, instead of the usual .com, .net, and .org, you can name your website something like "Florida.apartments."
Although this may sound like a great option for unique branding, there's a good reason you should continue using traditional TLDs. For starters, not many people are aware these new top-level domains exist.
As such, very few people will click through to see what you offer when your website's name (Florida.apartments) comes up in search results, thereby losing potential leads.
Secondly, we have reason to believe that there are additional trust factors associated with traditional .com, .net, and .org TLDs. If you look at the top ranking websites in your city it is more likely than not that they are using traditional TLDs.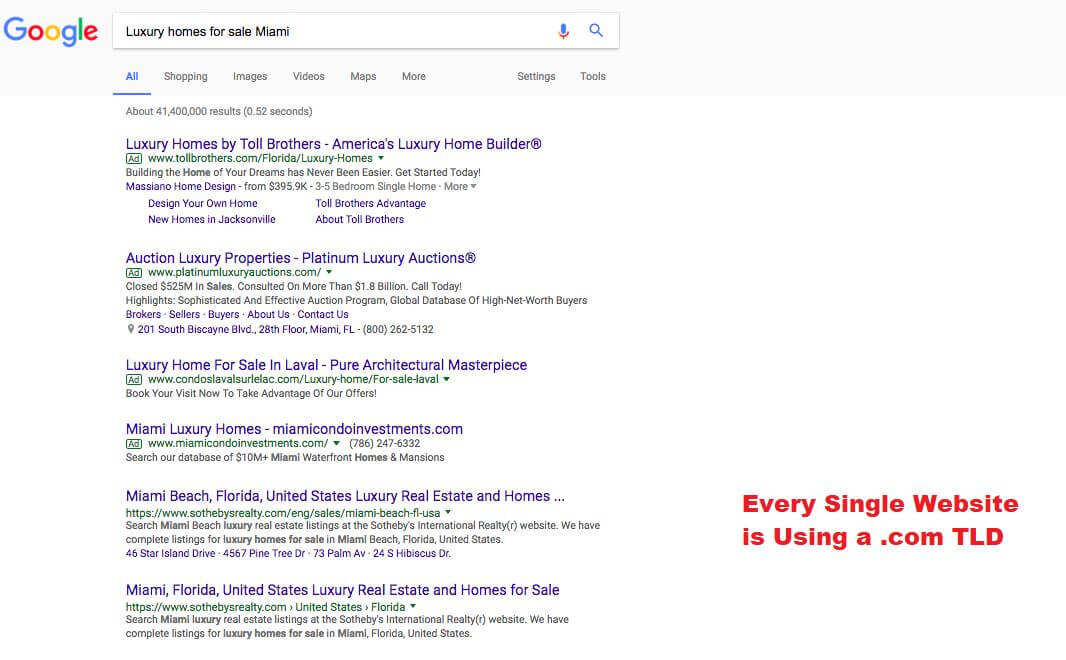 Make Sure Your Domain Name is Easy to Recall
Choose a domain name that's easy to remember. Most people that find out about your company will visit your website. Make sure it's easily pronounceable so they don't mistakenly visit another site.
As humans, we have what scientist call "processing fluency." This is a cognitive bias where we remember things that we can easily think about and say. If your audience finds it hard to easily say your name, you're going to lose the benefits of branding, memorability and processing fluency.
Try this experiment with your domain name idea: Call a friend on the phone. Tell them the name of your website. Have them write it down. Is it easy for them to jot it down? If not, you should go back to the drawing board.
The phone test is probably the best way to gauge whether your URL is easy to recall or not. Also, be wary of using double letters (Ex: RealEstateEvansville.com). They are easy to misspell and look strange. If you have to have a domain name with double letters, make sure to secure names which are often misspelled.
An important note about SEO: domain names greatly influence SEO. So, what does this essentially mean for your real estate company?
For starters:
Choosing a .com extension for your domain name is ideal. Using other TLDs may compromise your visibility in the search engines.

Including targeted keywords in your domain name can boost your search rankings. However, avoid using exact match domains as much as possible. Instead, use keyword variations.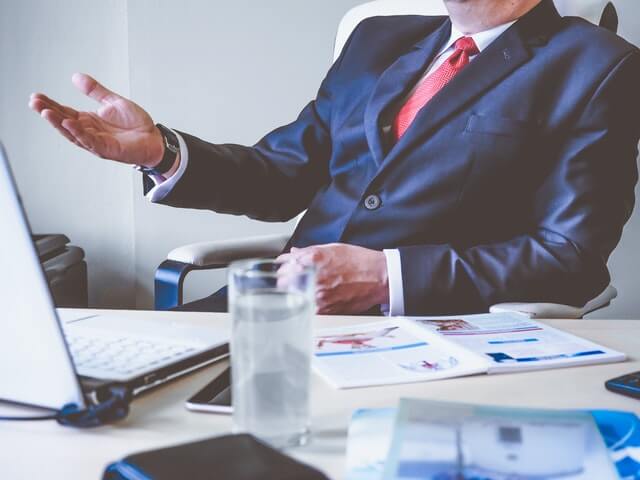 Choose a Domain Name that Will Carry You through Your Real Estate Career
Your domain name should directly relate to the goals of your business. You've already spent countless hours contemplating your value proposition, logo and brand. Why should your domain name be any different?
You should lay out a blueprint highlighting how you intend to build your brand using the domain name you choose. One obvious thing is having great, unique content. The only downside to this strategy is that it takes time before results start showing up, especially if your site is new.
Be Descriptive and Interesting
Choose a descriptive name that identifies your target market. Although you're advised against creating a lengthy domain name, the more descriptive it can be, the better. The keywords you choose for your domain name should ideally be what your clients are searching for.
For instance, if your real estate company revolves around assisting older couples in downsizing to more manageable spaces after they retire, or helping clients buy and sell lakefront properties, your domain name should reflect that.
To come up with a relevant name, choose the most relevant keyword + target market or brand. By doing this, visitors will be able to get some sense of what your website is all about just by reading the domain name.
The Bottom Line
When coming up with the right domain name for your real estate company, it's important that it's relevant to your site. It's not about using fancy words, but about choosing names that'll connect you with your market. Remember, the domain name should be memorable, reasonably short and as specific as possible.
Additional Resources:  Real Estate Domain Names: 15 Tricks Experts Use to Pick The Best