Creating a real estate property management company is often a complicated process filled with legal and regulatory hurdles. Once you factor in the various stakeholders you need to consider, it can be difficult to find the first steps to creating a property management company. 
Without proper guidance, research, and resources, this process can be confusing and sometimes costly.
To help you avoid the common pitfalls of first-time property managers, we here at Upkeep Media are going to break down how to start a Texas rental management company, the factors you'll need to be successful, and the state regulations you must abide by. 
What Exactly Does a Texas Property Management Company Do?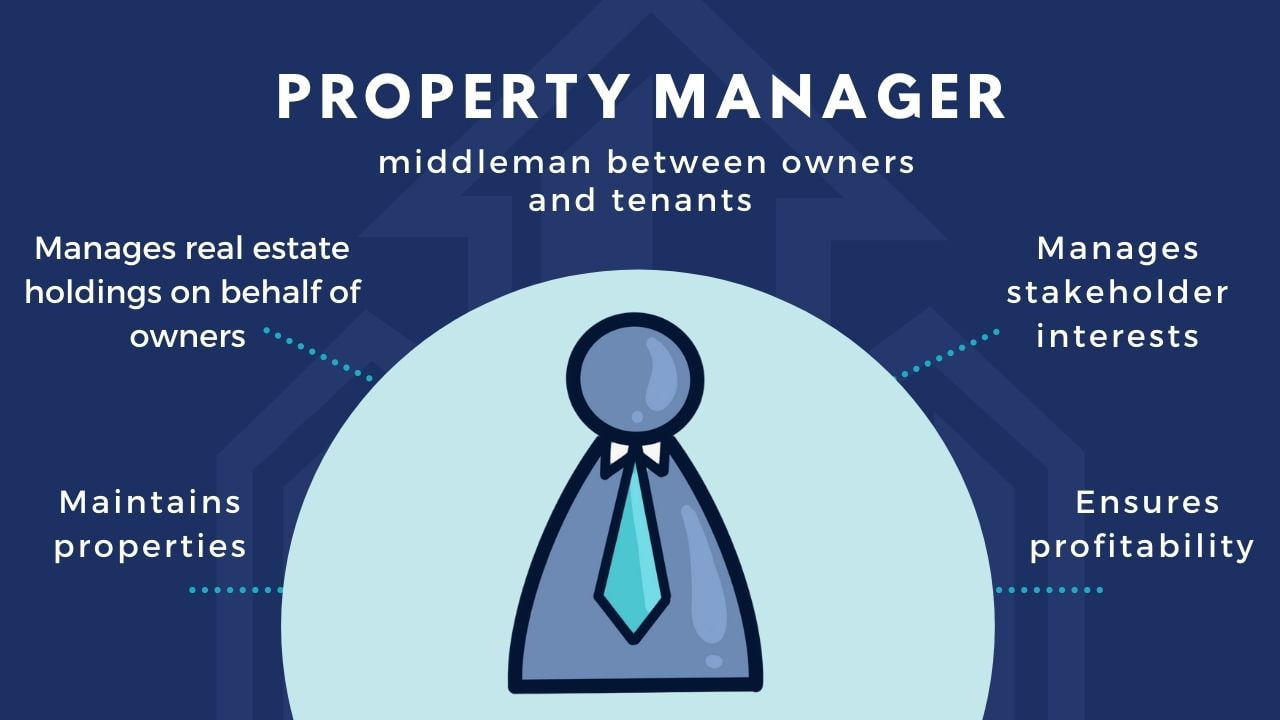 A property management company manages different types of real estate holdings on behalf of owners and landlords. A property manager helps to maintain the property and essentially acts as a middleman between owners and tenants. 
Property managers in Texas primarily manage small-to-large apartment or condo developments and single-family home residences.
As part of your day-to-day operations as a property manager, you will meet various stakeholder groups, including the owners, tenants, potential tenants, and contractors hired to do maintenance and repairs. 
As a property manager, it is your job to manage these (sometimes competing) interests to ensure the property is profitable, well-maintained, legally compliant, and comfortable for your tenants. 
There are a number of legal and ethical considerations for property managers to consider, but we will discuss these factors later in the article. 
Running a property management business can be an extremely rewarding career choice, both personally and financially. Property management companies can vary greatly in size, from one-person operations to large property management entities managing multiple large tenant complexes or resorts. 
As a property manager, it is important to protect yourself from risk and run your business as efficiently as possible to maximize your revenue possibilities. 
Do you still think property management is the right business opportunity for you? Here are our seven steps for creating a legal and compliant property management company. While these steps are by no means comprehensive, we hope they can guide you along your journey of becoming a successful property manager. 
Step 1: Understand the Different Ways to Structure Your Texas Rental Management Business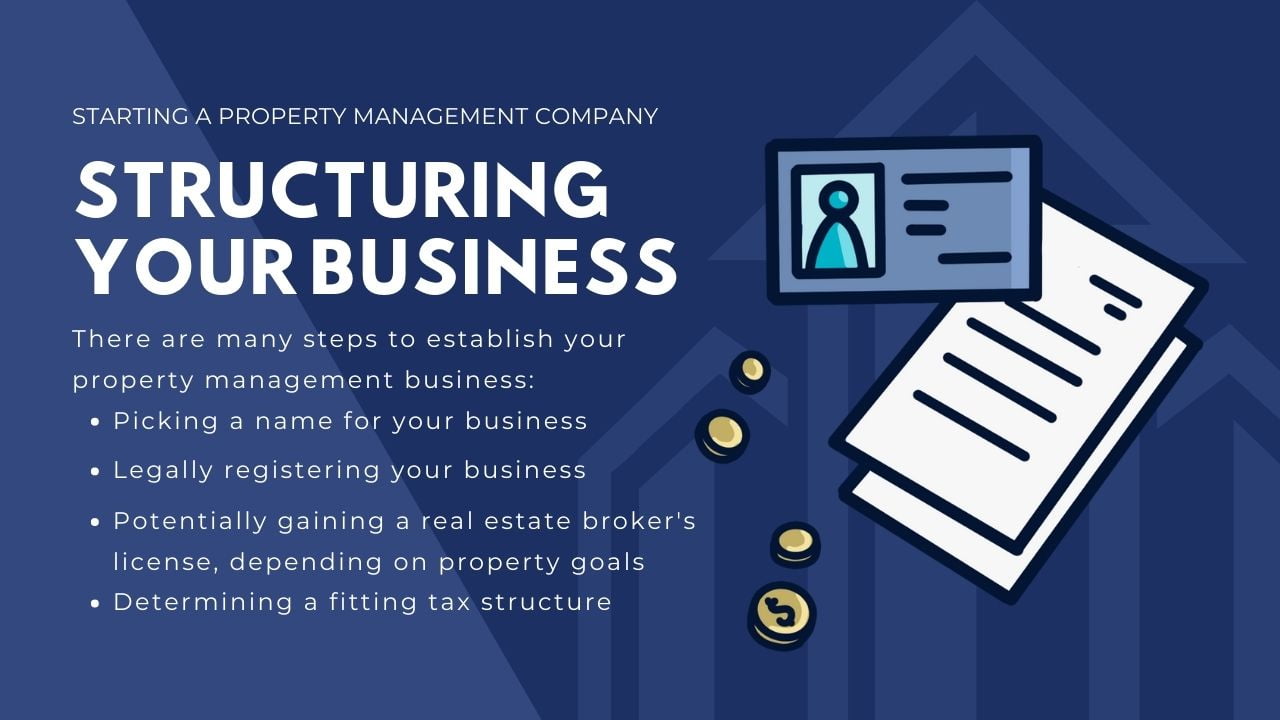 An important first step of establishing yourself as a credible property management company is picking a name for and legally registering your business. Setting up a legal entity in Texas can be challenging and nuanced for any business, so we encourage you to speak to a corporate accountant in your area. 
In many places, your local Chamber of Commerce organization is an excellent resource for information on legally registering your business. Having a solid business plan will help you make critical decisions about the structure of your business and how you can protect yourself from personal and professional liability. 
It is important to note that each state may have its own legal requirements for setting up a business, particularly a property management business. 
Do Property Managers Need to be Licensed in Texas?
In Texas, it is not required for all property managers to possess a real estate broker's license. 
A property manager must only possess a real estate broker's license issued by the state if he or she:
Leases properties.

Lists a property for sale in the state of Texas.
A property manager does not need a real estate broker's licenses from the state if he or she:
Manages a property or homeowner's association.

Only collects rents, runs credit checks, and provides property maintenance services.
To obtain a real estate license in the state of Texas, you must be:
Referred to an approved real estate school

or class by the

Texas State Real Estate Commission

;

At least

18 years

of age;

A

legal resident

of the United States or a legally admitted immigrant;

A

legal resident

of Texas.

Able to successfully complete the following course and examinations:

Texas Principles of Real Estate I & II, The Texas Law of Agency, and the Texas Law of Contracts.
As a general rule, most property management companies choose to either establish a Limited Liability Corporation (LLC) or an unincorporated business entity (often called an S-Corp or C-Corp). While there are pros and cons to both, it is best to speak to an attorney or CPA with experience in corporate tax filings to decide the best corporate structure for your business. 
We strongly encourage all future property management business owners to do thorough research about the best type of business structure for their unique needs, keeping in mind that a property management company often requires a more complex set of legal responsibilities than other types of businesses. 
Once you have registered and created a tax structure for your business, you can begin the legal processes necessary to protect your assets, your business, and yourself from liability moving forward. 
Step 2: Create a Strong Legal Contract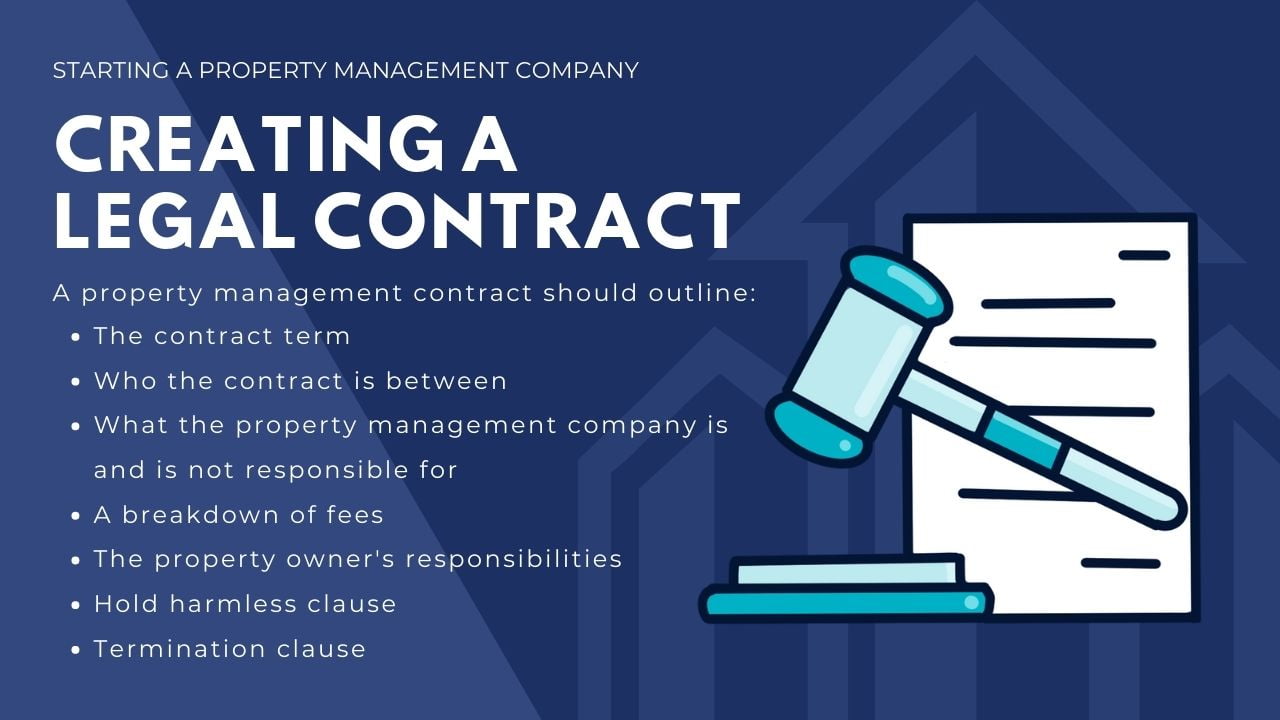 Once you have registered your company as a legal entity and have begun to flesh out your business structure, it is time to create a strong, legally-binding contract. 
We recommend beginning this process early-on as it can take some time and money (hefty lawyer or attorney fees). Creating a strong contract with an attorney that specializes in property management companies will ensure that both you and your company are protected against liability, fraud, and the multitude of risks associated with bad clients. 
A property management contract should be thorough and compliant with all Texas laws. 
A Texas Property Management Contract Should Clearly Outline the Below:
The contract term.

Whom the contract is between (your company and a property owner).

What the property management company is responsible for, including:

Maintenance of the property;

Tenant acquisition;

Tenant management, including collecting rent;

Repairs and emergency maintenance;

Other ongoing monthly costs and responsibilities.

What the property management company is

not

responsible for.

Breakdown of fees owed by the property owner to the property management company.

Responsibilities of the property owner.

Hold harmless clause.

This clause is a legal statement that absolves one or both parties of legal liabilities should any injuries or damage be incurred by one of the parties signing the contract.

Termination clause

This clause outlines the perimeters in which each party can absolve the contract with or without penalty.
Step 3: Create a Business Plan and Scalable Structure for Your Business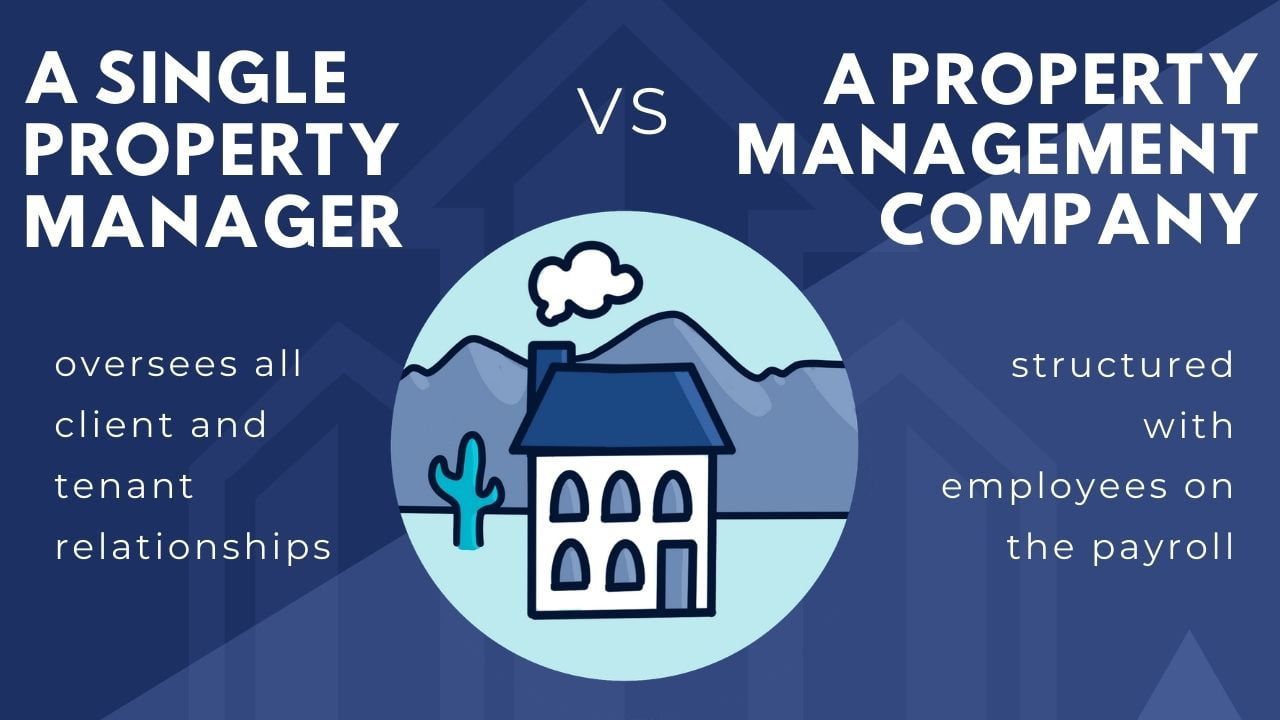 As you move forward in establishing your business, it is important to keep in mind both short and long-term goals and create a plan to scale your business plans accordingly. There are two ways property management companies are typically structured:
A single property manager who oversees all client and tenant relationships

. This business model is based on the general property manager contracting out work to other businesses or contractors. 

A property management company that is structured with employees on the payroll.

This ensures work is more equitably distributed and allows for each employee to focus on a unique element of the business. 
While these are the two most common structures for property management companies, it doesn't mean that you must choose a structure and stick with it forever. 
Most property managers start as sole proprietors using contractors and other companies to help balance their workload. As their business grows and they begin to take on more clients, this structure shifts to focus more on salaried employees and a fully-established business hierarchy. 
When expanding your business, there are several full-time, part-time, and contract-based roles that you should consider filling. By delegating some of these tasks, you can provide a better service to clients and ensure you, the business owner, can focus on the most strategic and timely tasks at hand.
Some of these roles include:
Additional property managers to oversee multiple properties.

These general property managers act on your behalf to ensure each client receives quality service.

Administrative support

for your office space or daily operations.

Sales representatives

to help build up client relationships and attract new clients.

Human resources professionals

to help oversee the payroll and benefits for full or part-time employees.

Finance professionals

to handle all accounts payable and accounts receivable.

Leasing agents, showing coordinators and tenant managers

to help manage tenant relations and acquire new tenants when necessary.

Maintenance managers and maintenance staff

to handle both routine and emergency maintenance and repairs.

Service coordinators.
Marketing specialists

to help

create your business website

, manage your social media and create

valuable marketing collateral

.
There are also a few important contract-based roles that are of vital importance to any property management business. These roles include:
A good accountant

experienced in property management businesses and their needs.

A real estate attorney

or law firm on retainer.

Contractors

for specialized maintenance tasks such as locksmiths, HVAC specialists, etc. 

Information technology

(or IT) staff to help manage your business systems and processes.
As a general rule, all vendors, full/part-time employees, and contractors should be properly registered with state and local authorities, be qualified to perform the roles they are hired for, provide insurance and sign a contract outlining liability and responsibilities to your company.
The quality of your employees and contractors reflects your business, so be sure to do your research here and only hire qualified and professional partners. 
Step 4: Find a Software to Fit Your Needs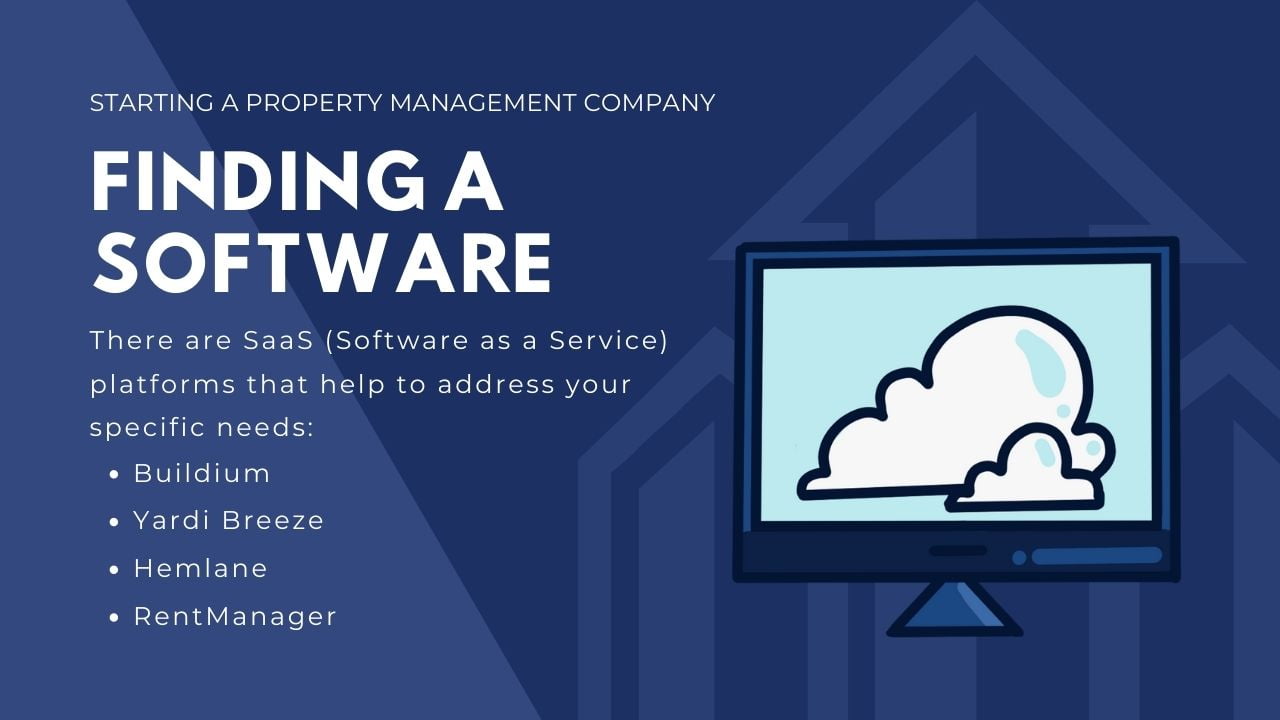 As a property management company, there will be a number of competing priorities that will come across your desk every hour of every day. 
As a relationship-based business, it is important to ensure you are staying on top of those priorities in a responsive and professional manner. After all, your reputation as a property manager is your greatest asset.
For every business need, there is a software solution, and the needs of property management companies are no exception. Picking the right software can be overwhelming, and we recommend choosing a product that can be easily scaled to fit your business needs now and in the future.  
For property managers, there are a number of SaaS (Software as a Service) platforms that help to address your specific needs. Some excellent examples of all-encompassing property management software include:

However, these more complex business management software are not your only option for managing your property management business, especially right when you're starting out.
With a bit of research, there is a SaaS solution for almost every business need including tenant rent collection, maintenance order tracking, email organization, and document sharing. 
While not as intuitive or efficient as an all-in-one property management software, these individual platforms are often much cheaper to run and can allow you to scale your business as it grows in your first few months or years of operations. 
Step 5: Market Your Texas Property Management Company and Attract Leads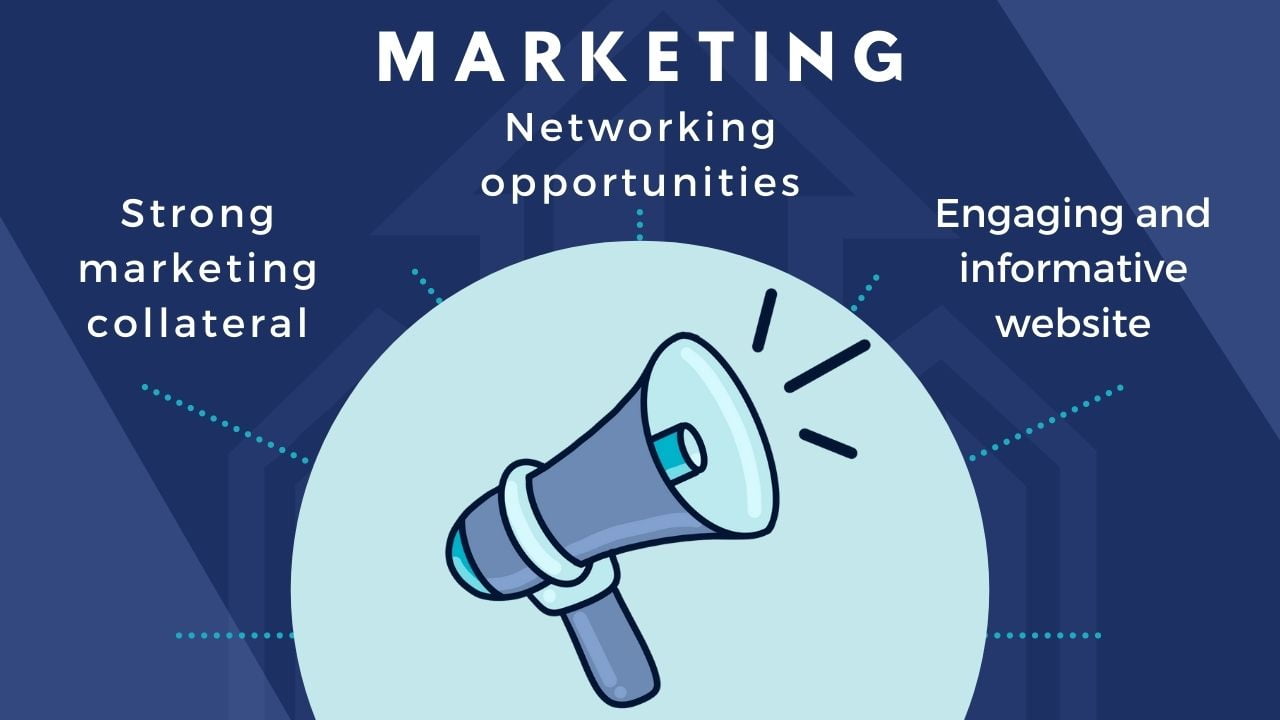 One of the most common misconceptions made by businesses across all industries is the idea that marketing efforts conclude once you start to attract and retain clients. This is far from the truth. 
Marketing your new property management business should be an ongoing task with dedicated resources and staff time. We highly recommend investing in a solid marketing strategy right off the bat to ensure the short and long-term success of your business. 
Many property managers contract this type of work out to agencies or freelance marketing professionals. 
To position yourself as a credible business, you first must create a strong digital and local marketing footprint. The top priorities in your marketing strategy should include:
An Engaging and Informative Website
These days, a high-quality website is the digital equivalent to the front door of your business. First impressions make all the difference, and a professional, informative, and well-performing website can impact your ability to attract clients from the very beginning. 
While there are website hosting platforms such as WordPress, Squarespace and Wix that allow you to create your own website from a premade template, we highly encourage you to consider bringing in the professionals to elevate your online brand and leverage your website as a revenue generator for your business. 
Strong Marketing Collateral
Marketing collateral can encompass all other related marketing strategy items that help to promote your business. This collateral could include social media posts or ads, business cards, brochures, digital information guides, blog posts, and other related marketing material. 
This type of material should be second to your website, but still used to help establish professionalism and a strong brand identity for your new business.
Networking Opportunities
While the COVID-19 pandemic may currently limit some of these activities, we highly encourage new property managers to network to get their name out there and create important industry contacts. 
Each real estate market is unique, and often, business comes from whom you know and interact with daily. As a property manager, you should be working hard to foster relationships with real estate professionals and property investors to scope out potential clients and industry partnerships. 
We recommend joining several professional organizations such as the National Association of Residential Property Managers to take advantage of their industry insight, training, resources, and networking opportunities. 
Step 6: Determine Your Fee Structure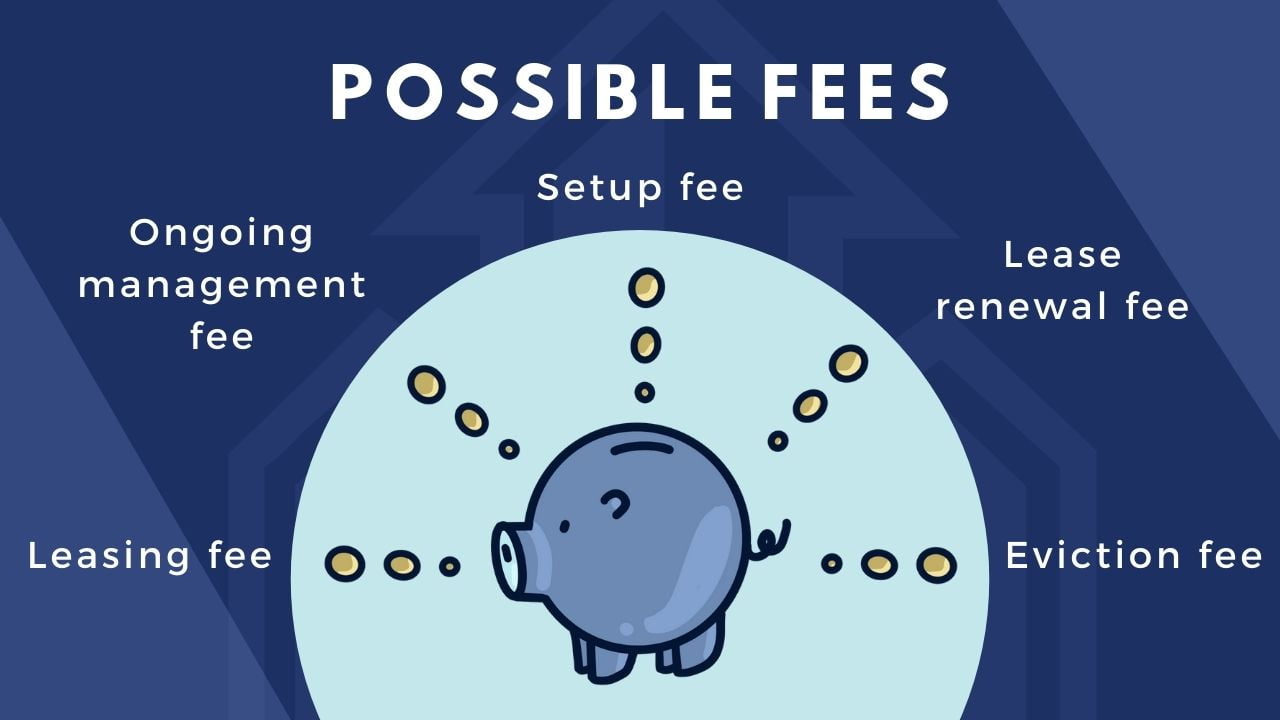 Once you have determined the structure of your business and have begun the process of attracting new clients, it is time to set up your fee structure. 
This is an important development stage for any business. Pricing too low may damage your credibility and will ensure you are always running behind trying to make ends meet. Pricing too high may make it harder to secure high-quality clients. 
Understanding your local market and the pricing of your competitors is a critical first step in creating a fee structure that will garner a sustainable income while also generating client interest. 
If you're new to the real estate industry, understanding the market value of your services is often as simple as researching similar property management businesses in your area to find out about the going rates. 
We also recommend you take this market analysis a step further by not only researching competitive prices but also the unique fees and payment structures that are common in the industry. 
These fees may be different depending on the city you are in, so be sure to focus your search rather than relying on general guidelines found online. 
Some Fees to Consider When Establishing Your Pricing Structure Include:
Setup Fee
This is a one-time fee that property owners pay to set up an account with your business. This property management set up fee is usually in the range of $200-$300. 
Ongoing Management Fee
This fee is the bulk of your monthly income. This rate is usually within a range of 3-10% of the monthly rental income of the property. This rate can vary greatly depending on the area and the overall competitiveness of the rental market. 
It's designed to cover daily operations costs, including managing relationships with tenants, collecting rent, managing inspections, overseeing ongoing/routine maintenance, and addressing emergency repairs and concerns. 
Leasing Fee
This is a one-time fee that property managers charge when a unit becomes vacant. This leasing fee is usually equivalent to one month's rent or a portion of that rent (often more than 50%). 
A leasing fee covers all the costs incurred with finding a new tenant for the unit, including staging, listing the rental property, vetting potential tenants, preparing the lease, and other associated documents. 
Lease Renewal Fee
This is a less common expense, but often is implemented in cities or areas with a highly competitive rental market. A lease renewal fee is a one-time fee paid by tenants when renewing their existing lease. 
This fee is usually only a few hundred dollars at most and should be used sparingly.
Eviction Fee 
This fee is also considered optional, but it is highly recommended if you are acting as the property owner liaison during an eviction process. 
While these are some of the primary fees you should consider when creating a fee structure for your business, it is also recommended that you keep in mind the type of clients you'd like to attract and tailor your fee structure accordingly. 
If you are hoping to manage large condo or apartment developments, your fee structure should reflect a high tenant turnover rate and ongoing emergency repair requests. 
For single-family home properties or properties with a higher value, your fee structure should factor in additional maintenance fees and or convenience fees for the property owner and tenants. 
If you are managing a property that focuses primarily on long term rentals, your fee structures should be different than a property that focuses on short-term vacation rentals. 
No matter how you choose to establish your pricing structure, it is important to remember that the charging rate should not influence the overall quality of service that you provide. Providing the same top-tier service to all clients will help bolster your business' reputation and increase your overall profits. 
Step 7: Continue Doing Great Work and Continuously Re-Evaluate Your Texas Rental Management Business' Success
In the property management industry, strong customer service and project management skills are critical to the overall success of your business. 
As your business grows and evolves, it is important to continuously re-evaluate your business model and processes to ensure you are performing your work in the most efficient and effective way. 
It is vital that you stay on top of industry trends in addition to local legislation and regulations that may impact your business. Understanding the market is an ongoing process and should not be overlooked once your business begins attracting clients and you expand your day-to-day operations. 
While at first it might seem daunting to start a property management business, there are resources available to ensure you don't have to go it alone. If you follow the seven steps we mentioned above, you will be well on your way to creating a successful property management company.