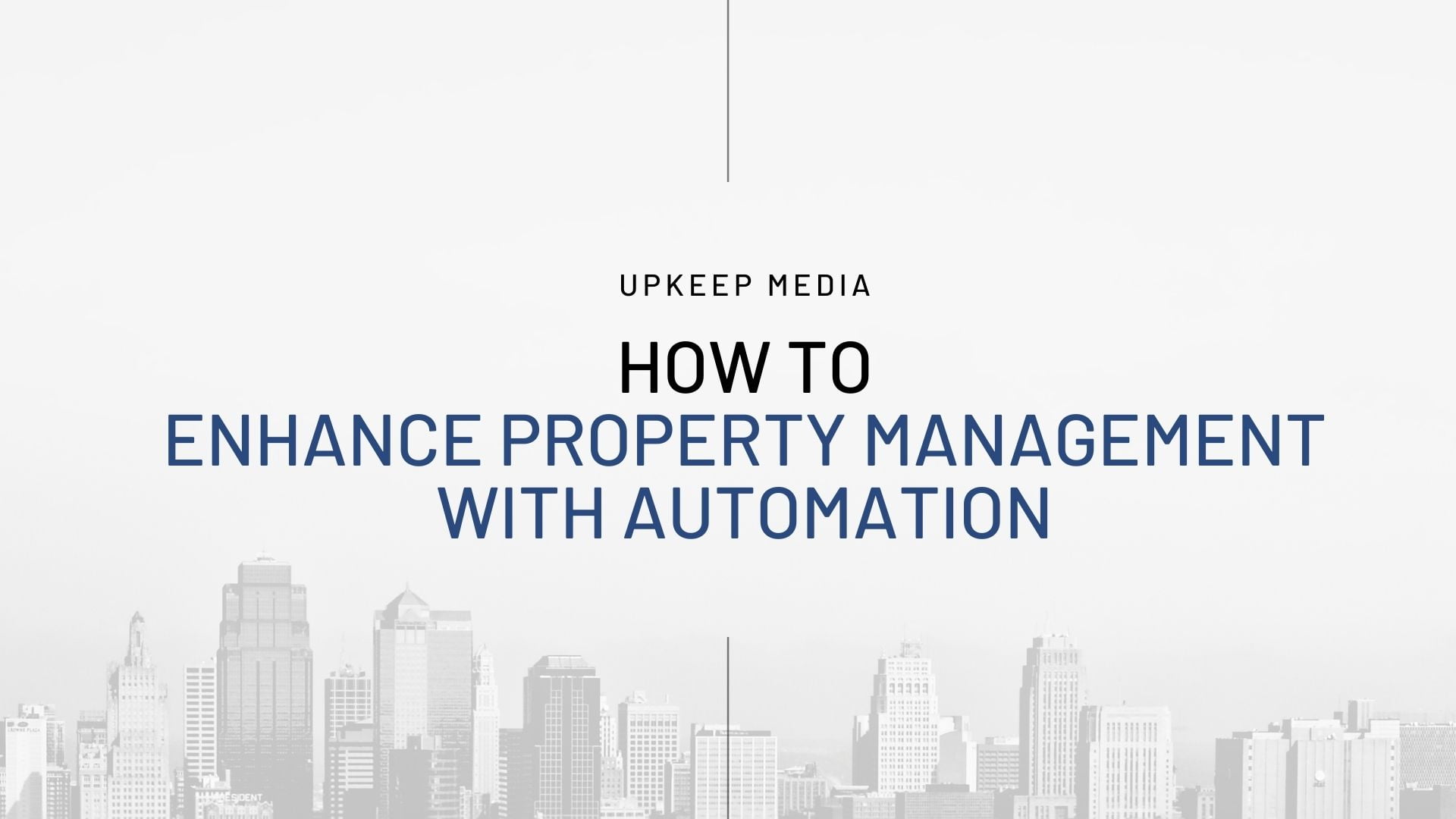 As a property manager, your day-to-day responsibilities run the gamut. From collecting rent, coordinating maintenance and handling your finances, managing properties is time-consuming.
To help streamline your business operations, we recommend finding ways to automate your repetitive tasks.
The primary goal of property management automation is to save you time and money on your business's daily workflow. Overall, property management automation will help you optimize your business!
In this post, we're sharing the top 7 property management tasks that you can automate to run your property management company more efficiently.
1. Collecting Rent
As a property manager, one of the simplest tasks you can automate is your tenant rent collection.
Establishing an online rent payment system is not only beneficial to streamlining your business, but it is also a bonus for your tenants.
In today's day and age of digital banking, most tenants will prefer online rent payments. They're hassle-free and convenient for both you and your tenants.
Most property management softwares have online rent collection capabilities and tenant communication features.
In addition to online rent collection, these platforms can remind tenants when rent is due and reduce the likelihood of transaction errors or delayed payments.
Property management platforms like AppFolio or Buildium are great options for online rent collection!
2. Scheduling Calls and Appointments with Tenants and Clients
Setting up calls and appointments with clients can often be unproductive. You can likely relate to the challenge of going back and forth via email, trying to find a date and time that works for both you and your tenant or client.
That's why we recommend automating this process. A scheduling software, such as Calendly, can help you coordinate meetings quickly and conveniently.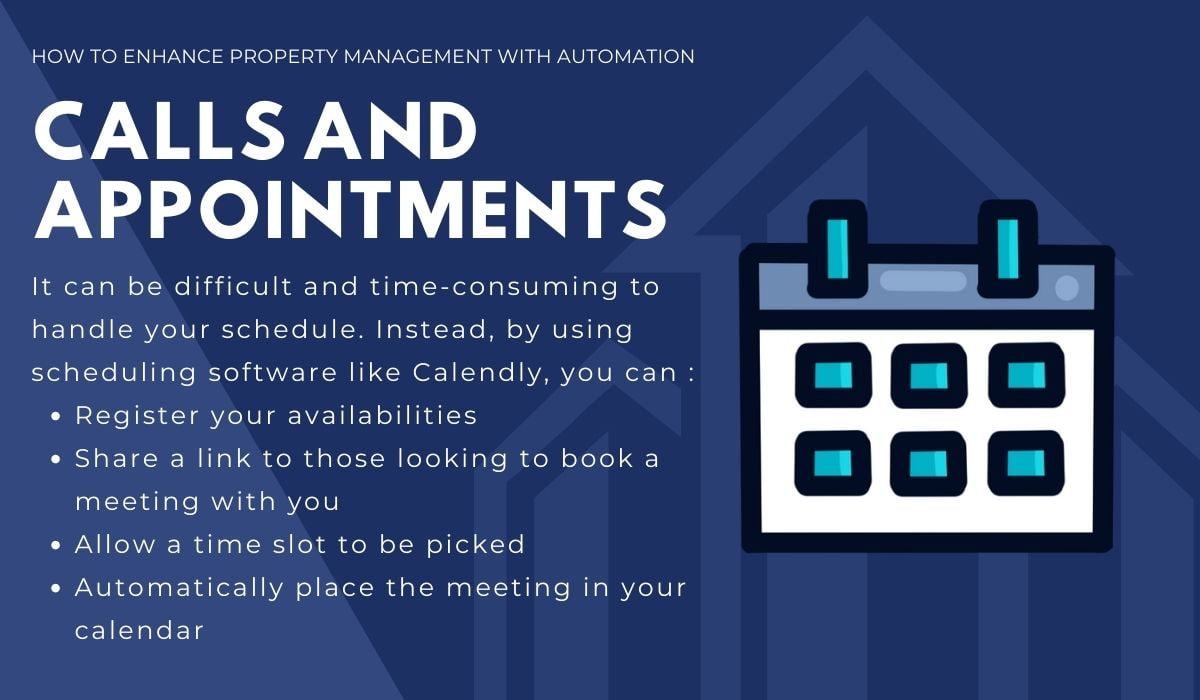 In Calendly, simply update your availability and share a link with anyone you're looking to book a meeting with. They will then pick a time in your schedule that works for them, and the appointment will be scheduled directly in your calendar.
No email tag necessary!
3. Self Showings of Vacant Units
Another way to automate your property management business is to have self showings for your vacant units!
Switching to self showings of your vacant property can help you save time and money when finding the right tenant for your property. Not to mention, it is convenient for your potential tenants.
A self-touring technology, such as Rently or Tenant Turner, can help you show your property to more potential tenants safely and securely. This is especially important during the COVID-19 pandemic.
4. Automated Email Responses
Are you finding yourself drowning in emails regularly? An autoresponder is a great way to automatically acknowledge client emails and let them feel acknowledged and heard.
But how does an autoresponder work? An automated email response system sends a templated email immediately after a client signs up to your email list or sends a query.
An example of an automated email could be: "Thank you for your email. We will return your message in detail within 24 hours. In the meantime, please feel free to check out the FAQ on our website for more information about our services."
Some great examples of automated email platforms include HubSpot, GetResponse, Aweber, Mailchimp.
5. Addressing Commonly Asked Questions About your Business
Creating a frequently asked questions page on your website can help to streamline your new client lead generation process. Anticipating a potential client's questions and providing in-depth answers to these questions is a great way to save time.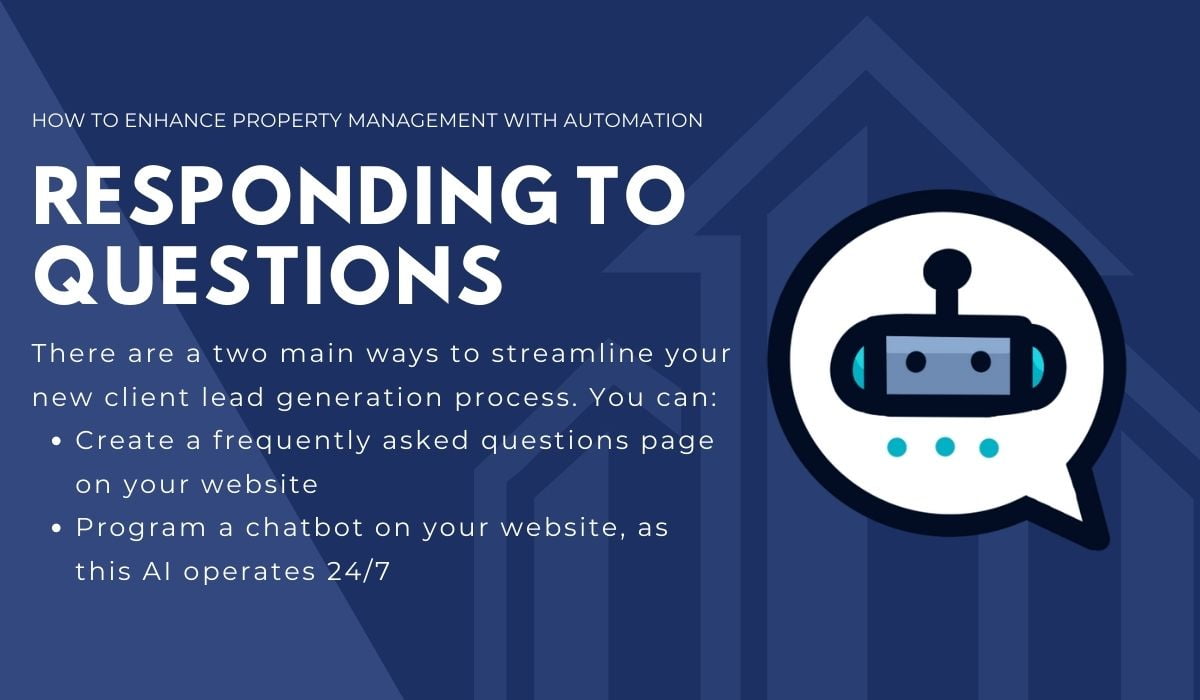 Another way you can address client questions is to program a chatbot on your website. The chatbot will be able to answer questions 24/7.
All you'll have to do is spend the time upfront providing answers to commonly asked questions. Once you do that, you can sit back and let the AI bot respond to client questions. This will save you time in the long run!
6. Handling Bookkeeping and Financials
Just like any other business, managing your daily, monthly, and annual finances can be a challenging and time-consuming task.
By automating the task of collecting and interpreting data for financial reports, you will save time, and receive more accurate results with fewer errors.
The best way to automate your financials is to invest in a good property management software that allows you to track expenses and collect rent payments online.
This automated process will save you time, resources and will help make tax time a breeze.
7. Generating Leads and Marketing
One of the best ways to automate your property management business is to streamline your sales and lead generation processes.
By automating these processes, you can rest easy knowing your business is capturing client interest on its own without your day-to-day involvement.
In addition to automating your lead generation process, we also recommend streamlining your approach to online marketing.
After all, consistency is critical when it comes to digital marketing. Having a consistent flow of ads and content will help you to focus on more pressing operational tasks.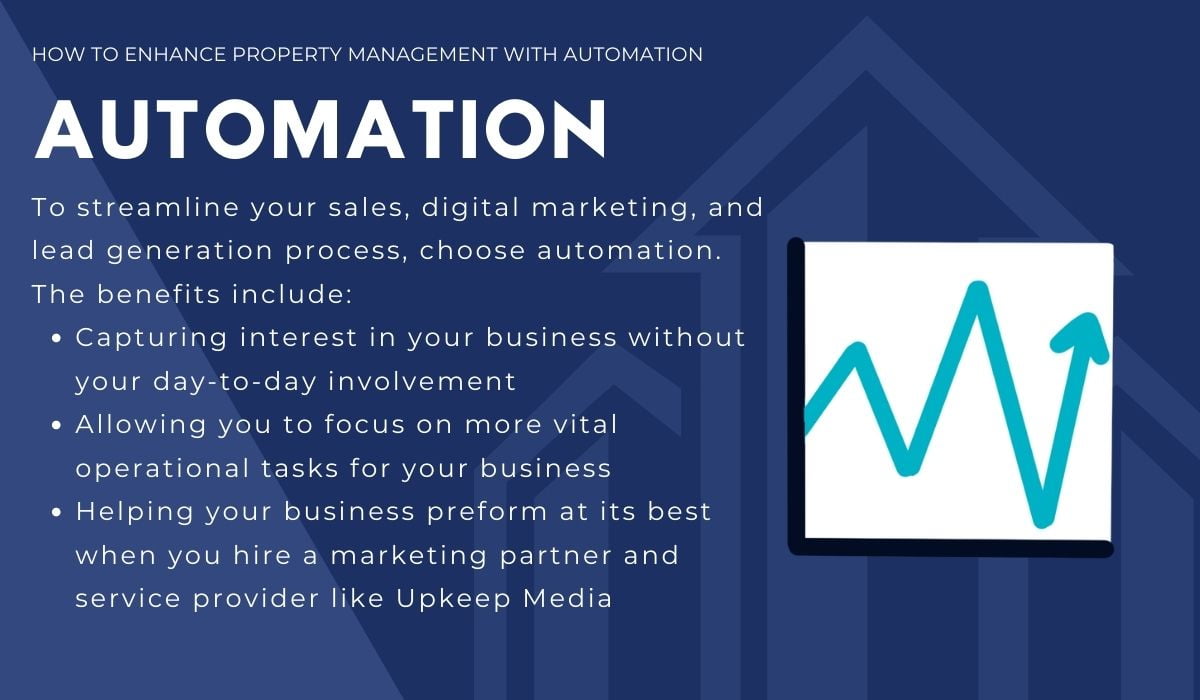 A great way to automate your sales process is to hire a service provider that specializes in generating leads for property management companies. This will allow you to offload the time and effort it takes to generate leads for your business.
A good marketing partner will help you with your website, your advertising, and your content creation.
If you're not sure how to start automating your lead generation processes, Upkeep Media can help!
We specialize in advanced online marketing strategies that capture attention and generate leads for your property management business. We work hard to ensure your business succeeds.
Bottom Line
As we shared above, not only can automating your property management business improve your daily workflow, but it can also save you time and money in the long run.
By automating repetitive property management tasks, you can focus on the important work of expanding your business, attracting new client leads and building stronger relationships with existing clients.
For more information on how you can automate your property management business, contact Upkeep Media today.